To Vancouver - 17 January 2001
---
We left Anacortes at 5:46 AM and ran in the dark. I had as crew my long time friend Mike Holm, and my brother-in-law Paul Tobin. Beth drove us up the night before to Anacortes, and she also drove up today to retrieve us from Vancouver.
We met Erich & Jennifer of the Salty Dog, a Krogen 39 that is to accompany us often in the coming months, a few minutes later at "Waypoint 1" and began our trip to Canada.
This trip was to deliver the Visual Sea to the Dockwise Yacht Transport loading location of Vancouver, British Columbia.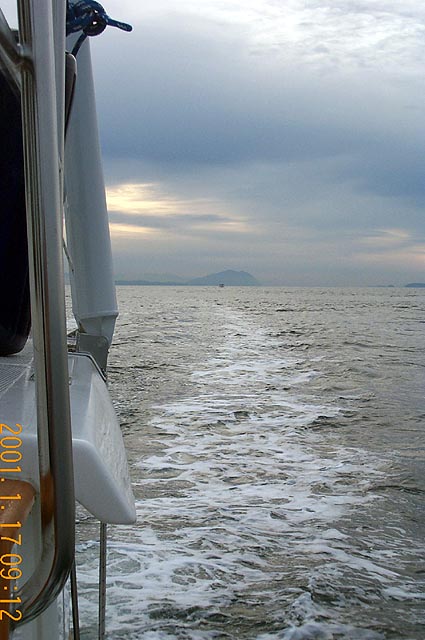 ---
We had an interesting scare when a fast moving hovercraft approached us very close; upon inspection it was the Canadian Coast Guard, and we thought we were going to get boarded, but they passed between the Salty Dog and ourselves and quickly faded from view. Erich's Salty Dog can be seen just above the nose of the hovercraft.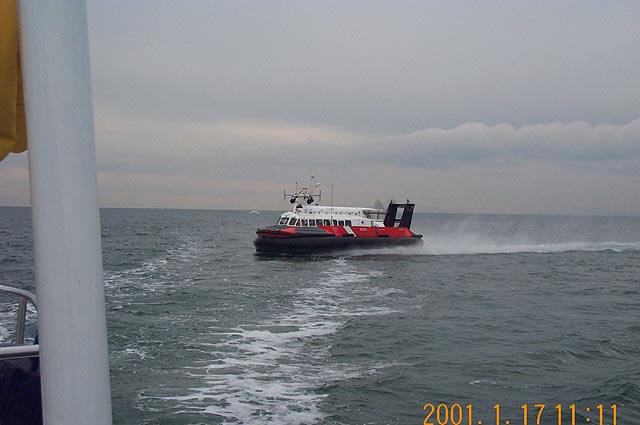 ---
We saw two or three tugs with loads that were heading south in the north-bound shipping lanes! We however met no fog or large container ships, so the day's traffic was pretty decent.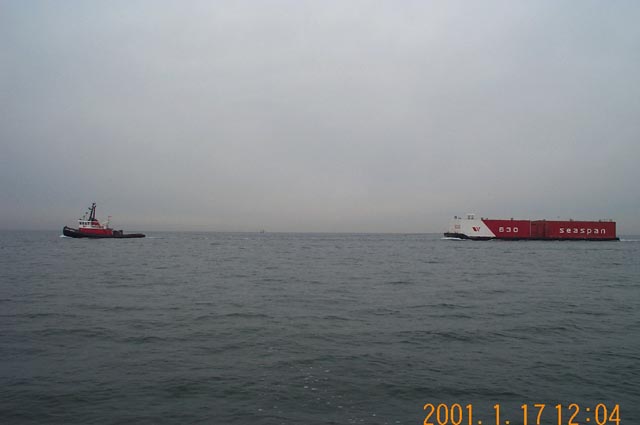 ---
At 1:50 PM we were underneath the Lion's Gate Bridge in Vancouver. It is the bridge just north of Stanley Park, and it is quite high. Note the Salty Dog below the bridge.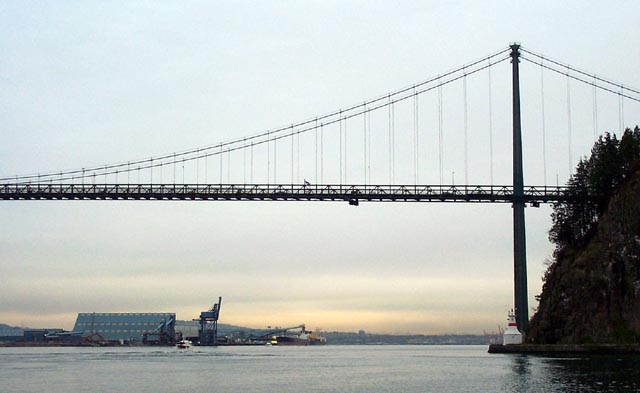 ---
We pulled into our slips at the Coal Harbor Marina at 2:12 PM. This marina is nestled right in the middle of downtown Vancouver. We cleared customs by phone (release #10170167), and enjoyed a visit in the Salty Dog before going to dinner at Cordero's nearby.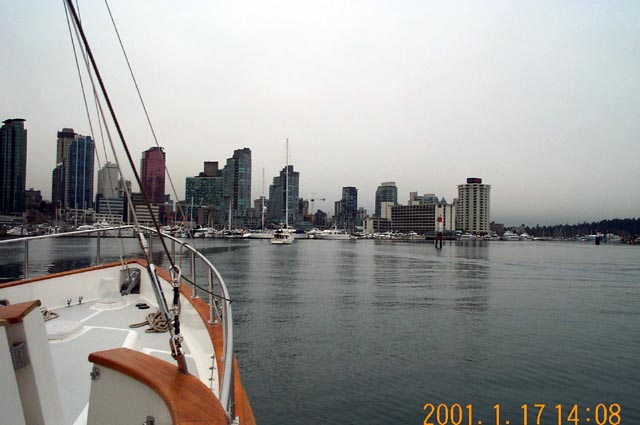 ---
The trip totaled 8 hours 26 minutes, was 68.3 nautical miles in length, and thus we averaged 8.1 knots, quite respectible. I ran at 1700 RPM most of the time, and we usually had a 1-2 knot current helping us. Only at the end of the trip as we came under the bridge did we get a one knot current against us. We couldn't have asked for better weather given that it was the middle of January in a high latitude!

Created:  18 Jan 2001
Modified: 18 Jan 2001