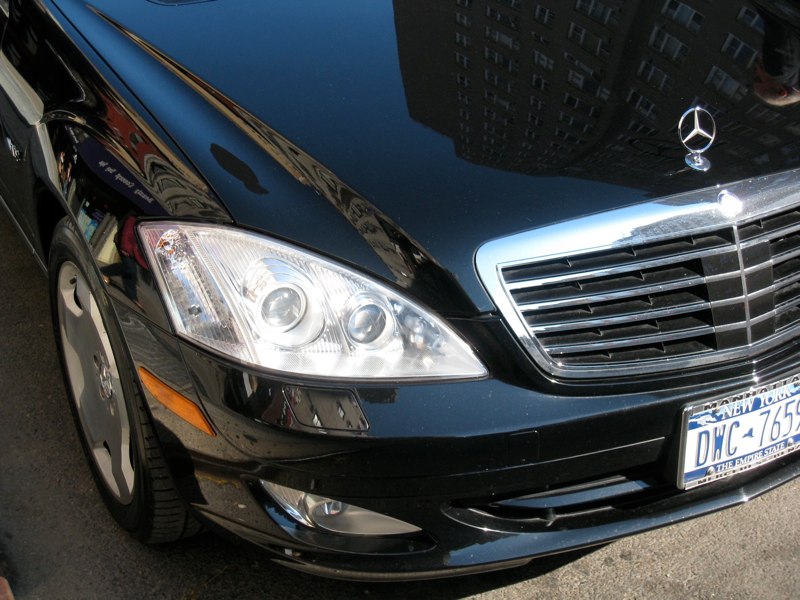 Automakers
By Dan Allen
May 21st, 2009
After being in Europe I wanted to gather my thoughts about cars. The enclosed chart shows what's happened with car makers in the past few years. The makers in my chart are the car makers who have accessible, publicly traded stocks. The symbols that are longer than 3 characters are harder to trade. Others should be on the list like Mazda, Mitsubishi, Suzuki, Kia, and Hyundai, but there is no info on their stocks. Chrysler has no publicly traded stock at present.

The table and following commentary is in the order of market capitalization. (Market cap is the amount you would have to pay today to buy all of the existing shares of stock at today's price.}
| Name | Mkt cap in Millons of USD | Last price | Volume | Symbol |
| --- | --- | --- | --- | --- |
| Toyota Motor Corporation | $118,866 | $75.81 | 105660 | TM |
| Volkswagen AG | $89,329 | $223.23 | 36 | VOW |
| Honda Motor Co. Ltd. | $50,464 | $27.81 | 166955 | HMC |
| Daimler AG | $35,932 | $35.11 | 124548 | DAI |
| Nissan Motor Co. Ltd. | $23,727 | $11.65 | 83507 | NSANY |
| Bayerische Motoren Werke AG | $16,735 | $25.59 | 997988 | BMW |
| Ford Motor Company | $14,883 | $5.18 | 28779908 | F |
| Fiat S.p.A. | $13,358 | $10.80 | 3790 | FIATY |
| Porsche Automobil Holding SE | $7,838 | $44.79 | 524283 | PAH3 |
| Renault SA | $7,000 | $25.36 | 1400000 | RNO |
| PSA Peugeot Citroen S.A. | $4,270 | $25.41 | 200000 | PEUGY |
| Tata Motors Limited | $4,201 | $9.34 | 1454791 | TTM |
| Fuji Heavy Industries Ltd. | $2,994 | $38.25 | 3884 | FUJHY |
| General Motors Corporation | $983 | $1.61 | 31160594 | GM |
Data as of 2009.05.21.10.55 EDT.
COMMENTARY
Toyota is worth the most of any car maker. They own Lexus and Scion. Toyota is a big US car maker with factories in Kentucky, West Virginia, Indiana, Alabama, California, and Texas, employing at least 30,000 people. It is interesting how when people talk about the "US car makers" they forget about this. Toyota made a big mistake with the large Tundra pickup's timing but they have changed their plans quickly and will soon be profitable again. Toyota is present in Europe, but only just. The Aygo, Aventis, and iQ are occasionally seen.
Volkswagen owns VW, Lamborghini, Bugatti, Audi, Skoda, Seat, Scania, and Bentley. They sell more cars in Europe than anyone else by a huge margin, mainly VW Golfs. VW has a plant in Puebla Mexico and is planning a new plant for Tennessee to be open in 2011. They have many more models of cars than we see in the US. I saw a few Phaetons and two Bentleys. I saw no Lambos (except at the factory!) or Bugattis. VW makes a whole range of vans from the beautiful compact Touran, to the medium Sharan, to the MultiVan, to a range of commerical pickups, crew-cabs, flatbeds, and every possible mutation. They make some smaller than Golf cars such as the Fox and the new brilliant Polo. In Germany it seems like every other car is a VW. Audi was of course popular in Germany, but it was also very, very popular in Northern Italy. They really like Audi's sleek style.
Honda sells 3 times more cars in America than it does in Japan, with seven major US factories. Honda also has the Acura brand. Honda sells 15 times the number of motorcycles in Asia compared to the US. This is a big part of their overall business. They also started making a business jet recently. Their outboard motors, lawn mowers, ATVs, generators, and so on are also very vibrant businesses with more US factories. Honda does very poorly in Europe: I saw only 2 Honda Accords in 17 days, and a handful of Civics, but I did also see my very first new Insight hybrid there.
Daimler invented the car. Daimler owns Mercedes, Smart, Maybach, Freightliner trucks, Sterling trucks, Detroit Diesel engines, Mitsubishi Fuso buses, and Setra buses. Mercedes has a plant in Alabama that makes SUVs. Daimler AGused to own Chrysler, then they went to 20% ownership, and now they no longer own any share. In my opinion Mercedes are the best cars made. They are very prevalent in Germany and are not near as glamorous a brand there as they are in the US. Most taxis are Mercedes E-Class. They have a terrific small Golf-sized A-Class and B-Class range of cars that are very popular in all of Europe that we visited. Smart cars were extremely popular. I once saw three parked next to each other. They are now being painted in one-off colors by people so we saw a lot of unique Smarts. The hard-to-find parking and narrow streets made me wish we had brought our Smart car over in our checked luggage... ;-)
Nissan has 2 US factories, both in Tennessee. There were very few Nissans in Germany, but I saw a dealership in France because they have a partnership with French Renault.
BMW owns BMW, Mini and Rolls-Royce. BMW is better than any other company at this time in making engines that are highly efficient and high performance at the same time. BMW has a plant in South Carolina that makes SUVs. BMWs were very popular in Germany, and were the most likely car to pass on the autobahn in the fast lane going 150 mph. Mini Coopers, Mini Ones, Mini Clubmans, Mini Ds -- they were all very popular everywhere. We never saw a Rolls-Royce.
Ford now just owns Volvo besides Ford, Mercury, and Lincoln as they sold Jaguar and Land Rover recently. Ford took no bailout money and is in the best shape of the old traditional US automakers (the "Big 3"). Ford has two small cars that are very popular in Europe, the Focus and the Fiesta. They are quite good cars; most are diesels. They also have some other cars sold and made there which we do not get. I saw a handful of new Mustangs in Germany. Two other Fords deserve mention: the Ka (a small bubble car) was to be seen in bright colors, and the new Kuga SUV was very nice too. I wish we could get a Fiesta diesel over here.
Fiat owns Fiat, Abarth, Alfa Romeo, Lancia, Ferrari, Maserati, Case New Holland tractors, and Iveco trucks (which are everywhere in Italy). Fiat has several very hot selling cars in Europe, specifically the Grand Punto and the Panda. These two new cars dominate in Italy, as expected, but they also are right at the top of the best sellers in Germany. This should cause VW some consternation. Fiat recently gained 20% ownership in Chrysler and may end up owning it. Fiat is also considering the purchase of Opel from GM. Opel is very popular in Europe as well. I am not sure if Fiat should try and rescue two companies at the same time... The new Fiat 500 was quite popular everywhere, gaining the kind of cult following that the Mini Cooper has. The 500s can be ordered with all sorts of options so they were fun to keep an eye out for because many were unique looking. Fiat may bring the 500 over here via the Chrysler ownership business. It is a cute and fun car for Euro 11K, but I think a Grand Punto (Euro 13K) or Panda (Euro 10K) would be even better. They are very decent cars. I also became quite fond of the Multipla, a strange looking but very utilitarian vehicle.
Porsche has done very well with their Cayenne, and they have a new high-end luxury sedan coming in the fall, the Panamera. Porsche and VW may merge. The talks are on again, off again. Who knows what will happen, but the Porsche family actually owns 51% of VW already and thus have control over the situation. Many Porsches were to be seen in Stuttgart and Frankfurt, fewer in Munich, and fewer still in Italy, but still some. It was a mix across 911s, Boxsters, Caymans, and Cayennes. I saw no Carrera GTs on the road. There were a decent number of older 911s as well. (It is interesting to note that you rarely see a beat up old car in Germany at least. Their old cars are usually in stunning condition.)
Renault is French and is popular in France and Italy. They have the Renault and Dacia brands. They have manufacturing agreements with Nissan and Samsung. They make light commercial vehicles as well, and the Twingo, Clio, Logan, Kangoo, and Trafic models are pervasive. The Trafic is a large van with an unusual bump in the roofline right above the driver and passenger. One could never get used to seeing one, as they look like they had just been hit from the rear. The Renault Scenic had beautiful, huge windows for all passengers. Really quite nice. There is a lot of innovation over there in box designs that are yet to be seen in the US.
PSA combined two French brands, Peugeot and Citroen, in 1976 and today is in 2nd place for most cars sold in Europe, behind VW. They bought Chrysler Europe in 1978 for $1 and tons of debt, but are wisely staying out of such matters this time around: it was a bad move for them. They have co-built with other companies recently. The Citroen C1, Peugeot 107, and Toyota Aygo are essentially the same car, all made in the same plant. Mitsubishi helped with a recent pair of SUVs, and PSA makes the diesel engines for Ford's popular Focus and Fiesta cars. Again, a common plant makes minivans sold as the Peugeot 807, Fiat Ulysse, Lancia Phedra, and Citroen C8. Another plant makes the Citroen Jumpy, Fiat Scudo, and Peugeot Expert. The Citroen C3 is a great looking little car and became another personal favorite, although I understand that these French cars still do not match the Germans for reliability.
Tata Motors now owns Jaguar and Land Rover. They make a $2,000 car called the Nano that sells in India. How Jaguar and Land Rover will fare is yet to be seen. Jaguar was just getting to be decent again with Ford's leadership. We saw no Tata vehicles as they are not sold in Europe yet. We saw quite a few Land Rovers and a few Jaguars.
Fuji Heavy Industries owns Subaru. Subaru is doing quite well at the moment. The company also makes ships, airplanes, and generators. Subaru wants to do better in Europe so they just came out with diesel boxer engines over there. We saw quite a few brand new Subaru cars, especially in the Alps. This brand does better than any other Japanese brand in Germany I would think by what we saw.
General Motors is now worth less than 1% of what Toyota is worth. GM is trying to sell Saturn, Saab, Hummer, and Opel (Vauxhall in England). Fiat and Magna are both considering the purchase of Opel. GM got rid of Oldsmobile in 2000, and now Pontiac is being retired. That will leave GM with Chevrolet, GMC, and Cadillac. (And Holden in Australia.) We saw a lot of Opels in France and Germany. The most recent Saturn cars in the US are actually based on Opels, so if they sell Opel that leaves Saturn hanging out to dry.
---
One Year Later
May 19, 2010
| Name | Symbol | Last price | Mkt cap | EPS | P/E | Beta | ROA |
| --- | --- | --- | --- | --- | --- | --- | --- |
| Toyota Motor Corp. | TM | $75.65 | $118.62 B | $1.44 | 52.4 | 0.72 | 0.67% |
| Honda Motor Co., Ltd. | HMC | $31.87 | $57.83 B | $1.60 | 19.9 | 0.71 | 1.61% |
| Daimler AG | DAI | $50.42 | $51.63 B | -$0.79 | - | 1.57 | -2.03% |
| Ford Motor Company | F | $11.48 | $39.11 B | $1.52 | 7.6 | 2.53 | 1.33% |
| Volkswagen AG | VOW | $68.05 | $31.65 B | $3.63 | 18.7 | -0.17 | 0.53% |
| Nissan Motor Co., Ltd. | NSANY | $15.37 | $31.34 B | $0.48 | 32.0 | 1.70 | 0.49% |
| Bayerische Motoren Werke AG | BMW | $45.21 | $29.60 B | $0.38 | 119.3 | 1.03 | 0.21% |
| Audi AG | NSU | $658.90 | $28.33 B | $36.94 | 17.8 | 0.78 | 5.12% |
| Hyundai Motor Co. | HYU | $122.12 | $26.90 B | $9.55 | 12.8 | 0.96 | |
| Fiat S.p.A. | FIATY | $10.57 | $13.48 B | -$0.83 | - | 2.31 | -1.31% |
| Renault SA | RNO | $36.04 | $10.25 B | -$15.78 | - | 2.26 | -4.80% |
| Porsche Automobil Holding SE | PAH3 | $45.20 | $7.91 B | -$6.50 | - | 1.50 | -2.76% |
| Magna Intl. Inc. | MGA | $69.49 | $7.84 B | -$0.66 | - | 1.51 | -3.87% |
| Tata Motors Limited | TTM | $16.30 | $7.33 B | -$2.52 | - | 2.56 | -9.67% |
| PSA Peugeot Citroen | PEUGY | $23.85 | $5.55 B | -$6.26 | - | 1.40 | |
| Fuji Heavy Industries | FUJHY | $55.65 | $4.36 B | $3.10 | 17.9 | 0.77 | |
Data as of 2010.05.19.14 EDT, 1 Euro = $1.222.
What a difference a year makes. One year later, General Motors is gone from the financial markets. Saturn and Hummer and Pontiac are gone. Ford sold Volvo to the Chinese, while Saab was sold to Spyker. Financially Audi is doing the best of any automaker, with their Return on Assets (ROA) however still far short from the best companies who often have ROA values of 20% or better. Ford receives honorable mention, with a bargain P/E, some interesting new cars such as the Hybrid Fusion, Focus, and Fiesta, and at least a positive ROA. Daimler (Mercedes) would have been much better but they lost a lot of money on Chrysler. Fiat now owns 30% of Chrysler, which has only drug them down in the past year. They hope to change this soon with some operations synergy and being able to tap into the US market with Fiat products in the coming years.
For 2009, only Subaru, Kia, and Hyundai had growth. Kia and Hyundai are both part of Hyundai which may be the most successful automaker at present in terms of growth and potential.
Disclaimer: I own both Daimler and Ford stock at present.
---

Created: 21 May 2009
Updated: 19 May 2010
Copyright Daniel K. Allen, 2009-2010.
All rights reserved.