December 2000: Snow & Sea
---
At the beginning of December, we had some nice snow on Mount Si, the mountain that we see from our house.

---
Even with the snow on the ground, the provisioning of the boat continued. Here our van was loaded up with new fenders for the boat.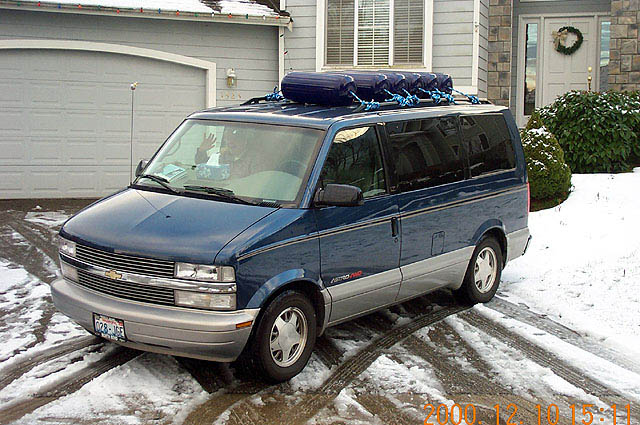 ---
Our instructor, Bob Meng, really helped us learn how to dock the boat. He got the children involved, and his work with us has really made a big difference to our feeling ready to live aboard and see more of the world.
---
We went with Bob Meng and our whole family to Friday Harbor for a two day intensive training. We met another couple aboard a Nordhavn 46 (hull #45) named Patience and we had a great time talking with them. Here you can see their dark-hulled vessel leaving Friday Harbor the next morning: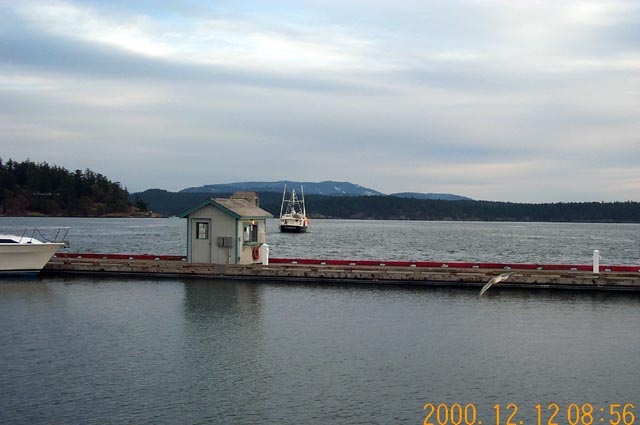 ---
Bob even simulated a fire aboard the boat, which caught the children off guard and it taught us a lot about how to deal with malfunctions and emergencies.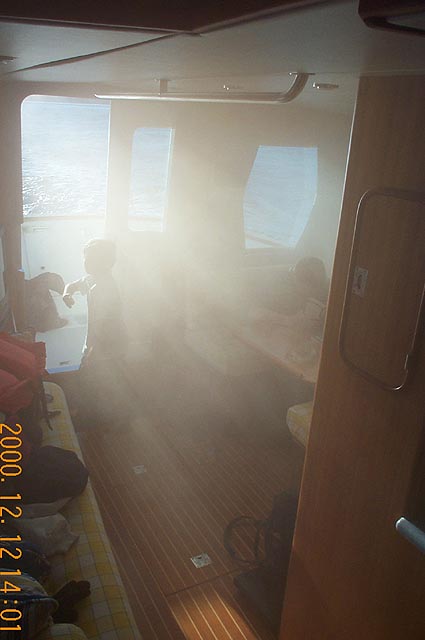 ---
Our friend Erich Ringewald in parallel has been preparing his vessel, the Salty Dog, a Krogen 39. Here he is in his pilothouse: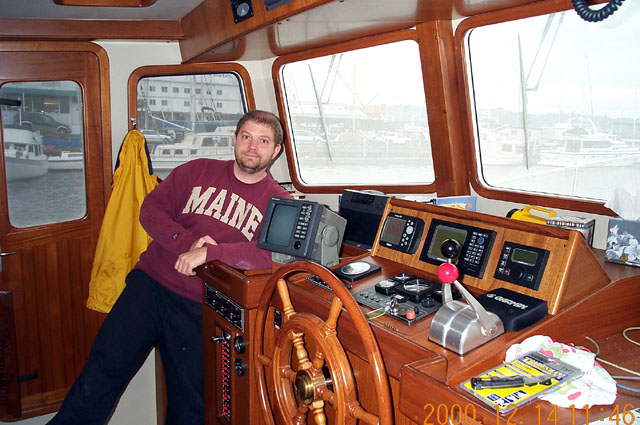 ---
Just before Christmas my father visited, and he surprised us all by climbing up into the crow's nest! He tugged on a line to signal me at the bow, and I got this photo: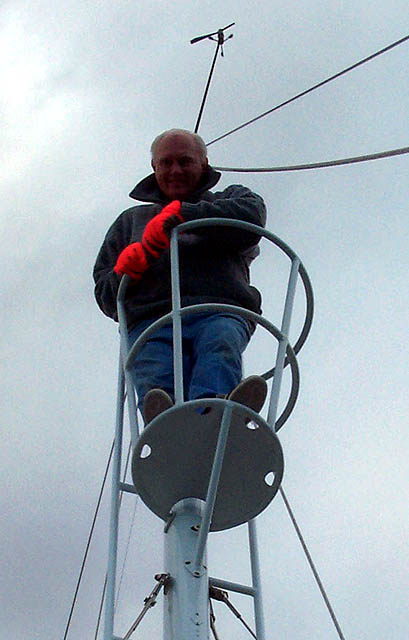 ---
The crew on December 19th included my friend Tom Taylor (Mr. Ham Radio), and Sam Edvalson, my father, Joshua, and Andrew.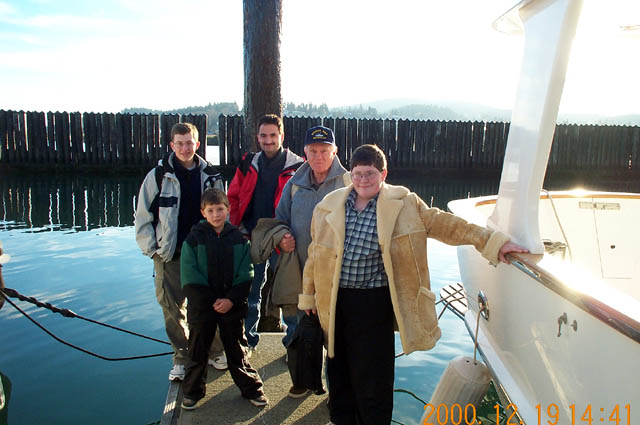 ---
Shortly after Christmas we had another group of good friends aboard. Here we have, from left to right, Beth, Randy & Arlene Luceberg, Susan & Tom Dunford, Kary Bailey, and in front, Laura Bailey. We wanted to have so many more trips to take so many more people out, but we just ran out of time. Our apologies to so many of you.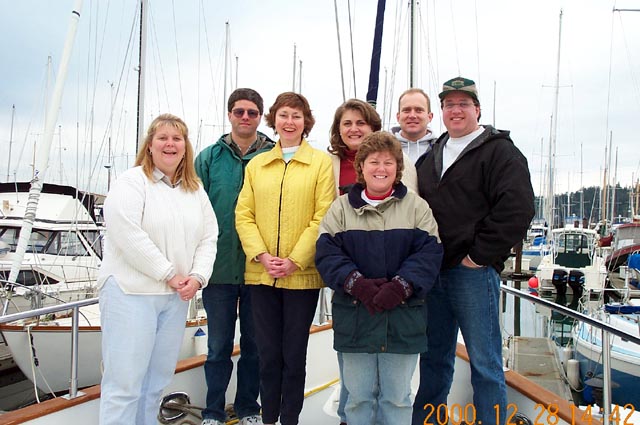 ---
Here is the parking lot at the Anacortes Marina. Our first slip was here, A-31. Then we moved to Elliott Bay in Seattle and the fairways were just too small for our boat, so we came back here to Anacortes, first in slip F-24, and of late in the nice single slip F-58. Frank Durksen of AAA Yachts has watched over our boat with loving care and has been very helpful to us. If you are ever in the market for a Nordhavn, talk to Frank!
We are going to miss this place. Here Brigham is admiring someone's new Mercedes CLK 55, a beautiful car.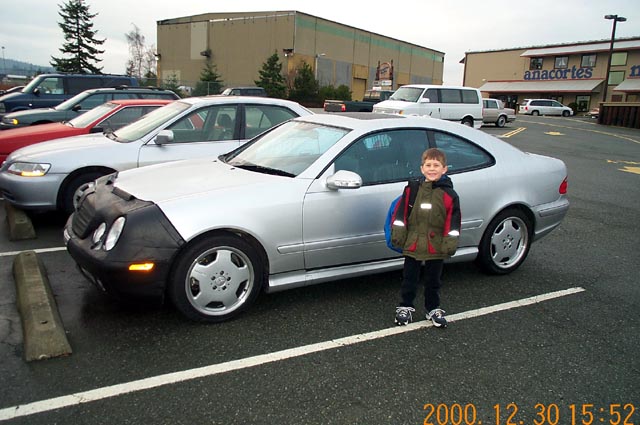 ---
On December 30th we went out with Paul, Anita, & Ian Tobin, Chip & Kirby Corder, and our friend Carolee Durrant. Here we are at the lowest gas price in Washington state, our familiar Chevron at I-5 and Highway 20 near Anacortes. Our Chevy Astro has refueled solely at this gas station 8 times in the past month!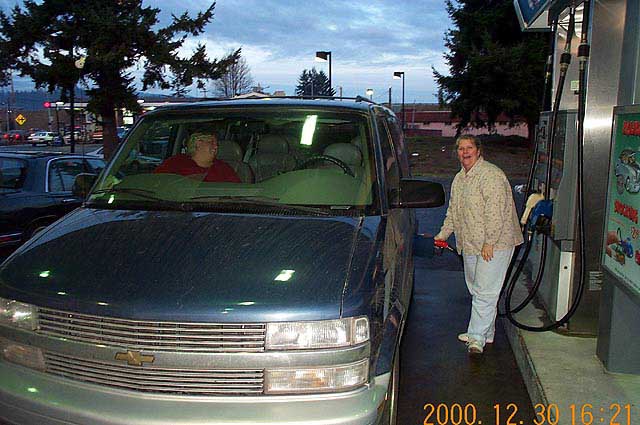 ---
Here is Visual Sea in slip F-58, after we completed all of our provisioning. What a job! We have enjoyed our boat more and more and look forward to a new year and millennium to begin seeing the world aboard her.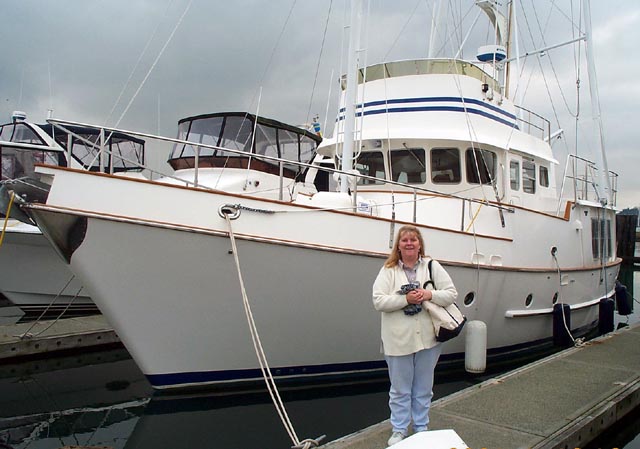 ---

Created:  18 Jan 2001
Modified: 18 Jan 2001