Minivan #3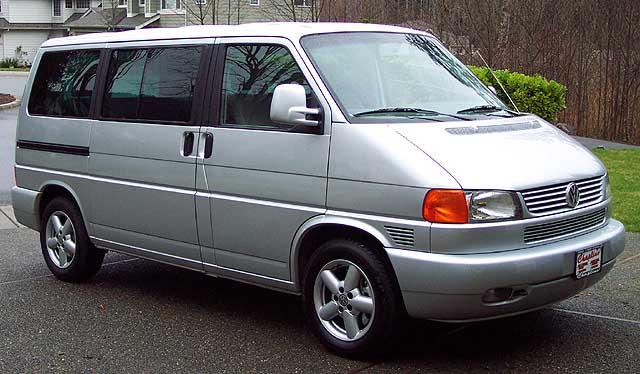 On January 18th, 2002 we decided to trade in our 1998 Chevy Astro and 2000 Chevy Silverado on a Volkswagen Eurovan. We had actually wanted to buy a Eurovan back in 1998 but VW didn't sell them at that time. We liked our 1989 Ford Aerostar and considered another Aerostar but Ford discontinued the Aerostar in 1997, so in 1998 we got the Astro. It actually has been a pretty good car for us.
But we had too many cars. You see, we had bought the pickup truck on a whim. I had always wanted to try out a pickup truck. The truck was stripped down to the bare bones: 2-wheel drive, short-bed, regular cab, 5-sp manual, no radio of any sort, crank windows, manual door locks, the base 4.3L V6 200 HP engine, and cloth seats. The one option was air-conditioning, a must for an Eskimo like me. I really liked having crank windows, cloth seats, and no radio. I wish I could get more cars like that.
It turns out that a truck here in Washington is a bit impractical. There was no room in the cab for packages and bags when anyone rode with me, and since it rains a lot the bed was not the place to store things either. A full crew-cab pickup would have been better, but then the truck would be too long -- my short bed regular cab truck was not too bad at 203". I now appreciate the basic sedan design for cars much more.
Almost all minivans have room for seven people, but they do not have much luggage room when seating seven. We have a family of six. What minivans seat six with a luggage area at least three feet deep to hold sleeping bags, a cooler, and 2 bags per person? The Ford Aerostar (discontinued), the Chevy/GMC Astro, and the VW Eurovan. That's the list! For Sport Utility Vehicles the list is very short: zero! The back seat of a Chevy/GMC Suburban is for small children, not adults. Ditto for the Ford Excursion. The problem with large SUVs is that their back seats are raised up high over the rear axle. This places the floor about 1 foot below the front of the seat, so anyone over 5' tall has their knees in their throat. In my mind these SUVs seat 5, not 7, so with our family of six they are not an option.
So, we bought the VW Eurovan.
---
Here is our stable now, from left to right: a VW Eurovan, an Audi A4, and a VW New Beetle.

---
This is my fourth Volkswagen. It all started with my 1961 VW Beetle Sedan. I then had a 1985 VW GTI. We now have a 2000 VW New Beetle (Beth's car), and our family Eurovan.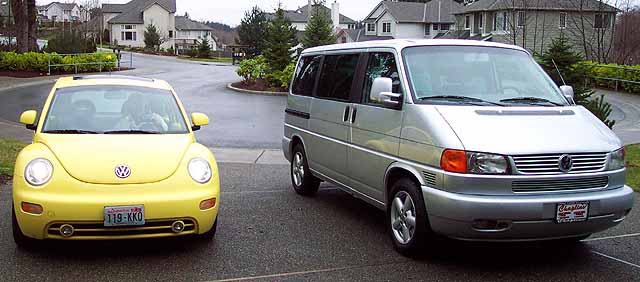 ---
The Eurovan MV is particularly cool because of the rear facing seats. This makes possible the fold-up table. The rear-facing seats fold up or can be removed completely. The rear bench seat folds into a bed like our old Aerostar did, and it too can be removed completely.
The standard Eurovan does not have the table. The Eurovan MV Weekender has a pop-top and a small refrigerator, and the Eurovan Camper has a full galley at the expense of family seating. We wanted to get a Weekender but the pop-top deletes the dual A/C. We felt we needed good A/C more than a pop-top.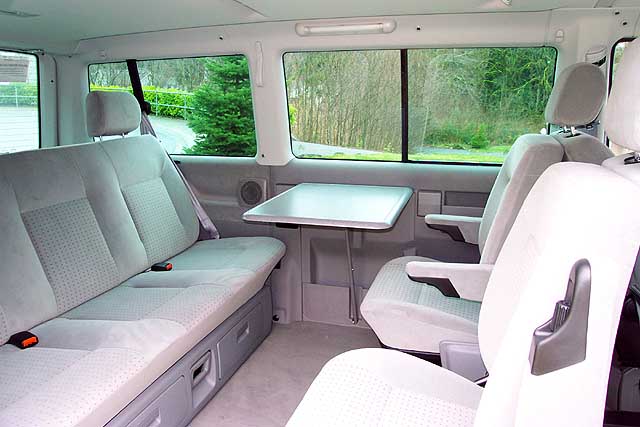 ---
It is front wheel drive, with a 201 HP VR6 engine that is very smooth and nice. What other minivans have DOHC engines with 6500 RPM redlines? 4-wheel disc and antilock brakes combine with a great suspension to make the van feel more like a car than our Astro. It gets 20 MPG on trips too!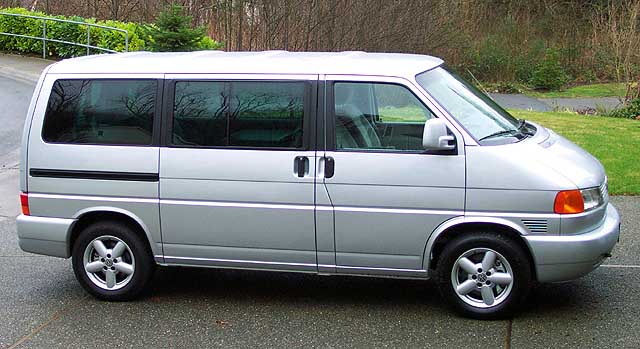 ---
Back to this site's home page.

Created:  19 Jan 2002
Modified: 22 Mar 2002