Frankfurt
The Frankfurt Auto Show is held every other year on odd years at the Frankfurt Messe (N 50° 6'44.31" E 8°39'0.76"). This large convention area was much bigger than I expected: there were 12 areas - I visited five of them in about six hours of walking around. It is huge! Here is what Car & Driver said about the size of the show:
5 Most Significant Debuts of the Frankfurt Auto Show
BY STEVE SILER
September 2007

We went. We saw. We walked. And walked. And after two days, we found a few cars that you'll want to know about.

Every two years, Frankfurt's city center is transformed into an automotive wonderland, with nine massive, multistory halls spread over 10 or so city blocks, each filled to the brim with cars (and journalists) from around the globe. The IAA, as it's called, is without question the mother of all auto shows. And the manufacturers – especially those Germans, go figure – hold their major product reveals and announcements back, sometimes for up to a year, in order to make a cannonball-sized splash in the massive pool that is the Frankfurt motor show.

It took eight of us, each hoofin' it some 15 miles per day, listening to English translations on crackly headsets, elbowing our way through crowds for press kits, and shoving models off turntables to shoot video walkarounds and adequately cover the show. And in the end, these five debuts struck us as the most significant of the bunch:

2009 Audi A4
BMW Concept X6
2009 Dodge Journey
Jaguar XF
Mercedes-Benz S400 and ML450 Hybrids
My favorites were the three Maybachs parked together, a Mercedes S 600 I got to sit in, the new Smart cars, and the VW Cross Polo. Here's a whirlwind tour of my trip.
---
The trip began from SLC airport. I flew on Delta Airlines on 9/18/2007. Flight #48 is supposed to be a direct flight, but I had to change plans to stay on the same "flight" in Cincinnati. It flew all night but the international leg went well and I even slept during the night.
---
When I arrived in Frankfurt on 9/19/2007 I took a short 11 minute trainride (3.50 EUR) from the Flughafen (Airport) to the Frankfurt (Main) Hauptbahnhof (Train Station). It was a very bustling place.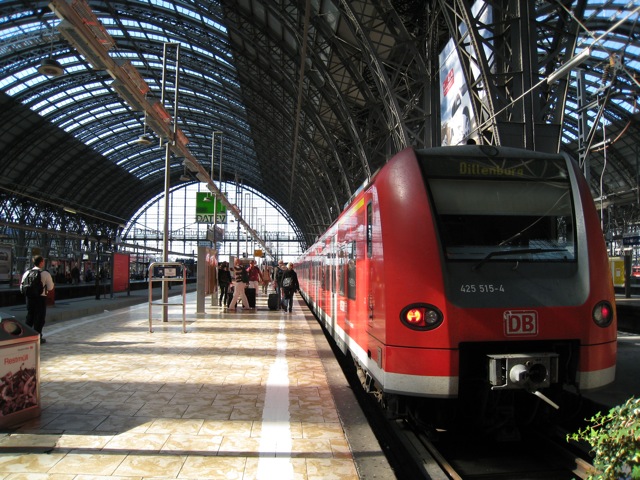 ---
I then walked about 1200 meters (3/4 mi) to the Marriott Hotel. Along the way I saw this pretty skyscraper. Frankfurt is often called the Manhattan of Germany.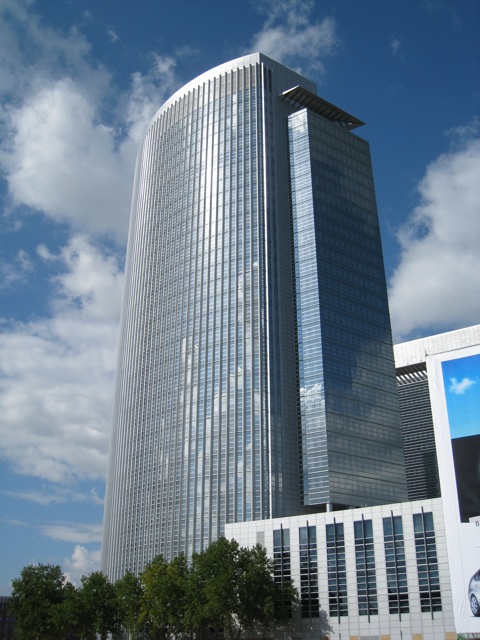 ---
The Marriott Hotel in Frankfurt is the tallest hotel in all of Europe, or so they claim. I picked the Marriott because it is right across the street from the Messe, which is the fairgrounds for the IAA Auto Show. I stayed on the 34th floor and here was my view on my first night. I did not realize that everything you can see lit up in the foreground is just part of the Auto Show grounds. (There are several more buildings off screen to the left, and this was taken with a 28mm lens!)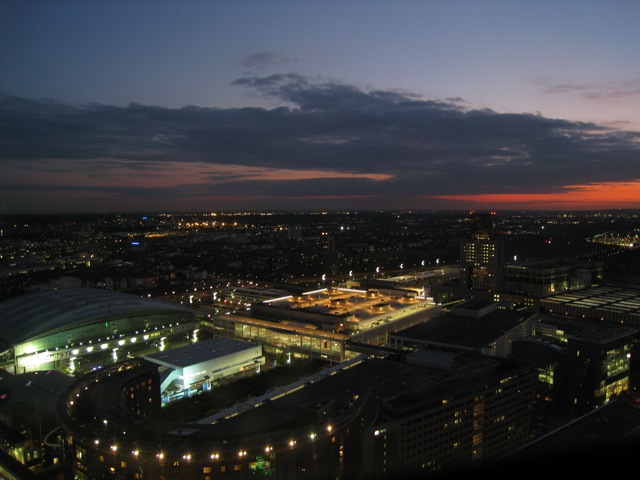 ---
For my first night I went off to look for a local dinner spot. What I did not realize was how few services were near the Marriott and Auto Show area. I walked 15 blocks and ended up in a college district. I saw one restaurant that did not appeal to me, and a small market named Tengelmann. For 8 EUR I bought everything you see in the photo below: bread, salami, cheese, 1.5 liters of Pepsi Light (Diet Pepsi) and even a can of Pringles. It hit the spot.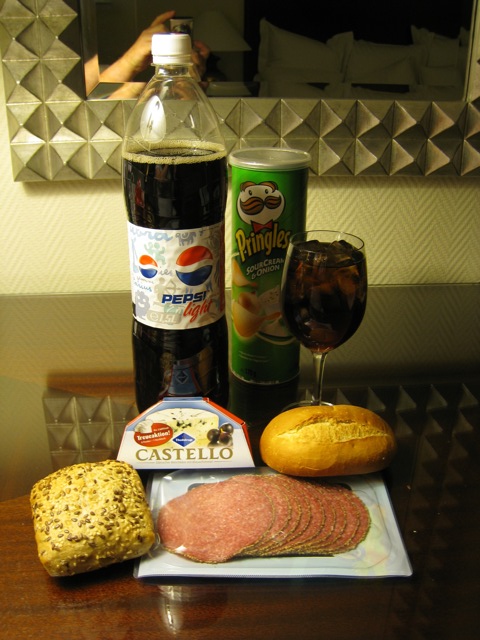 ---
The next morning (9/20/2007) I went to the car show, all of 200 meters away from the hotel. After building #1 (all toy cars), I walked to building #2 (Mercedes, Maybach and Smart). Out of the corner of my eye I noticed between buildings a small courtyard with four Maybachs parked in it, as well as a brand new Mercedes McLaren SLR roadster. I went and checked it out. Here is the McLaren between two Maybach 62S models: one white and one black. The other two were white 57S models. Neat!
---
Inside the building I began with Smart. They introduced a new smart fortwo mhd gas hybrid that averages 55 MPG. However this car, which appears the same is a smart fortwo cdi diesel which averages 71.3 MPG overall - better on the highway! Prices start at 11200 EUR for this two seater. I also saw a lot of Smart cars on the roads of Frankfurt.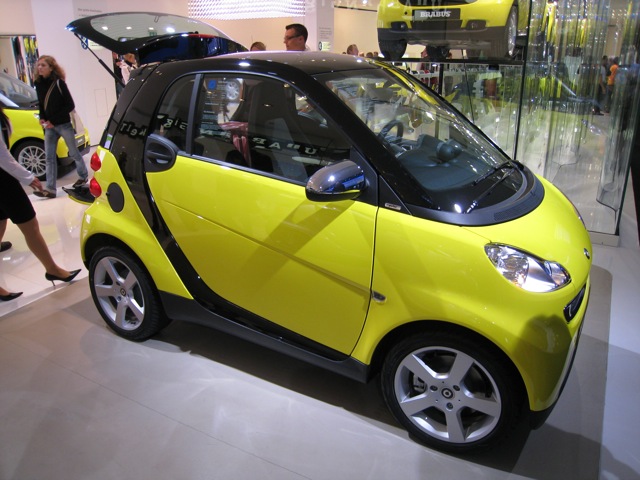 ---
In the center of the Mercedes building was a glass floor with 16 new Mercedes vehicles, arranged by year and with a light show under the floor shining up on the cars. It was gorgeous to look at. The car nearest the camera is coming next year, a diesel-electric hybrid called the S 300 Bluetec Hybrid. It can go 0-62 MPG in 8.4 seconds and achieves an average of 44 MPG, all with a 4-cylinder 224 HP engine.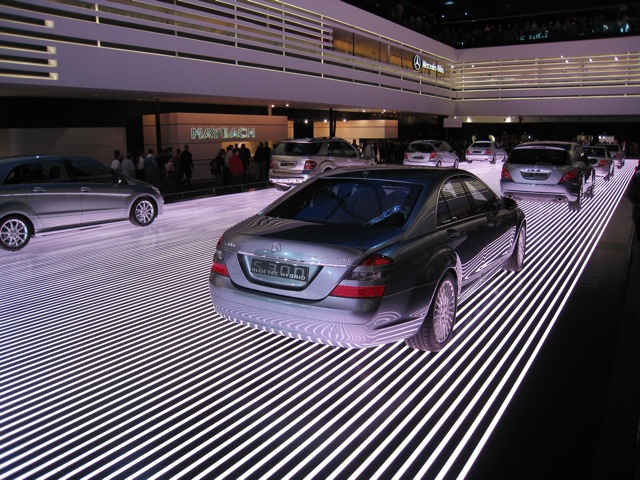 ---
After admiring the show cars on the floor, one rides up an escalator to the upstairs. You are welcomed and given a nice glass of water to refresh you, a nice touch that none of the other manufacturers did.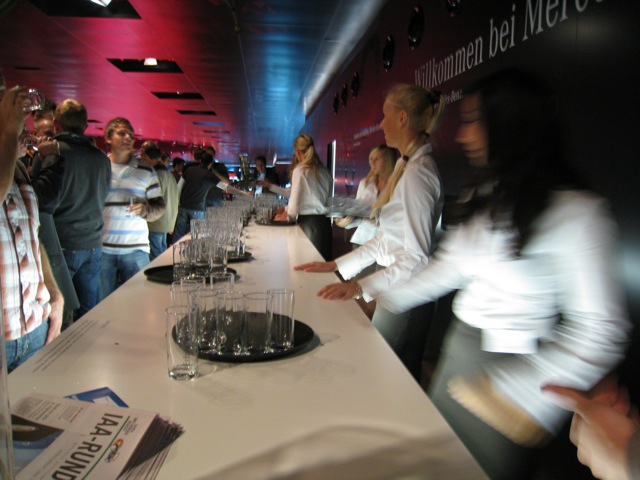 ---
Above the lower show floor on the 2nd level are many Mercedes to sit in. These two cars in the foreground are A160 CDI cars that average 52 MPG.
---
Here is a self-portrait taken in the stern of an S 350 that I sat in for quite a while. I also checked out the backseat refrigerator in an S 600 and sat in the driver's seat of a CL 63.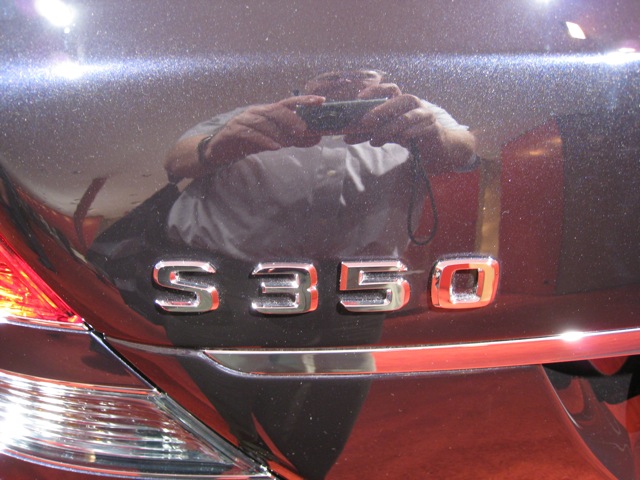 ---
This is an aerial view of their new F700 Research vehicle. This car goes 0-62 MPH in 7.5 seconds and averages 44 MPG, using a 15 kW electric motor and a small 1.8 liter 4 cylinder Diesotto engine, a new style of gas engine that borrows diesel technology. The goal is for this large 3750 pound vehicle to be like a V6 S-Class in luxury and performance while using much less gasoline. It is cleaner than diesel and is a good hedge in case they cannot keep diesels clean in the coming years of ever tightening regulations.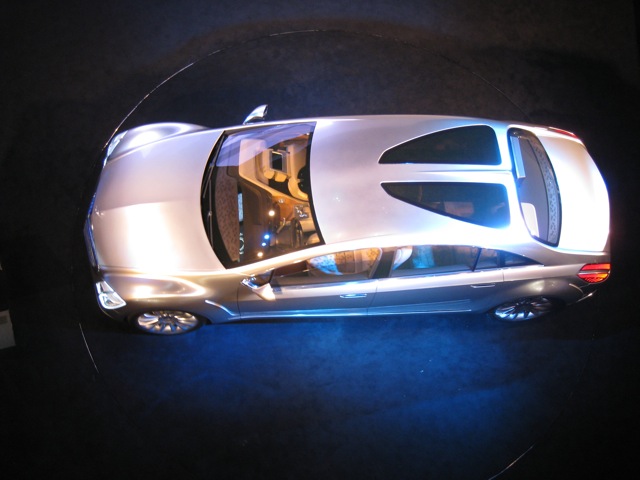 ---
This is the new Mercedes E 300 Bluetec, a slightly cleaner version of my car, introduced new at the show. (0-62 in 7.2s, 32 MPG) My E 320 CDI is actually faster (6.8 sec 0-62) and more efficient (35 MPG), but I think the European cars have taller gearing for the Autobahn so it may be more efficient at fast speeds. Anyway, nice wheels, but otherwise looks just like mine.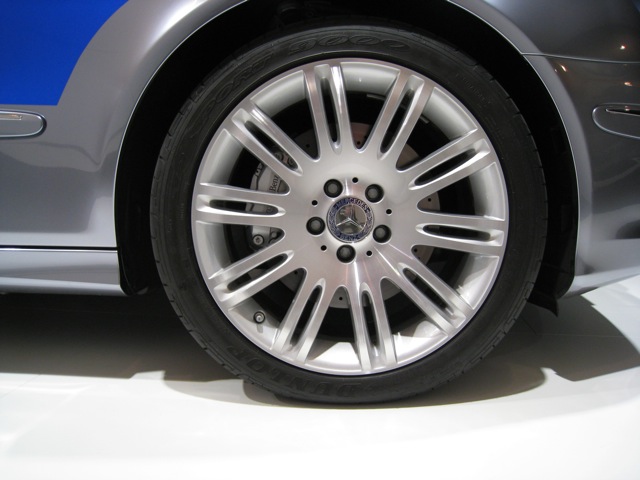 ---
This variant is the S 400 Bluetec Hybrid. It is a few years away, but 0-62 comes in 7.3 seconds with 40 MPG using a 265 HP V6 and a 61 HP hybrid module.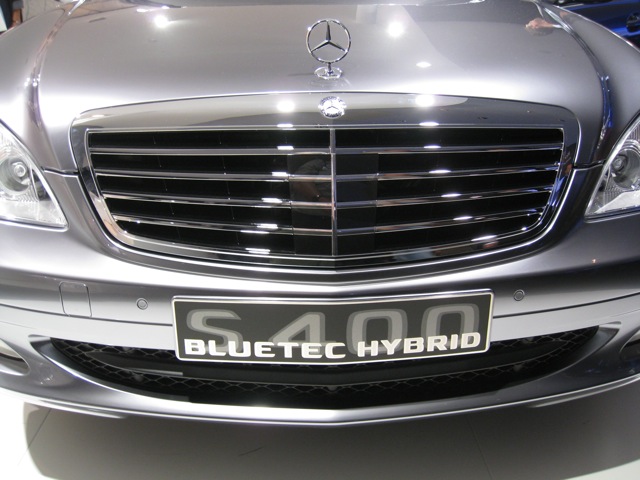 ---
This is me sitting in the S 400 Bluetec Hybrid! One of the neat things at the show is they allow people to sit in almost everything. I like the piano black lacquer interior finish, which is available today in S Classes.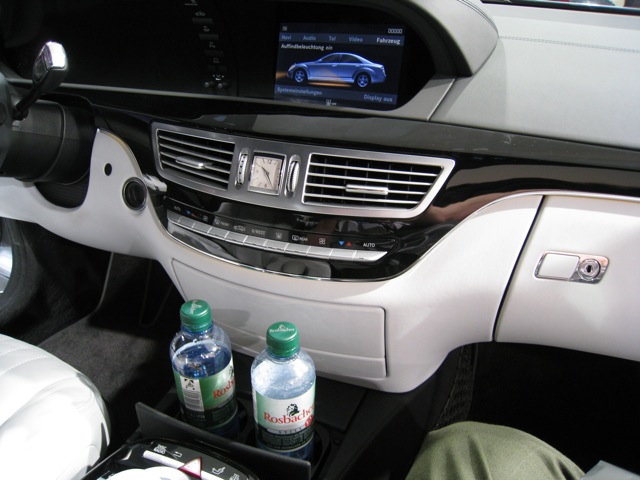 ---
On to the BMW building, located in the agora.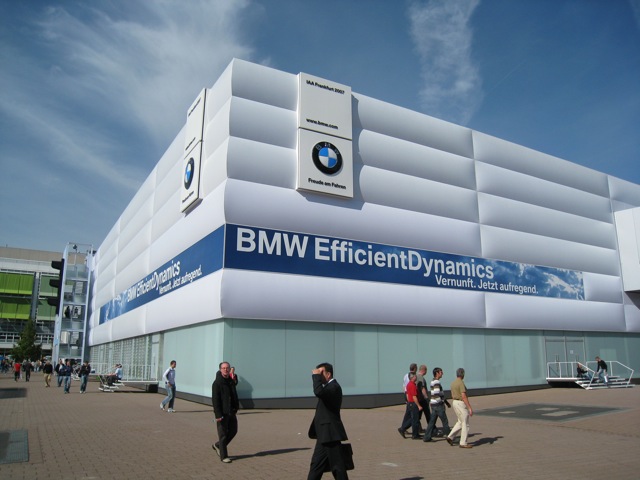 ---
This is the BMW X6 Active Hybrid concept car. Also interesting at BMW (but not shown here) is the 123d Coupe which looks like the old BMW 2002 cars. We will not be getting the diesel just yet, but we will get the 135i variant.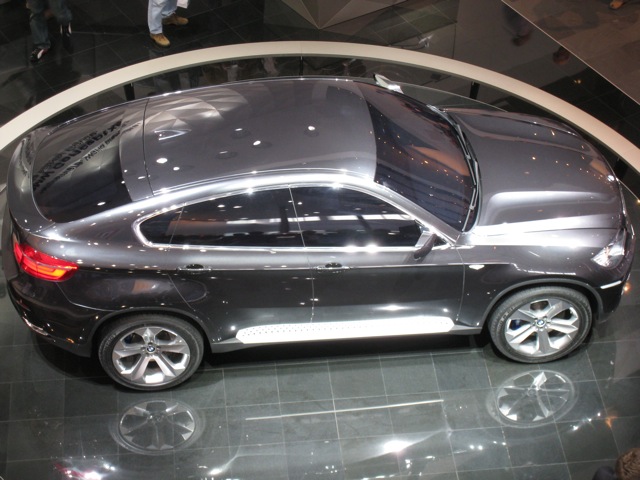 ---
On to the VW building, where I just loved the seats in the VW Cross Polo. Great cloth fabric, nice stitching, gorgeous colors. Send these to the US!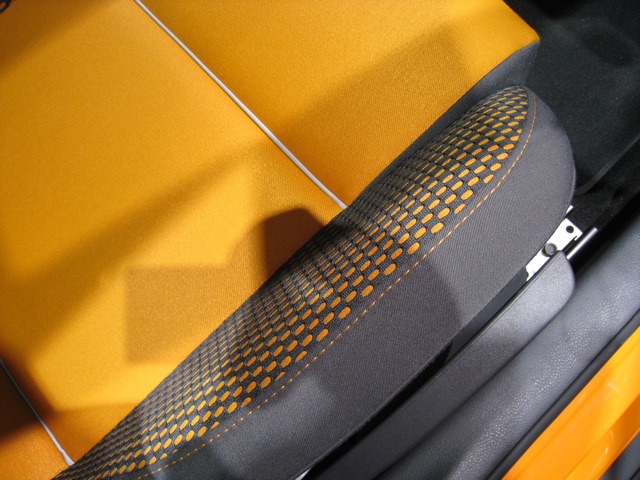 ---
Here is the new VW Golf Variant which will be sold in 2008 in the US as the new Jetta Wagon.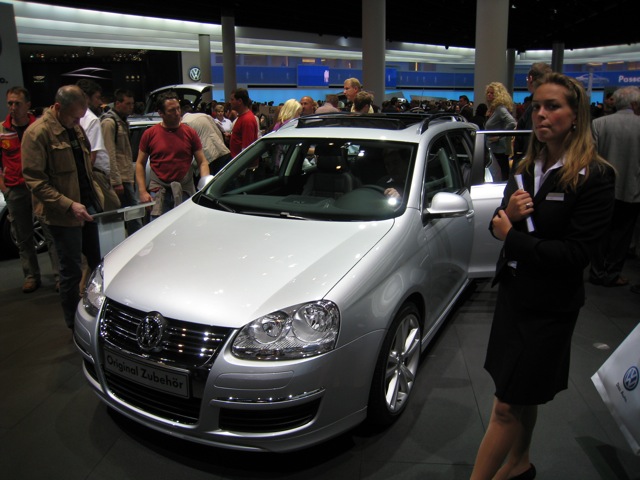 ---
Audi had a new RS 6 Avant (wagon) with a twin-turbocharged direct-injection V10 and 580 HP. 0-62 MPH in 4.6 seconds hauling 4,464 pounds and up to 1660 liters of luggage. It is not coming to the US.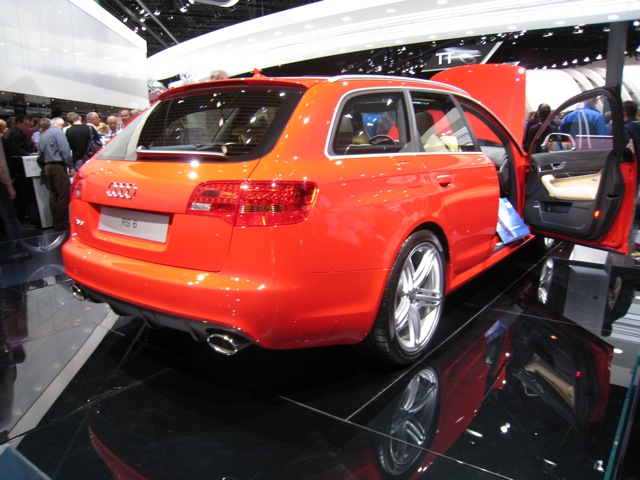 ---
This is one big show. The red car to the left is the brand new Audi A4, which looks great but still has a cramped back seat. (I tried it out.)
---
If you waited in line you could climb in various active areas outdoors. One was bungi jumping. Free.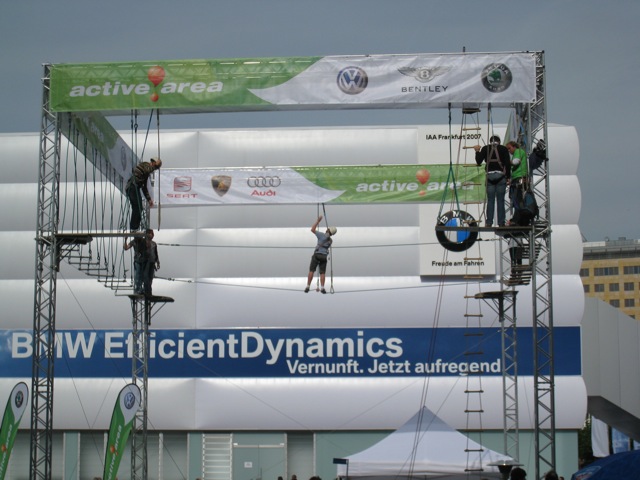 ---
Check out this new MINI color. The MINI ONE is the entry level Mini with 95 HP, an average of 44 MPG, and a highway mileage of 53 MPG. This is not a diesel, but just a standard gas engined car. Why do we not get these in the US?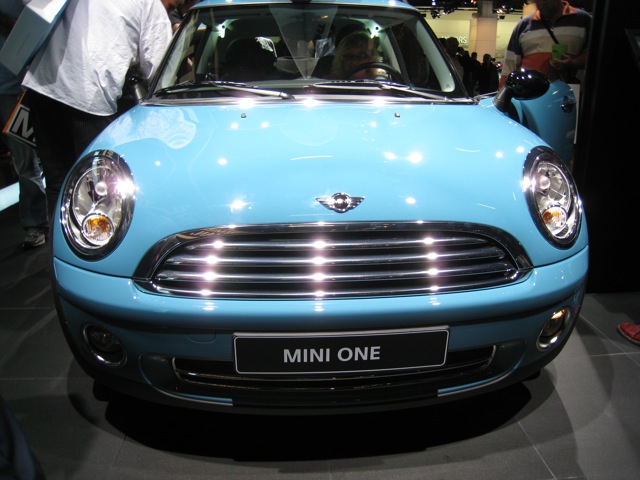 ---
This is the new MINI Clubman S. I rotated the camera to get this photo, as this car is actually hanging off of the side of a wall! In other words, to the right is straight down. The Clubman was introduced here at the Frankfurt show, and it is 10" longer than the regular MINI, gets a couple of Dutch doors at the back and a single extra suicide door on the passenger side. This length gives 3" more rear seat legroom and the trunk space goes from 5.7 cubic feet to 9.2 cubic feet. The S takes 7.6 seconds to 62 MPH, can go 139 MPH, and averages 37 MPG with 5.3 inches of ground clearance.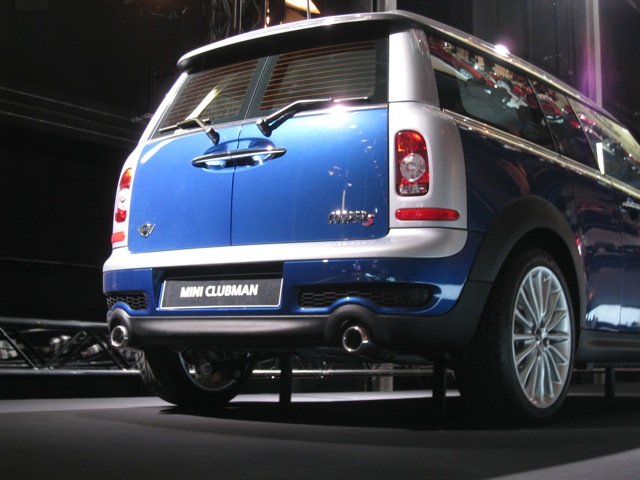 ---
In the Italian building was Maserati and Ferrari. This nice Maserati GranTurismo welcomed you, but the crowds were so thick that I spawned upstream and got out as it appeared that the stream of people was so thick you could not change your mind by the time you got to Ferrari.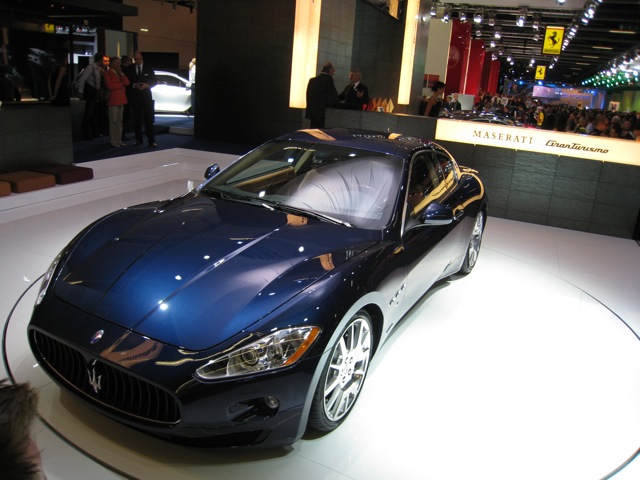 ---
In one of the miscellaneous buildings was GM (quite a bit of interest), Subaru (absolutely no interest), and Citroën (mild interest). I really liked this Citroën Picasso. It had nice interior materials and clever packaging.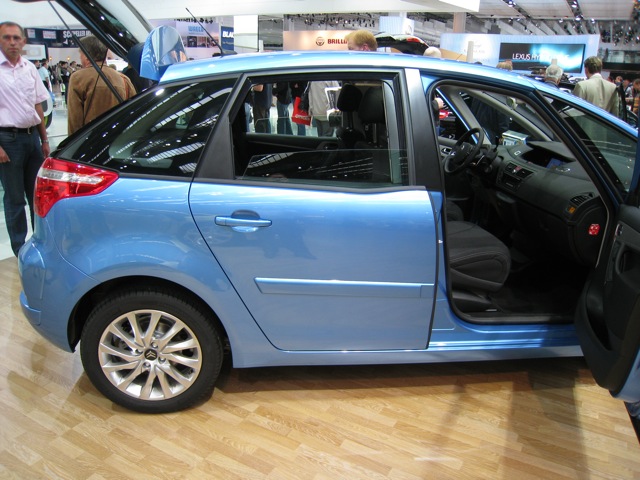 ---
This is the driver's display for the Citroën Picasso. A "handy" is a cell phone.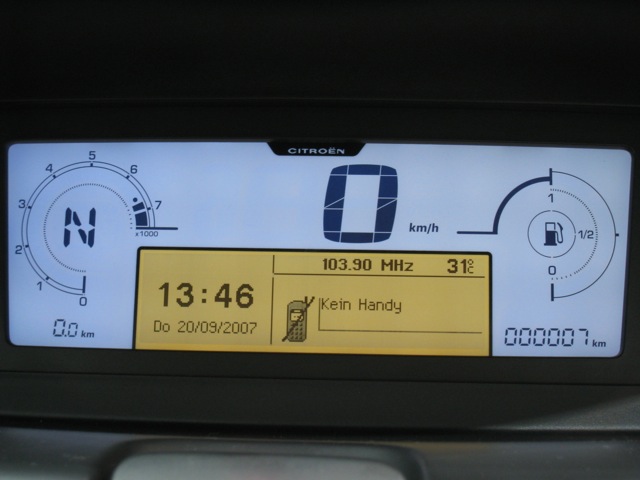 ---
Toyota had this glass floor with rocks underneath, so you would feel like you are outdoors. They had the only pickup truck at the show, the only one I saw in Germany at all actually. It was like a Tacoma, a small crew cab, with a diesel engine. It was called a HiLux, and there was some interest in it. There was no interest in the Lexus hybrids, not even the two month old flagship LS 600h. Lexus was almost as empty as was Subaru. Honda? I never even saw their exhibit, but I know they were there.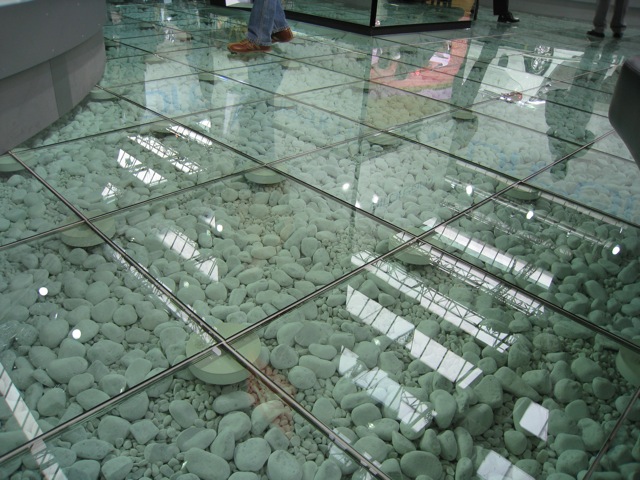 ---
This was from the hood of a Ferrari F430 outdoors. Between the buildings were lots of places selling bratwurst (3 EUR - excellent, juicy, sizzling hot, on a french roll), ham and cheese bagettes (4 EUR - with lettuce, tomato, boiled egg, cucumber - very good), pretzels, pizza, and Coca-Cola (4 EUR).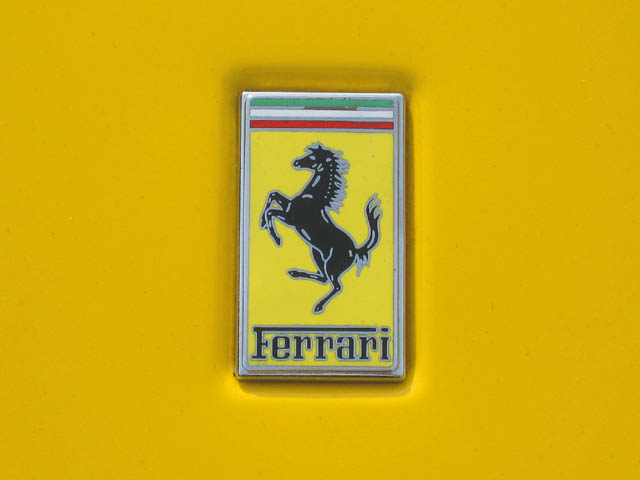 ---
One random thing I saw was a fully functioning replica of the world's first car. Mercedes made a batch for museums recently. 3/4 horsepower, maximum speed of 10 MPH. We've come a long way...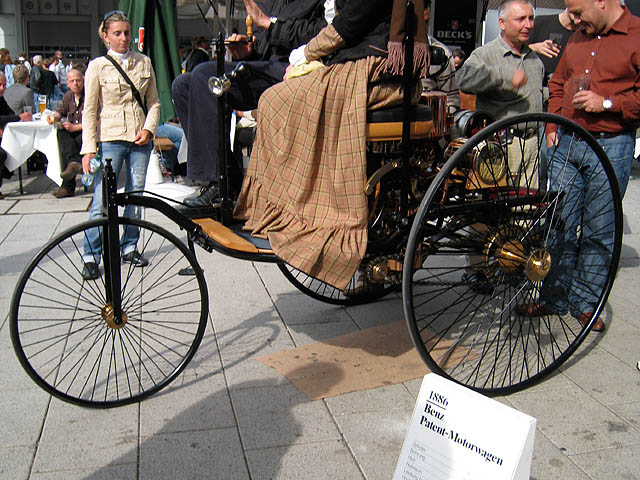 ---
This pretty lady was dressed 1890s-ish and you could sit with her on the 1886 replicar and have your picture taken.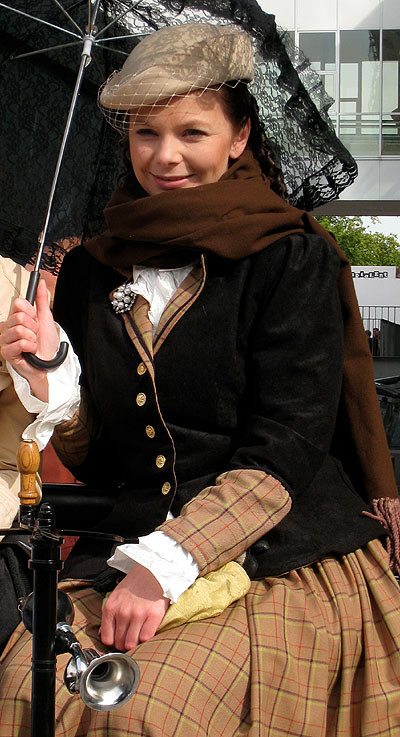 ---
Germany alone is not as much fun as with someone, so once the show was over I decided to return home early. I left September 21st on Delta flight 49 back to Cincinnati. I bought my ticket two hours before the flight left, in the airport, and paid less than I did for the original flights! Just after takeoff I am looking down on the town of Eddersheim. Frankfrust is in the upper right haze. The river is called the Main and it flows into the Rhine to the South.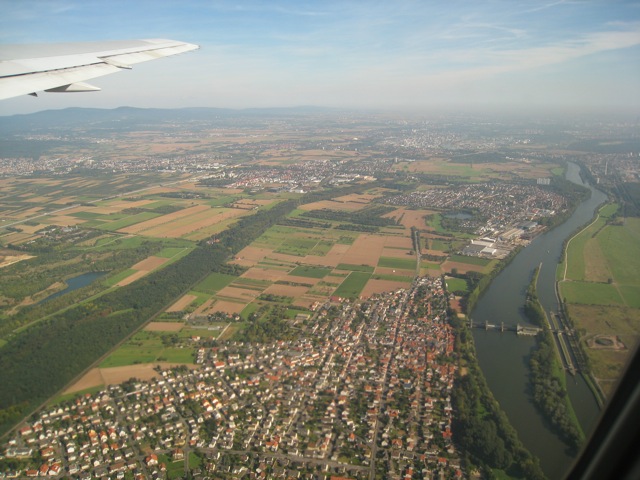 ---
The flight flew over England and Ireland and then to Newfoundland and before you knew it, we flew over Salem and Marblehead, Massachusetts. You can even see my wife's rock that she used to go to as a young girl. Check out all of the nice boats in the twin harbors.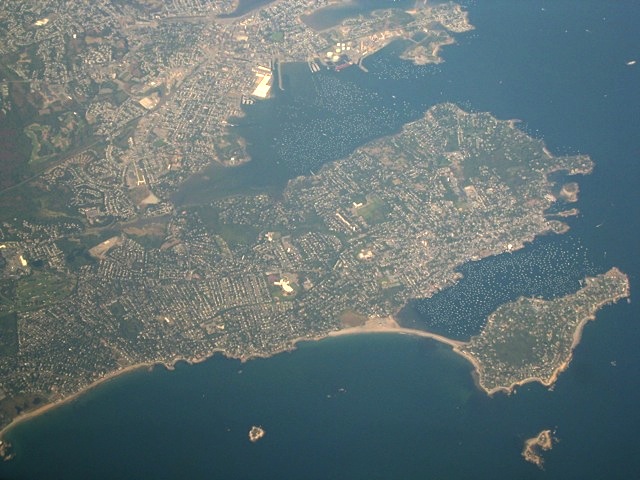 ---
Finally, back to Utah where you can see the fall colors on the slopes of 11750 foot Mount Timpanogos.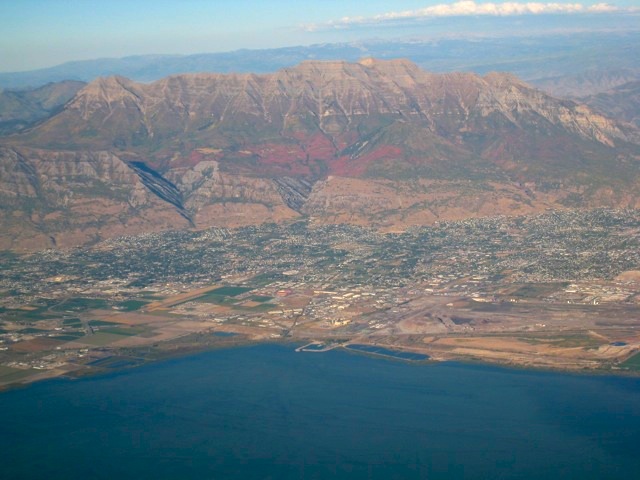 ---
Back to this site's home page.

Created:  25 Sep 2007
Modified: 15 Jan 2008