Highway 20: The North Cascades Highway
---
First of all, a map. One drives north on I-5 until the exit to go to Anacortes, but instead of going west to Anacortes, you go east on Highway 20, through Sedro-Woolley, and on up into the Cascades. The return trip is down to Winthrop, and south to Chelan, and then Wenatchee, and then we go down to Cle Elum via 970 to I-90 and back to North Bend, but you could also go over Stevens Pass on Highway 2.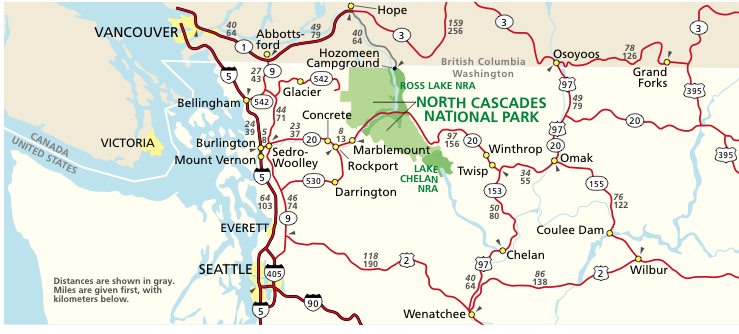 August 22nd, 1999 was the first time our family went on the North Cascade Highway loop. We went 440 miles in 11 hours, bought peaches north of Wenatchee, and had a great trip.
We had so much fun we felt it was time to do it again, so on August 1st, 2004, we made the loop again. This time we drove 427 miles and did it in 11 hours and 26 minutes. Here are photos of our August 2004 trip.
---
East of Sedro-Woolley is a wide spot in the road called Birdsview, but one of the tastier hamburgers made is sold here at Birdsview Burgers. It was about 2 PM when we got here.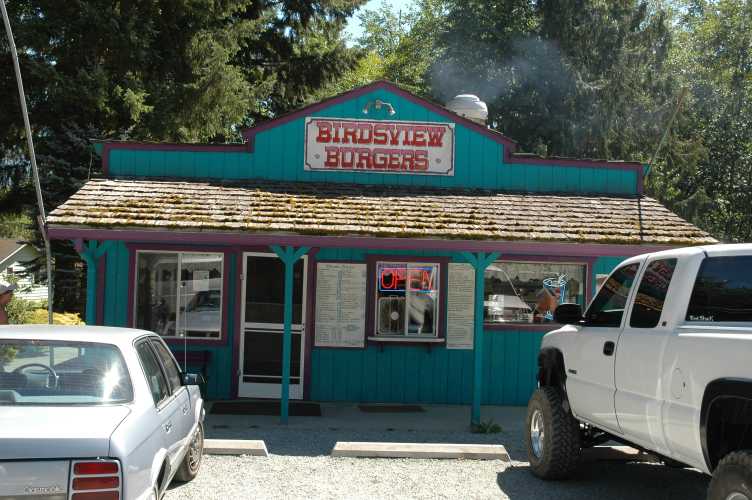 Birdsview Burgers GPS Location: Latitude N 48.53420°, W 121.87683°, 265' ASL.

---
The Cascade Burger is recommended: patty, sausage, and bacon. Very tasty!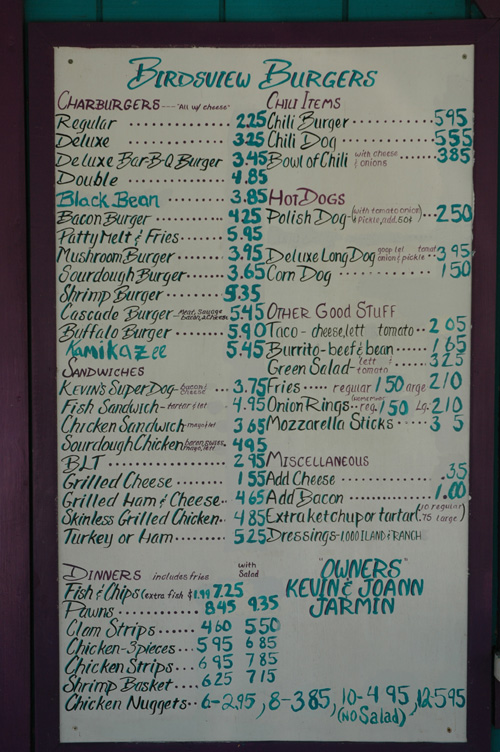 ---
Next as you head east on Highway 20 is the town of Concrete, of course named for the former concrete plant that still stands.
---
We took our EuroVan and the kids have a great time in the back messing around.
---
We have really enjoyed our EuroVan. A folding table, a folding rear seat, lots of luggage room underneath, a great engine that sounds like a Porsche, excellent brakes, seating for 7, including two seats facing backward - it is a perfect family car.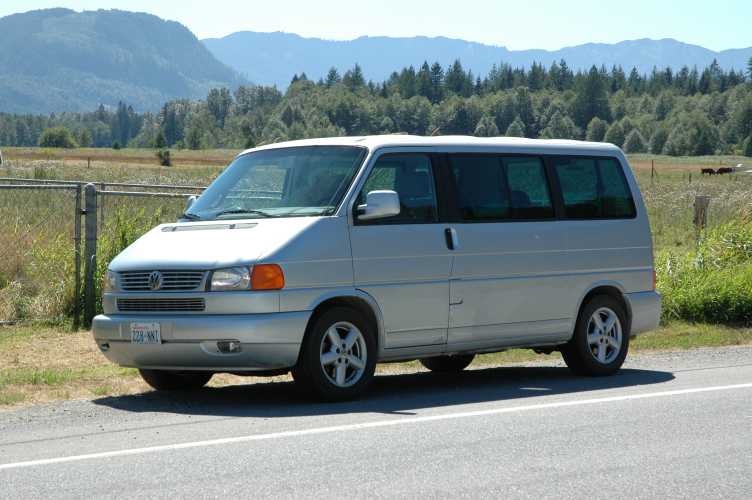 ---
As you proceed up Highway 20 you are in the Skagit River valley. In March a lot of Bald Eagles come here to nest.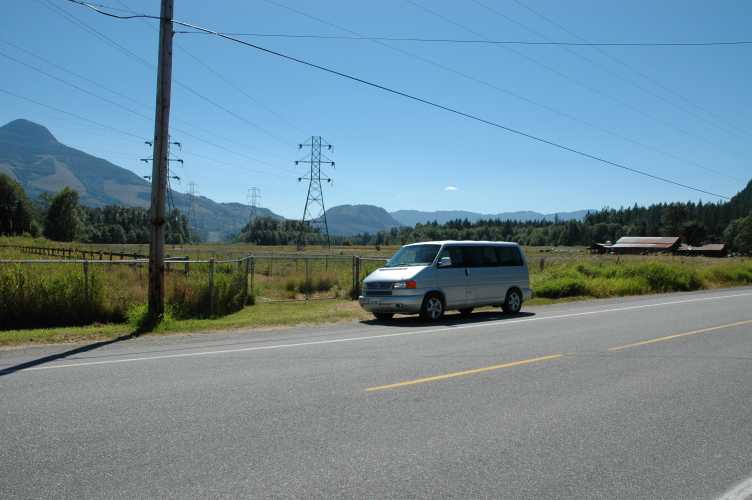 ---
As you leave the valley and enter into more rugged country in a canyon, the last city that has any services is Newhalem, the home of a large power plant and this steam engine which used to travel from Newhalem down to Concrete and Sedro-Woolley.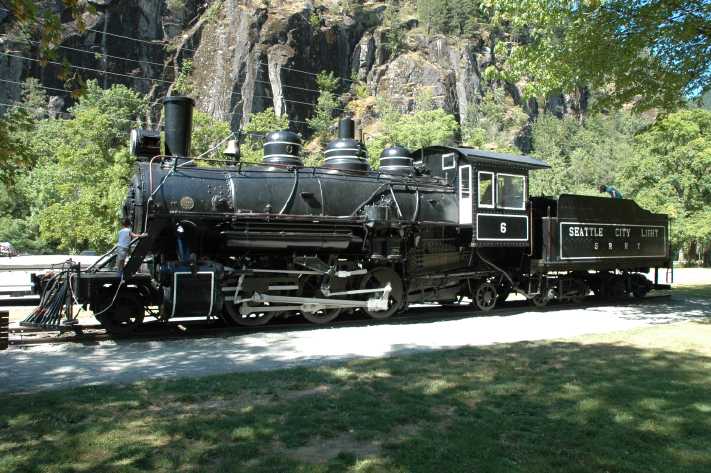 ---
This steam engine is called a Prairie type, as it is a 2-6-2. It was part of the Seattle City Light company's railroad. "Old Number 6" as she is called, was purchased in 1927 for $7,500. She carried supplies and equipment to build the dams and powerhouses. She ran until 1954. The engine was restored in the 1970s.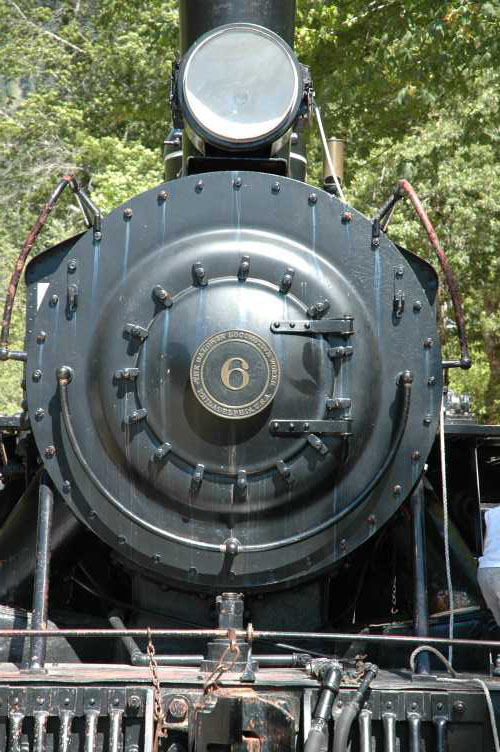 #6 GPS Location: Latitude N 48.67365°, W 121.24722°, 492' ASL.

---
The Skagit river in this canyon has a beautiful color to it. These photos have not been color corrected at all: this is how they look from a Nikon D70. The river looks like the water in Tahiti looks. Why? It was about 3:30 PM at this point.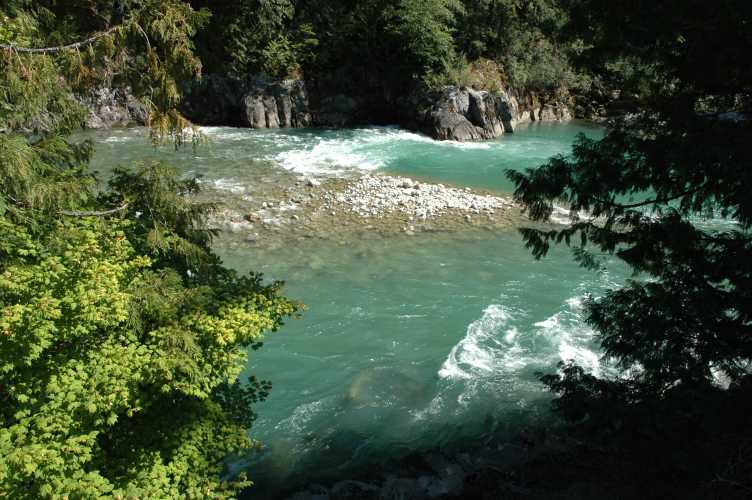 ---
Seattle gets much of its power from these facilities. This Gorge Power Station in Newhalem is one of several that are on the Skagit River. Just think of the immense effort that must have been made to create a railroad to bring all of the supplies up to build such a thing! And we all take our power for granted. If it were not for huge projects like these, there would be no computers because there would be no power to run them all.

GPS Location: Latitude N 48.67468°, W 121.24172°, 586' ASL.

---
Nice summer days bring out the sports cars on highway 20, especially convertibles. Here, taken through my rear view mirror (!), are six sports cars, four of which are convertibles, and four of which are red.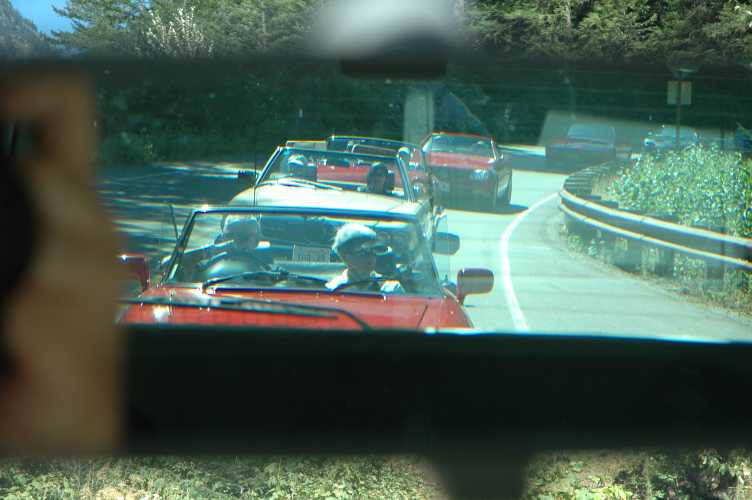 ---
I let several of them pass us. One of the main dangers of highway 20 are the landslides which happen very regularly. It is very rugged terrain. Here the road was narrowed to one lane due to a recent rockslide. A week after we drove Highway 20, a landslide covered 3 miles of road with mud, trees and rocks six feet thick! It closed the highway for many weeks. It is always good to check road conditions before attempting the road.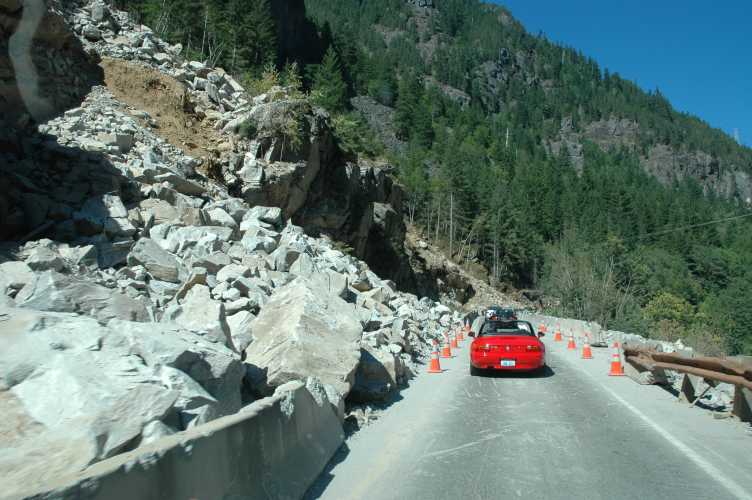 ---
Here again is more of that unreal green-ish tropical water in the river... about halfway between Newhalem and Diablo Lake.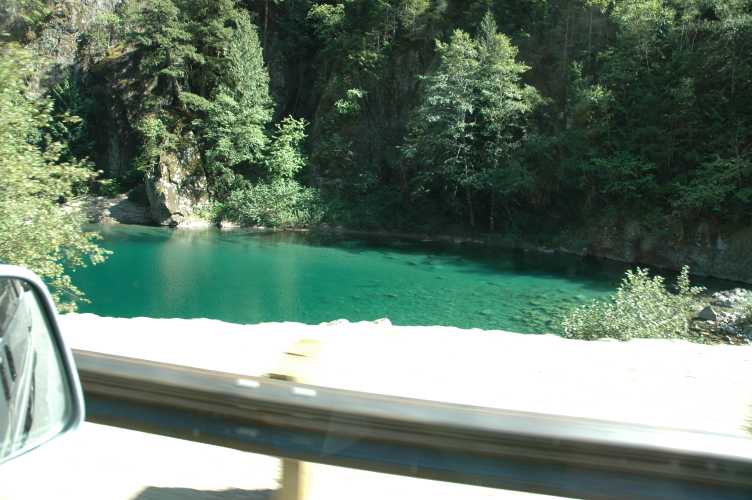 ---
There are several tunnels that had to be bored through the granite.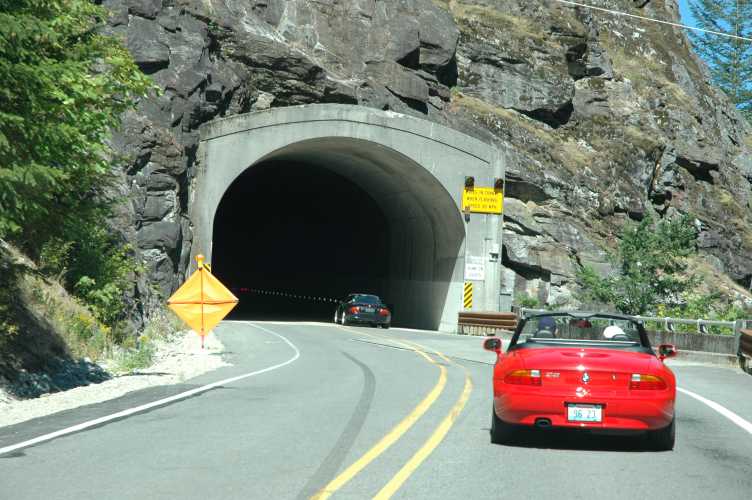 ---
This is the Gorge Dam, the dam above the Gorge powerstation. It's spillway is at 878' ASL. The next dam up the river is called Diable Dam, and it creates Diablo Lake with a spillway height of 1208' ASL.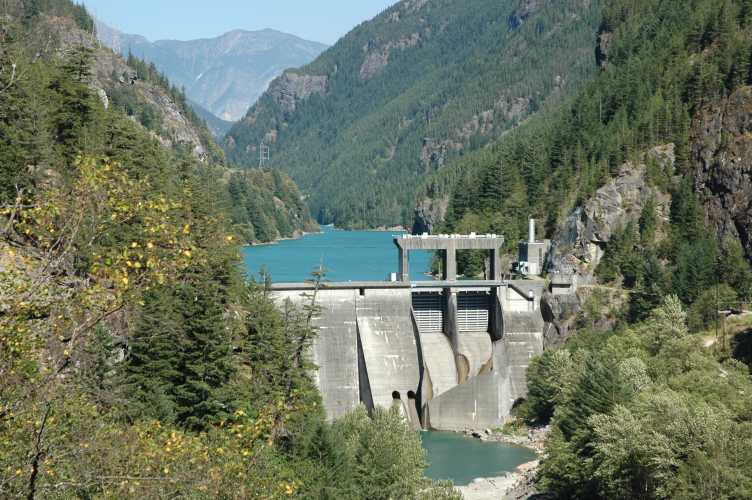 ---
Notice how steep the canyon is and you will understand why heavy rains trigger so many landslides. Notice too the power lines running up and down the canyon that distribute the generated electricity.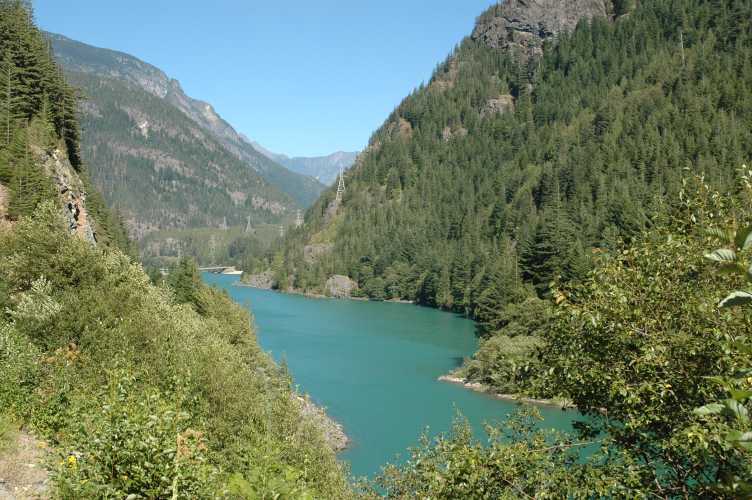 ---
Now for a surprise: Diablo Lake, which is entirely Tahiti-colored, has large boats and boat houses on it! And tourist boats like Lake Union does!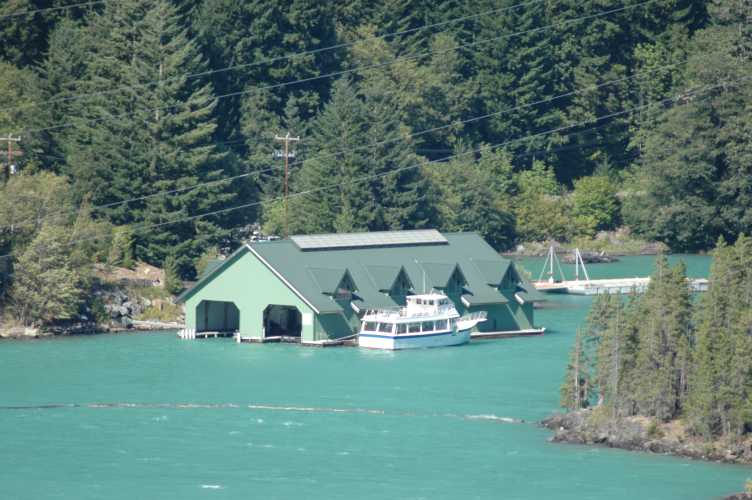 ---
Andrew wanted to buy the large island in this photo to setup his computer game software company on. He liked it because power already came to the island!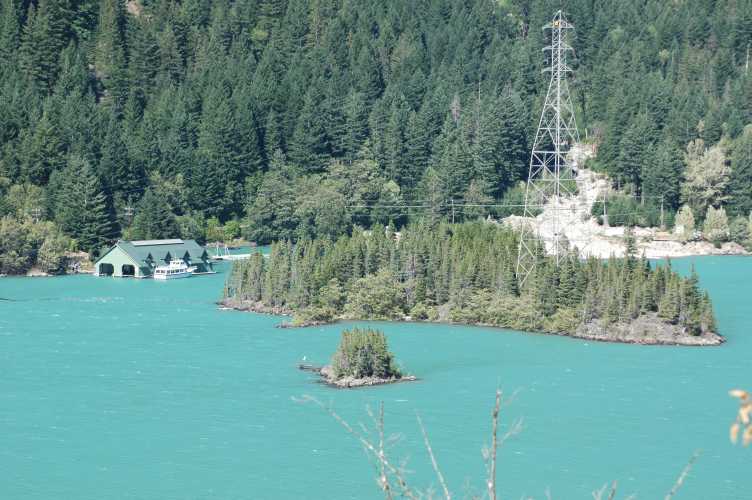 ---
Here you can see the people getting on and off the boat, and parking in the trees. We would have probably taken the boat ride but we did not know about it until we spied it all happening from across the lake at a vantage point. These photos were taken with a 450mm telephone lens.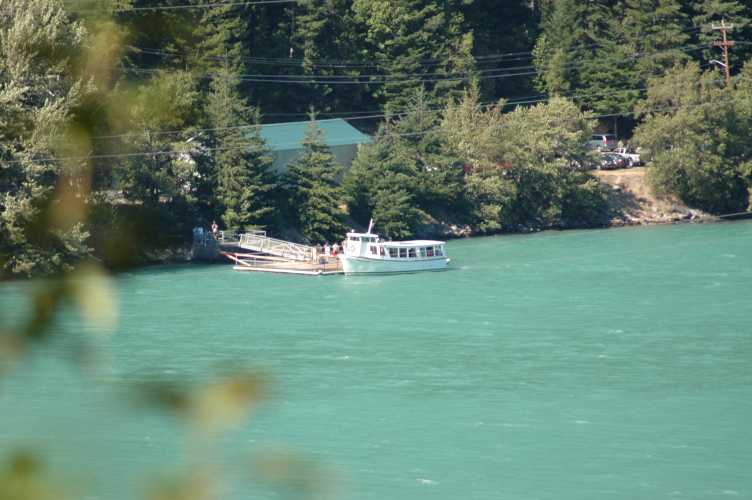 ---
Pretty flowers with Diablo Lake in the background.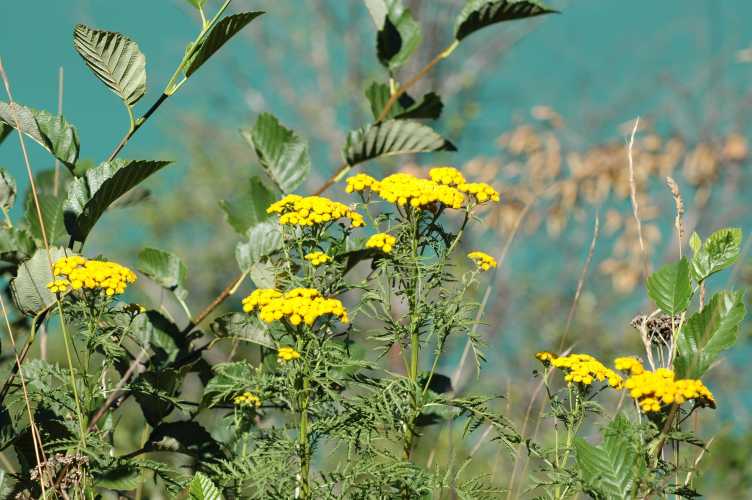 ---
It was a nice warm day and winding roads can relax children nicely. Oh to be a kid again...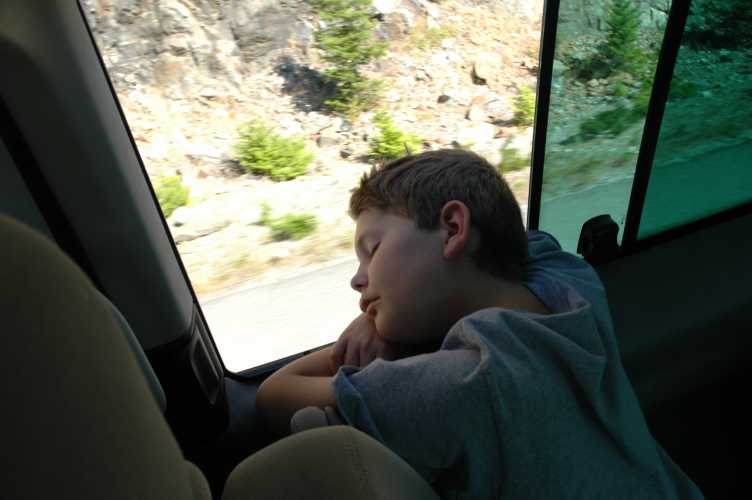 ---
There are some great vantage points to view Diablo Lake. He stopped at many of them. Here a relief map is being inspected by the whole family to see if we can identify all of the mountain peaks in the area.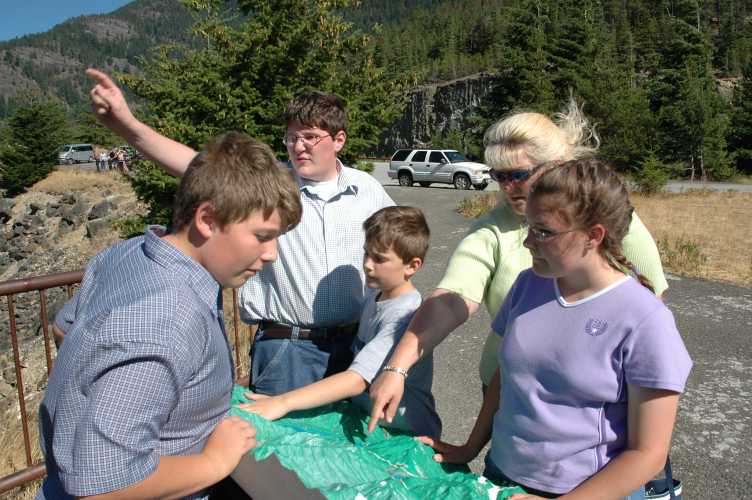 ---
Here you see more of Diablo Lake, and Andrew is showing Rachel "his" island in the distance.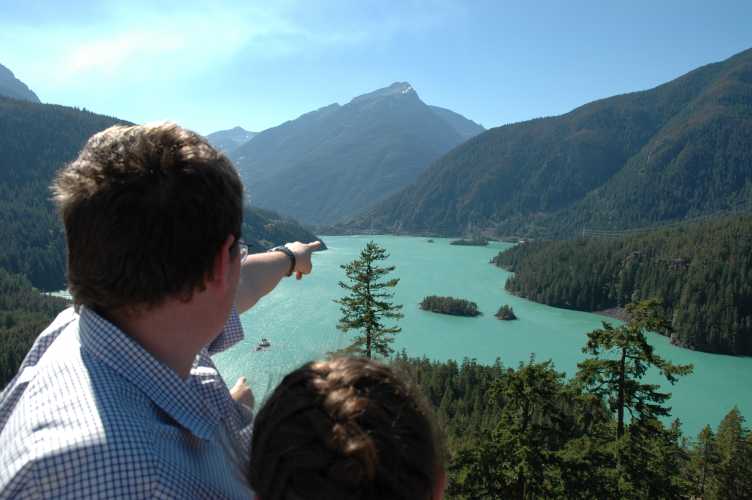 ---
Many bikers enjoyed Highway 20 the day we went.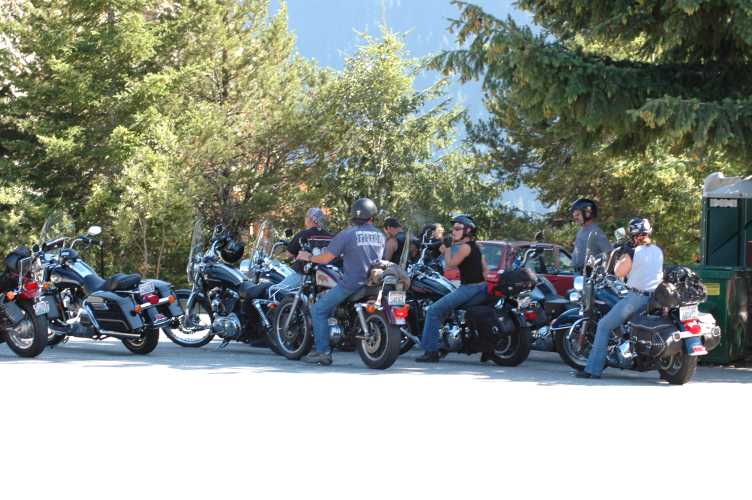 ---
The peaks are beautiful and impressive. I believe this mountain is Colonial Peak, height 7771' ASL.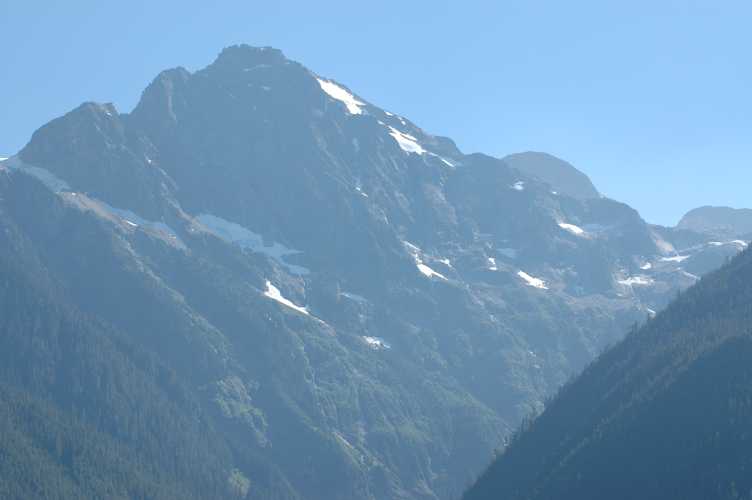 ---
Rachel picked out this smaller island to be hers. I imagine if the lake got much higher this island would disappear. We were very curious as to why the water was so green.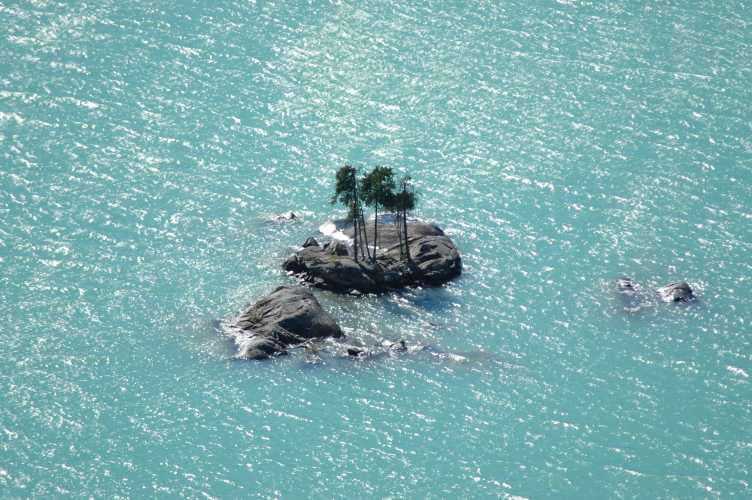 ---
It was here that we found out. There was a man at a desk at the overlook who volunteered as a ranger for the North Cascades park. He told us that the glaciers in the area grind the granite rock up and these tiny particles of rock when added to the water give the lake and the river this color.
The man also had a stuffed marmot. I believe it is a Hoary Marmot Marmota caligata.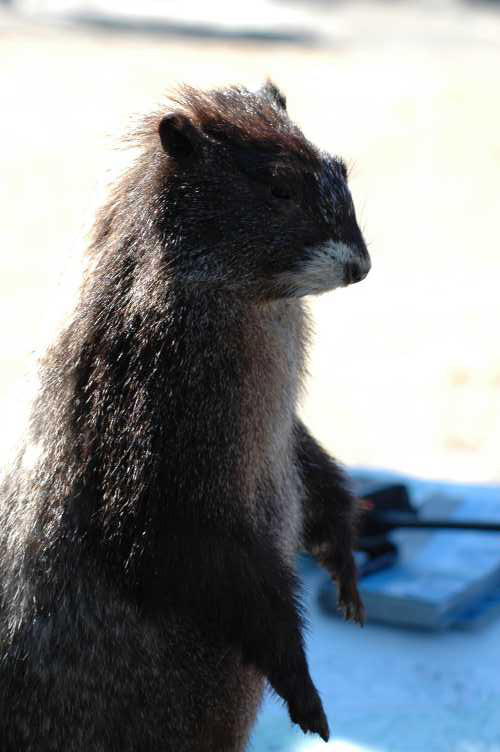 ---
More of the Harley's...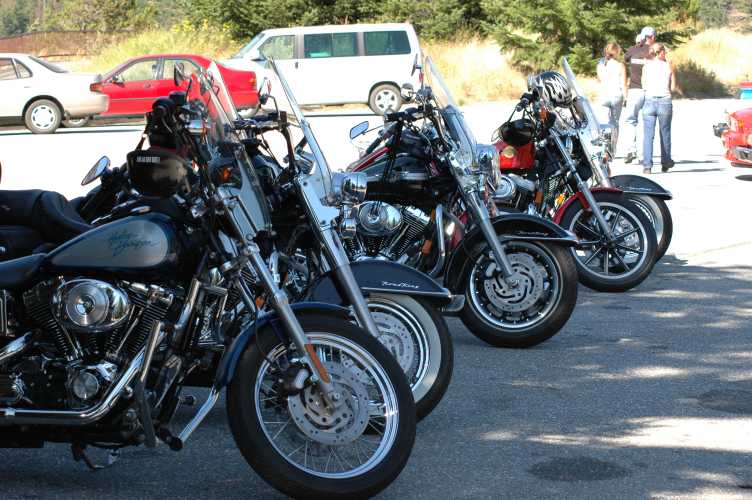 ---
And another closeup of Andrew's island from across the lake to the south. It was 4:30 PM.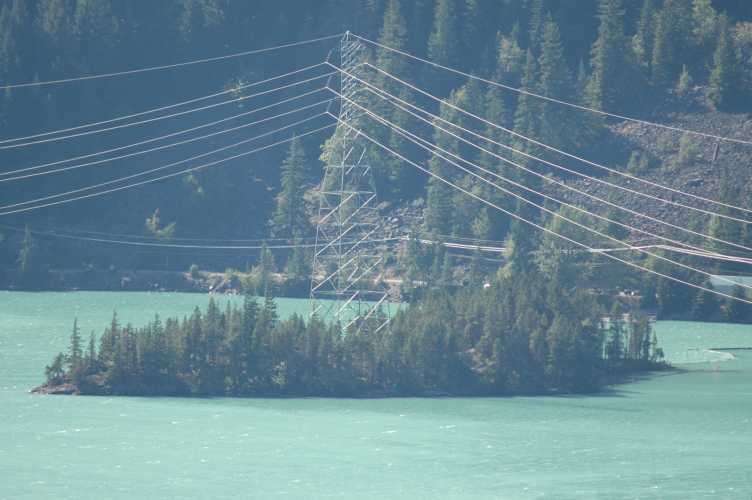 ---
Above Diablo Lake is Ross Lake, which stretches north for 18 miles to the Canadian border. It is narrow and long.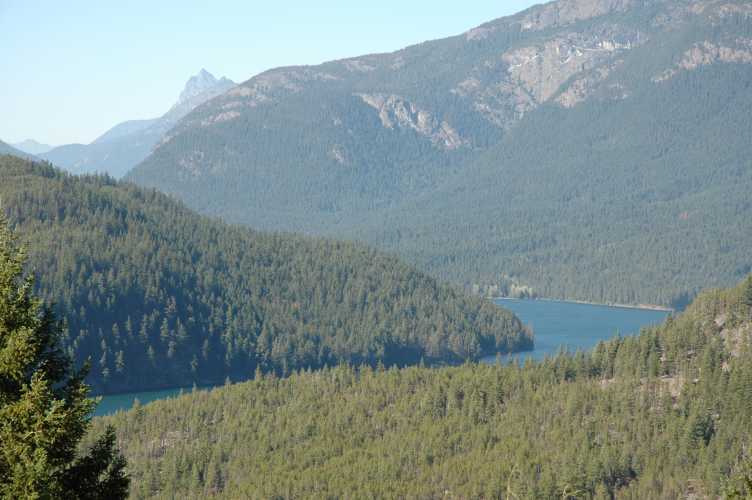 ---
Continuing east - almost to the pass - are views like this.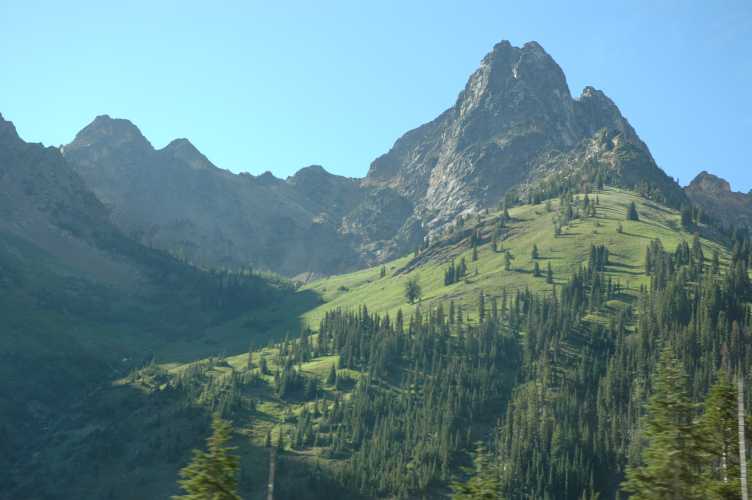 ---
And here we are at the highest point that you reach on Highway 20 itself: Washington Pass, height 5477' ASL officially. I got 5456' on my GPS. It is just around this bend where the big 3 mile mudslide hit a week later.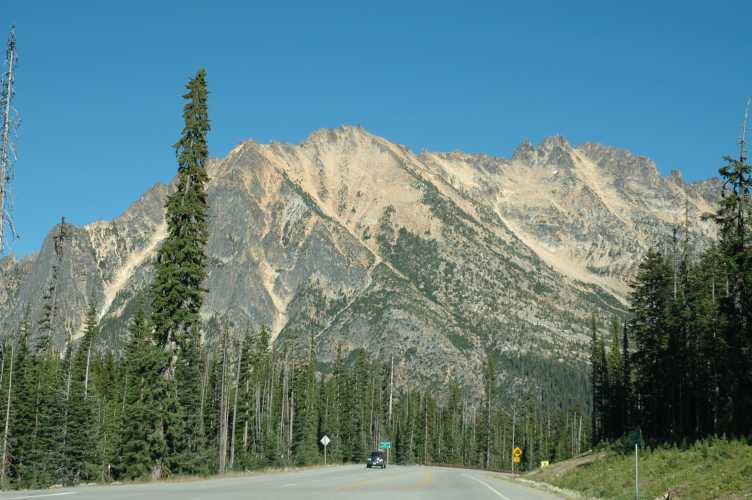 ---
As we descended the dry eastern side of the pass, we began to see a lot of smoke, forest fire smoke. We then came out to a clearing where we saw tons of fire fighting equipment and helicopters. It was 5:30 PM.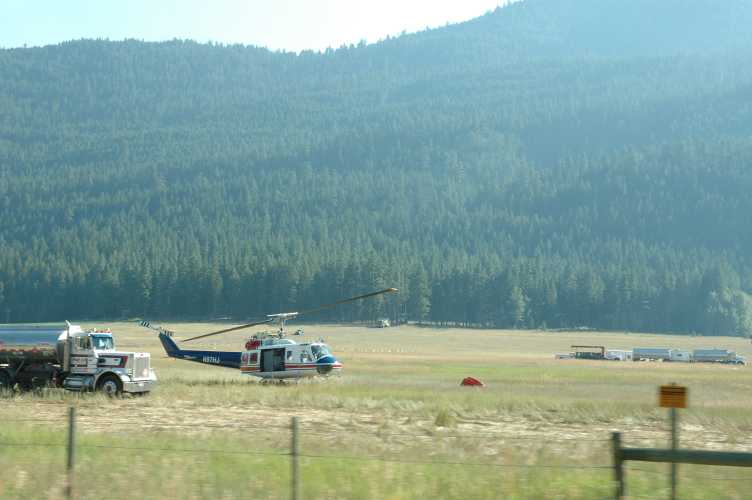 ---
Firefighters were eating under trees taking a break, and the smoke got thicker. We found out when we got to Winthrop that the smoke was due to the big fire that raged for months north of Chelan, the "Pot Peak - Sisi Ridge - Deep Harbor" fire that made it to the top 10 fires of 2004 for the US.
47,170 acres were burned and it cost $42,490,000 - the most expensive fire of the year, although not the biggest in acres burned (that was 614,974 acres in Alaska for which only $3,700,000 was spent). However the most impressive part of this fire was that it burned from June 26th through September 6th: 72 days of burning out of control! It was, like all of the other top ten fires for 2004, started by lightning.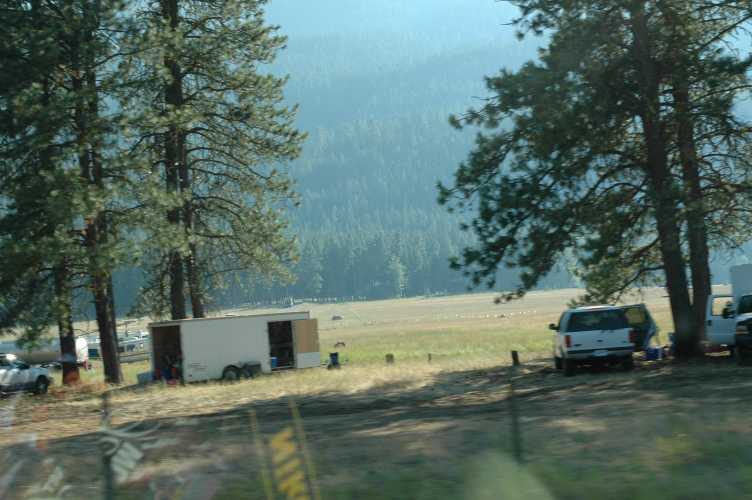 ---
Rachel always swooned when she saw the ranches full of horses.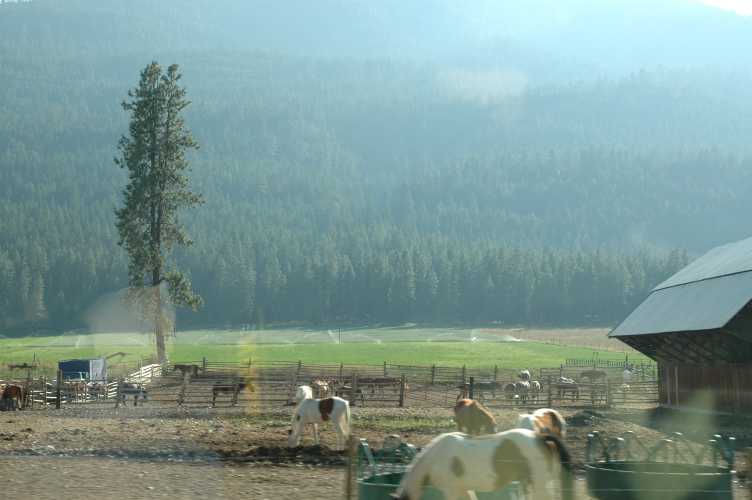 ---
Well we rolled into Winthrop finally about 7:15 PM. This was as far north and east as we were going, the furthest point from home. It was only 102 miles as the crow flies, but it was 221 miles to get back home via Wenatchee, Cle Elum, and I-90 to North Bend. We were ready for a good meal.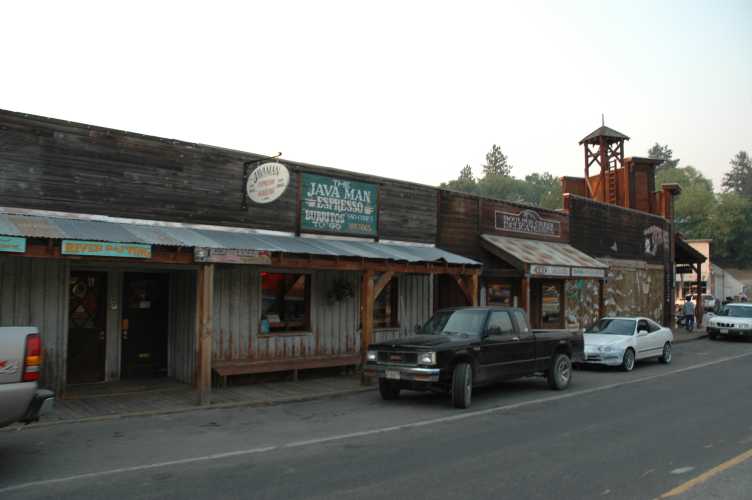 ---
We got our good meal at Three Fingered Jack's Saloon, the oldest licensed saloon in the state, and with a web site! There is a nice restaurant side apart from the bar, although we saw no brawling in the bar and only a few people playing pool, with hardly any secondhand smoke! We had a friendly efficient waitress, and we all got different things but it was all good and got us ready for the second half of the trip. There is an interesting mental state one gets in when a day trip is only halfway over at 7 PM! We knew we would not be home until the early hours of the morning, but it was summertime, the days were long, and we were having a great time!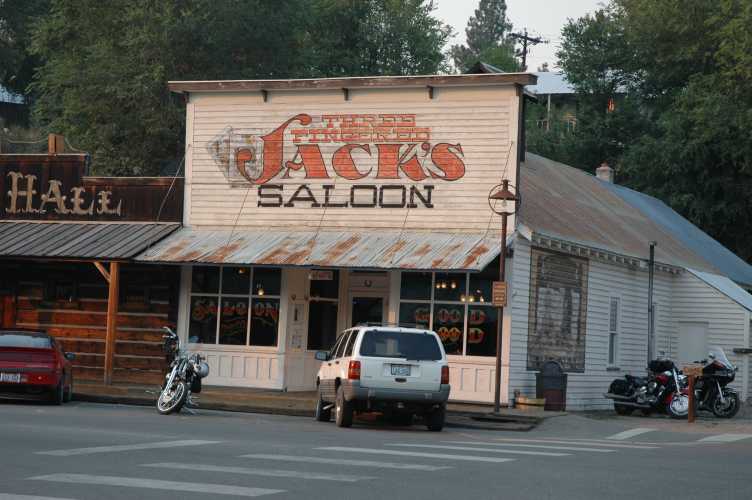 ---
The town of Winthrop has 15 eateries in it, all up and down the main wooden-sidewalked street.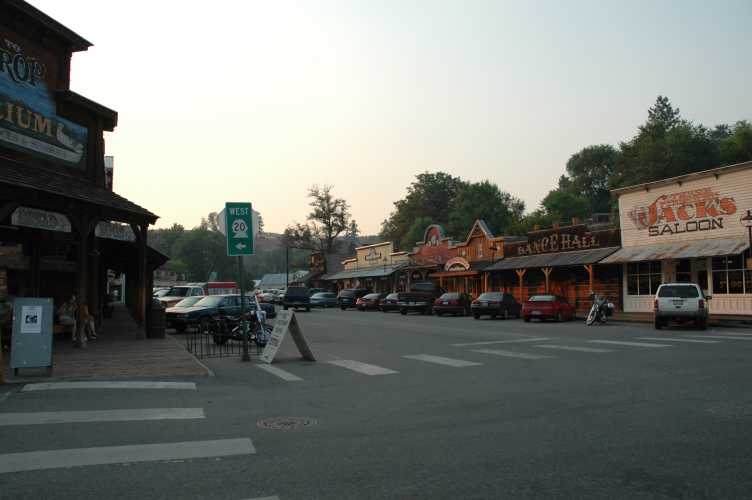 ---
There is ice cream, families, and a neat western feeling to the place.
---
Gas is expensive in Winthrop, and I think there is only one or two places to fillup. We waited until Wenatchee.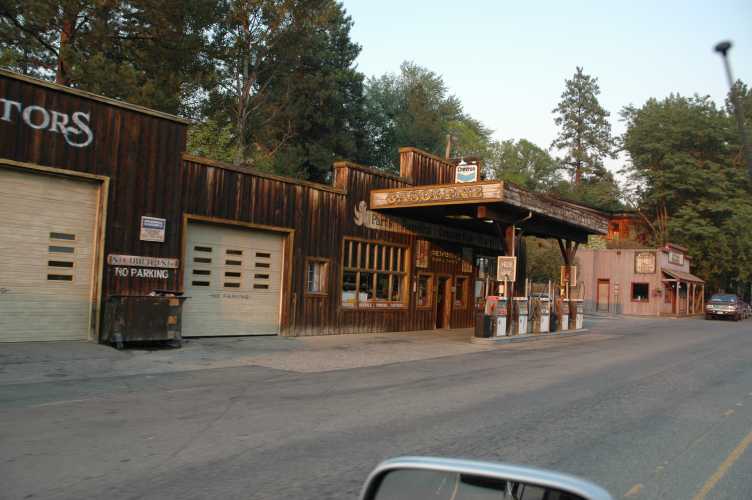 ---
At Winthrop the Chewuch River joins the Methow River and become a larger Methow River. Downstream it becomes part of the Columbia River at Pateros, WA. On our first trip we saw a group of people floating the river here and that wonderful, warm, lazy summer feeling always returns to us when we see this spot.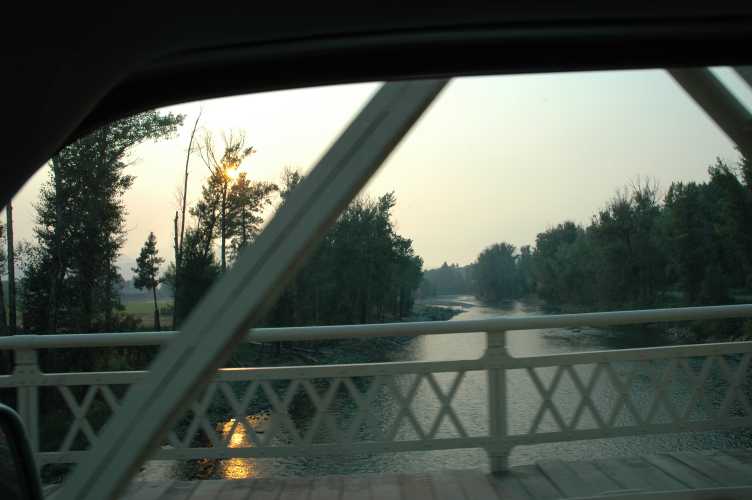 ---
We joined the Columbia River south of Winthrop and the sunset was very red because of the big forest fire.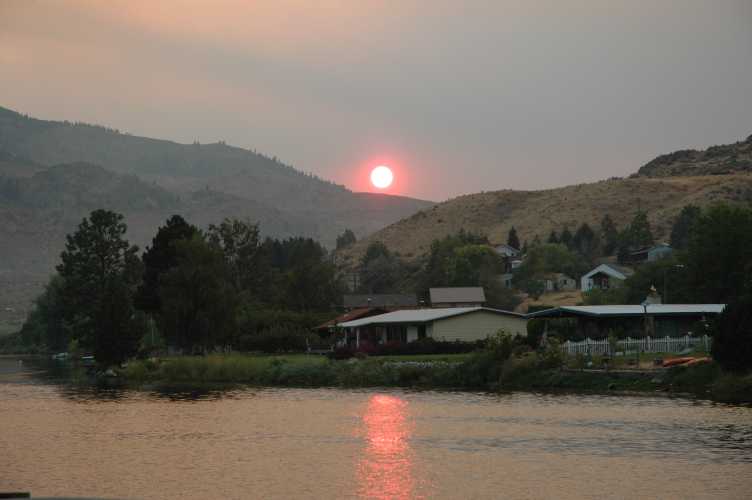 ---
This was taken with a 450mm telephoto lens at 8:05 PM. This was the end of the physical day, and we returned home at 11:48 PM that night, another wonderful 427 mile family trip.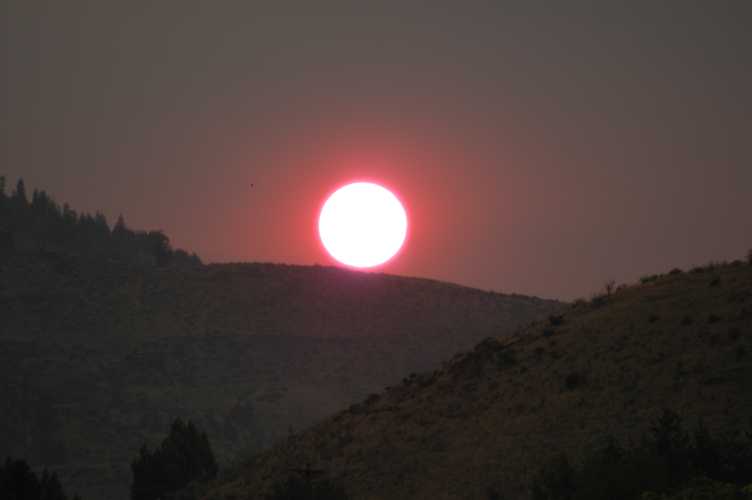 ---
Back to this site's home page.

Trip:      1 Aug 2004
Created:  14 Feb 2005
Modified: 22 Feb 2005