Lower 48 States Trip Summary
By Daniel K. Allen.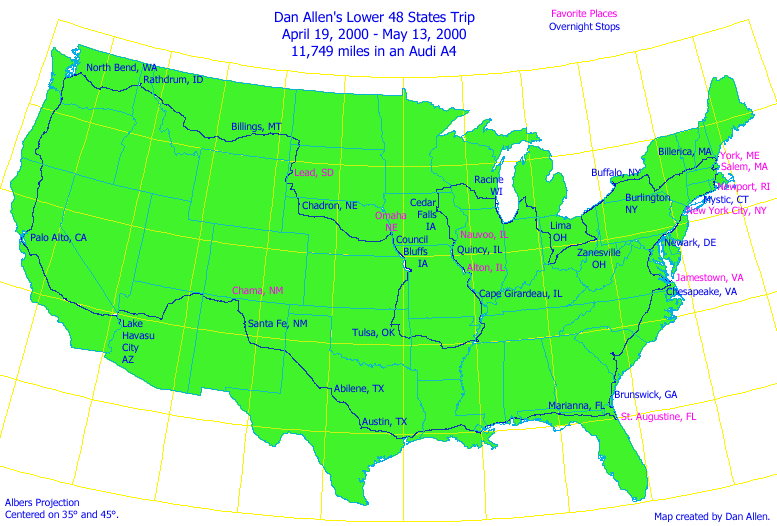 I recently drove through all of the contiguous 48 states of the United States of America. What a great trip! This summary is full of technical details, statistics, and at the end, reflections and thoughts.
Index
Summary
Daily Ritual
Car Details
Cost
Digital Photos
Traditional Film Photography
GPS
Maps
Awk
Distance
Time
Speed
Areas and Populations
Roads
Centroids
Gas Mileage
Latitude and Longitude
Altitude
Weather
Funniest Moment
What I Missed the Most
Best Meals
Memorable Spots
Reflections
Summary
I, Daniel Knight Allen, from April 19, 2000 through May 13, 2000, drove 11,749 miles in my Audi A4 through all of the contiguous lower 48 states of the United States of America. It was a great adventure. This summary is a look at the trip in numbers and prose.

The twenty five days of the trip visited between 1 and 6 states each day, as follows:

Date        # States  List of States
4/19/2000   2         WA ID
4/20/2000   2         ID MT
4/21/2000   5         MT ND SD WY NE
4/22/2000   2         NE IA
4/23/2000   4         IA MO KS OK
4/24/2000   4         OK AR TN MO
4/25/2000   2         MO IL
4/26/2000   2         IL IA
4/27/2000   3         IA MN WI
4/28/2000   5         WI IL IN MI OH
4/29/2000   2         OH KY
4/30/2000   4         OH WV PA NY
5/01/2000   1         NY
5/02/2000   5         NY VT NH ME MA
5/03/2000   3         MA RI CT
5/04/2000   4         CT NY NJ DE
5/05/2000   4         DE MD VA DC
5/06/2000   4         VA NC SC GA
5/07/2000   2         GA FL
5/08/2000   5         FL AL MS LA TX
5/09/2000   1         TX
5/10/2000   2         TX NM
5/11/2000   6         NM AZ UT CO NV CA
5/12/2000   2         AZ CA
5/13/2000   3         CA OR WA

The mean was 3.16 states per day, with a standard deviation of 1.4, while the median was 3 states per day. Each morning I would wake up and take a shower, pack up, check out of the motel, and be on my way, all within about 30 minutes.

I would often (13 out of the 24 mornings) stop at McDonalds for breakfast. I would drive until I got hungry for lunch (usually fast food), continue on until I got to the next night's motel area, and then I would check in (to ensure I had a room), go to a nicer restaurant for dinner, and then return to the motel and finally then unload my three bags.

One bag had my Macintosh PowerBook G3 laptop computer with power cables. One bag had my Dell Latitude laptop computer with network cables. The final orange L.L. Bean duffel had my GPS receiver and its computer cable, digital camera and its USB cable, cell phone, calculator, a few maps and a Fairfield Inn directory, my toiletries bag, some candy bars, a couple of small books, and the clothes for the night. Beth figured out a neat system for clothes. I rolled up clean socks and underwear in a clean shirt for each day. I brought 15 such "clothes rolls" in two large bags that stayed in the trunk of the car. Each night I brought one roll into the motel, and the next morning brought out the dirty clothes. I did laundry once on the trip, at the Salem Laundry Company in Salem, MA.

Once in my motel room for the night I would setup the two laptop computers, network them together, and would begin to download the day's data. I would download the Garmin GPS log into the Dell Latitude CPi while I downloaded the day's photos from the Kodak DC-280 digital camera into my Macintosh PowerBook G3. Then I would synchronize the two machines over the network that I created so that they both had all of the photos and logs. This insured that I had a backup copy of everything in case one machine failed. Both laptops worked fine the entire trip.

I then began to write up the daily email on the Dell while I did photo editing on the Macintosh. Then I put it all together and fought the motel phone system, usually getting 24 Kbaud at most Fairfield Inns. I would send and read email, briefly grab stock quotes for the day with another piece of software that I have written, and then log off. I was usually online for about 15 minutes.

I would then do some trip planning for the next day, looking for a specific Fairfield Inn that I could stop at the following night. I would check distances and do all of the planning with my Awk program. I would sometimes do a bit more programming, or adding items from my logbook into Excel, etc., and then I would go to sleep. I slept great every night in these hotels, never waking even one night. yes It is simply because I was quite tired at the end of each day!

I drove the trip in my 1998 Audi A4 2.8 Quattro, with a 5-speed manual transmission. It has a 2.8 liter V-6 engine, with 5 valves per cylinder and double overhead camshafts per bank. It develops 190 hp @ 5,500 rpm, and 207 ft-lb of torque @ 3,200 rpm. It has a length of 178 inches, width of 68 inches, height of 56 inches, a 103-inch wheelbase, 4.3 inches of ground clearance, and a weight of 3,164 pounds. It cost $38,306.52 in July of 1998, including all taxes, license, etc. This Audi is Santorin Blue Mica with black leather interior, a very soft and supple leather.

The A4 has 13.7 cubic feet of trunk space, and I used it all: my trunk was stuffed to the gills, but knowing what I know now I could have left about half of it home, but "Be prepared" is my motto.

The Quattro all-wheel drive feature is fabulous as it not only helps grip on the wet but improves performance cornering as well. Everything has its tradeoffs, and in this case the Quattro does cost a few miles per gallon. The car is rated at 19 mpg city and 27 mpg highway with the 5-speed manual transmission, and it has a 15.9 gallon fuel tank.

This is a great car, and the car had no problems on this trip whatsoever: everything worked perfectly. Good thing too, as I never actually saw an Audi dealer on the entire trip! I know for a fact that I was near many dealerships in the East, but I am just saying that I never laid eyes upon one during the trip. I did, however, see many, many Ford, Chevy, and Dodge dealers: even cities with a population of 300 usually had new car dealerships!

Due to the short nature of the trip I skipped the oil change and tire rotation that should have taken place halfway through the trip. I checked the oil a few times and never needed to add oil.

I must mention that the air conditioning worked especially well. It is a climate control unit where you just select the exact temperature you want, and it maintains that temperature with heat or A/C as needed. It has sensors for the amount of sunlight, outside air temperature, etc. Although I never hit really hot temperatures, it did a great job of maintaining a constant 67 °F through all of the temperatures I did experience. It is a great system! See www.audiusa for more info, or www.audiworld.com.
Cost
The actual money spent during the trip consists of all expenses incurred during the 25 days of the trip, plus the cost of developing all of the film taken during the trip. One other expense I have not yet added was that of the phone charges I incurred, as I billed them to my AT&T credit card and I have not received that bill yet. Here is a breakdown of the actual expenses minus the phone calls:
| | |
| --- | --- |
| Actual Expenses | Total |
| Photo | $1,711.74 |
| Motel | $1,480.79 |
| Books | $715.79 |
| Gas | $711.49 |
| Food | $481.59 |
| Gifts | $423.25 |
| Tools | $120.95 |
| Toll | $40.80 |
| Parking | $25.75 |
| Ice | $24.51 |
| Admissions | $17.00 |
| News | $16.13 |
| Pepsi | $14.13 |
| Cleaning | $8.75 |
| | $5,792.67 |
| | 11749 |
| | $0.49 |
| Cost per day: | $231.71 |
Of course I spent a lot on gifts, books, and a new camera lens that are not strictly trip expenses. Therefore, here is a summary of the minimal expenses for taking such a trip:
| | |
| --- | --- |
| Minimal Expenses | Total |
| Motel | $1,480.79 |
| Gas | $711.49 |
| Food | $481.59 |
| Tolls, admissions, parking | $83.55 |
| Water, ice, Pepsi, candy, news | $63.52 |
| Total: | $2,820.94 |
| Miles: | 11749 |
| Cost per mile: | $0.24 |
| Cost per day: | $112.84 |
I stayed with family and friends for 4 of the nights of the trip, so for the 19 nights that I did stay at a motel, the average cost per night was $77.94. For the 59 times that I ate out, the average cost per meal was $8.16. Of the 17 tolls for bridges and turnpike roads, the average cost was $2.40.
I took many photographs on the trip. I used a three camera approach. First I used a Kodak DC-280 digital 2 megapixel camera. It is a great camera, and works via USB with either Mac or Windows. It can take up to 25 1760 x 1168 pixel images with its 16 MB RAM card. It also came with an 8 MB RAM card that I needed to plug in once when I took a ton of photos (NYC). This camera has the equivalent of a 30-60mm zoom lens in 35mm terms, which was a great range for this trip. Most digital cameras do not go this wide, and of course on occasion I wished for wider, but it worked out well.
I took 381 digital photos. I recharged the batteries for this camera in my motel overnight about every 3rd night. Exposures with the digital camera were great. I like its compact size, as I found myself putting it in my pocket and taking it places I didn't bring my other cameras.
If I was really on a budget and really wanted to travel light, I could almost be persuaded to make this the only camera of the trip, but there are four problems with the camera. First, it uses batteries up quickly, but it does seem to make it through a day without any problems, so charging batteries at night isn't too bad. This is not that bad. The second issue is shutter speeds: it doesn't have a very fast shutter speed so photos taken in a moving car are usually blurred, while my Canon EOS-1 stops motion very nicely with its 1/8000th of a second shutter. Third, storage capacity is limited. On a trip like this one you must have a laptop around to upload the photos to. It would be neat if they made a digital camera with a tiny hard disk that held 500 photos. I think Epson or Casio makes one now like this. Finally, the shutter takes a long time before it takes the picture after you press the shutter release. On my Canon there is a lag of about 55 milliseconds between pressing the shutter release button and the picture being taken. On this digital camera the lag is 18 times longer at around 1 second! I miss many photographs as a result.
Digital in time will replace film, no doubt. However, image quality at present is still many times less than film is, but we're starting to get decent quality with 2 megapixel resolution and higher. This Kodak camera is the best digital camera made in the 2 megapixel range, and I highly recommend it. Almost every other digital camera made will sadly disappoint you. Spend the $650 and get the DC-280. It is a great camera. http://www.kodak.com/US/en/digital/cameras/dc280/ has details.
I also wanted 35mm slides of the trip, so I used my Canon EOS-1n camera a lot: I took 17 rolls of 36 exposure Fuji Sensia II ISO 100 slide film, for 612 images. I used my EF 45mm f/2.8 TS lens a lot for photos of buildings, using the shifting feature extensively. I also used the 45mm lens for many scenic shots. I used my EF 20-35mm f/3.5-4.5 USM zoom lens a lot in downtown areas of big cities, so as to capture the large buildings, and occasionally I would use the EF 15mm f/2.8 Fish-eye lens as well. Occasionally I would use the EF 70-200mm f/2.8 L USM lens for some scenic photos, and sometimes I used the 2X converter. A few times I did stop to use the EF 300mm f/2.8 L USM lens, also using the 2X converter, but not as often as I should have.
During the trip I bought in New York City the EF 17-35mm f/2.8 L USM lens because I wanted an even wider view than the 20-35 offered. In retrospect the EF 28-70mm f/2.8 L USM lens would have been ideal for many of the photos that I took, and I wouldn't have had to change lenses as much. If I were to do it again with only one lens, that's the lens I would take. If I had to pick two lenses, I would go with the EF 17-35mm f/2.8 L USM and the EF 28-70mm f/2.8 L USM lenses. If I had to pick three lenses, I would add the EF 70-200mm f/2.8 L USM lens and a 2X converter, and with four lenses I would add the EF 45mm f/2.8 TS.
I didn't use my EF 85mm f/1.8 lens much, although it is a favorite of mine for portraits. I just didn't happen to take many portraits on this trip. This was a scenic trip, not much of a people trip. These lens selections illustrate the nature of my subjects on this trip. Buildings, scenes, historic spots, aircraft in museums, rivers, and so forth: they all are expansive, hence the need for wide to normal lenses. People, wildlife, sports, airplanes in flight, and other things that require telephoto lenses were simply not the subjects that I ended up photographing that much on this trip.
The 4 AA batteries in my EOS-1n lasted the entire trip. There is no camera that feels so perfect in my hands as the Canon EOS-1n. It is an outstanding camera.
There is a new version, the EOS-1v that has just been released, which replaces the EOS-1n, and of course it is even nicer, faster autofocus, etc. Other new options are the Canon EOS D30, EOS D60 and EOS-1D digital SLRs that uses all of Canon's great EF lenses!
For my third camera system, I a brought along a new Pentax 6x7 II camera, with 105mm f/2.4 and 55mm f/4 lenses. This camera uses 120 roll film and takes 10 pictures per roll. I took 6 rolls or 60 photos. Each negative is 2 1/4" by 2 3/4" in size, about 4 times the size of 35mm frames. I shot Fuji ISO 100 Superia color negative film exclusively. I used this setup for the scenes that I really liked which I thought I might want to enlarge significantly. These lenses were perfect for the trip: one normal, one wide, roughly equivalent to a 50mm and 26mm lens in 35mm terms.
Part of the 35mm equipment was in one Lowepro S&F Reporter 400 bag, a new and very wonderful camera bag, while all of the Pentax 6x7 equipment was in a matching Lowepro S&F Reporter 300 bag. The remainder of my equipment, a Speedlight 540EZ flash, an EF 28-80mm f/3.5-4.5 USM lens, a EF 50mm f/1.8 lens, a Canon EOS Elan, a mini-tripod and such, along with all of my film were in a large Canon briefcase bag. Most of that equipment went unused, and in retrospect I should have left it home. I used my tripod only once.
I should have brought more film instead: I ran out half way through the trip. Slide film is quite hard to find now in places other than great camera shops. I recommend buying twice what you think you need and carrying it all rather than looking for it, unless you plan a stop at Glazer's in Seattle, B&H in New York City, Allen's Camera in Provo, or Keeble & Schucat in Palo Alto.
GPS
The most important electronic tool along on the trip was my Garmin GPS III, available for less than $300. This tiny little device contains a full road map of all of the major freeways and highways of North America. Accurate time and position are computed by its receiving signals from satellites in orbit. www.garmin.com has details.
Technical Note: The Garmin GPS III uses 4 AA batteries which do not last too long, but on a trip like this buy the 12V adapter for your car: it will have paid for itself in 3 days! I am also using rechargeable NiMH Eveready batteries in the GPS III now, as it just goes through alkaline batteries too fast. The GPS III may no longer be available, as there is now a GPS III Plus that has longer battery life and other features. It would be the one to buy now. Selective Availability (government randomization of the signal) was turned off (hurray!) part way into this trip, thus giving 10-foot accuracy for the later portion of the trip, and 100-foot accuracy beforehand. My GPS recorded my position once a minute throughout the whole trip. I recorded some 14,192 readings, each with date, time, latitude, and longitude. I would sometimes leave the GPS on while I grabbed a meal, and other times I did not, so some of these measurements were stationary readings. At the end of each day I uploaded the day's log to my laptop computers, thus giving me an exact route listing of the entire trip. Many of my trip statistics come from analyzing these data points using software that I have written.
GPS is now a mature, reliable technology, perhaps too much so: West Marine no longer sells any metal sextants, just three plastic ones. I love sextants because there are no dependencies upon the government to keep 24 satellites in orbit, along with all of the systems required. Still, GPS is amazing: I never touched my backup GPS on this trip. During the day I used two Rand McNally atlases. The first is the main big Rand McNally Road Atlas 2000 that most stores sell for $9.95, but you can get a version of this same atlas at Wal-Mart for $4.57 and this special Wal-Mart version includes a directory of Wal-Marts which is actually very useful as well. This big atlas is quite dog-eared now, but it works very well, and is easier to use than the traditional folding maps. You could safely rely upon this atlas as your only source of navigation for the entire trip, and it there is something nice about having such a great tool at your hands for only $4.57! It contains latitude and longitude marks which none of the other road atlases have. In the 1980s Rand McNally maps were not great, but this is the best these days.

The second atlas I found part way through the trip: a small Rand McNally Pocket Road Atlas for $2.95. It is great! It fits in your pocket and it gives just the right detail for a trip around the country, showing all of the major cities and highways. It could be improved of course, as some of the states are combined and so you have to look in the index rather than being able to thumb alphabetically for any state. It also has no time zone information. It is very thin, so I would expand it to cover these deficiencies and it would still be quite compact. I found myself carrying it with me everywhere, especially into restaurants, where I would research the next legs of the trip while waiting for my food. It is rather lonely sitting in restaurants alone all the time without something to do. This gave me something to do.

At night I did trip planning for the next day using Microsoft's Streets & Trips 2000, a great program. It has a lot of information about hotels, points of interest, as well as brief but excellent historical information about all cities and even some of the smaller towns. It comes on 2 CDs and requires Windows (sadly no Macintosh version is available). Buried in the read-me is a paragraph about how to install it on a machine so that you do not need to have the CDs around. I did this and it greatly improves usability. At $40 it is a bargain and it made my route planning much quicker than with the road atlas. In fact, I did not add up miles between cities even once using the Rand McNally atlas.
Technical Note: The biggest drawback to Streets & Trips is that once you get over 30 stops on a trip, the time to open the file and do trip planning becomes very long, with hundreds of MB of memory being used. My trip ended up with 82 stops. This is because it is trying to do optimal route planning (can you say Traveling Salesman Problem?) which is of course NP-complete and most attempts at solving this are exponential at best.
These two paper atlases and the one electronic one are generic and I had a specific route that I wanted to take. I longed for something that could show me my route, but with everything else omitted so I could see the forest for the trees. I ended up filling this gap with my own computer program written using Awk. Awk is an interpreted programming language that has been around a long time, and it is very handy. It can be downloaded for free from http://cm.bell-labs.com/cm/cs/awkbook/.
A nice thing about Awk is that Awk programs work everywhere. The program runs identically on Macintosh or on Windows. It is much faster than using Streets & Trips. It reads data from two files and outputs a trip itinerary listing dates and distances, kind of a macroscopic trip planner.
Technical Note: This first file ("trip.txt") is the simple high-level view of the trip, a list of desired cities to visit, in order. The actual list ended up being 374 lines in length. The trip is parsed and put into an associative array. Then the second file is parsed. This file ("USCities.txt") is a list of all of the cities in the United States, with their latitudes and longitudes. I scan this big file just once, as it contains 154,775 cities! The cities that I want to visit are looked up and then distance calculations are performed, along with dates, distances, etc., and a nice itinerary is printed out. In essence the problem is to look up 374 lines simultaneously from a file of 154,775 items and then do distance calculations.

Another problem is that the straight line segments that this program uses are shorter compared to real roads, but I quickly determined that actual mileages are about 1/3rd longer, and this simple heuristic ended up being good enough to get fine results.

I wrote this script the first few nights I was on the trip. It is 200 lines long, and 60 of those are to convert two letter postal codes into full state names! Long live Awk!
Here is an abbreviated version of my "trip.txt" file, which lists the places I wanted to go, and where I wanted to stay the night or refuel.

# 19 Apr 2000
North Bend, WA
Cle Elum, WA
Ellensburg, WA
Vantage, WA
George, WA
Moses Lake, WA
Ritzville, WA
Spokane, WA
Post Falls, ID
Rathdrum, ID
~ overnight, refuel
Coeur d'Alene, ID
Kellogg, ID
Superior, MT
Missoula, MT
Garrison, MT
Deer Lodge, MT
Opportunity, MT
Anaconda, MT
Butte, MT
Bozeman, MT
Billings, MT
~ overnight, refuel
Custer, MT
Forsyth, MT
Hathaway, MT
Miles City, MT
~ refuel
Plevna, MT
Bowman, ND
~ refuel
Buffalo, SD
Redig, SD
Belle Fourche, SD
Spearfish, SD
Deadwood, SD
Lead, SD
Newcastle, WY
Custer, SD
Hot Springs, SD
Chadron, NE
~ overnight, refuel
Alliance, NE
Hyannis, NE
Mullen, NE
Thedford, NE
Halsey, NE
Broken Bow, NE
Litchfield, NE
Cairo, NE
Grand Island, NE
~ refuel
Lincoln, NE
Omaha, NE
# Winter Quarters, NE
~ 1 hour
Council Bluffs, IA
~ overnight, refuel
Saint Joseph, MO
Liberty, MO
~ 1 hour
Independence, MO
~ 1 hour
Kansas City, KS
Overland Park, KS
Paola, KS
Garnett, KS
~ refuel
Iola, KS
Coffeyville, KS
Nowata, OK
Tulsa, OK
~ overnight, refuel
Wagoner, OK
Muskogee, OK
Fort Smith, AR
Ozark, AR
Clarksville, AR
Conway, AR
Little Rock, AR
Brinkley, AR
~ 1 hour, refuel
Memphis, TN
~ 1 hour
Covington, TN
Dyersburg, TN
~ 1 hour
New Madrid, MO
~ 1 hour
Cape Girardeau, MO
~ overnight, refuel
Fruitland, MO
Bloomsdale, MO
Saint Louis, MO
East Saint Louis, IL
Alton, IL
Grafton, IL
Quincy, IL
~ overnight
Hamilton, IL
Nauvoo, IL
~ 2 hours
Fort Madison, IA
~ refuel
Burlington, IA
Iowa City, IA
Cedar Rapids, IA
Cedar Falls, IA
~ overnight
Waverly, IA
Chester, IA
Spring Valley, MN
~ refuel
Lanesboro, MN
Rushford, MN
La Crosse, WI
Madison, WI
Milwaukee, WI
Whitefish Bay, WI
Racine, WI
~ overnight, refuel
Glencoe, IL
Chicago, IL
Gary, IN
Chesterton, IN
Grand Beach, MI
Stevensville, MI
South Haven, MI
Ganges, MI
Holland, MI
Hudsonville, MI
Grand Rapids, MI
Plainwell, MI
Richland, MI
Battle Creek, MI
Marshall, MI
Coldwater, MI
Garrett, IN
Fort Wayne, IN
Van Wert, OH
Delphos, OH
Lima, OH
~ overnight
Sidney, OH
Troy, OH
Dayton, OH
Middletown, OH
Covington, KY
~ refuel
Cincinnati, OH
~ 1 hour
Newtown, OH
Batavia, OH
Marathon, OH
Blanchester, OH
Wilmington, OH
Octa, OH
Columbus, OH
Zanesville, OH
~ overnight
Cambridge, OH
Wheeling, WV
~ refuel
Harrisville, OH
Cadiz, OH
New Philadelphia, OH
Canton, OH
Akron, OH
Cleveland, OH
Euclid, OH
Kirtland, OH
Erie, PA
Buffalo, NY
Williamsville, NY
~ overnight, refuel
Niagara Falls, NY
Palmyra, NY
~ 1 hour
North Colesville, NY
Burlington, NY
~ overnight
Bennington, VT
~ refuel
Marlboro, VT
Brattleboro, VT
Hillsboro, NH
Concord, NH
Portsmouth, NH
Concordville, ME
Billerica, MA
~ overnight, refuel
Salem, MA
~ 1 hour
Boston, MA
Braintree, MA
Pawtucket, RI
Providence, RI
~ 1 hour, refuel
Jamestown, RI
Newport, RI
~ 1 hour
Kingston, RI
Pawcatuck, CT
Mystic, CT
~ overnight
New London, CT
New Haven, CT
Bridgeport, CT
Fairfield, CT
~ refuel
Stamford, CT
New Rochelle, NY
New York, NY
~ 5 hours
Jersey City, NJ
Communipaw, NJ
Newark, NJ
Herberts, NJ
Twin Rivers, NJ
Wilmington, DE
Newark, DE
~ overnight
Baltimore, MD
Silver Spring, MD
Bethesda, MD
Alexandria, VA
Washington, DC
Woodbridge, VA
~ refuel
Potomac Mills, VA
Fredericksburg, VA
Richmond, VA
Williamsburg, VA
Jamestown, VA
Newport News, VA
Chesapeake, VA
~ overnight
Roanoke Rapids, NC
Kenly, NC
~ refuel
Fayetteville, NC
Dillon, SC
Florence, SC
Santee, SC
Orangeburg, SC
~ 3 hours
Smoaks, SC
Yemassee, SC
~ refuel
Savannah, GA
Darien, GA
Brunswick, GA
~ overnight
Yulee, FL
Amelia City, FL
Mayport, FL
Jacksonville, FL
~ refuel
Vilano Beach, FL
Saint Augustine, FL
~ 1 hour
Lake City, FL
Tallahassee, FL
Marianna, FL
~ overnight
Crestview, FL
~ refuel
Pensacola, FL
Mobile, AL
Pascagoula, MS
Biloxi, MS
Gulfport, MS
New Orleans, LA
Baton Rouge, LA
Breaux Bridge, LA
~ refuel
Lake Charles, LA
Beaumont, TX
Houston, TX
Prairie View, TX
Carmine, TX
Austin, TX
~ overnight, refuel
Lampasas, TX
Lometa, TX
Goldthwaite, TX
Brownwood, TX
Santa Anna, TX
Abilene, TX
~ overnight
Sweetwater, TX
Snyder, TX
Lubbock, TX
Sudan, TX
Muleshoe, TX
Clovis, NM
Melrose, NM
Yeso, NM
Vaughn, NM
Clines Corners, NM
Santa Fe, NM
~ overnight, refuel
Espanola, NM
Chama, NM
Dulce, NM
Farmington, NM
Kirtland, NM
Shiprock, NM
Teec Nos Pos, AZ
# 4 Corners got me Utah and Colorado, but 4 Corners isn't in USCities.txt
Red Mesa, AZ
Kayenta, AZ
~ refuel
Tuba City, AZ
Flagstaff, AZ
Williams, AZ
Kingman, AZ
~ refuel
Bullhead City, AZ
Laughlin, NV
Needles, CA
Lake Havasu City, AZ
~ overnight, refuel
Barstow, CA
Mojave, CA
Tehachapi, CA
Bakersfield, CA
Buttonwillow, CA
Coalinga, CA
Gilroy, CA
San Jose, CA
Santa Clara, CA
Sunnyvale, CA
Mountain View, CA
Palo Alto, CA
~ overnight
Redwood City, CA
San Mateo, CA
Millbrae, CA
San Francisco, CA
Oakland, CA
Berkeley, CA
Richmond, CA
Vallejo, CA
Fairfield, CA
Vacaville, CA
Dunnigan, CA
Willows, CA
Red Bluff, CA
Anderson, CA
Redding, CA
Dunsmuir, CA
Weed, CA
~ refuel
Yreka, CA
Medford, OR
Grants Pass, OR
Canyonville, OR
Roseburg, OR
Sutherlin, OR
Eugene, OR
Albany, OR
Salem, OR
Wilsonville, OR
Portland, OR
Ridgefield, WA
~ refuel
Kalama, WA
Kelso, WA
Centralia, WA
Olympia, WA
Tacoma, WA
North Bend, WA

I drove a total of 11,749 statute miles, as determined by the Audi's odometer. The shortest day's run was 203 miles (Billerica, MA to Mystic, CT), while the longest day's run was the last day's run from Palo Alto, CA home to North Bend, WA, a whopping 855 miles. The average day's run was 470 miles, with a population standard deviation of 185 miles.

By calculating the rhumbline distance between each successive pair of GPS log points and adding them all up, the total is 11,475.8 statute miles, a bit shorter than the odometer reading due to the fact that travel done between the one minute samples is not recorded by the GPS.
Technical Note: The GPS can be configured to sample more often, but I have determined that with the limit of 1000 samples, which the GPS has, a manually set interval of 1 minute will allow even the longest day's travel to be stored. Shorter intervals or the "automatic" setting will overflow on long days and information will be lost.
The farthest from home that I got was 2,458 statute miles. This distance from North Bend (47°28.915' N, 121°47.850' W) was reached at Saint Augustine, Florida (29°53.5018' N, 81°18.677' W) and Nubble Light, York Harbor, Maine (43°9.937' N, 70°35.567' W). They are both the same distance from North Bend! What a coincidence!
I drove the furthest in California: 922 miles by the odometer. Second place was 773 miles spent in Texas, and third place goes to Montana with 698 miles. Ohio gets honorable mention with 683 miles, pretty good for a smaller state.
The least I traveled in a state was Colorado, with my time at Four Corners being the only time in the state. I walked about 50 feet through the very southwest corner of Colorado. Utah was barely better with 2 miles and Nevada with only 1 mile. I have previously spent considerable time in these states, but I do wish I had spent more time in Colorado.
Including Washington DC as a "state", of the 49 states that I drove through I drove an average of 240 miles in each state, with a population standard deviation of 222 miles. Here is a breakdown:
| | |
| --- | --- |
| Miles Traveled | # States |
| .008 – 99 miles | 15 |
| 100 – 199 miles | 12 |
| 200 – 299 miles | 5 |
| 300 – 399 miles | 8 |
| 400 – 499 miles | 1 |
| 500 – 599 miles | 4 |
| 600 – 699 miles | 2 |
| 700 – 799 miles | 1 |
| 800 – 899 miles | 0 |
| 900 – 999 miles | 1 |
In other words, 31% of the states I only got a brief glimpse of (under 100 miles), but 45% of the states I traveled over 200 miles in. There were eight states that I traveled over 500 miles apiece in. These 8 states account for 44% of the total miles!
Time
The trip was 25 days, 7 hours, and 35 minutes long. I left at 12:18 PM PDT, Wednesday April 19th, 2000 and arrived home at the same location I left from at 7:53 PM PDT, Saturday May 13th, 2000.

There are many ways to gauge the time spent each day. One way is to mark from when you first get into the car until you leave the car at the end of the day (which includes stops for gas, meals, visiting, etc.). The second method times how long the motor was running, which more perfectly reflects the actual travel time although it too can be thrown off by stops for taking photos, as I never turned off the motor at those times.

By the first reckoning using the time between beginning and end of travel each day, the average day was 10 hours and 29 minutes long, with 4 hours 32 minutes the shortest and 16 hours 2 minutes the longest. A total of 262 hours and 7 minutes was thus spent in some way "on the road".

By the second reckoning (motor time) the average day was 8 hours and 45 minutes of driving, with 4 hours 31 minutes the shortest time (the first day), while the longest day behind the wheel was 13 hours and 56 minutes of driving (Florida to Texas). The car motor ran 218 hours and 48 minutes in total. This figure came from the Audi's own trip computer, which is very handy.
Speed
Speed calculations vary depending upon the times used because speed = distance / time

By the first reckoning that includes all stops throughout the day, I averaged 45 mph, with a low of 18 mph (the Billerica, MA to Mystic, CT day) and a high of 64 mph (the first day).

By the second reckoning (motor time), the average speed was 53 mph for the entire trip, with a low of 33 mph (the same Billerica to Mystic run), and a high of 66 mph on the Rathdrum, ID to Billings, MT run.

The top speed of the trip was an electronically limited 130.5 mph on two occasions in Montana, and both of these top speed runs were in fact done on that same Rathdrum to Billings run. I was never pulled over by a policeman, and thus I received no tickets.
Areas and Populations
This is a somewhat esoteric measurement, but I have been trying to figure out how much of the US I have seen. This could of course be measured in many, many different ways, and I am open to other possible ways of measuring this.
One metric would be to look at the polygon of my route, that is, the big many-sided shape that is comprised of all of the legs of the trip. If one treated latitude and longitude in degrees in a linear fashion, then the perimeter of the trip as measured by the GPS would be 193.766 degrees, which is 13,378 statute miles, a bit more than the actual 11,749 miles measured by the odometer. Using some of my own software, I computed that the area of this polygon is 462.935 square degrees, or 2,207,025 square miles, or 1,412,496,163 acres.
Another way of measuring how much of the United States I saw is to look at the number of cities I visited out of the total number of cities. It seems fair in some sense to weight the cities with their populations, so that by visiting New York City you get more points than if you visit a small town. I found a list of 23,436 cities at www.census.gov, with 1990 populations. This list of cities totals 182,537,603 people, which is far less than the 250 million that is the normal 1990 figure quoted, but be that as it may, this is the best list I could come up with in short order.
I imported this text file into Excel (it is over 5 MB in size), and I calculated that I visited at least 346 cities from this list. These cities that I visited account for 34,187,355 people, or 19% of the population of the country, and this includes Alaska and Hawaii which were not part of my trip.
By land area, these 23,436 cities total 126,138 square miles of area, and I visited just 11,454 square miles of those, or 9% by land area. By comparison the area of the entire country is 3,717,796 square miles, including Alaska and Hawaii.
If you omit Alaska and Hawaii, then the 34,187,355 people's worth of cities that I visited are still 19% of the total of 181,016,685 people (Alaska and Hawaii don't have many people), but the land area moves up to 11% of the 108,248 square miles.
Another way to measure coverage is to look at how many miles of roads a state has, and then compare that to how many miles that I drove in that state. I found the information about state road distances in the Statistical Abstract of the United States, 1999 edition. [The government no longer publishes this as of 2017. Pity.]
Rhode Island has 6,028 miles of roads, and I drove 99 miles of them, or 1.64%. This is the highest percentage of any of the states, but it was due to the fact that Rhode Island is so small. I managed to cover 1% of the roads of Montana, but this is due to the fact that Montana has very few roads compared to its size. Arizona was third place, at 0.94%.
Texas has the most roads of any state (296,651 miles), and I drove on 0.26%; California is second with 170,598 miles of roads, I saw 0.54%. Looking at the 48 states and DC's total of 3,927,657 miles of roads, I drove only 0.3% of them. If all of my driving were done on the Interstate, which it was not, then out of the 44,927 miles of Interstate roads found in the Lower 48 and DC I would have traveled 26%.
California and Virginia's roads were terrible: very bumpy and harsh. North Carolina had some very smooth roads, but perhaps this was just because they were a lot better than neighboring Virginia. Arizona's roads were also nice. Pennsylvania was much smoother than Ohio. Western Montana was much nicer than Eastern Montana. And so it went...
If you could cut out the figure of my route, where would it balance on the end of a pencil? That's the center or centroid of a geometric shape. Using all of the one minute segments of the trip (the 14,192 GPS legs), the centroid is at 38.7174° North, 100.13° West, or just slightly northeast of Alanthus, Kansas, which is 170 miles south of North Platte, Nebraska.
If you average the latitude and longitudes of the cities that I visited (the 346 cities in the spreadsheet), you get another attempt at a "center of trip" metric, and the result is 39.308° North, 95.57° West, or about 19 miles north of Topeka, Kansas.
There are also a couple of official "geographic center" locations according to the US Geological Survey. I came within 7 miles of the geographic center of all 50 states at 44°58' North, 103°46' West out in South Dakota, and within 69 miles of the geographic center of the lower 48 states at 39°50' North, 98°35' West.
I used 435.8 gallons of gas to drive 11,609 miles, for an average of 26.6 miles per gallon. I filled up 39 times for a total gas cost of $711.49, so the average refueling was $18.24. The smallest fill up was 3.5 gallons, the largest 14.5 gallons. The average fuel price for unleaded premium was $1.62 per gallon, with a high of $1.88 per gallon (CA, WA) and a low of $1.37 per gallon (OK).
Technical Note: In some locations premium unleaded was not available (ND), or was too expensive (CA), so I used lesser grades of fuel. Premium unleaded usually was 92 octane in most states, but in New Mexico at 6,000 feet it was 91 octane. In the east and south premium unleaded was usually 93 octane. I used 87 octane regular unleaded once, and 89 octane unleaded on 3 occasions. The Audi A4 can run on all of these, but top performance requires unleaded premium.
The leg with the best mileage was the Vaughn, NM to Santa Fe, NM leg, where I got 30.6 mpg. This leg was one of the hottest as well, with temperatures ranging from 84 °F to 96 °F. My experience over many years of driving has shown that the best fuel economy is always achieved in high temperatures. I got almost 40 mpg once in my old 1961 VW Beetle when driving in over 100 °F temperatures around Death Valley.
The worst mileage experienced was the tank from Fairfield, CT to Woodbridge, VA. This included all of my driving around New York City, Washington D.C., Silver Spring, MD, etc, so there was a lot of city driving and idling between taking pictures. This tank registered 24.0 mpg.
The longest distance I got on one tank of gas was from Woodbridge, VA to Kenly, NC: 397.3 miles, and I still had about 2 gallons left. The average range on a tank was 297 miles, with a population standard deviation of 75 miles.
My tank holds 15.9 gallons and at the advertised 27 miles per gallon highway estimate this means a range with 10% reserve of 386 miles. My average of 26.6 mpg is not far off, and I went over 380 miles on 4 different occasions.
I would like a car with a longer range if I were to do this kind of long distance travel routinely.
Possible Choice: There is the new Honda Insight with a highway mileage of 70 mpg and a 10.6 gallon tank. This gives a 668 mile range with a 10% reserve. This Honda uses a one liter, 3 cylinder, 67 hp gas engine, a 10 kW generator, and 6.5 AH worth of 144 Volt NiMH batteries assisting when needed. This car, however, has no back seat, and I used my backseat for a cooler, for camera gear, and for food. I accessed the contents while driving all the time. One needs a car with a back seat, so this leaves the Honda out of consideration.
Better Choice: The new 90 hp VW diesel engine available in the New Beetle, Jetta, or Golf attains 49 mpg on the highway, and with a 14.5 gallon fuel tank delivers 640 mile range with a 10% reserve. These all have a back seat, as well as much better handling and performance than the Honda. I think the ultimate economy car for doing the trip in would be a Jetta diesel. Why the Jetta? It has four doors. I was always getting camera equipment out of the back using the back doors. The Jetta would be noisier and nowhere in the same performance class as my A4, but for $18,000 it would be the best choice for a car under $20,000.
Rathdrum, Idaho was the northernmost point of the trip, at 47.85216° North, 116.85837° West.
Houston, Texas was the southernmost point of the trip, at 29.76924° North, 95.36355° West.
Twelve miles northwest of Grants Pass, Oregon was the westernmost point of the trip, at 42.68733° North, 123.39140° West.
The Nubble Lighthouse of York Harbor, Maine was the easternmost point of the trip, at 43.16548° North, 70.59270° West.
18.08292° of latitude were covered, and 52.7987° of longitude were covered. A rectangle enclosing these extremes is only 1.7959% of the earth's surface area, or 3,532,117.487 square miles!
I tracked my altitude by checking my GPS receiver. Unfortunately its log does not record elevations, so I did this by hand in my logbook. The minimum daily high point was 124 feet (MA/RI border), and the maximum was 7,860 feet at Chama, NM. The average of the daily highest spots is 2435 feet, with a population standard deviation of 2366 feet. Here is the distribution:
| | |
| --- | --- |
| Maximum Daily Elevation | # Days |
| Under 1,000 feet | 8 |
| 1000 – 1999 feet | 8 |
| 2000 – 2999 feet | 1 |
| 3000 – 3999 feet | 1 |
| 4000 – 4999 feet | 3 |
| 5000 – 5999 feet | 0 |
| 6000 – 6999 feet | 2 |
| 7000 – 7999 feet | 2 |
It is curious that none of the daily high spots was in the mile high range.
The highest altitude I reached was also perhaps the prettiest of the trip: Chama, NM is at the north end of a beautiful green valley, full of streams and quaking aspens, and unspoiled. Keep it a secret!
The time of the year was wonderful: spring brought beautiful blossoms and flowers, and very mild temperatures that averaged in the 60s and perhaps warmed to the 70s. I really could not have asked for better weather. Even hot Lake Havasu City, arguably the hottest place in the country that already has had temperatures in the 100s this year, was a pleasant 74 °F!
The coldest temperatures I saw were in the early morning before sunrise. At Peter Tobin's home in Rathdrum, ID, it was 35 °F, and at John Tobin's home in Billerica, MA it was 36 °F. These Tobins are my kind of people – in fact they are my brothers in law – the kind who enjoy nice brisk climates!
I did not see any ice on the road in my travels, but a few times I had snow all around me while the roads in both cases were dry. This occurred over the pass from Idaho into Montana, and in the mountains of South Dakota.
For highs, I saw 92 °F in New Orleans, LA, and 96 °F south of Santa Fe, NM. The Santa Fe temperature was on the same day the fire broke out in Los Alamos, NM, and it was accompanied with strong 30-50 mph winds out of the west, the strongest winds of the trip. Obviously these conditions (dry, hot, windy) are what caused the fire.
The strongest rainstorms were from New Madrid, MO to Cape Girardeau, MO, one evening about 8:00 PM. They required the high wiper speed, a slowing to about 35 mph on an interstate freeway, and sometimes just guessing where the road was due to the massive downpours! Lightning and thunder accompanied the rain and it was a magnificent short storm.
I did not see a tornado, but I was in Oklahoma on the same day as a tornado touched down. The skies looked like they would produce a funnel cloud at any minute, but I missed seeing it. As an aside, I am told that the best thing to do in a car when a tornado is spotted is to pull under a freeway overpass and get out of your car and get up under the overpass where homeless sometimes take shelter.
I did not feel any earthquakes, but I did go to New Madrid, MO where 5 earthquakes over 8.0 on the Richter scale took place within 2 months back in 1811-1812. I did not see any flooding. I also avoided hurricane season, but I recalled how I was in a hurricane in South Carolina back in 1979, and of course I was a witness to the Los Alamos firestorm, so that summarizes the catastrophes this country can experience.
At 7:00 AM on May 3rd, 2000, I was at the Brothers Deli & Restaurant in Salem, Massachusetts. They have a great breakfast. It is a cafeteria-style place, so once my eggs and hash were cooked, I sat down to eat at a table near the entrance. An older man came in, looking a bit like the old man in the movie "Moonstruck" and the scene that happened here could have been lifted straight out of the movie. The old man walked up to the cook behind the counter, and the man behind the counter looked at him and asked, "What did you do with your head?" The old man answered, "Somebody stole it." The man behind the counter then asked again, "What did you do with your head?", to which the old man again replied, "Somebody stole it!" I guess you had to be there, but it got me to laugh out loud! I have no idea what they were talking about, and the man's head looked quite normal.
My wife. I realized how much we do together these days. I wanted to show her things; I wanted to talk to her more. We did trade several emails each day, which was nice. She wrote great summaries of what was happening at home and with the kids.
My children. They grow up so fast! I missed playing with them at night.
Fast and trouble-free Internet access. I was quite happy for most days of the trip, but enduring hotel PBX systems and rates down to 9,600 baud got old very quickly. If I were to do it over I would splurge and get a cell phone with an RJ-11 jack on it and use wireless to get on the internet and not worry about fancy hotels as much. (I went to Marriott's Fairfield Inns mainly to get AT&T network access so I could email each night.) On the same topic, my AT&T digital cell phone's coverage around the country was not great, and it got calls dropped with great regularity, so if I went wireless I would recommend not moving while using the cell phone to minimize the call drops.
The best breakfast I had was at the Wagon Wheel, $4, Goldthwaite, TX: Scrambled eggs, sausage, hash browns, and toast done to perfection in a very rustic atmosphere. I usually ate at McDonalds for breakfast, however, and their Breakfast Burritos and Sausage McMuffins are tasty and help with getting underway quickly.
The best lunch I had was a tie: Skyline Chili, $8, Cincinnati, OH, with its 4-way chili and Coneys was unbelievably good. The clams and fish I had at Long John Silver's, $8, Burlington, Iowa were also outstanding.
The best dinner I had was at the Texas Land & Cattle Company, $21, Austin, TX. The "wedge" salad with blue cheese dressing was wonderful, the hot loaf of sourdough French bread was in the great San Francisco tradition, and the steak was very good. It was an especially good meal for the money.
In the car I kept a cooler full of Diet Pepsi, Cherry Pepsi, and after Iowa, Diet Cherry Pepsi. I had some Triscuits, Salt & Vinegar Lay's Potato Chips, Pemmican Beef Jerky, bananas, Sweet Tarts, and Hershey's with Almonds candy bars as my main foodstuffs for the road. Especially in the West and Midwest, it seems fitting to eat beef jerky. Pemmican brand is much better than the other brands I've tried.
The "buy a bag of ice every other day" approach is certainly inexpensive, but it is a hassle because everything ends up wet, not great for sandwiches or candy bars. If I were to do it again I would bring one of those coolers that you can plug into a 12V plug. I actually tried to get one at West Marine before I left but they were out of stock. The Igloo Plentycool 24 has 22 quart capacity, draws 5 amps at 12V, cools 44°-46°F from ambient temperatures using thermoelectric chips, and is only $99. That would be the way to go.
The places that stick in my mind are New York City NY, Newport RI, Chama NM, York Harbor ME, Omaha NE, Saint Augustine FL, and Nauvoo IL, in no particular order.
New York City is a great city. I would not want to live there, but it sure is a great place to visit. No city within my experience has the energy, the vitality, the massiveness that New York does. It is expensive, crowded, noisy, and did I mention costly? Well, no other American city can compare. It is a great getaway destination for a couple, and a week is certainly not too long to spend. I've been to New York three times before, so this wasn't new territory for me, but I sure enjoyed it as always!
Newport, Rhode Island is also a great place. In fact I could live in Newport as my main residence, probably the only place I visited that could lure me away from North Bend, Washington. It is three hours to New York City or less to Boston. It is elegant, the site of incredible homes like The Breakers, grand yet understated, nautical in spirit, and right on the Atlantic Ocean. It would be a fine port for the Visual Sea. What is the downside? The town is somewhat cliquish, it snows a fair amount in winter, and of course real estate is expensive.
Chama, New Mexico was totally unexpected. This lush green valley was simple in its charms: beautiful streams, lots of quaking aspens groves, very nice log cabins, and ranches. I am sure winters are pretty cold at 7,800 feet, but this would be a nice place for a summer cabin.
York Harbor, Maine is a more modest version of Newport. It shares a location on the Atlantic Ocean, homes full of character and charm, and a great nautical tradition. This was a very peaceful place, but again snow in the winter and a bit farther to go to get to New York would be the downsides.
Omaha, Nebraska was a nice city. I don't know if it was because of the Union Pacific locomotives or Winter Quarters or the fact that it was the first civilization I had seen in several days, but I really enjoyed Omaha. The downtown felt neat. The suburbs had beautiful homes, and I just liked the feel of the city. I don't think I'd choose to move away from North Bend to live there, but I enjoyed it.
Saint Augustine, Florida was historic, in fact the most historic of any city in America. Founded in the 1500s, this town had tiny streets, a lot of Spanish influences, all on the Atlantic Ocean. It is too hot for me, so I would not want to live there, but it was a fascinating place to visit.
Nauvoo, Illinois is another historic spot. A beautiful town with half of it being buildings from the 1840s in a restored state, this spot on the Mississippi river was great to visit. To really see it all one should plan to stay for two days: my 2 hours just scratched the surface. Again, this is too hot in the summers for me to consider moving there.
The United States is big! It is really quite a place. I knew it was big before this trip, but now I know it at a deeper level, and I can put a picture in my mind of every state. I can feel the size of the country now.
There are lots of people in this big country. The size of cities has more to do with the "kind" of person than where the cities are located. The people in the big towns still do seem more sophisticated, but I was impressed with how pervasive technology has been getting into the smaller towns too. Being raised in Silicon Valley, it was common for us to think that only we used computers and everyone else was a "hick". Well, it may have been a bit truer back in the 1970s and 1980s, but no longer. Now everyone uses computers, everyone has .com billboards, and everyone uses the Web.
The small town people are friendlier. I still remember the old men driving pickup trucks in the Midwest that wave to you when you pass on a road. The South really is hot and humid. The West is a big desert, and New England is incredibly small compared to the West.
It was interesting to see the growth and decline of cities. Some cities were young and growing, and had the growing pains to show it, like Austin Texas' terrible construction. Others were past their prime and had growing inner city decay, like Grand Rapids Michigan. Some were nothing but large and often ugly government buildings (Kansas City MO, Washington DC), others had style and charm (Newport RI). Little (population under 1,000) towns in the country seemed more static: they were for the most part not growing or shrinking.
When I think, however, about what the country was like one and two hundred years ago, then I begin to learn more. I remember my Grandfather talking to me about having to change a flat tire every day of a long cross-country trip in the 1920s. I simply drove 70 mph in quiet, cool air. I traveled the entire country – almost 12,000 miles – without a single malfunction or failure of any kind!
The big difference is that we now have an infrastructure in place: a network of roads, stores, wires, and wireless communication cells completely fill the country. As a result, I can eat fabulous seafood far from the ocean. I can eat the same McDonald's breakfast anywhere, although Breakfast Burritos are not served around the New York area for some reason. They are served in Maine and in many other Northern and Eastern areas, but I digress. I can buy gasoline everywhere. At no point are you more than 50 miles from a gas station. The delivery networks developed to keep fuel – both food and gas –everywhere are amazing!
I paid with electronic money (Visa) everywhere rather than having to carry too much cash. I could call my wife from most major urban areas on my cell phone while driving. I could get and send daily emails from home to keep up with the happenings there, in real time, not delayed by weeks because of a postal system. In fact, as much as I wanted to, I didn't send a single postcard because of the hassles involved. Instead I used electronic mail. The communications network is amazing!
I learned and appreciated at a new level what my Mormon pioneer ancestors had to go through to travel from Colesville New York, to Kirtland Ohio, to Independence Missouri, to Nauvoo Illinois, to Winter Quarters (Omaha) Nebraska, to Salt Lake City Utah, all on foot or by horseback, on non-paved roads, or having to make roads.
Their communications were so slow by comparison as to be only inspirational, not navigational. What I mean by this is that by the time they received mail it could not be used to help them make strategic decisions about their trip and travels. In contrast, I often received emails that caused me to change the following day's route in order to see a special place. Thus the fundamental nature of travel is changed. One is never far from home.
I had an abundance of watering holes that I could rely upon: Chevron gas stations, Marriott Fairfield Inns, McDonalds restaurants, Red Lobster restaurants, etc. I knew where they were by the directories and information that I had with me. These familiar service stations make you feel like you never left home. This was brought home with great force when I had crossed Idaho, Montana, North Dakota, South Dakota, and Nebraska and I finally saw in Omaha Nebraska a Borders Bookstore. I walked in and instantly felt like I was at home: there were my friends in the form of books and magazines like those at home in Washington.
The pioneers had no watering holes that could be relied upon, and in fact, they had potential enemies lurking (the Indians) as well! What faith they must have had to proceed into a complete wilderness. True, there were people that had been there before, but the pioneers had no knowledge passed to them about the area, other than a small guidebook written by John C. Fremont only a couple of years earlier. No photos, no detailed maps, and no support stations to get supplies from.
My trip was a great experience. I set out to sample the Lower 48 states. I wanted to stop 10 times for every time that I actually could. It would have thus taken a year to make the trip to see the museums, cities, restaurants, stores, and parks that I missed, but I accomplished what I wanted to do: get a taste of each state.
Would I return to Arkansas or Mississippi or some of the other states as a final destination? Perhaps not. I will return to Newport, to NYC, to Nauvoo, and to other places I went, but I also want to see more in Colorado, Wyoming, and New Mexico where I didn't spend as much time.
Would I do the trip again? Absolutely. I highly recommend it.
-- Dan
---
Lower 48 States Trip Summary is Copyright Daniel K. Allen, 2000-2003. All rights reserved.
Modification History:
23 May 2000 - Created with MS Word.
14 Jun 2001 - Updated links.
24 May 2002 - Simple HTML version.
16 May 2003 - Added list of states per day; added a few more tidbits.
26 May 2017 - Used HTML for high-ASCII chars; removed dead link to Statistical Abstract.