NYC 2009 Trip
We find it hard to resist New York City. This trip was 4 of us: Beth and I, and our girls Rachel and Kamy. Well, Kamy Bailey is not ours, but she feels like ours. Rachel and Kamy have been roommates at BYU for the past two years. Kamy had never been to NYC and so we went. It was my 12th trip to NYC, Beth's 10th trip, and Rachel's 4th trip.
---
Here we are at our plane early Thursday April 23rd 2009, at SLC. It is a Delta 757-200.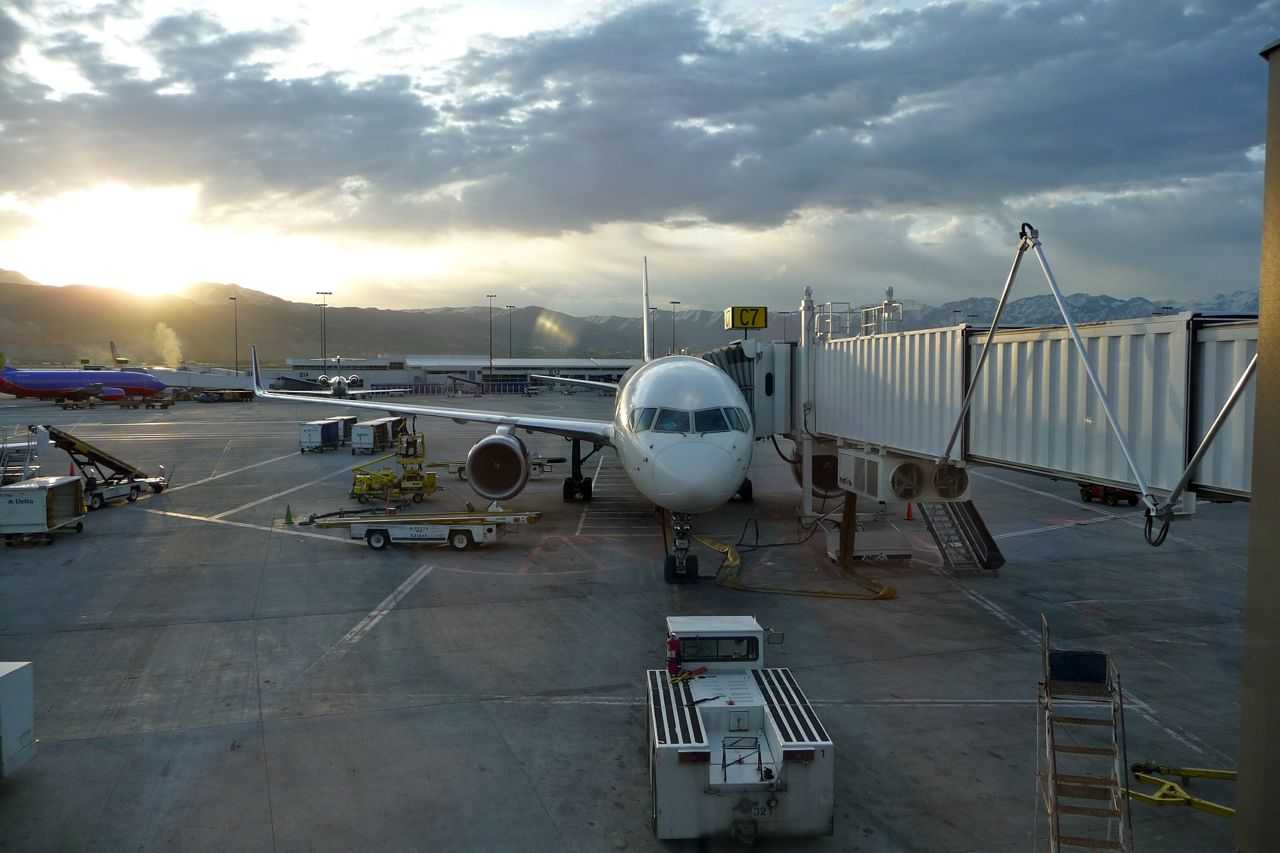 ---
We flew immediately over the Great Salt Lake. Here is Saltair, an old destination popular around 1900. It is just west of Salt Lake City.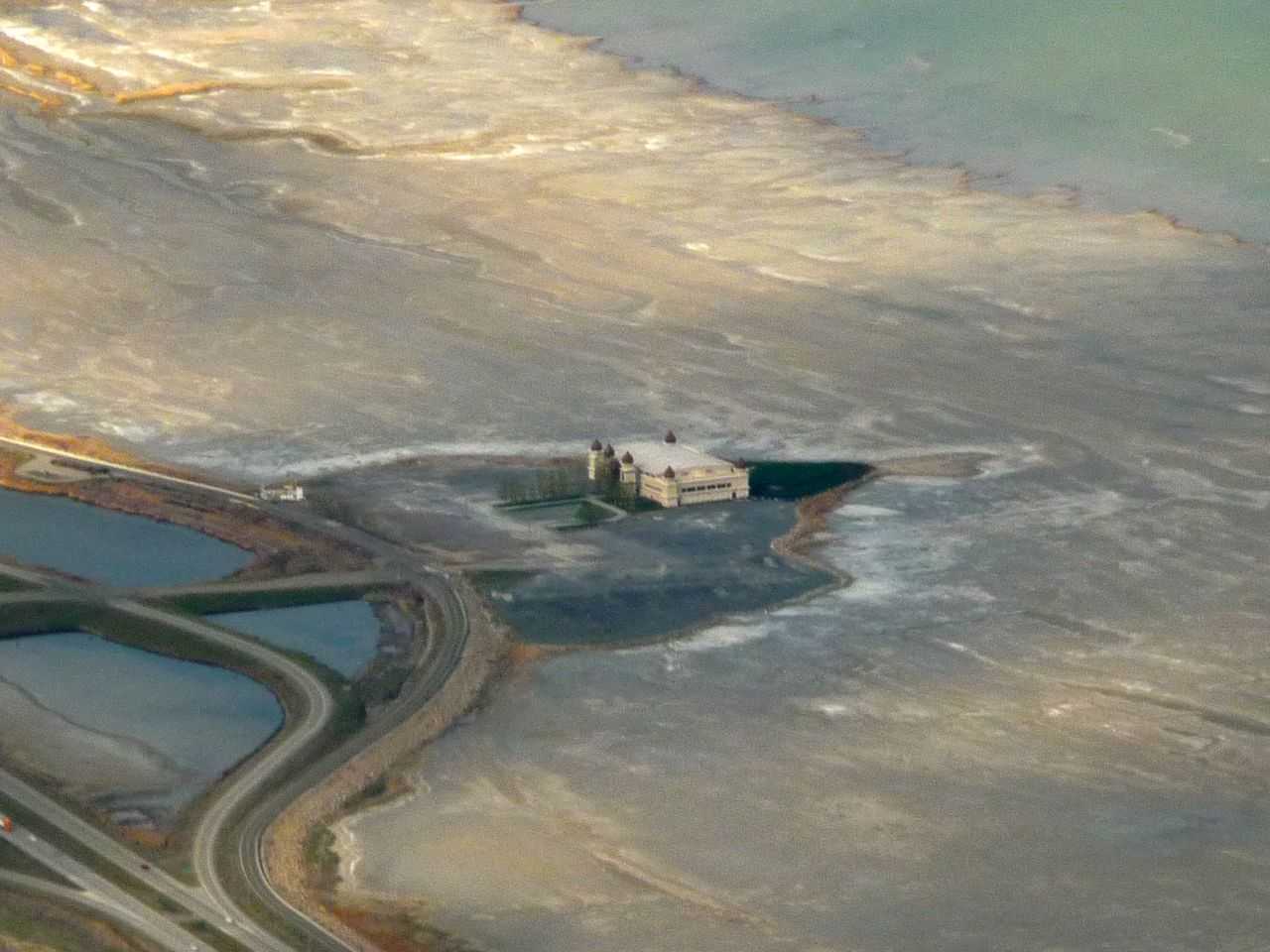 ---
While flying over Nebraska there are many roads in a grid. They are laid out one mile apart in both directions. I timed using my stopwatch how long it took to pass five or six of them, did some math on my iPhone calculator, and determined we were flying at 511.24 MPH. The built-in flight computer displays in our setbacks show... 511 MPH! Pretty cool, eh?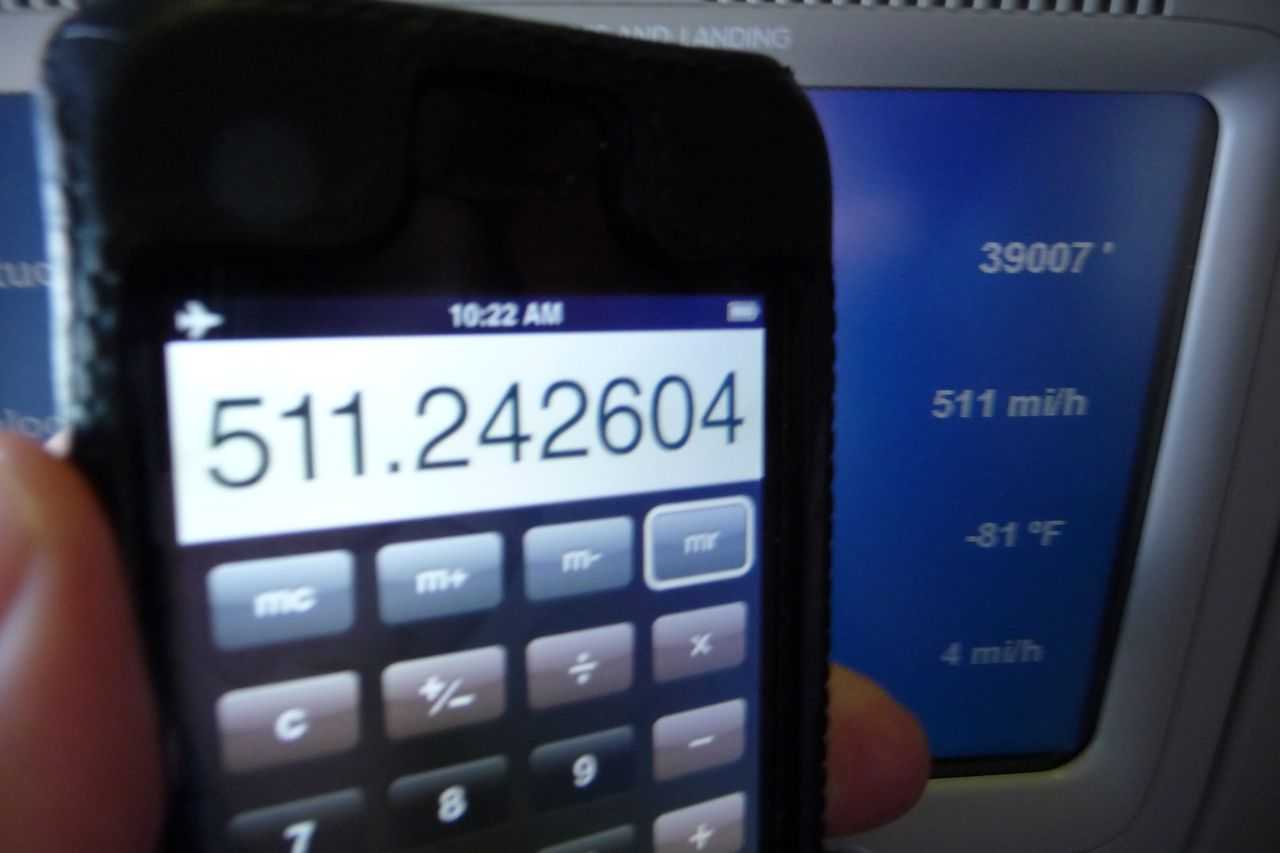 ---
My wife likes crossword puzzles; I like math puzzles. I wondered where the point would be where our plane had the sun directly overhead. We were flying almost due east, and the sun was coming at us from the east. I took photos of the sun reflection on the wing every few minutes. When the sun appeared the highest was local noon. It turned out to be just after halfway into the trip, around 1:09 PM EDT, over Illinois.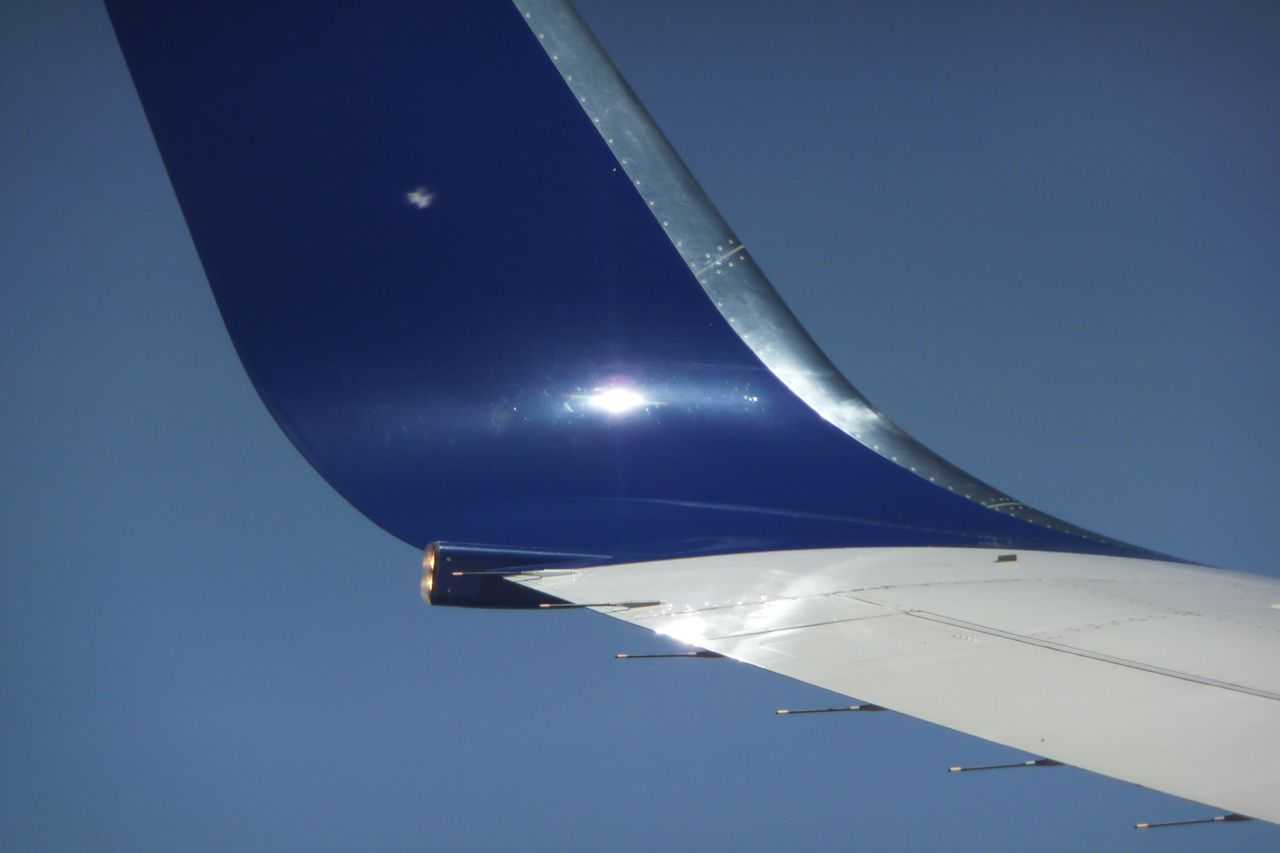 ---
Lake Erie, the 10th largest lake in the world. It is the shallowest and smallest by volume of the Great Lakes. It is 241 miles long and 57 miles wide. It averages only 62 feet deep.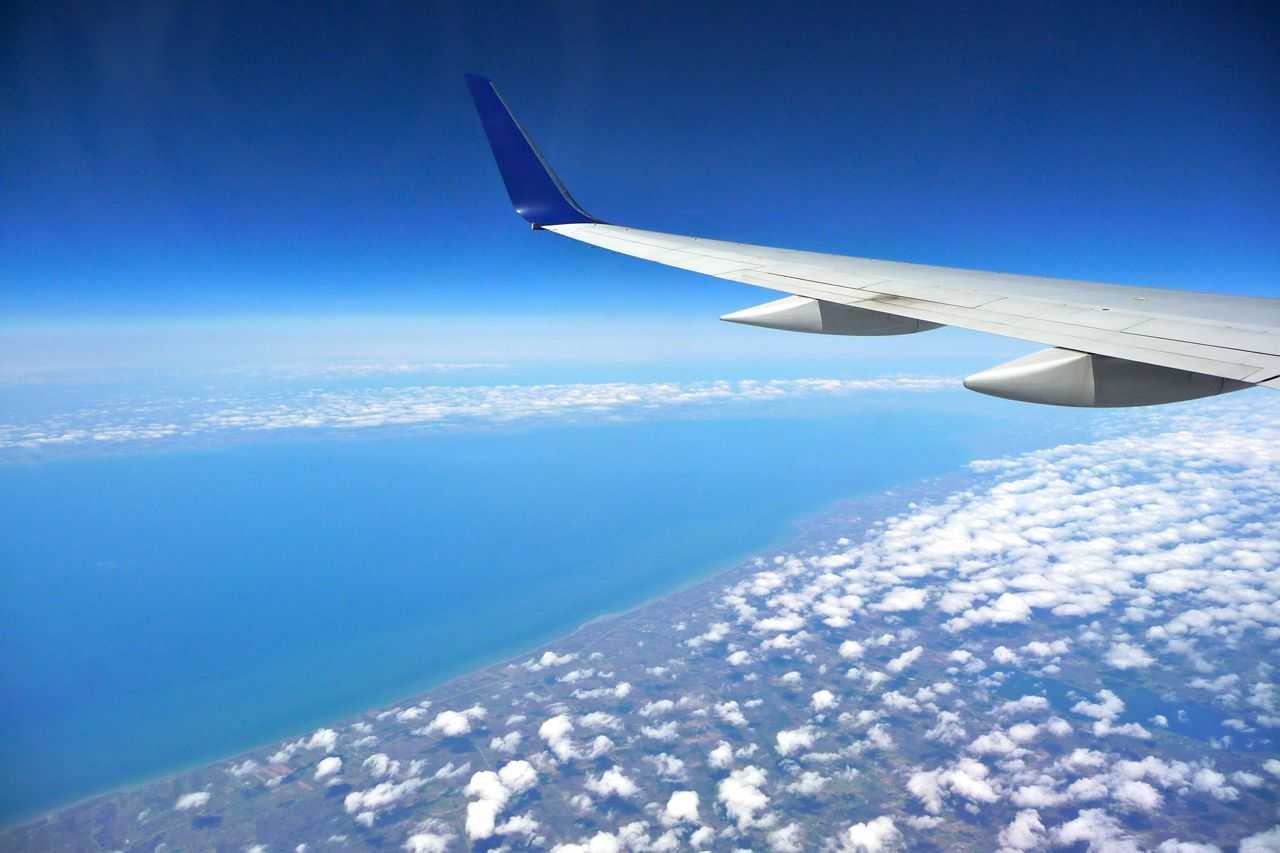 ---
Here we are nearing New York City.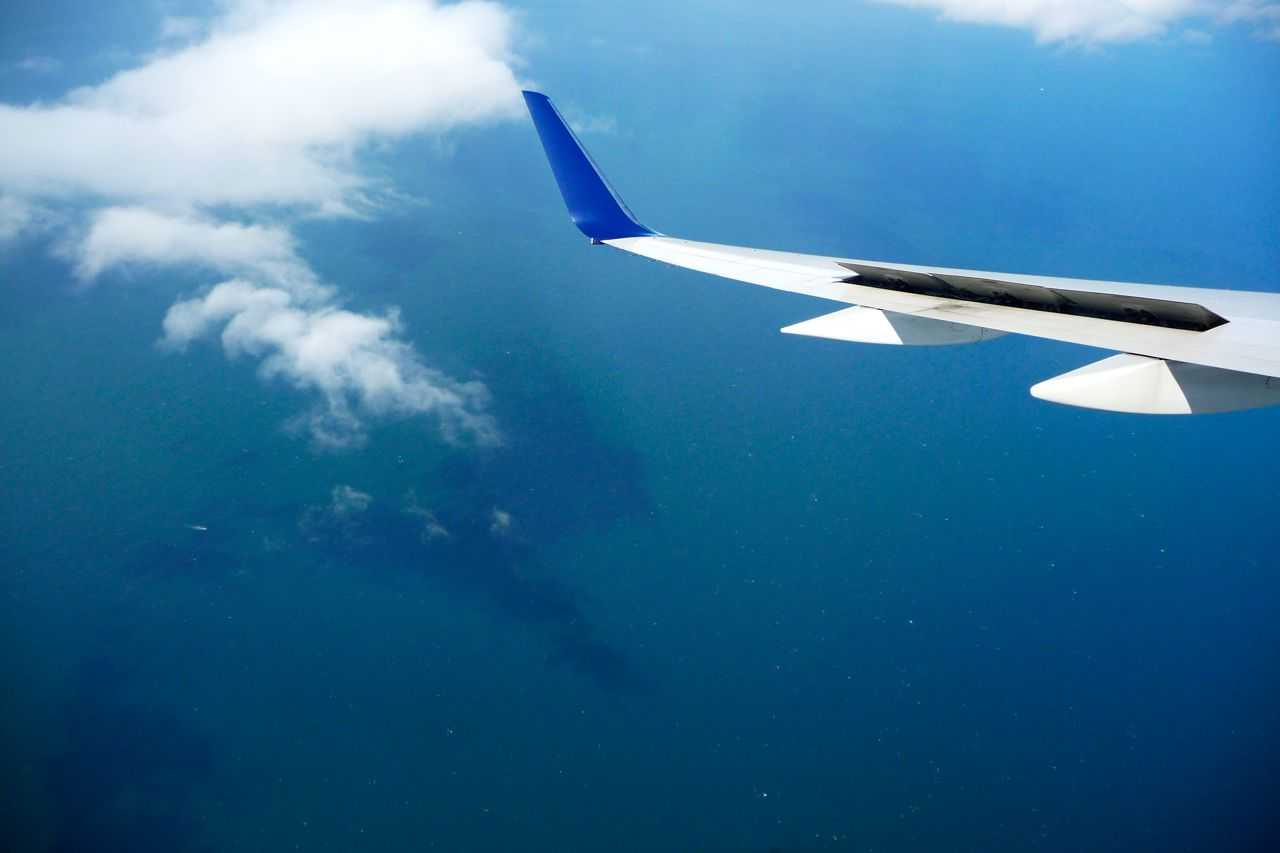 ---
Dappled light and shade...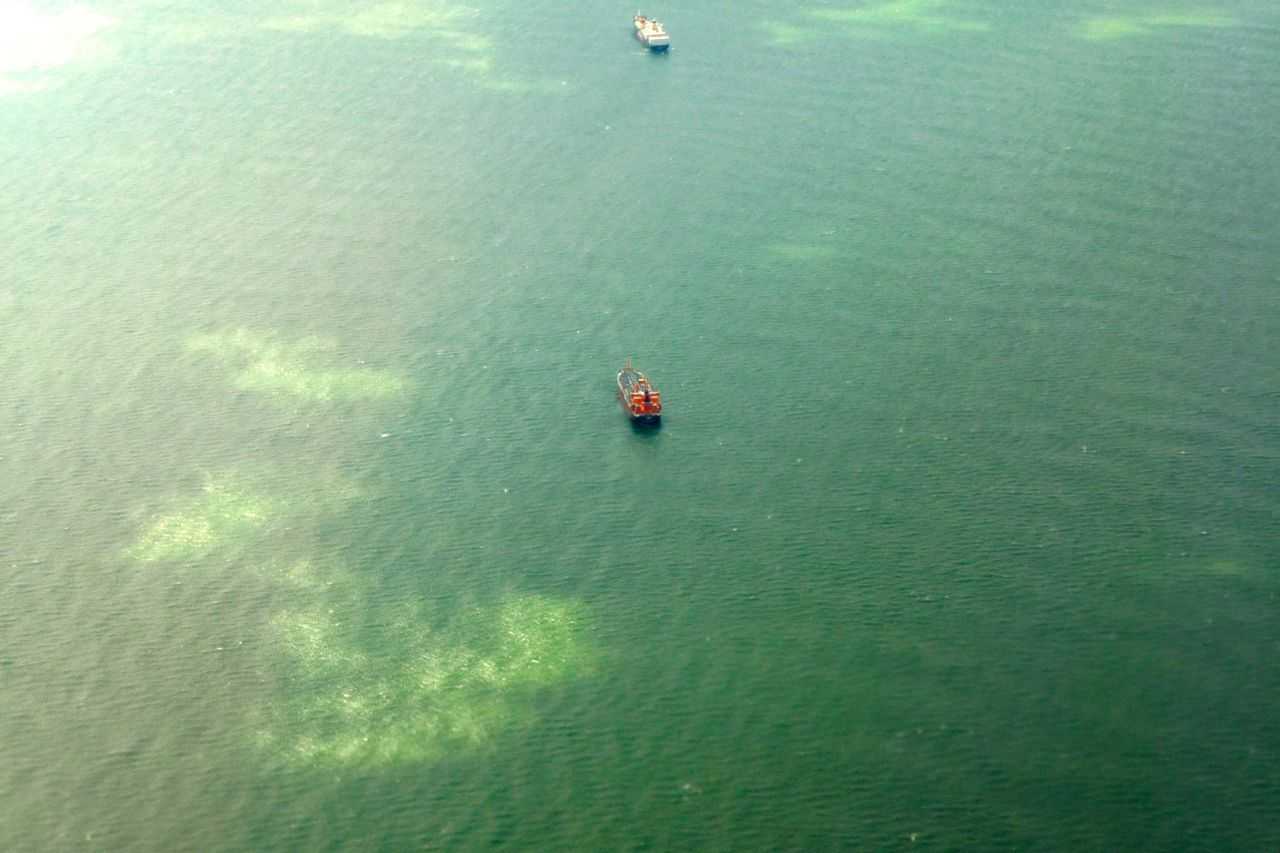 ---
Our hotel room at the Marriott Courtyard on 3 East 40th Street.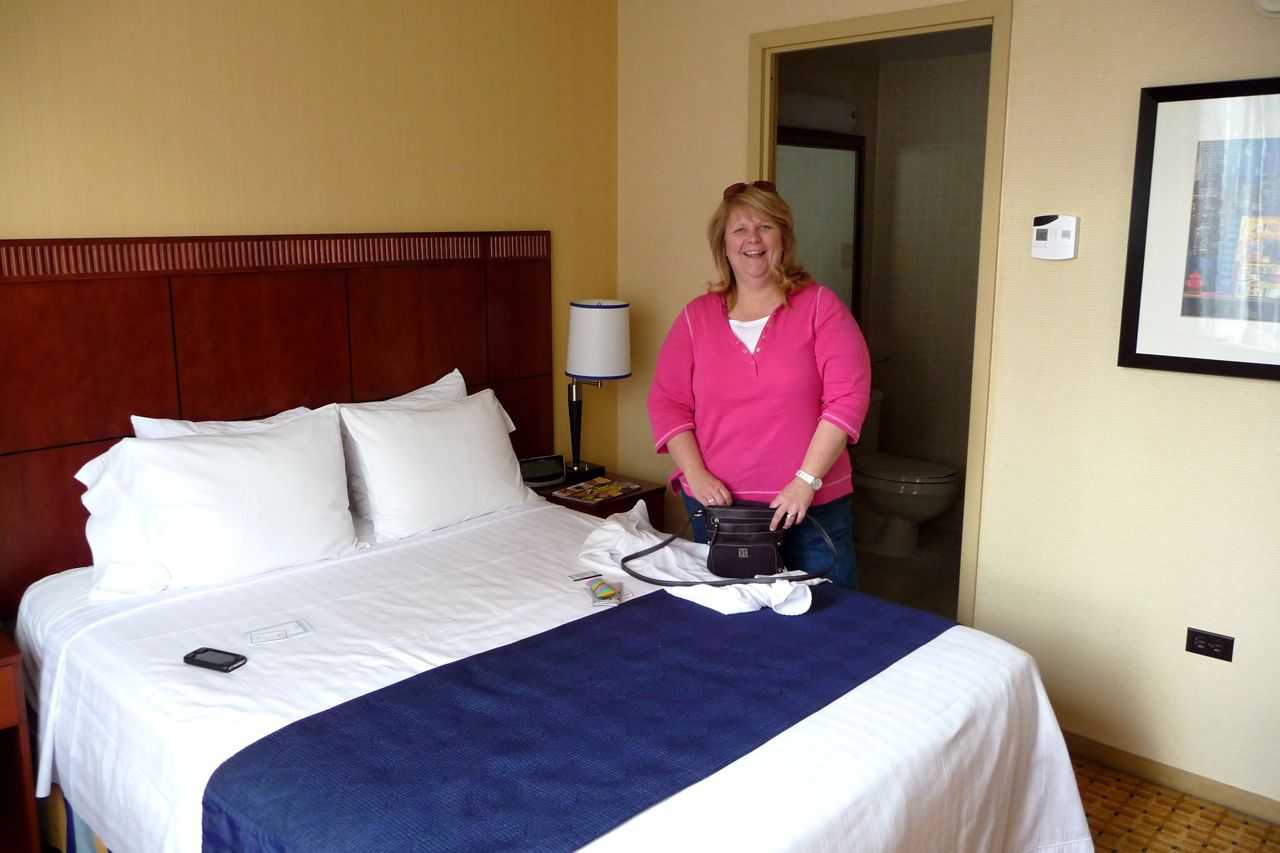 ---
The Empire State Building from 5th Avenue. It is the tallest building in NYC since the Twin Towers came down.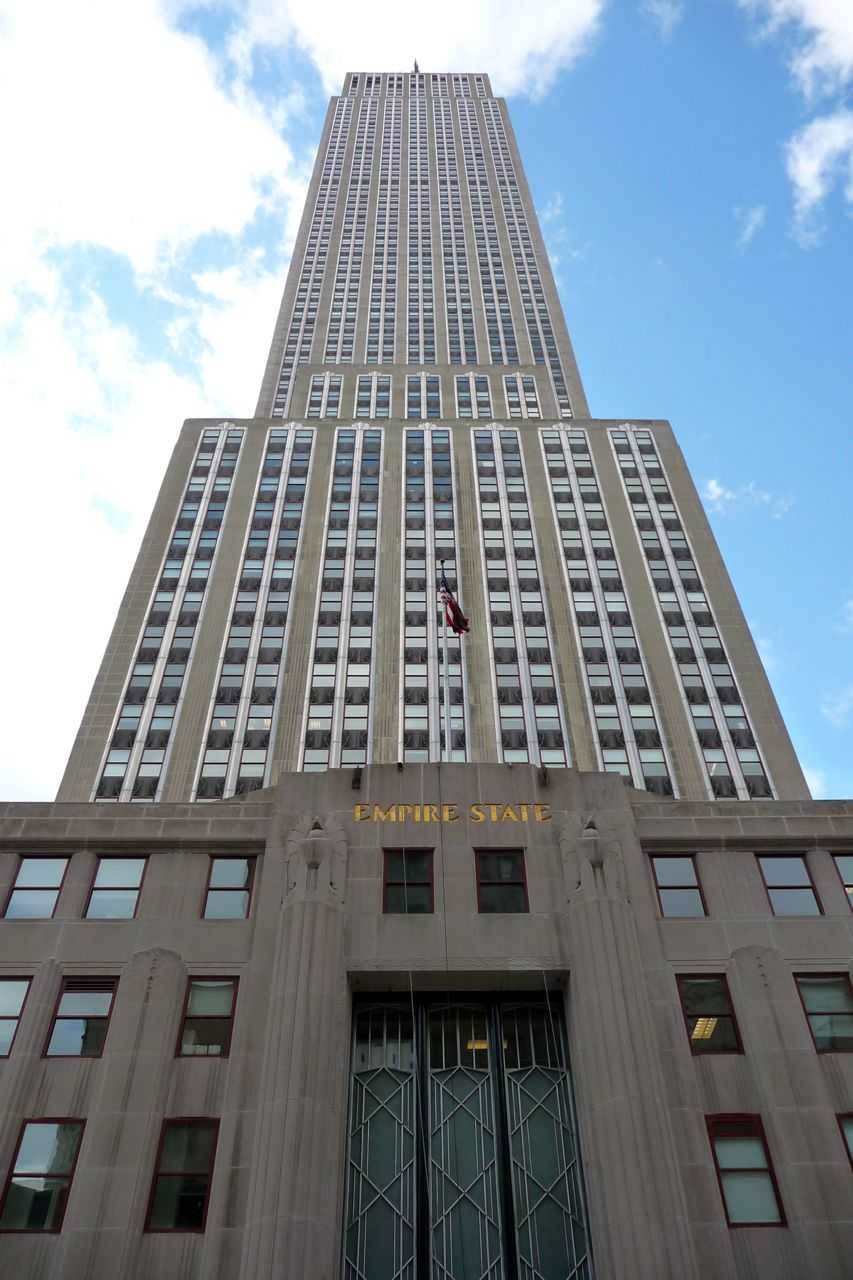 ---
Playfull UPS men. Well, at least one...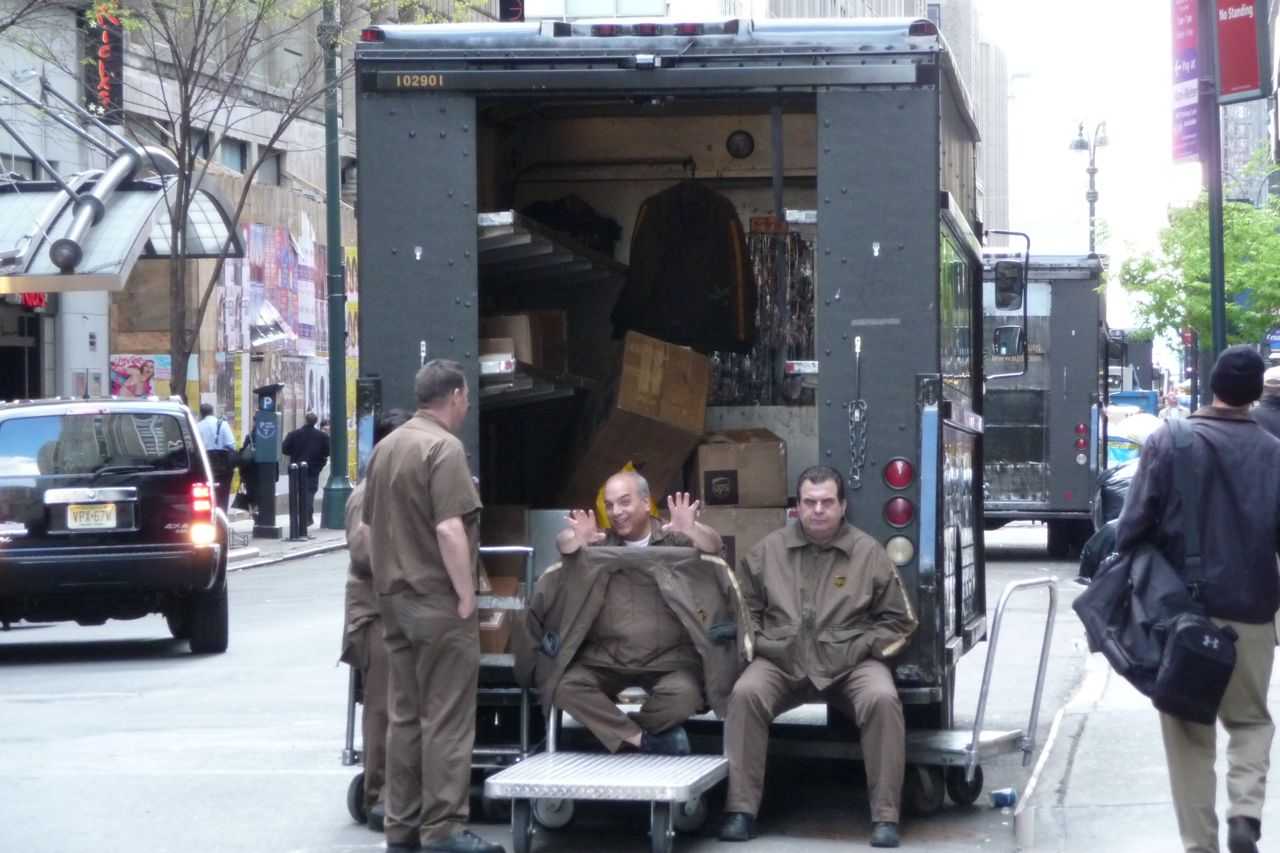 ---
Dinner from Cafe Metro, a great NYC chain. Pizza, a Turkey Cuban, some deserts, all good. The soup, however, was Crab Bisque from The Soup Man. Incredible!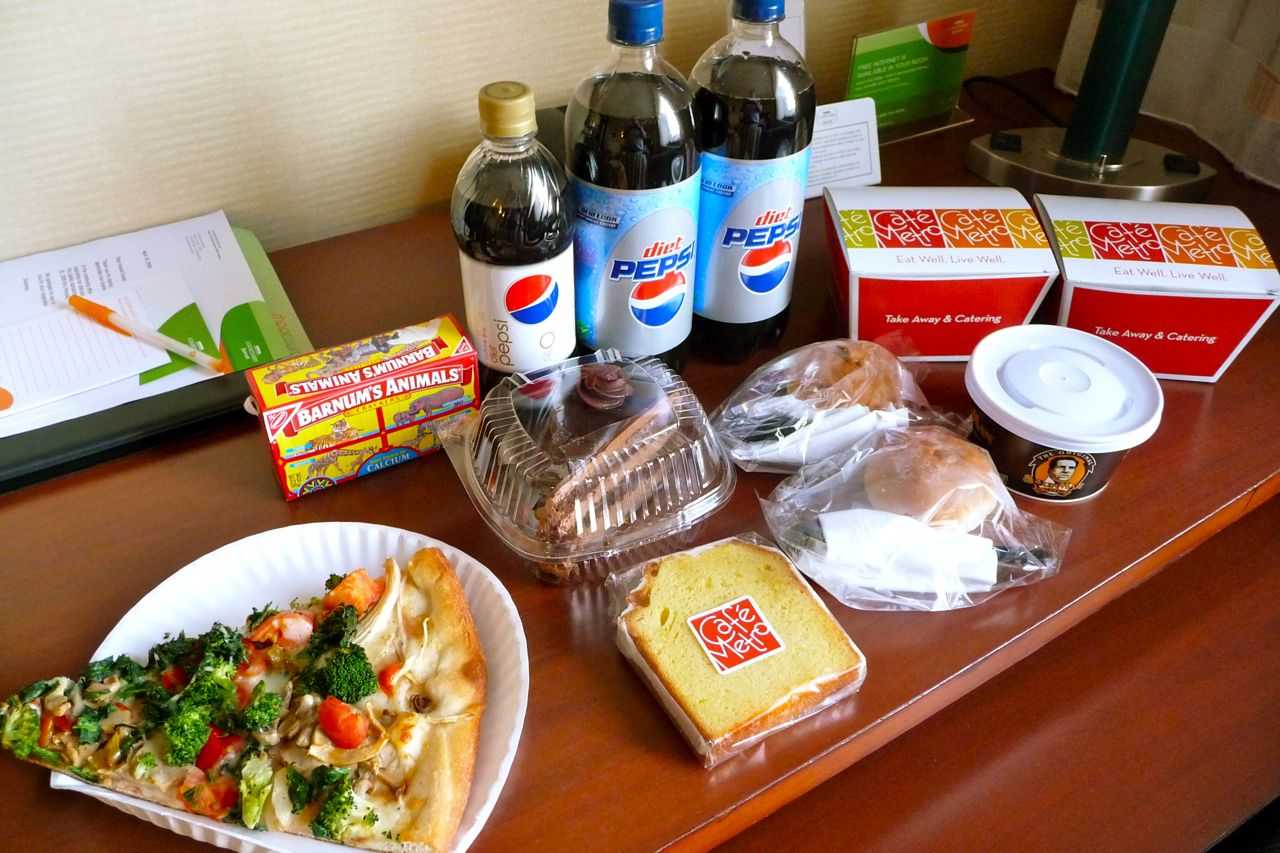 ---
Best buds: Rachel and Kamy. They have been friends since 1995. This was Rachel's fourth trip to NYC and Kamy's first.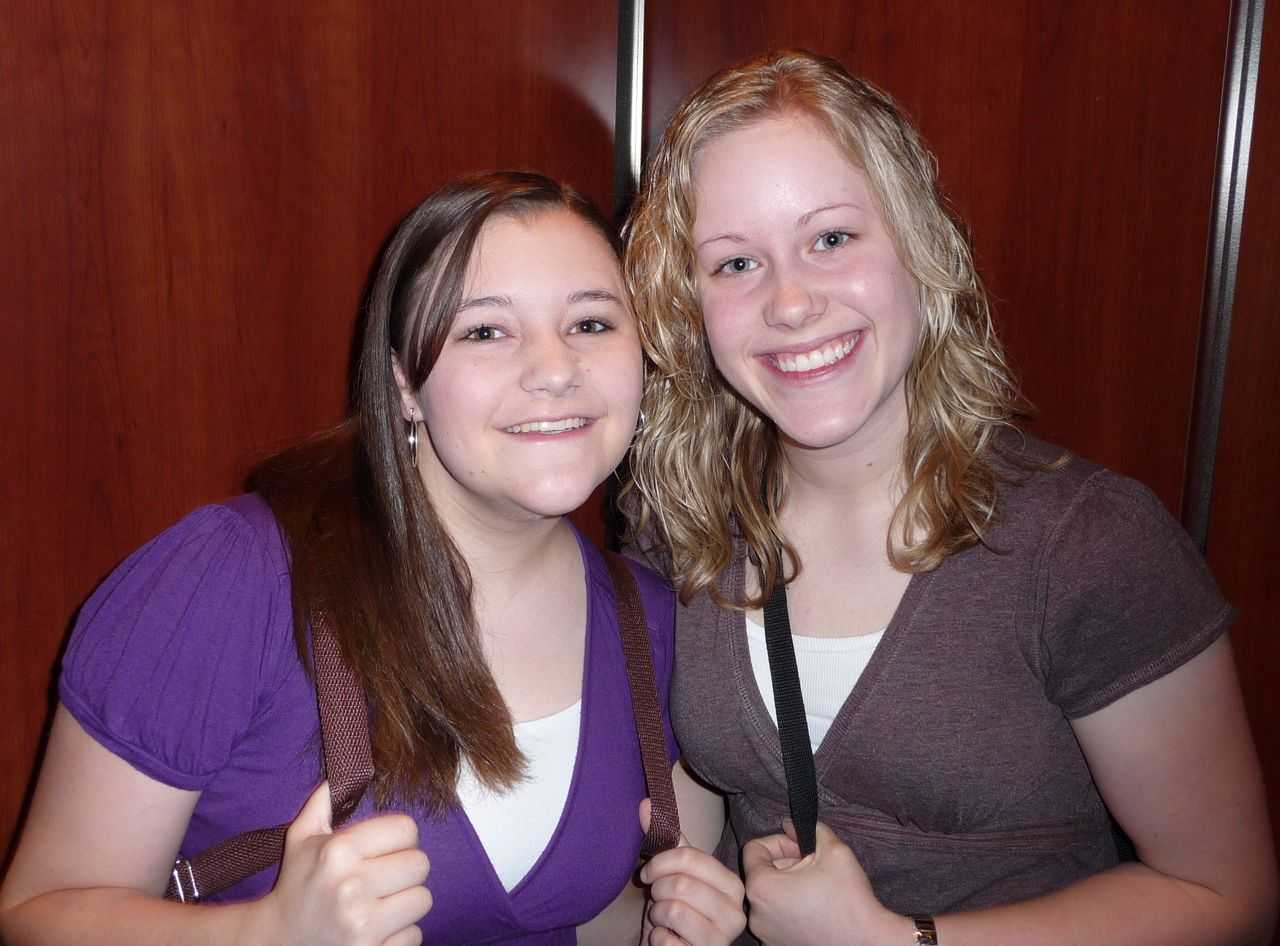 ---
Interesting architecture...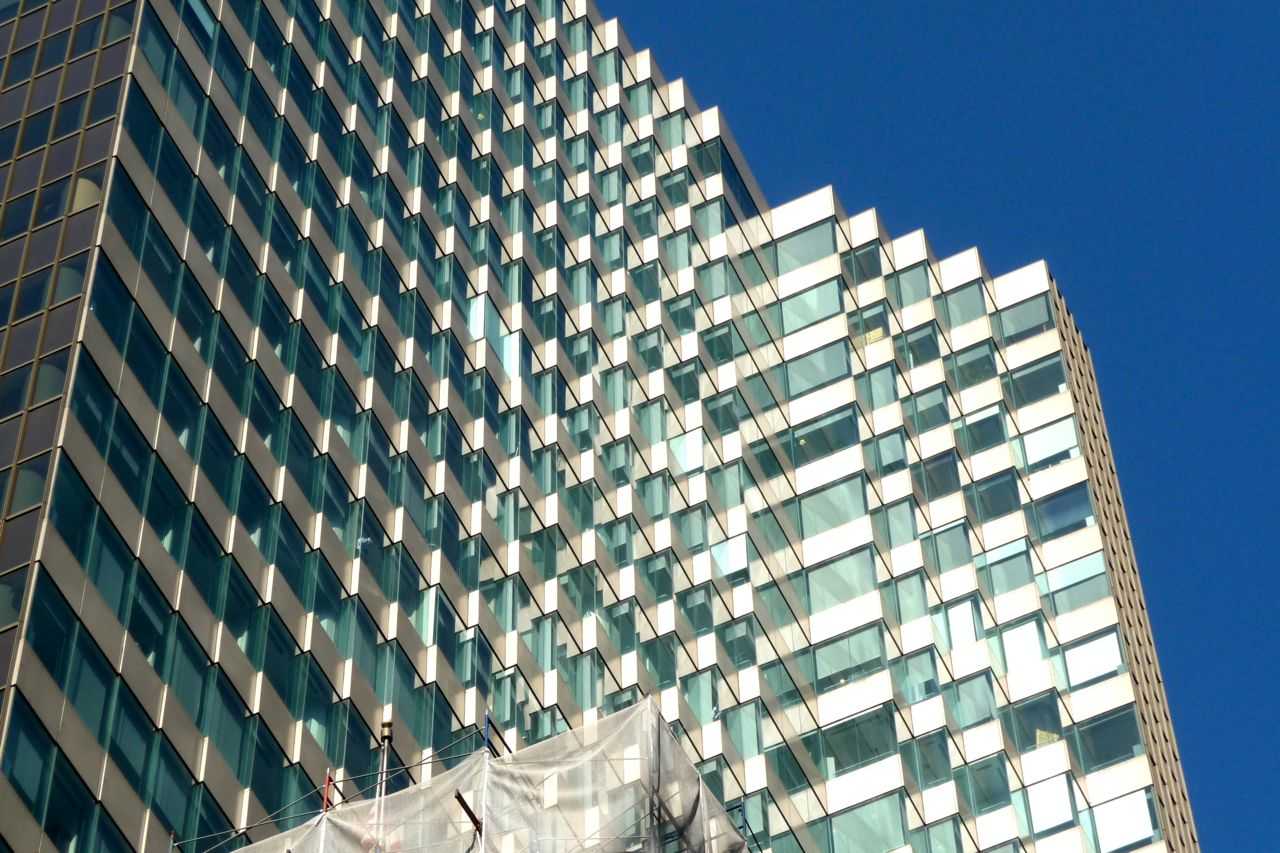 ---
Our friend the fruit man. This same man has been selling us fruit on the NE corner of 5th Avenue and 40th Street for many years now. Once I did not have enough change to pay for a banana and he just gave it to me and said "you can pay me tomorrow", which I did. If you are ever near here, stop in and buy some fruit. Mornings are best.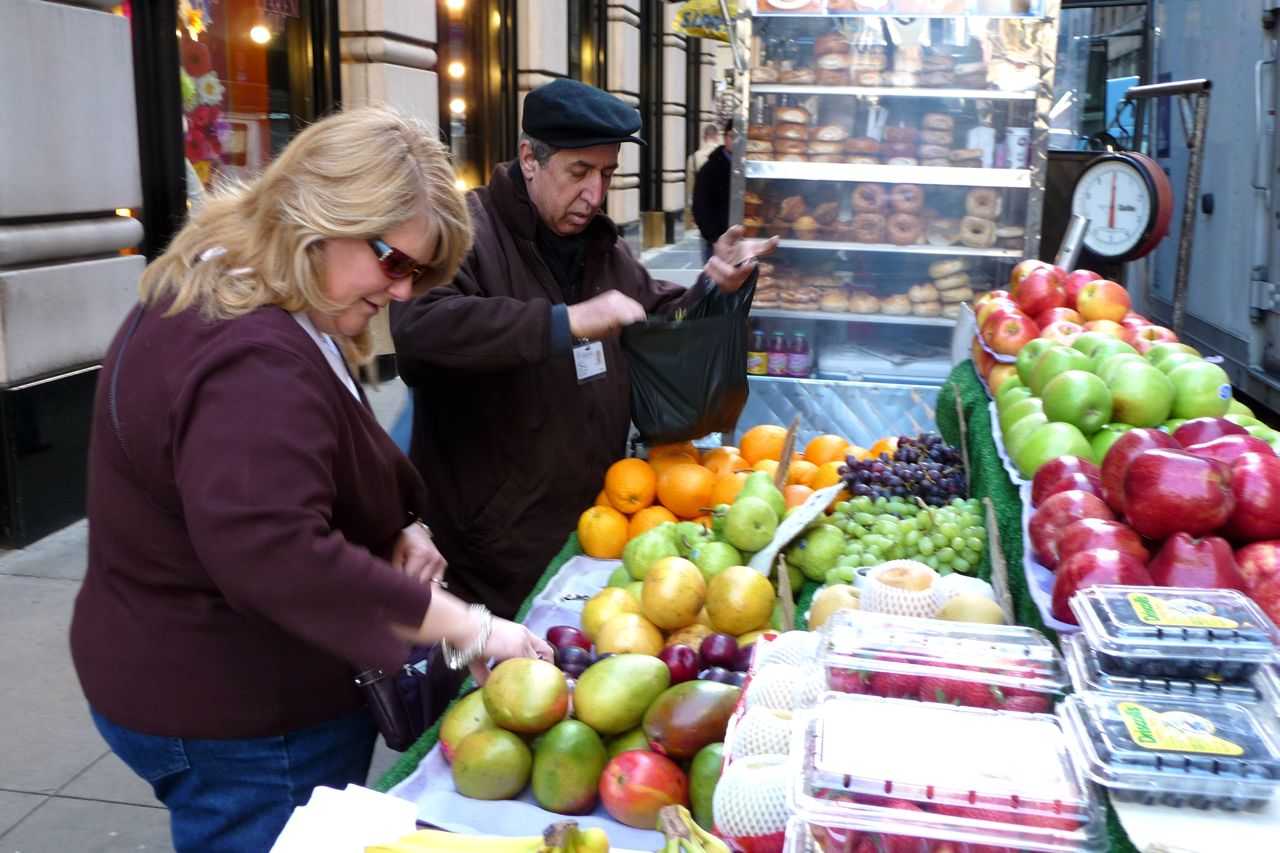 ---
It is very hard to get a good photo of the interior of Grand Central Station. Don't believe me? Try it yourself.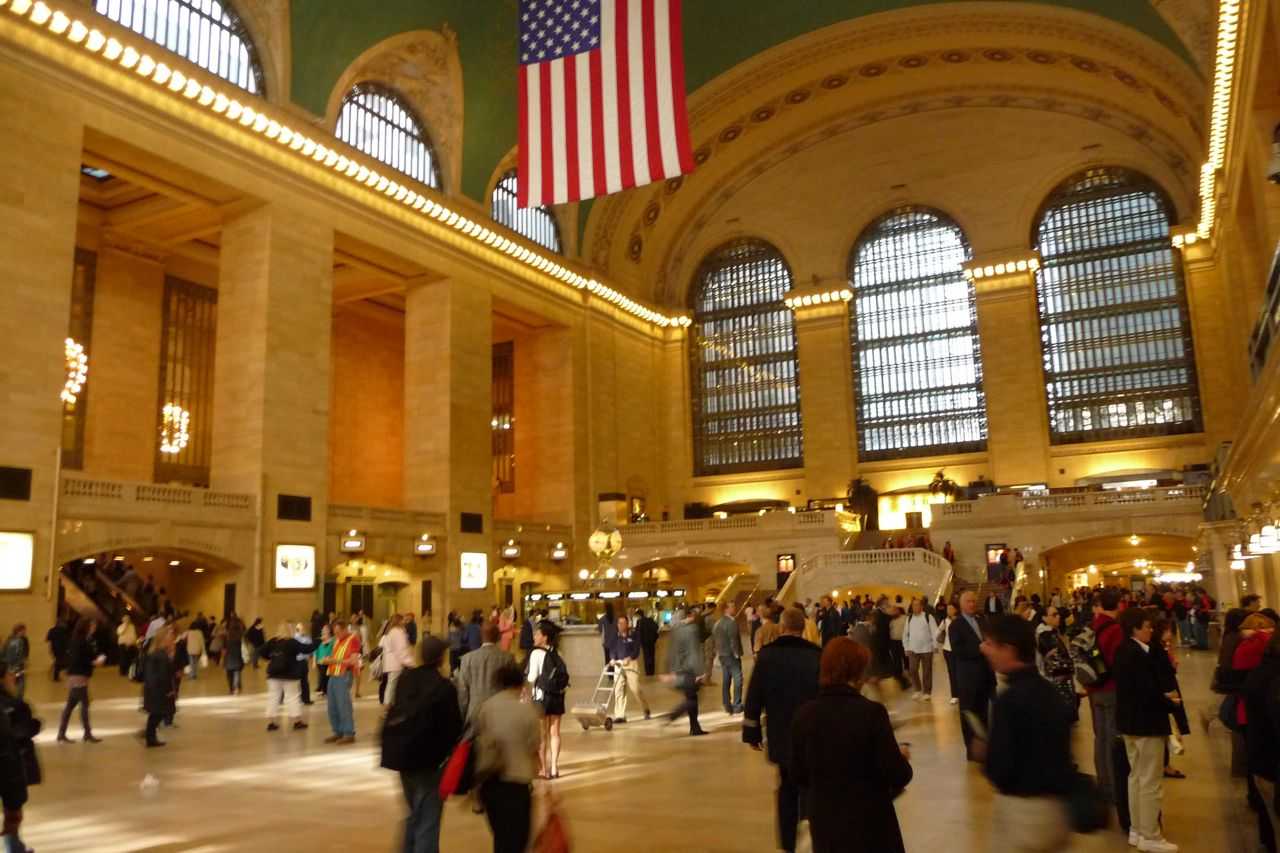 ---
One of the shops in Grand Central Station always has beautiful deserts.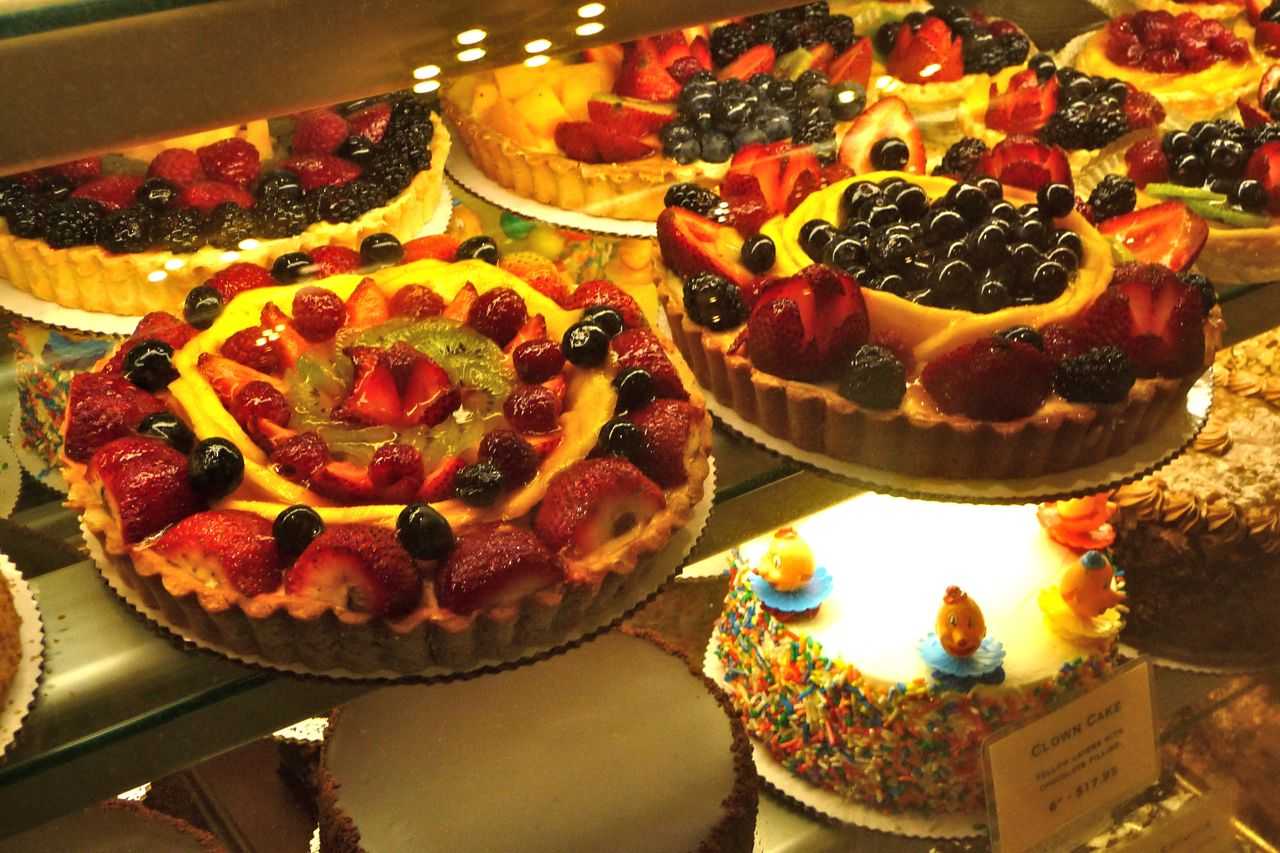 ---
I like colorful things.
---
I also like geometric patterns.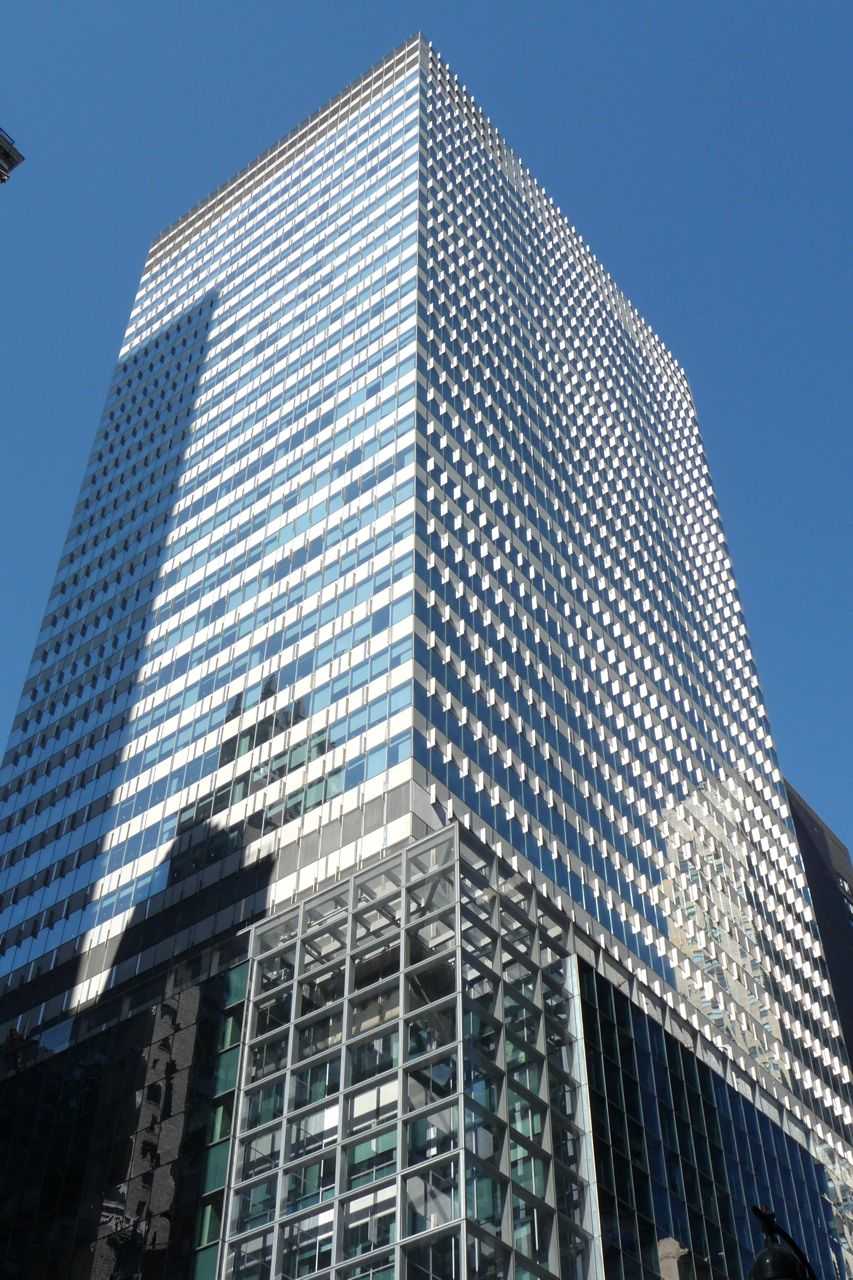 ---
I like repeated multiples. Especially colorful multiples.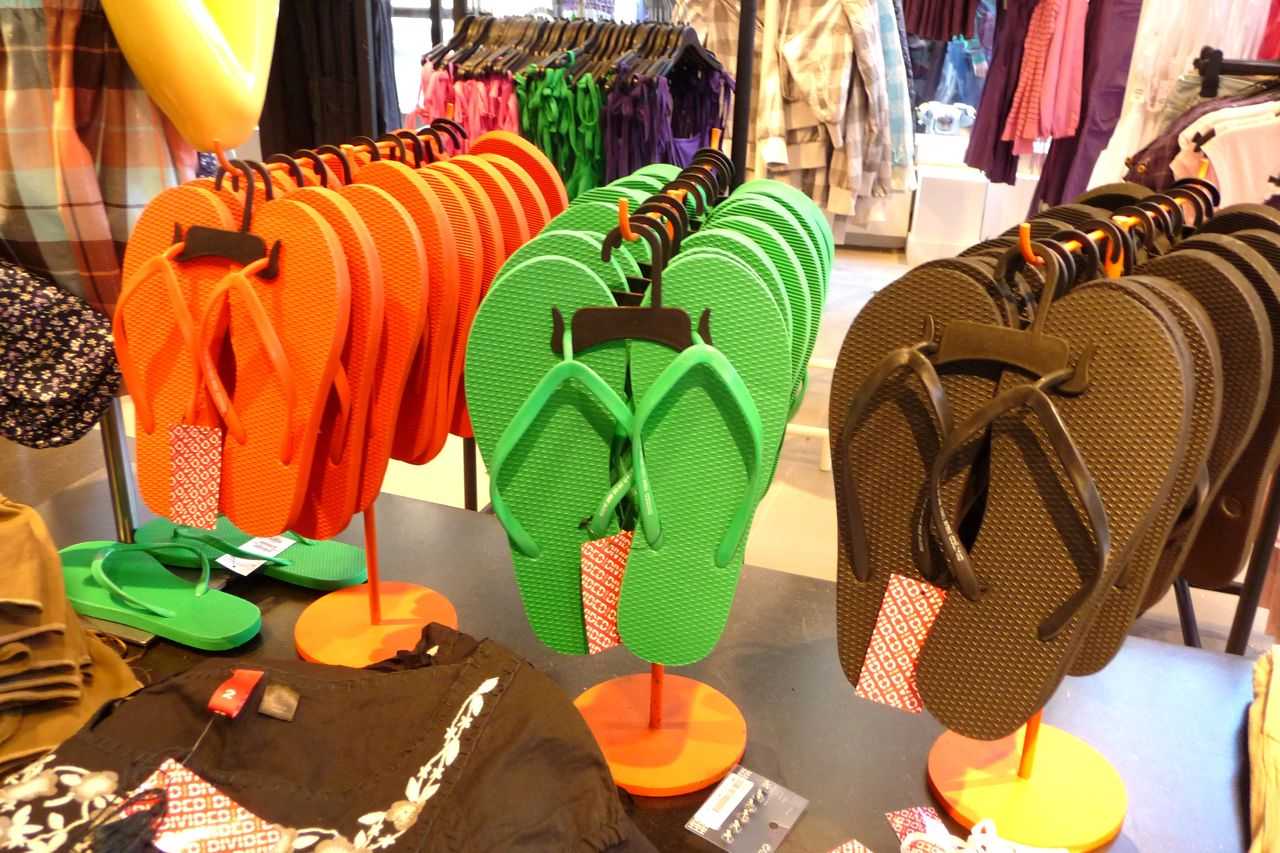 ---
This was strange: two guys spraying this car. We were not sure if it was a special fluid or just water.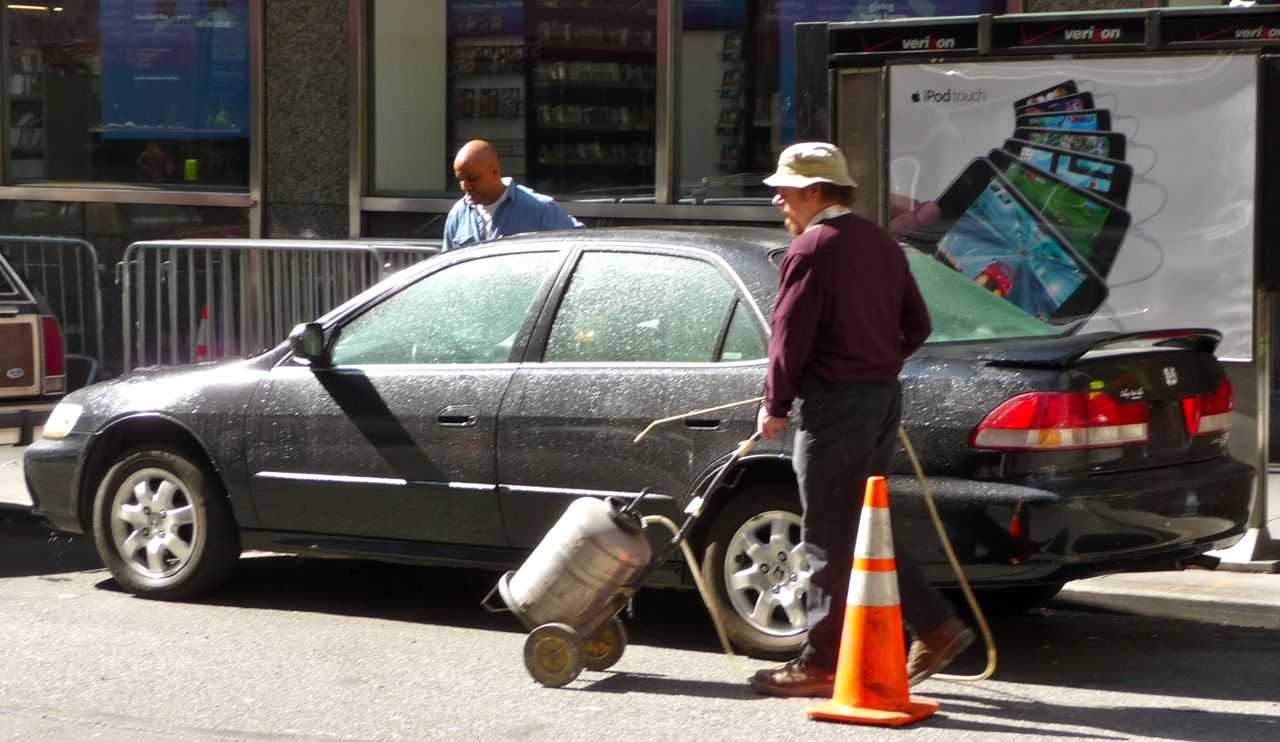 ---
Beth talked with this man who was selling purses.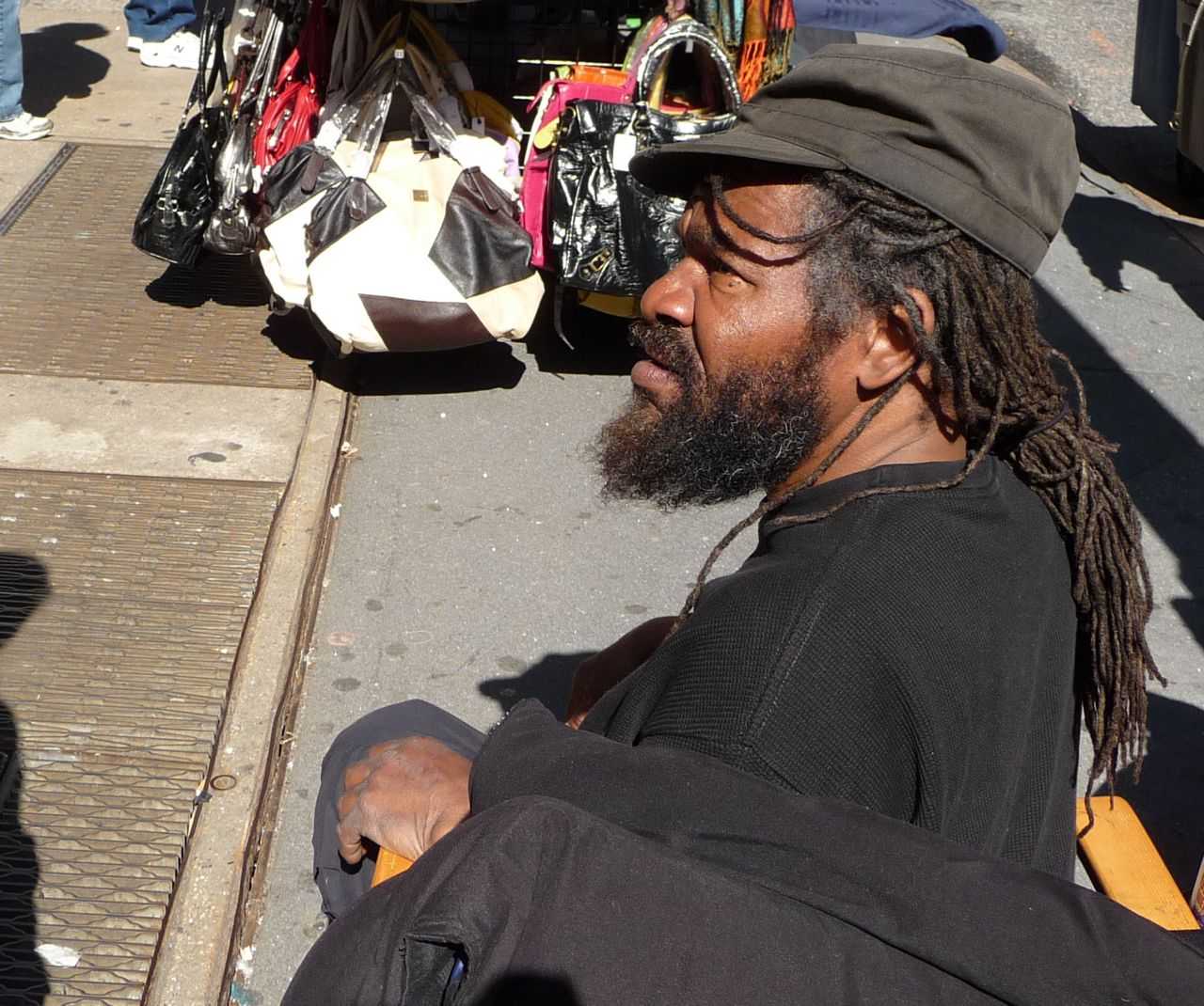 ---
All three girls enjoyed looking at purses from the street vendors. Beautiful hair girls!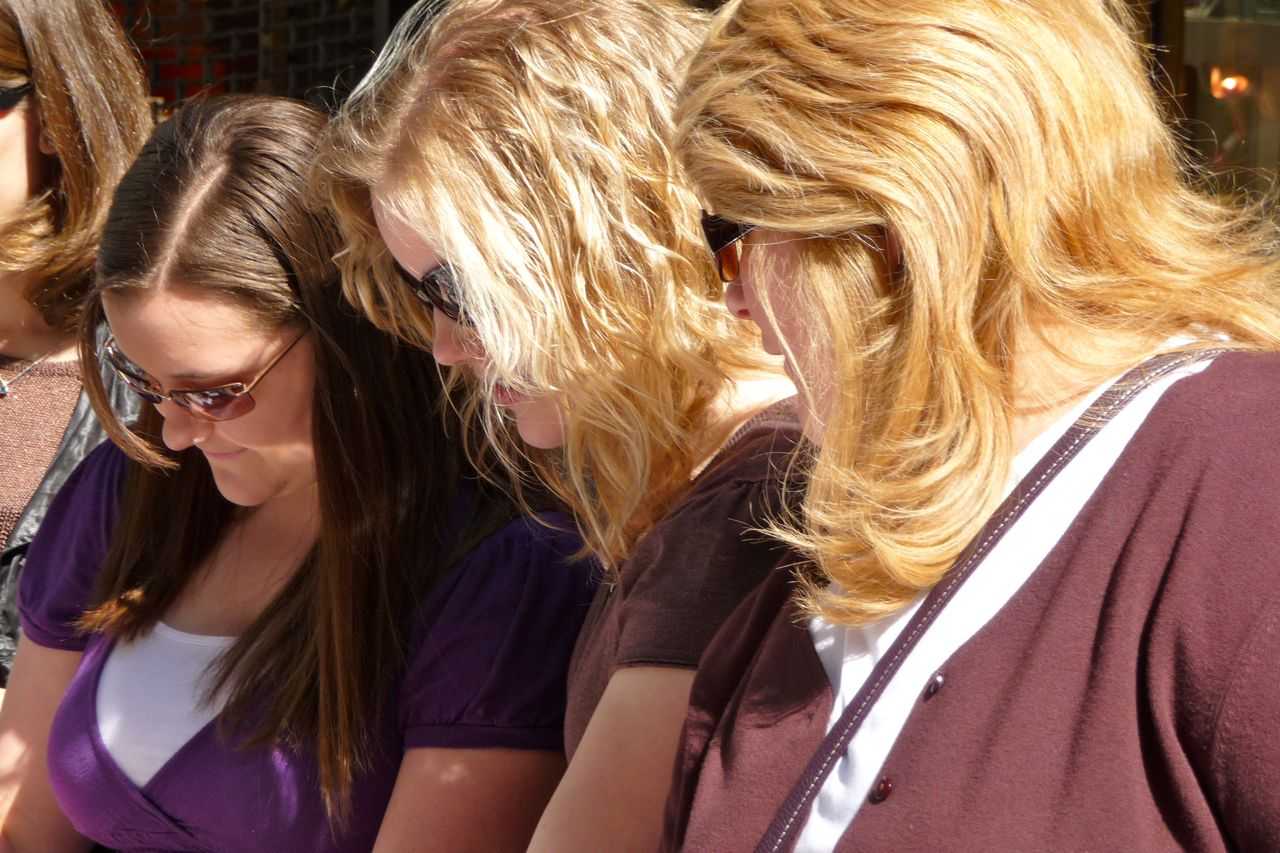 ---
More purse shopping.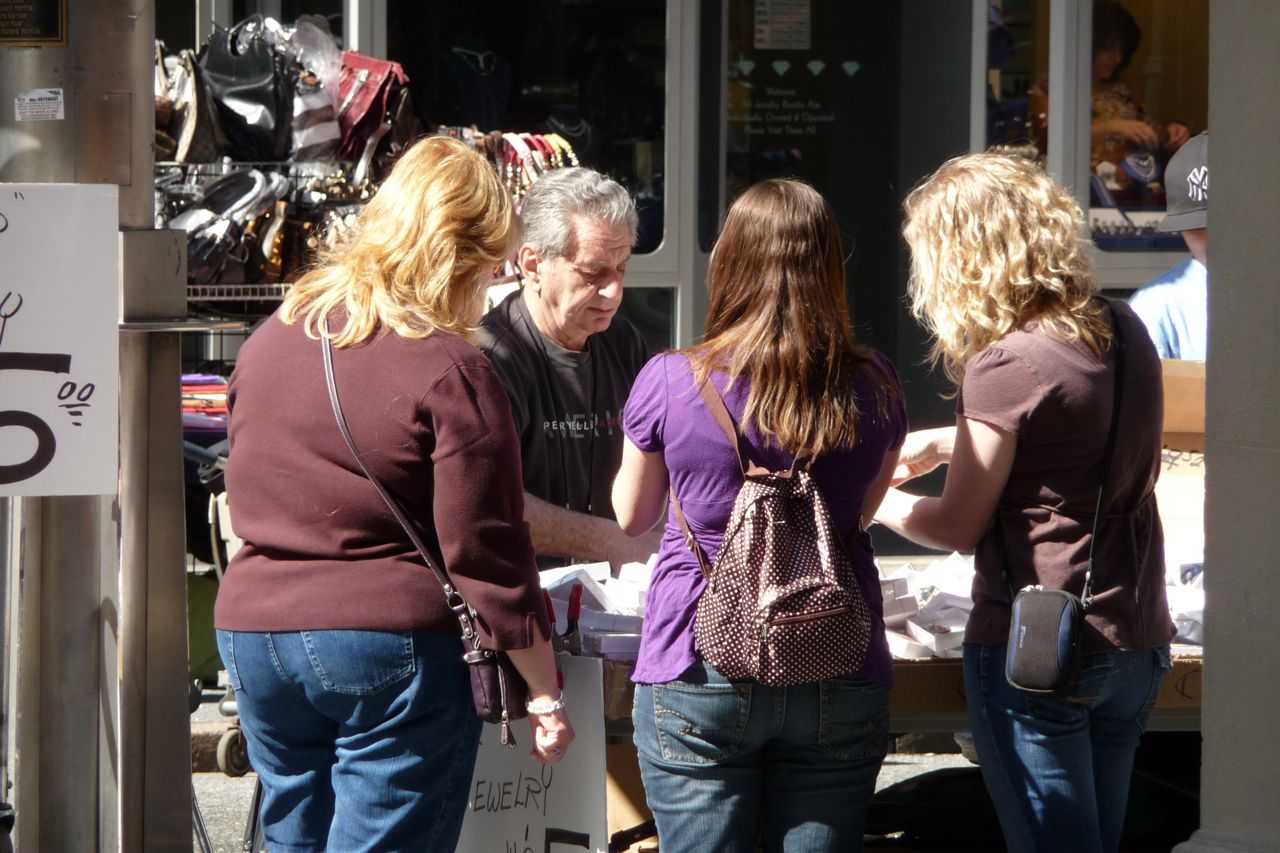 ---
Here we are at Rockefeller Plaza.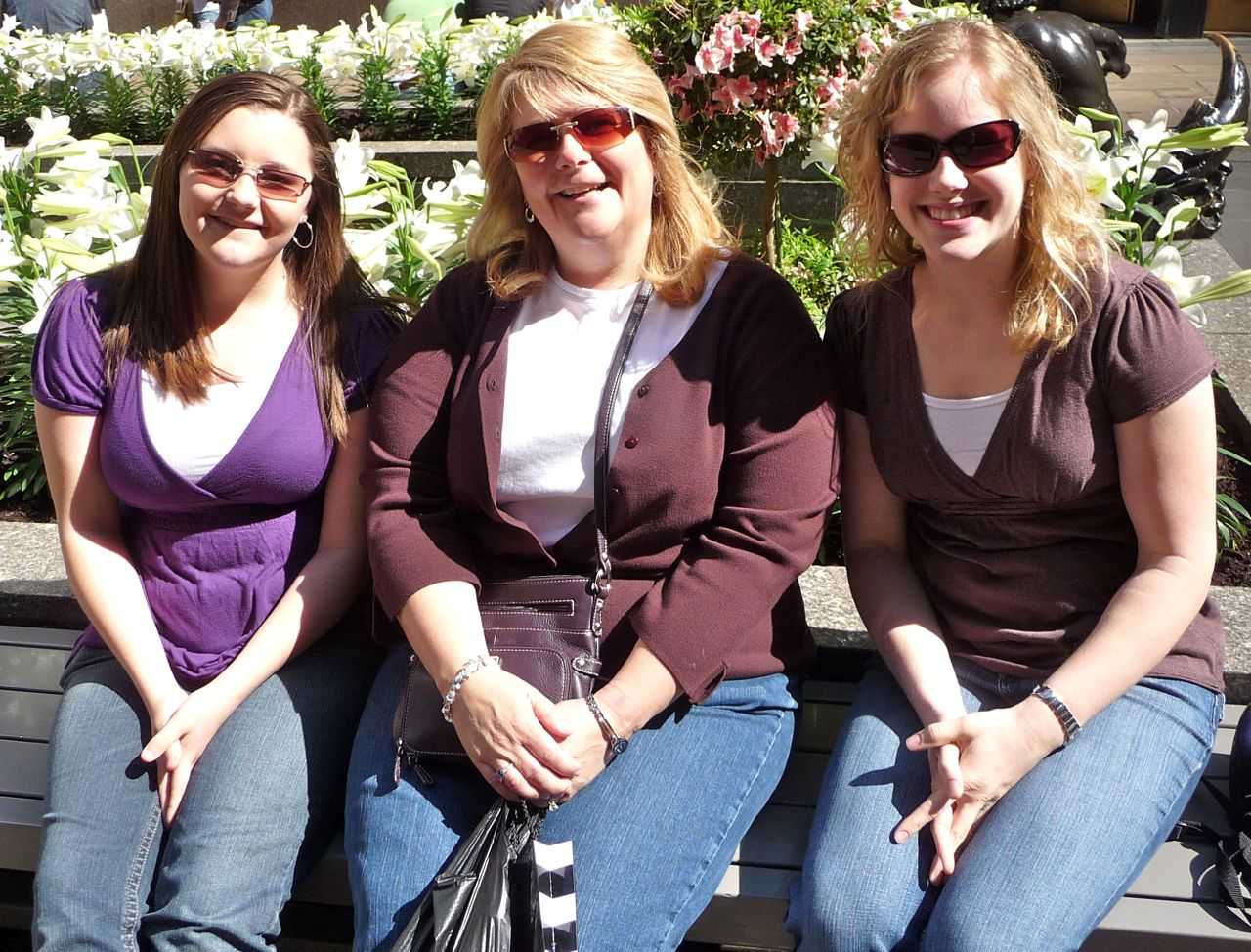 ---
Oh look! I am here too.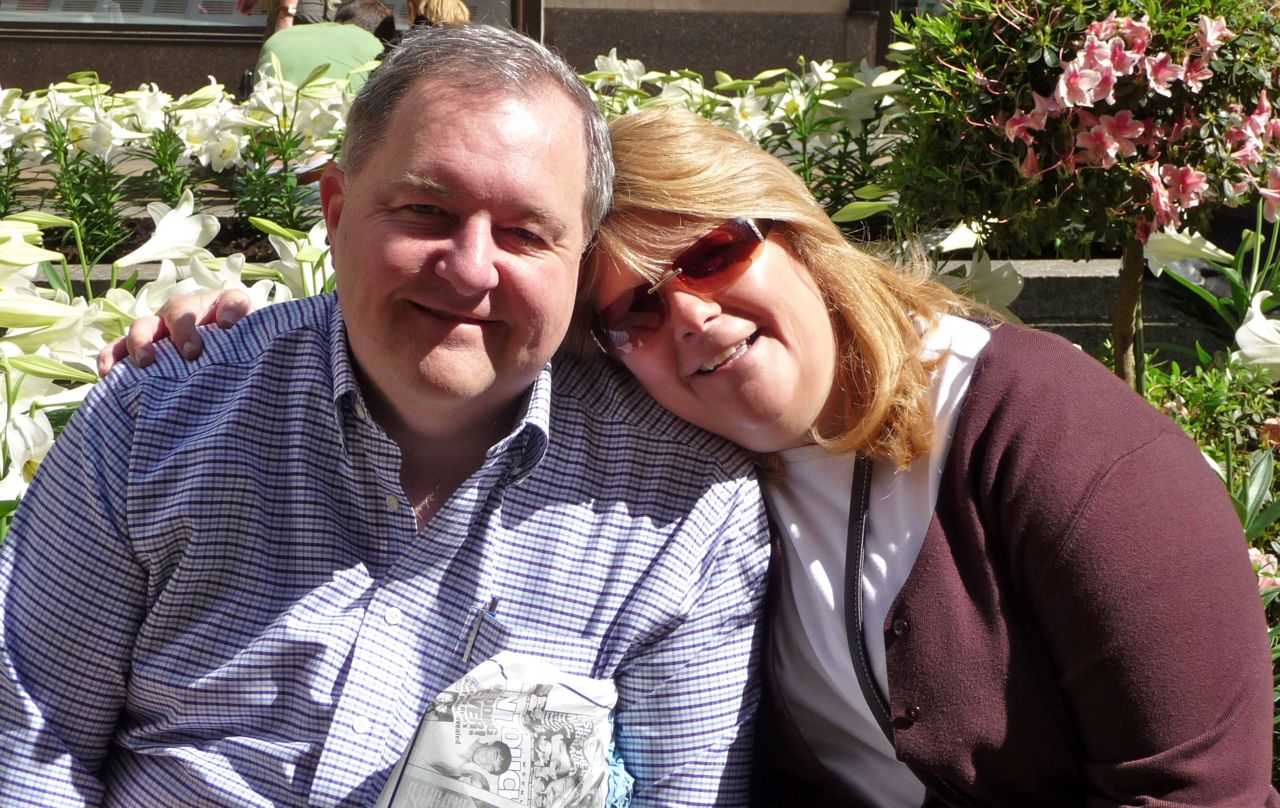 ---
This is the statue at Rockefeller Plaza up close.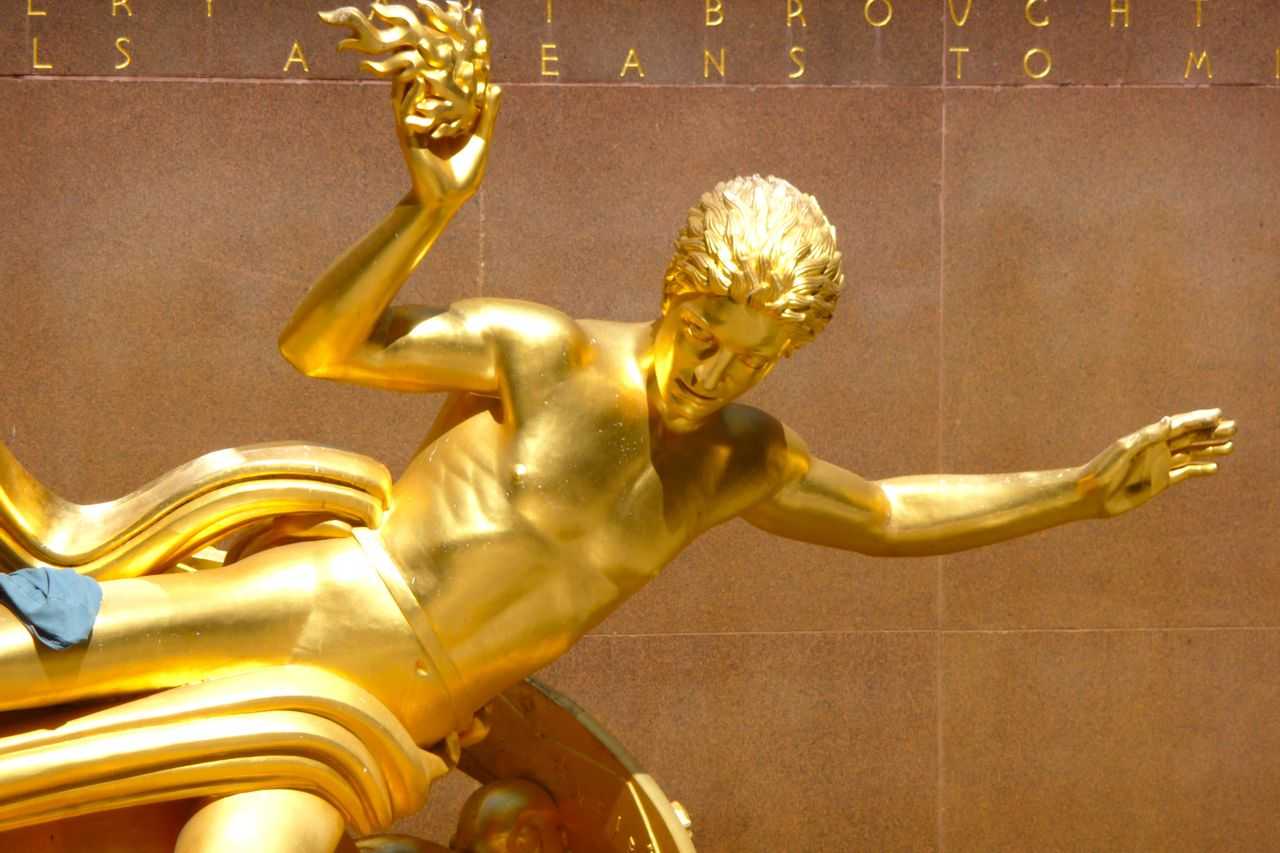 ---
I call this photo Footwear.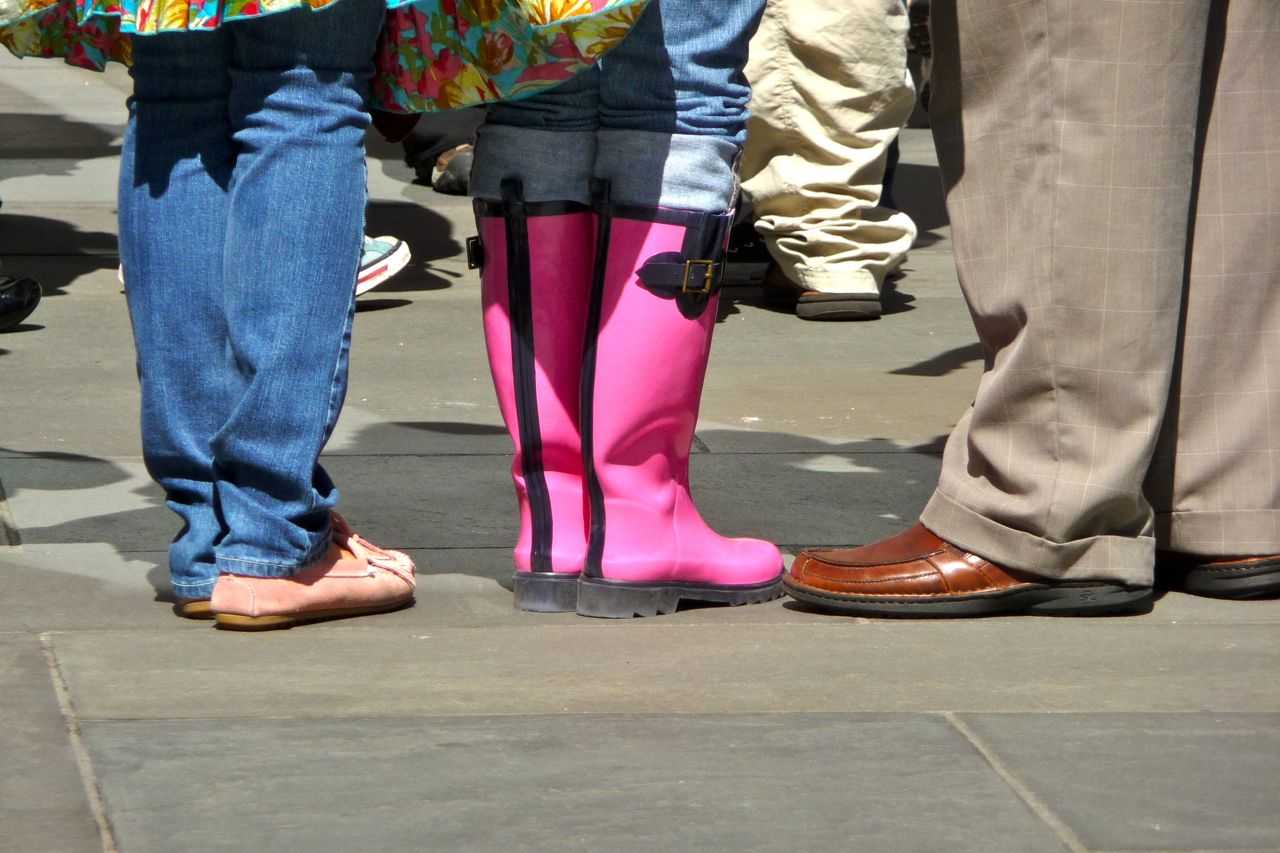 ---
The inside of St. Patrick's cathedral which is just across the street from Rockefeller Center. It was built from 1858 until 1878 and is over 330 feet tall. It is decorated in the Neo-Gothic style and seats over 2200 people.
---
This is the upper part of the Plaza Hotel which was built in 1907. When the Beatles came to NYC in 1964, they stayed at the Plaza. We stayed in the Plaza in 2005 just a few days before it was closed for three years to be renovated. Now it has 282 hotel rooms and 152 private condominum rooms.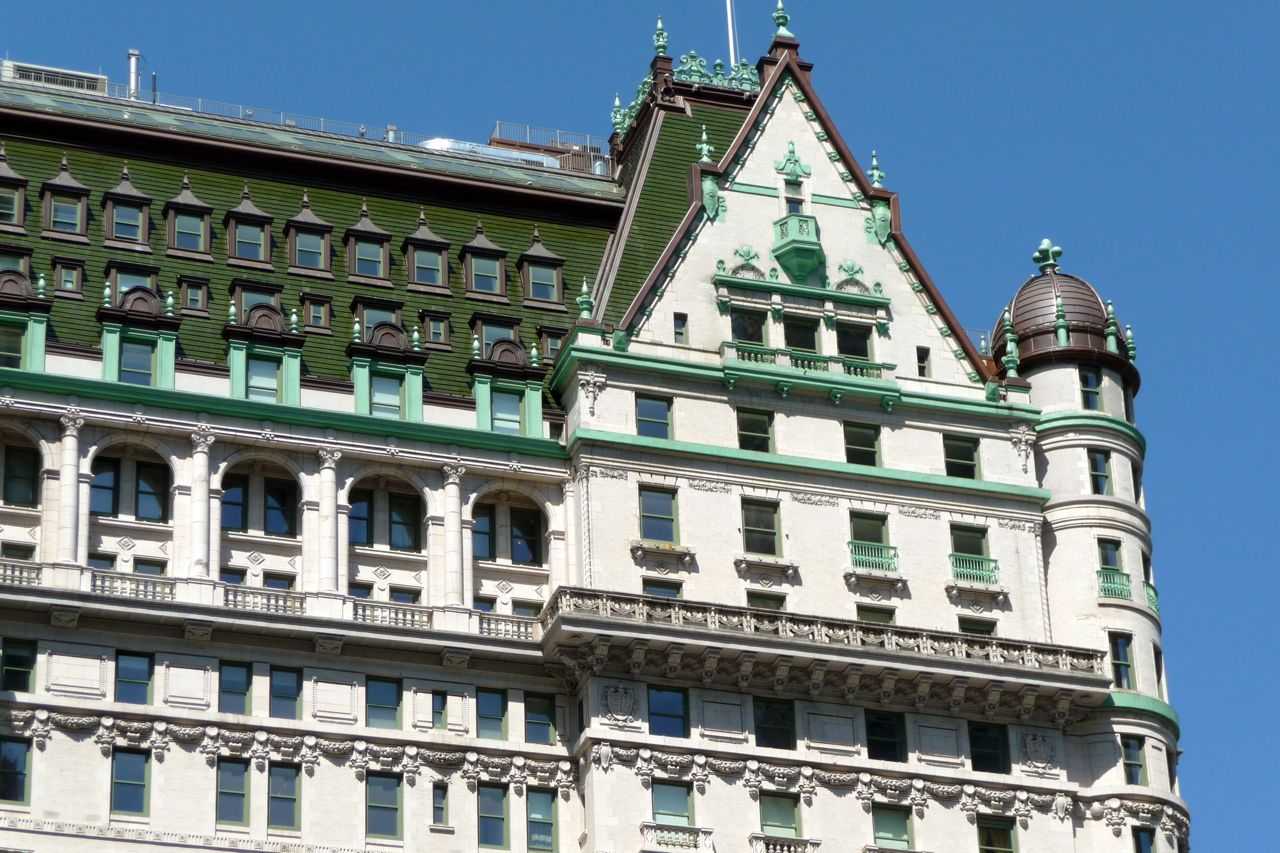 ---
A close-up showing the intricate details.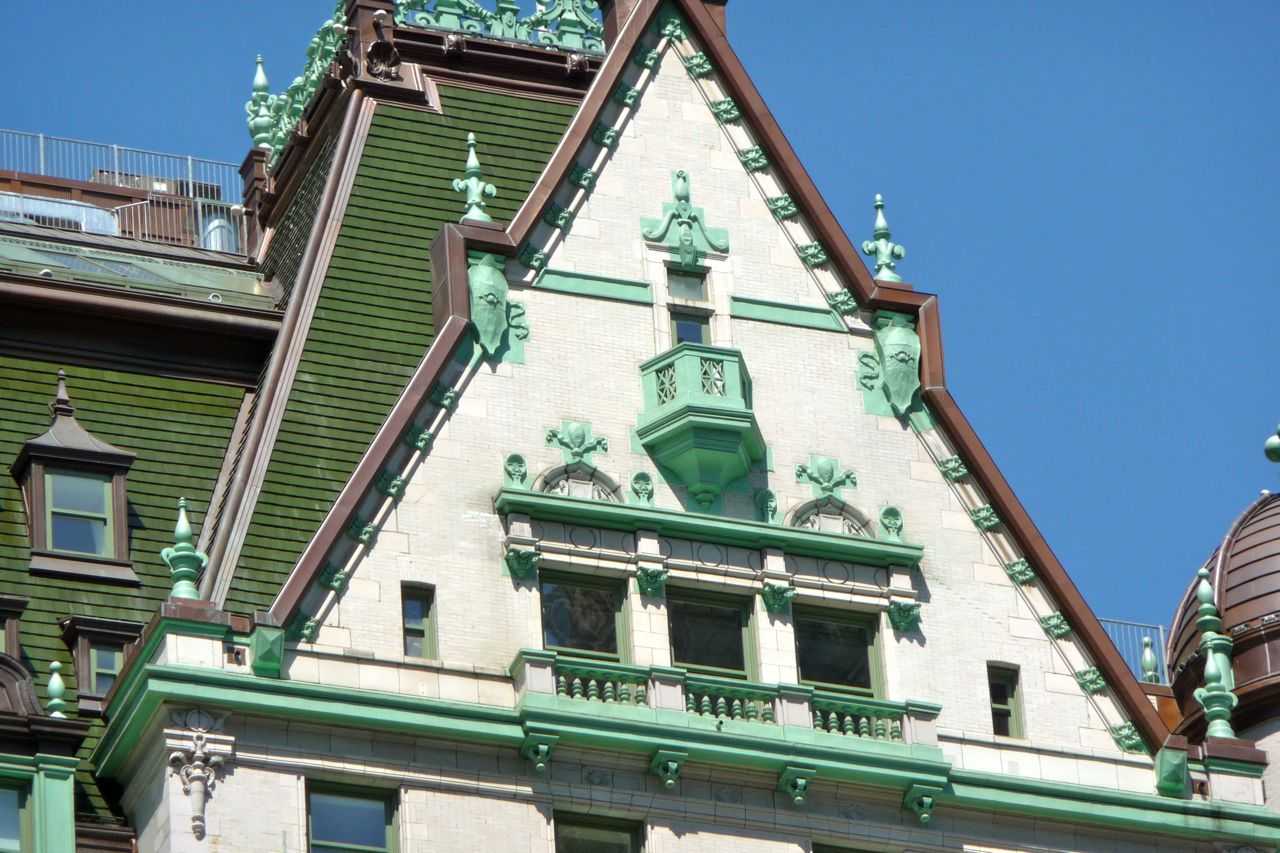 ---
Inside the Apple Cube store on 5th Avenue across from the Plaza Hotel.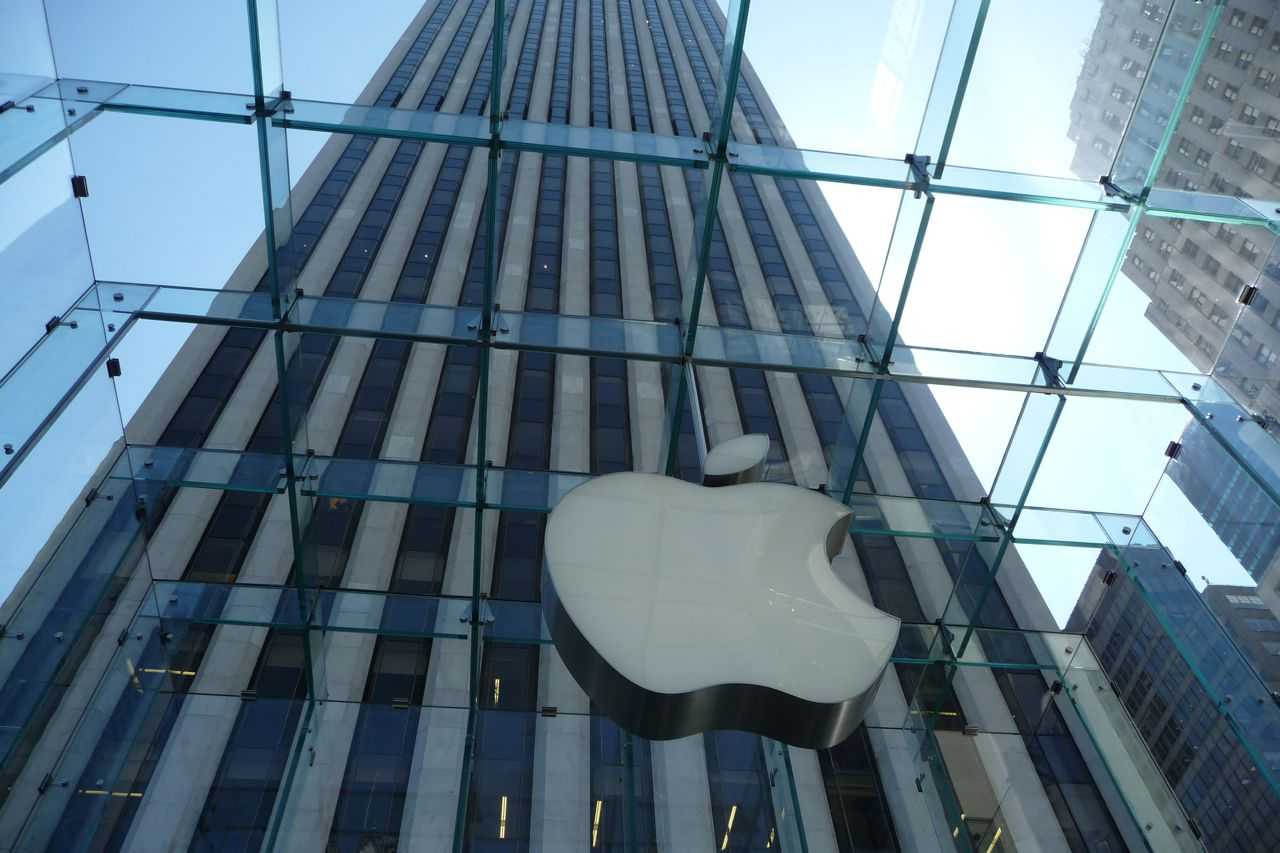 ---
A Mercedes S Class, a limo, taxis, and flowers. Ahhhh... New York!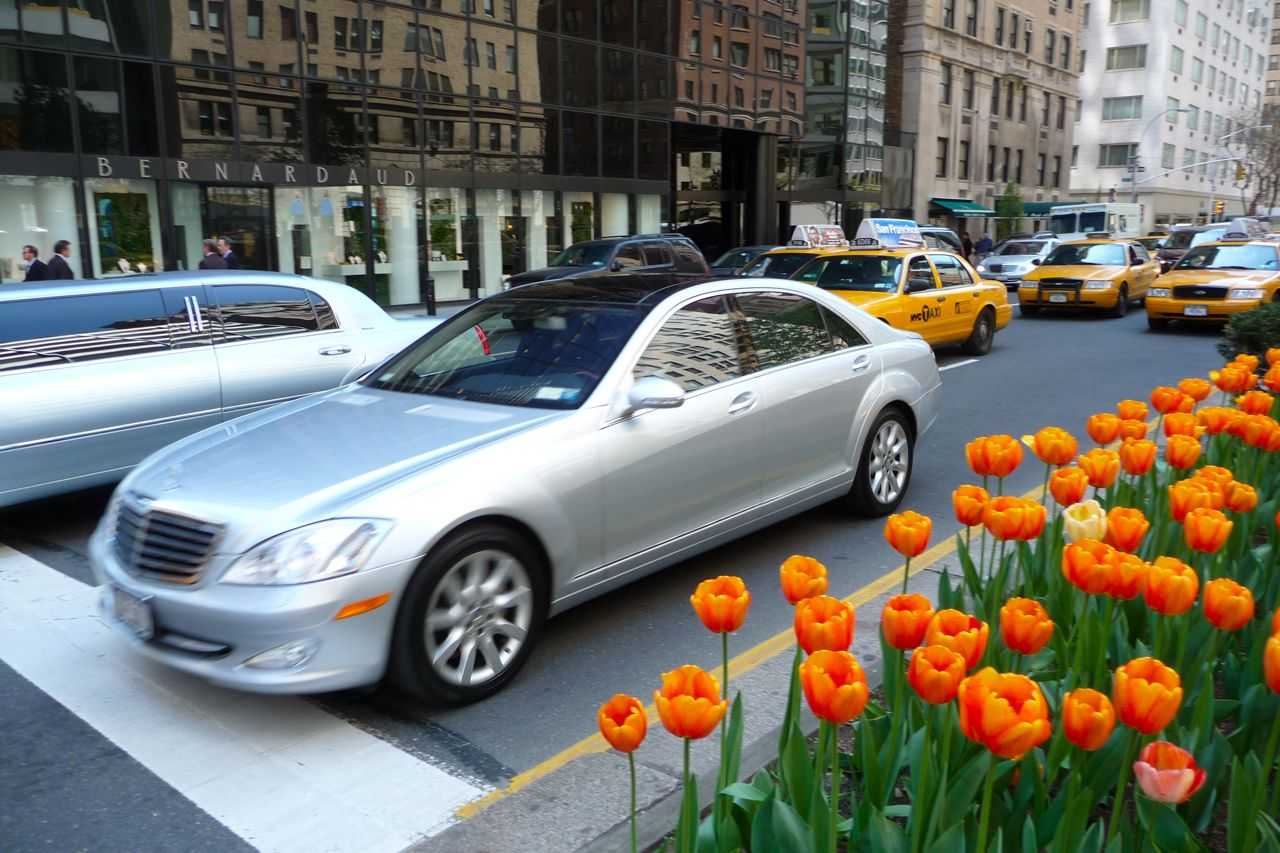 ---
We like to visit New York in the Spring and Fall. The Summer? Not so much.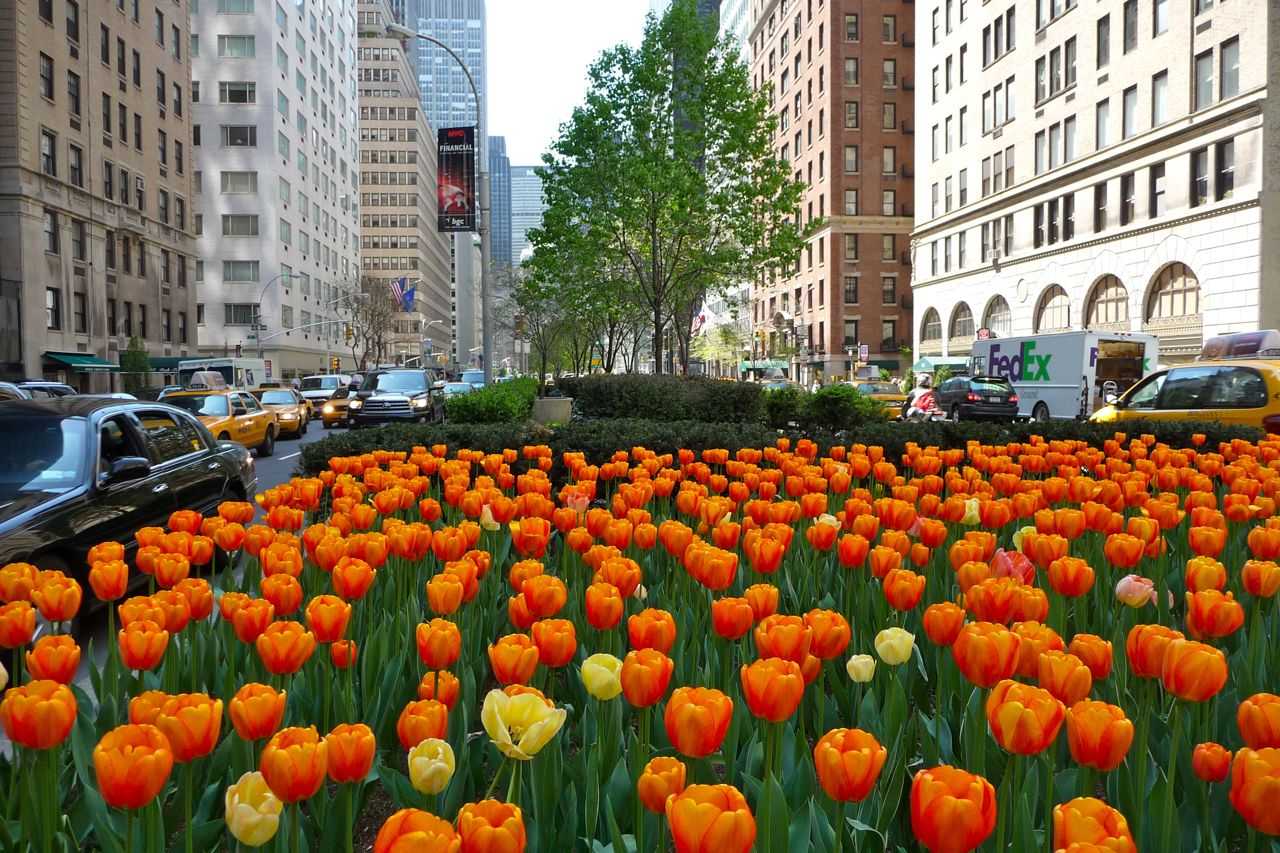 ---
A large three-dimensional billboard of a Sony portable playstation.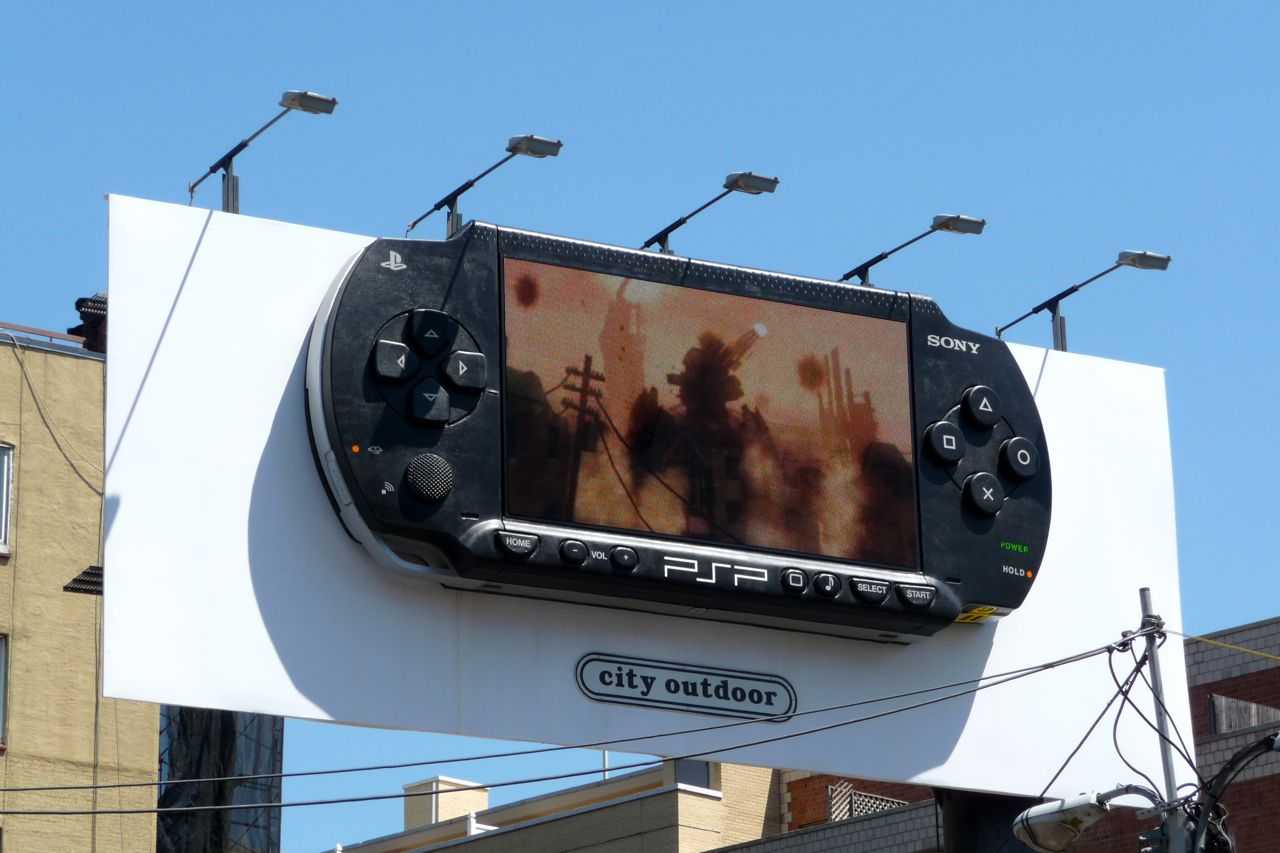 ---
Logos for Pepsi and BP.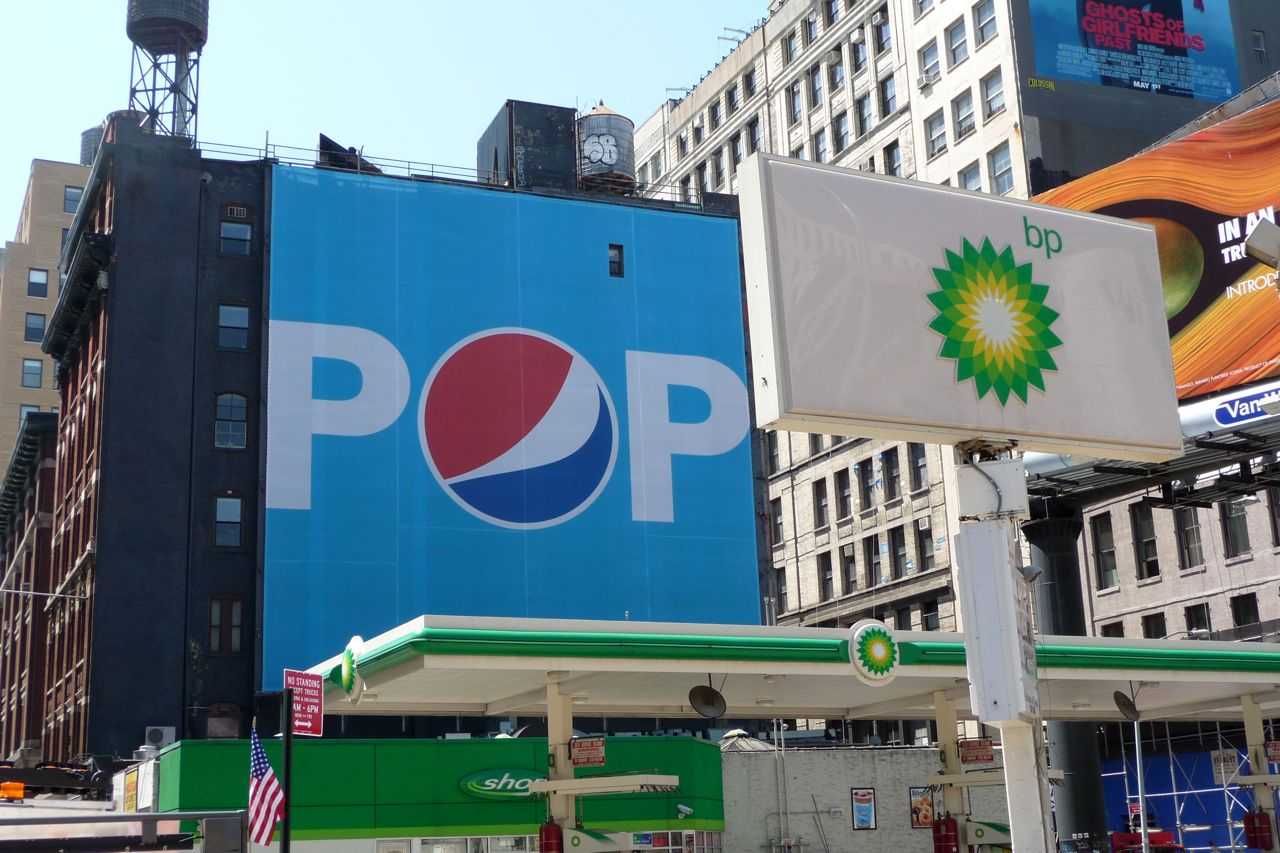 ---
Katz's Deli on 205 Houston Street on the Lower East Side.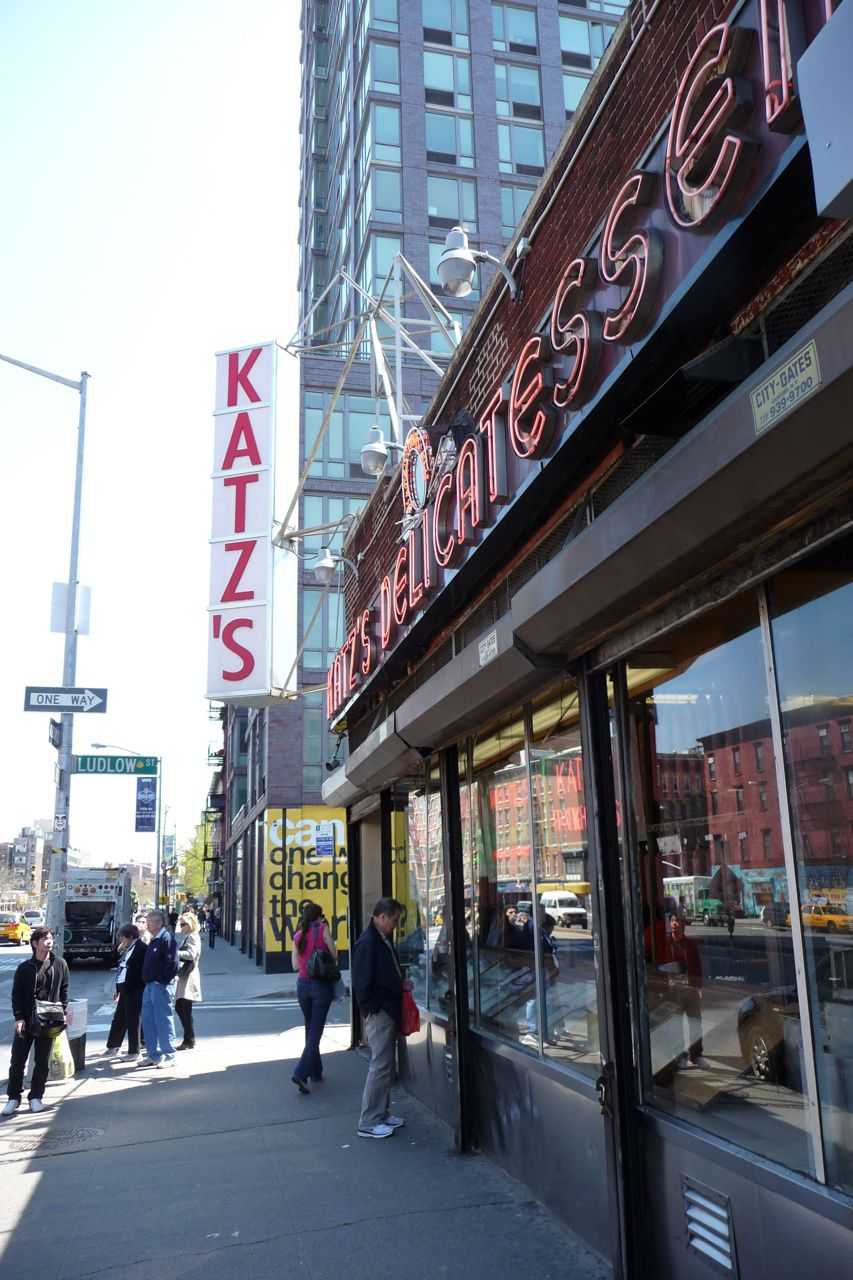 ---
They have been selling sandwiches here since 1888!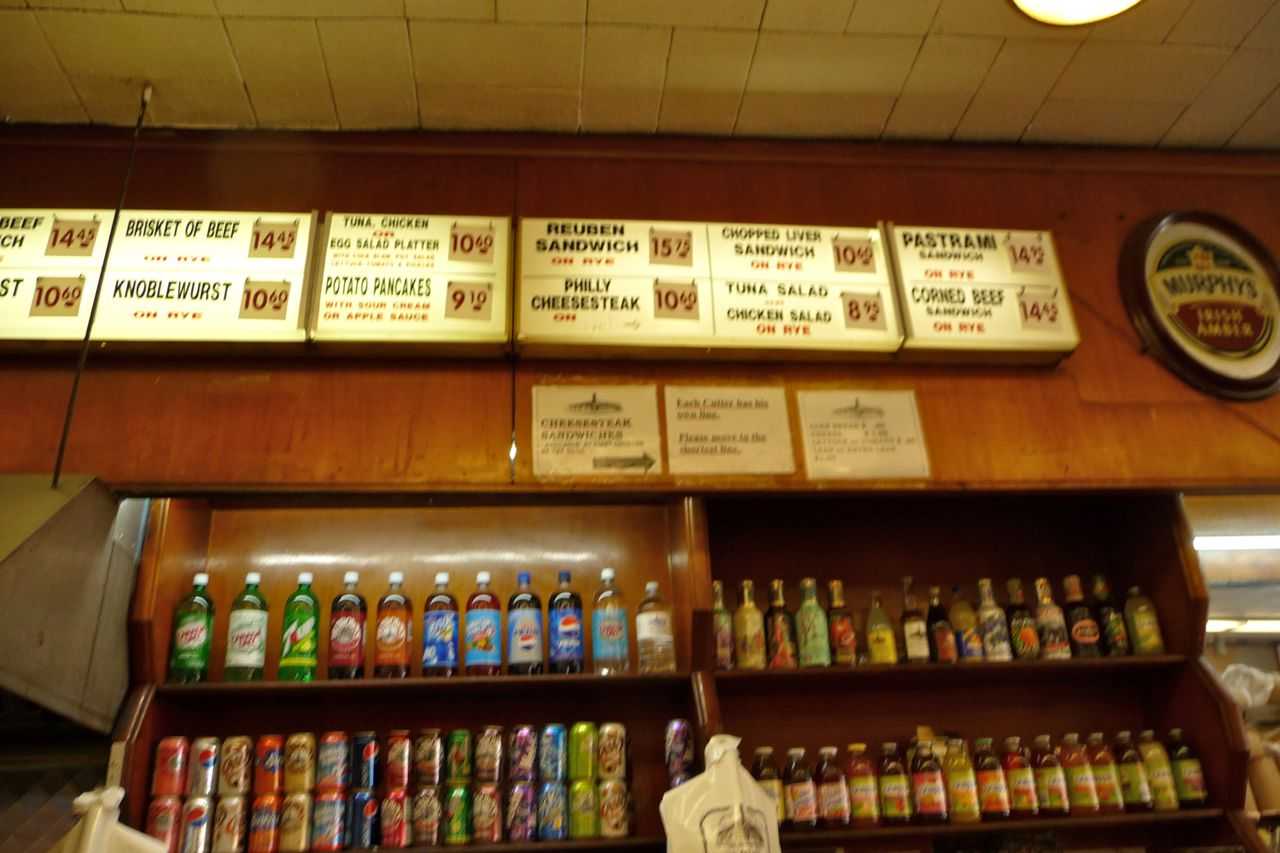 ---
The pickle plate was a treat.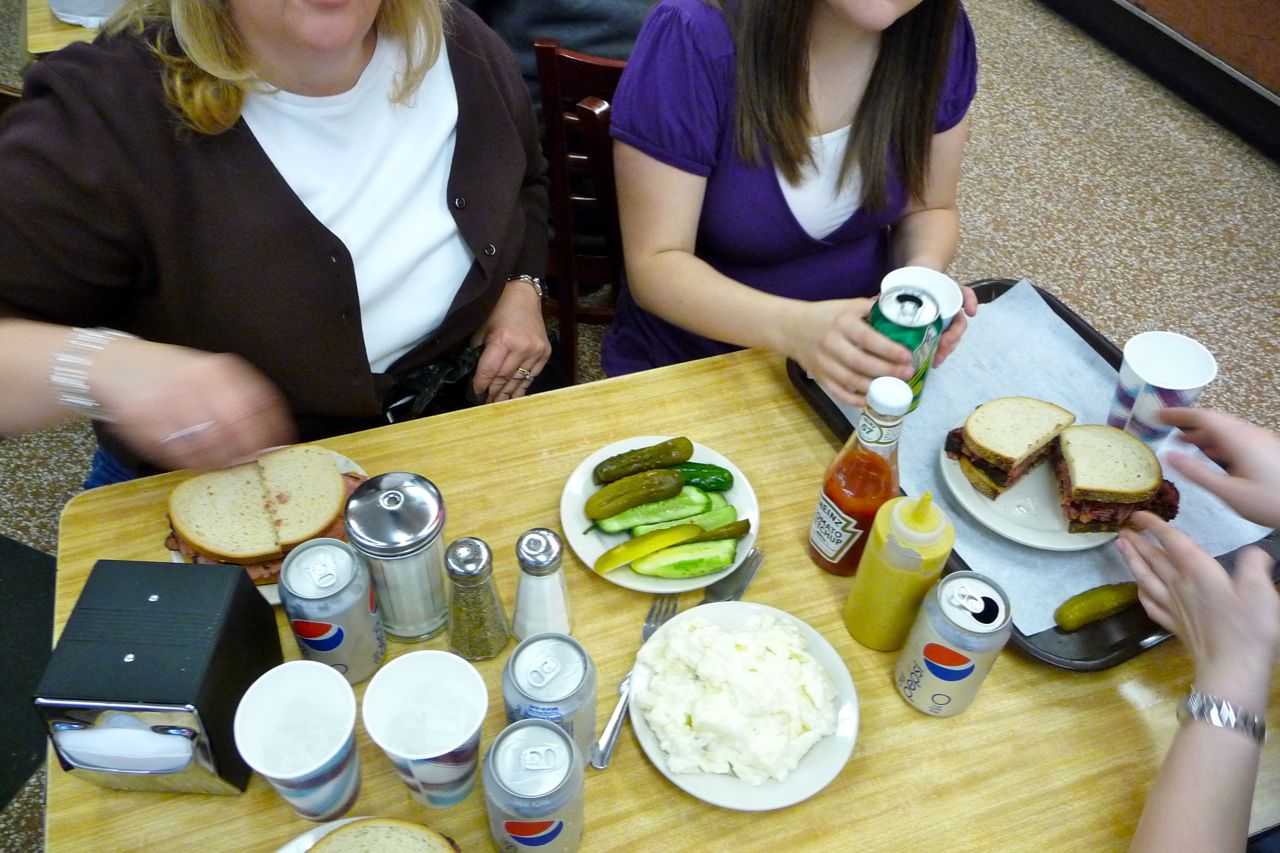 ---
The pastrami sandwich was fabulous.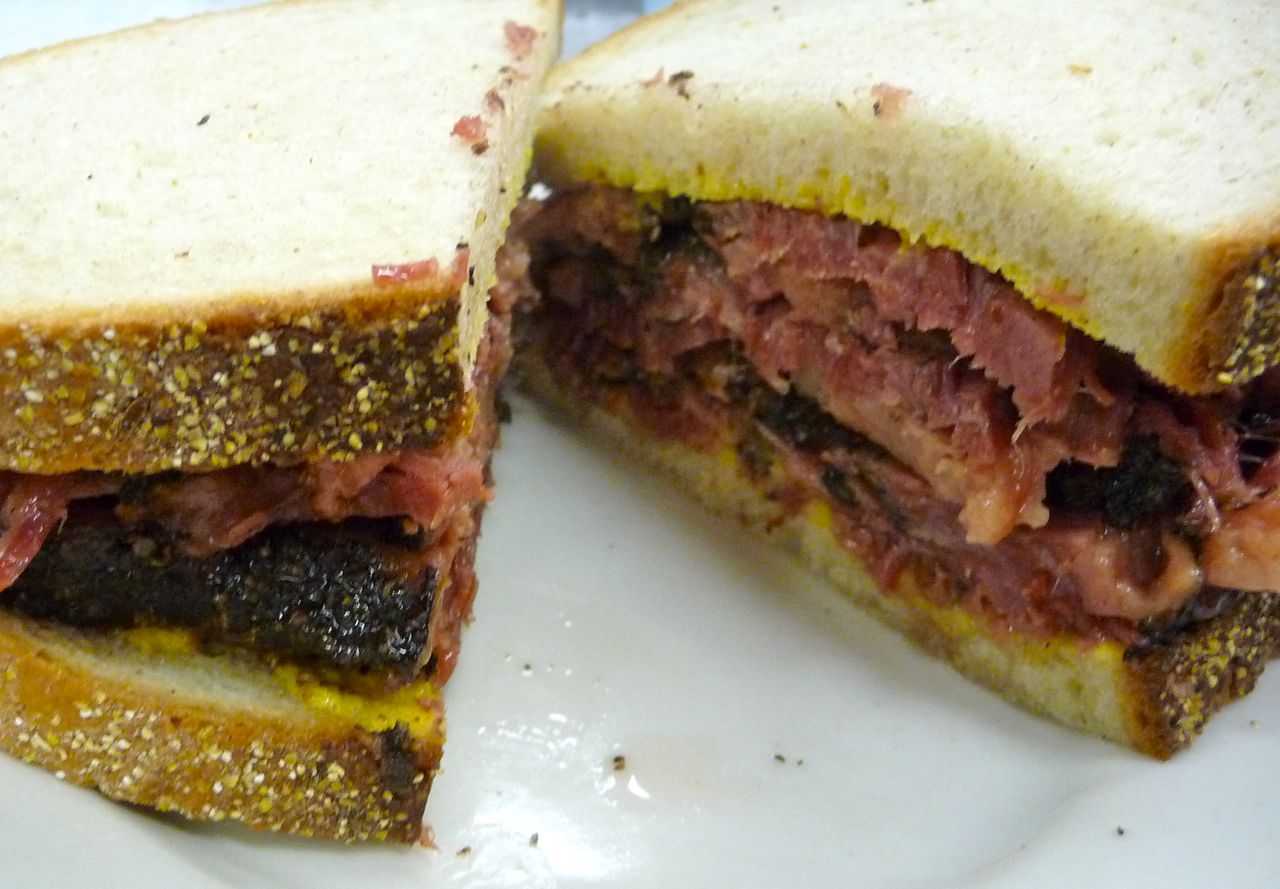 ---
I like NYC architecture.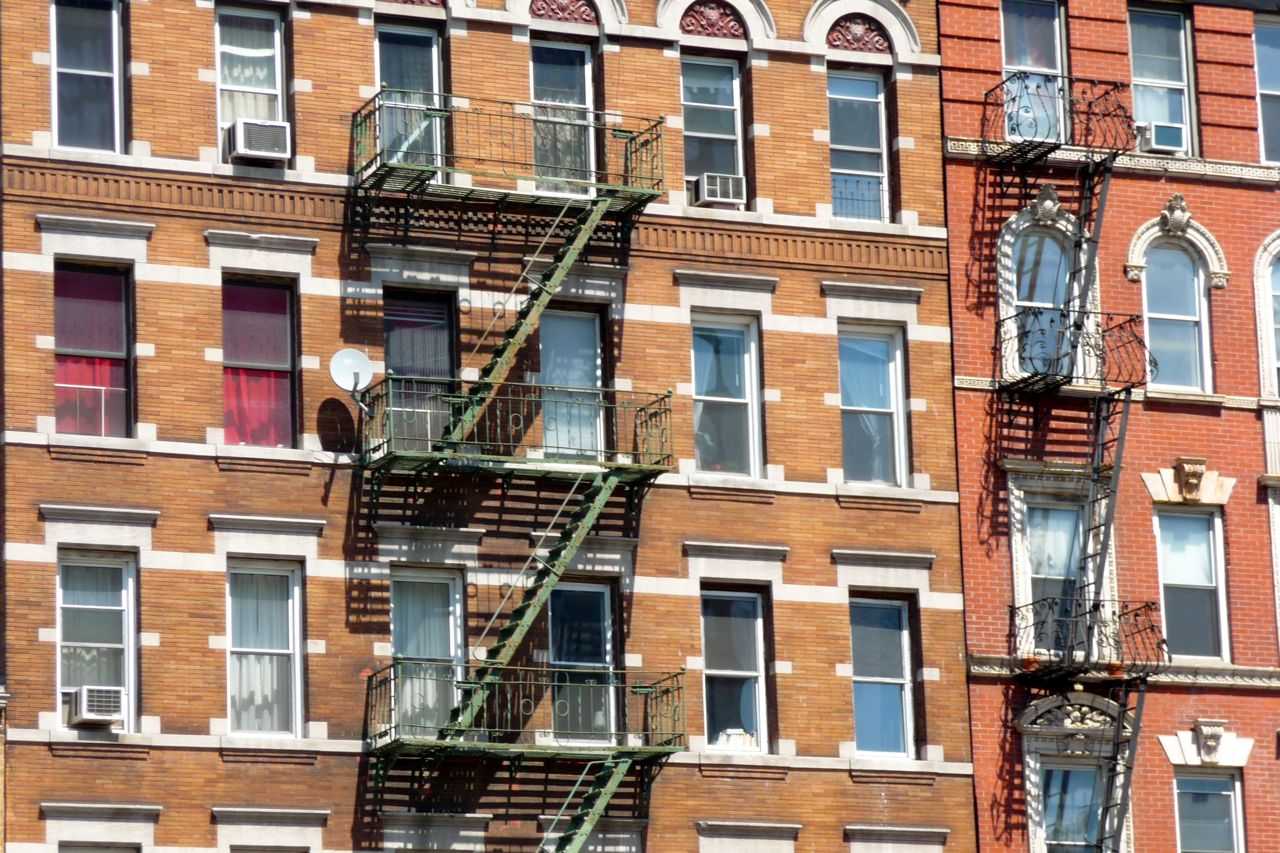 ---
The staircases are fun to photograph.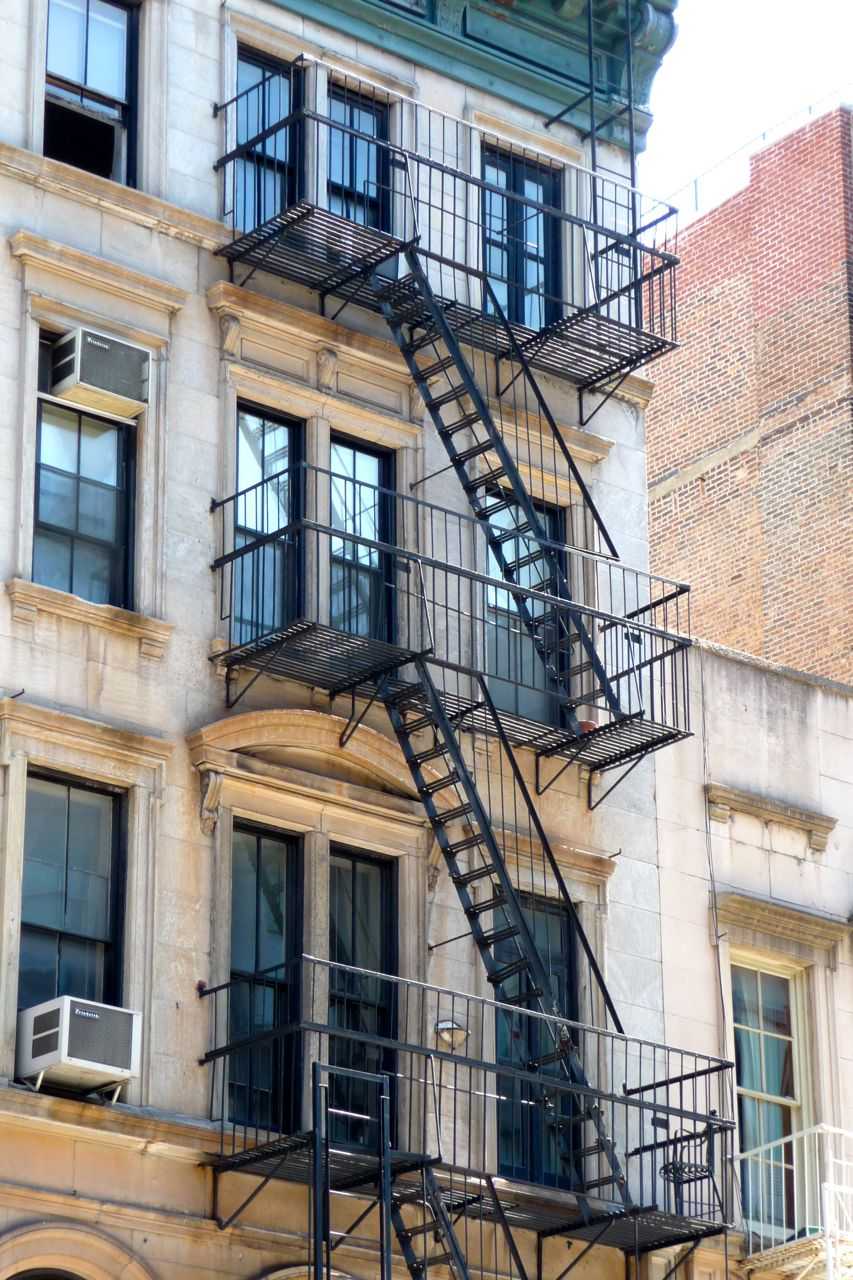 ---
This Culinary Center was just featured on TV in Donald Trump's Apprentice.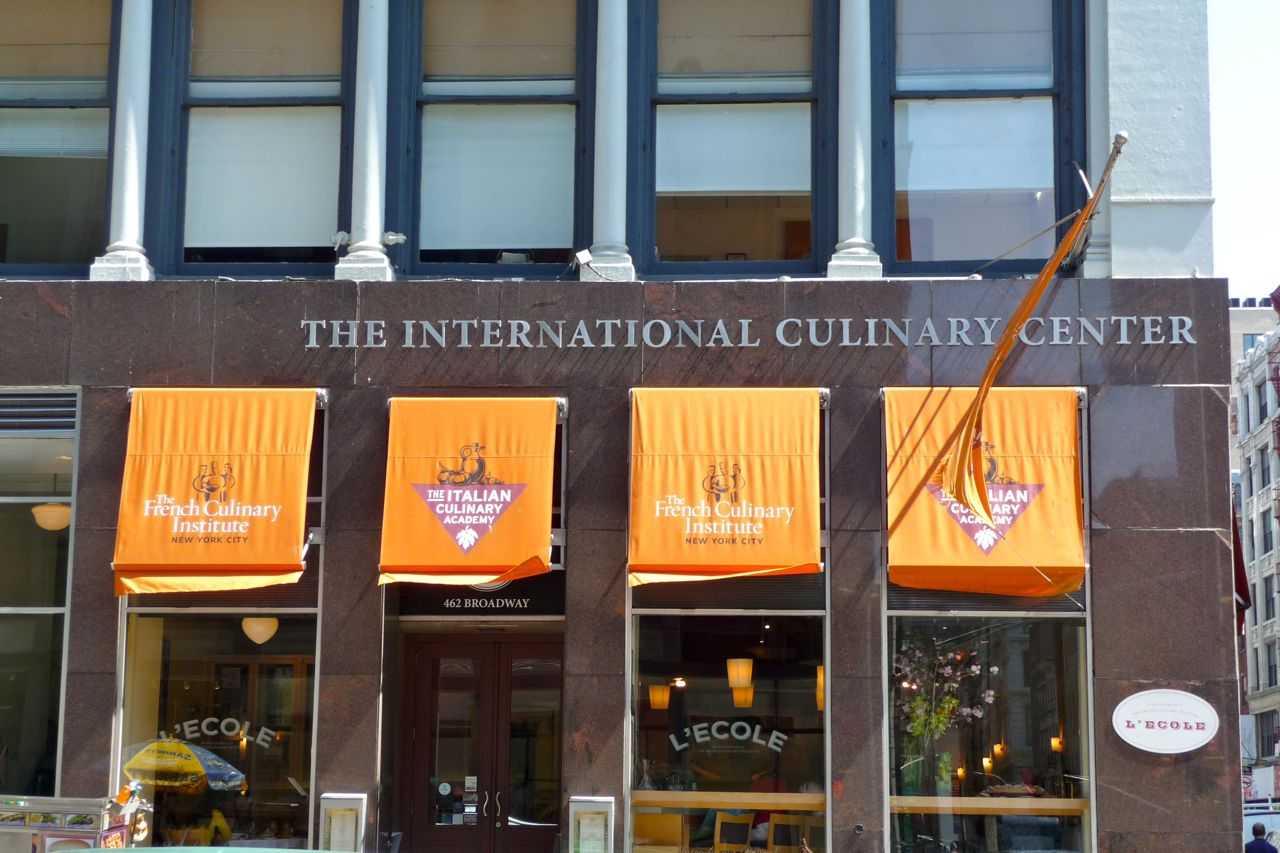 ---
This is the lower part of the previous photo showing a girl eating ice cream.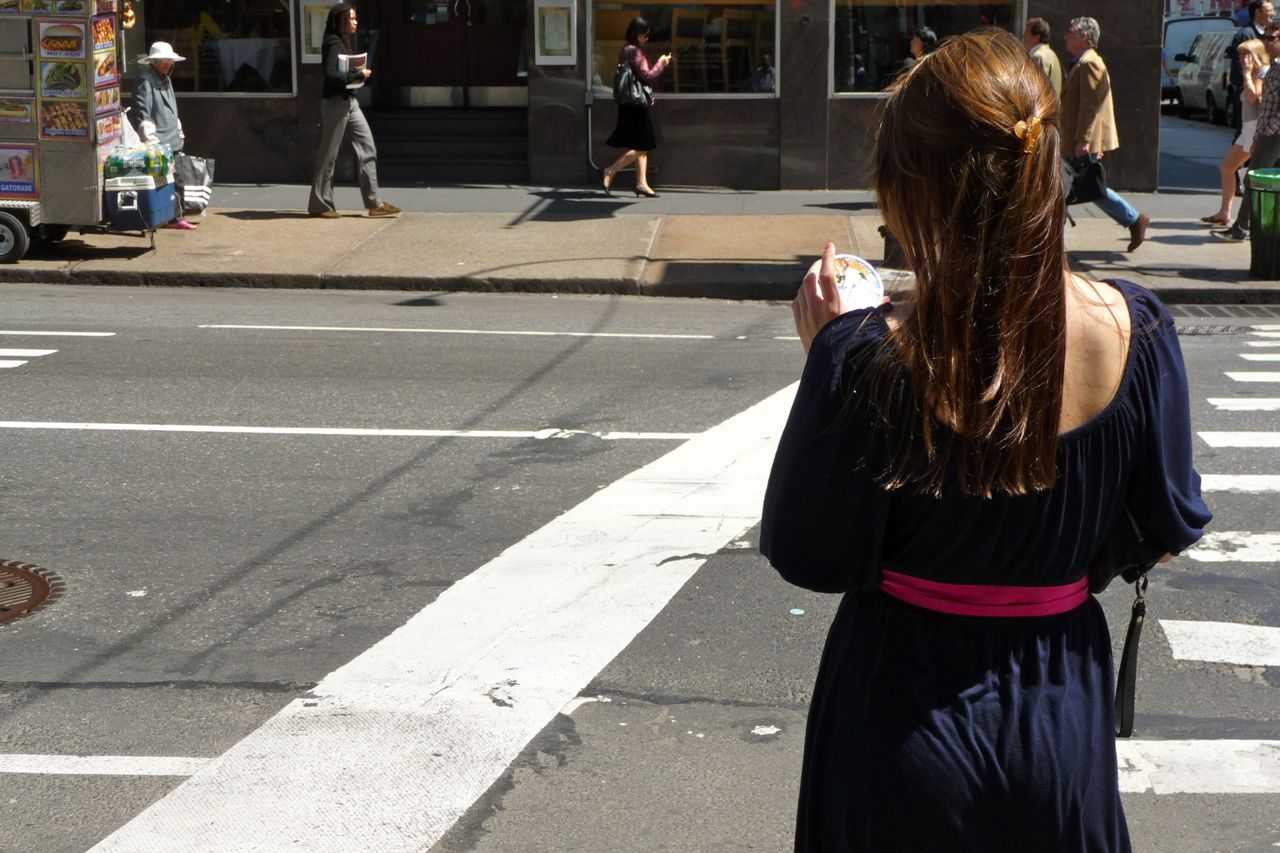 ---
The taxis.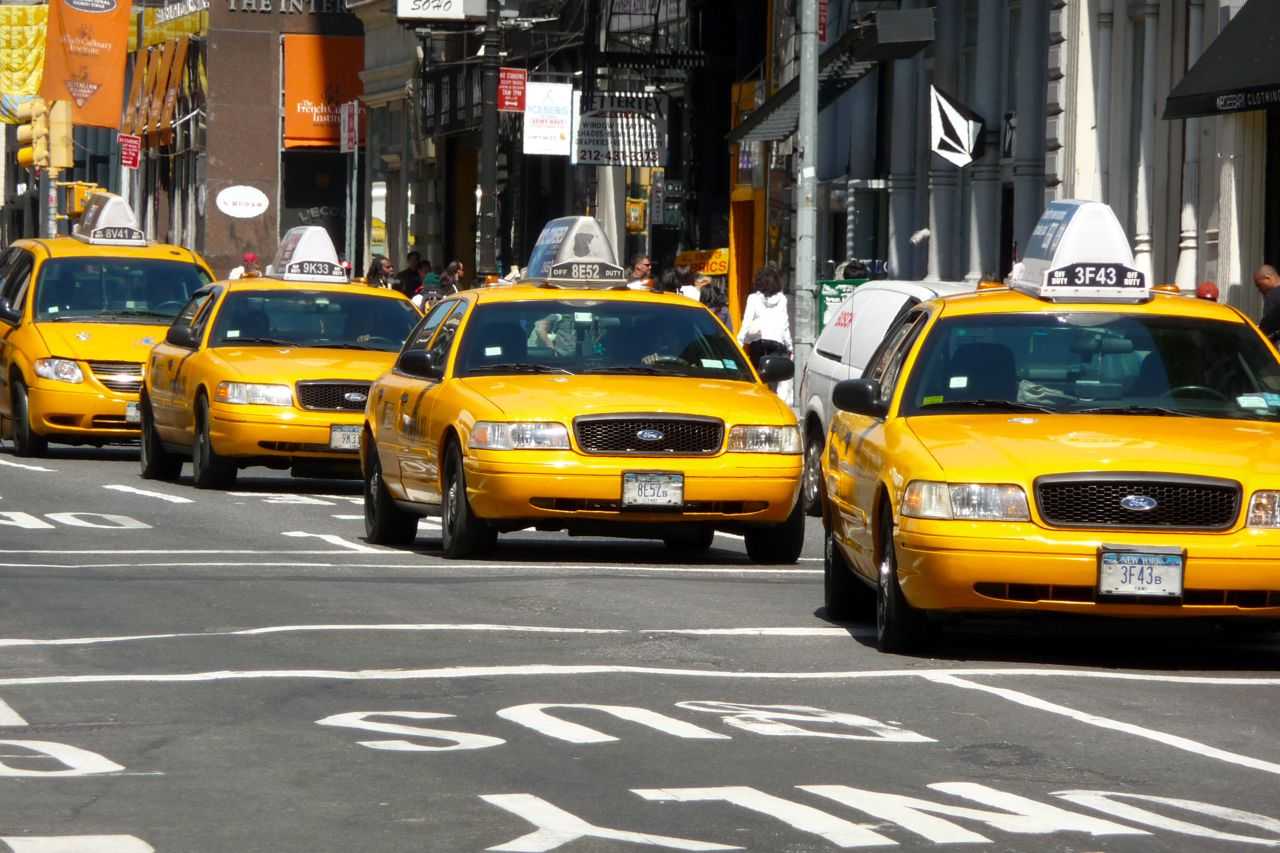 ---
Rachel and Kamy found another inexpensive purse shop at the south end of SoHo. Fun ensued.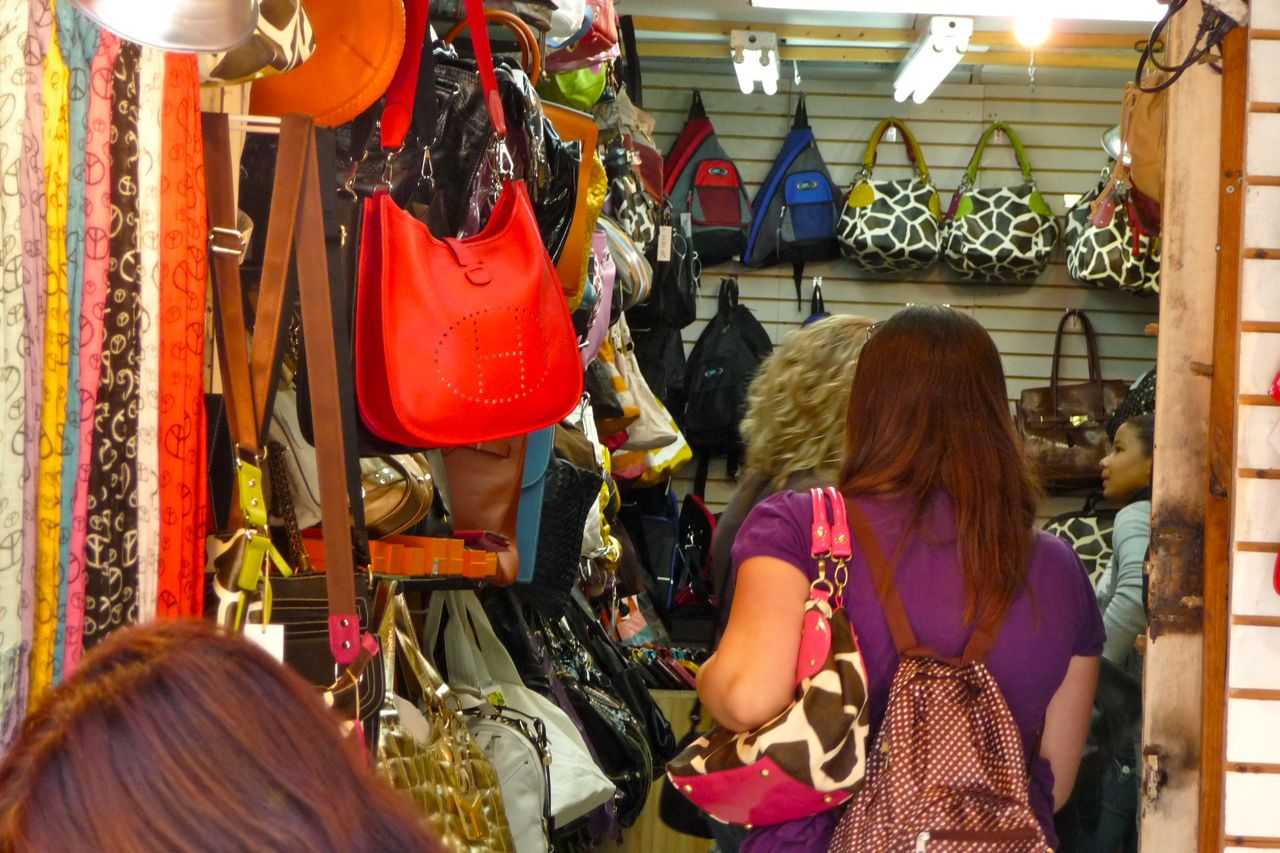 ---
I waited out front and this rabbi walked by.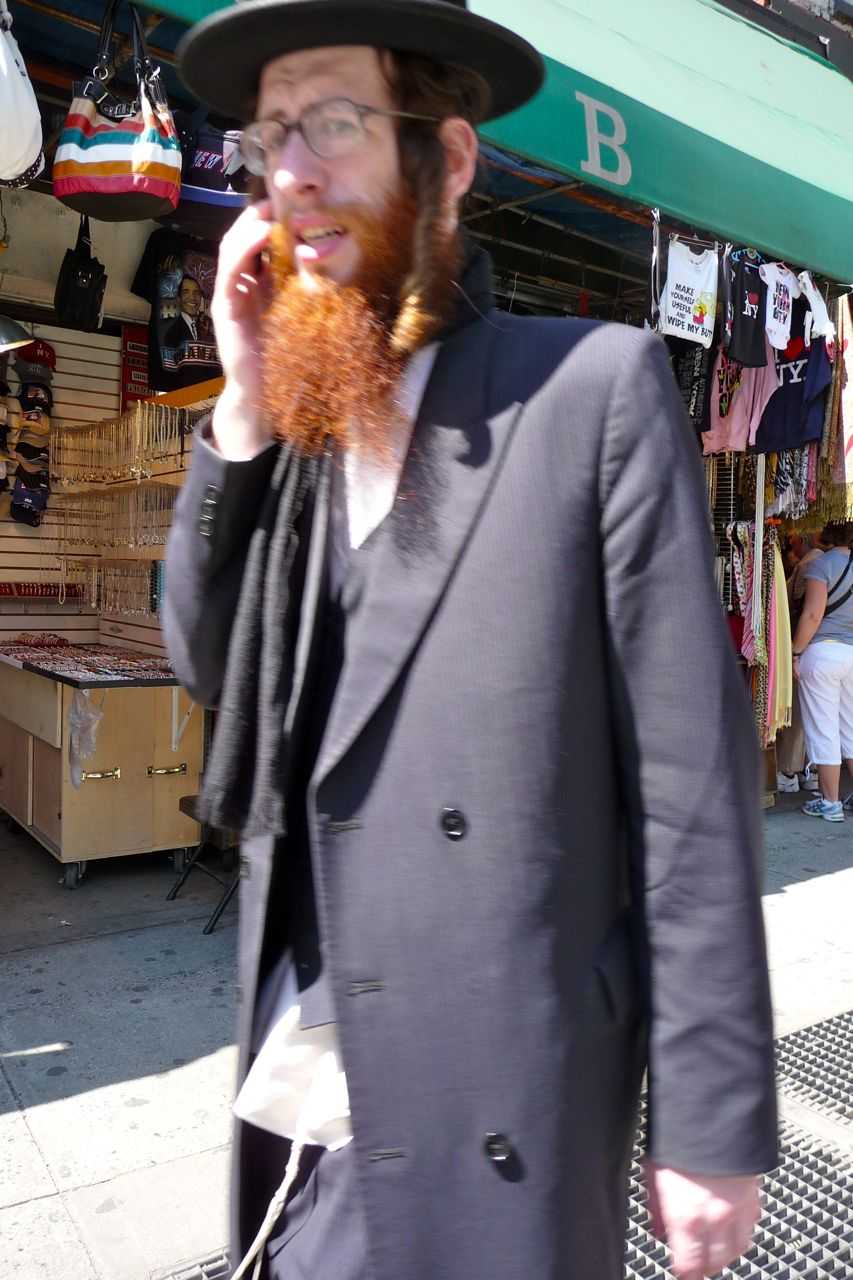 ---
This interesting wall of tiled pictograms is in a subway station.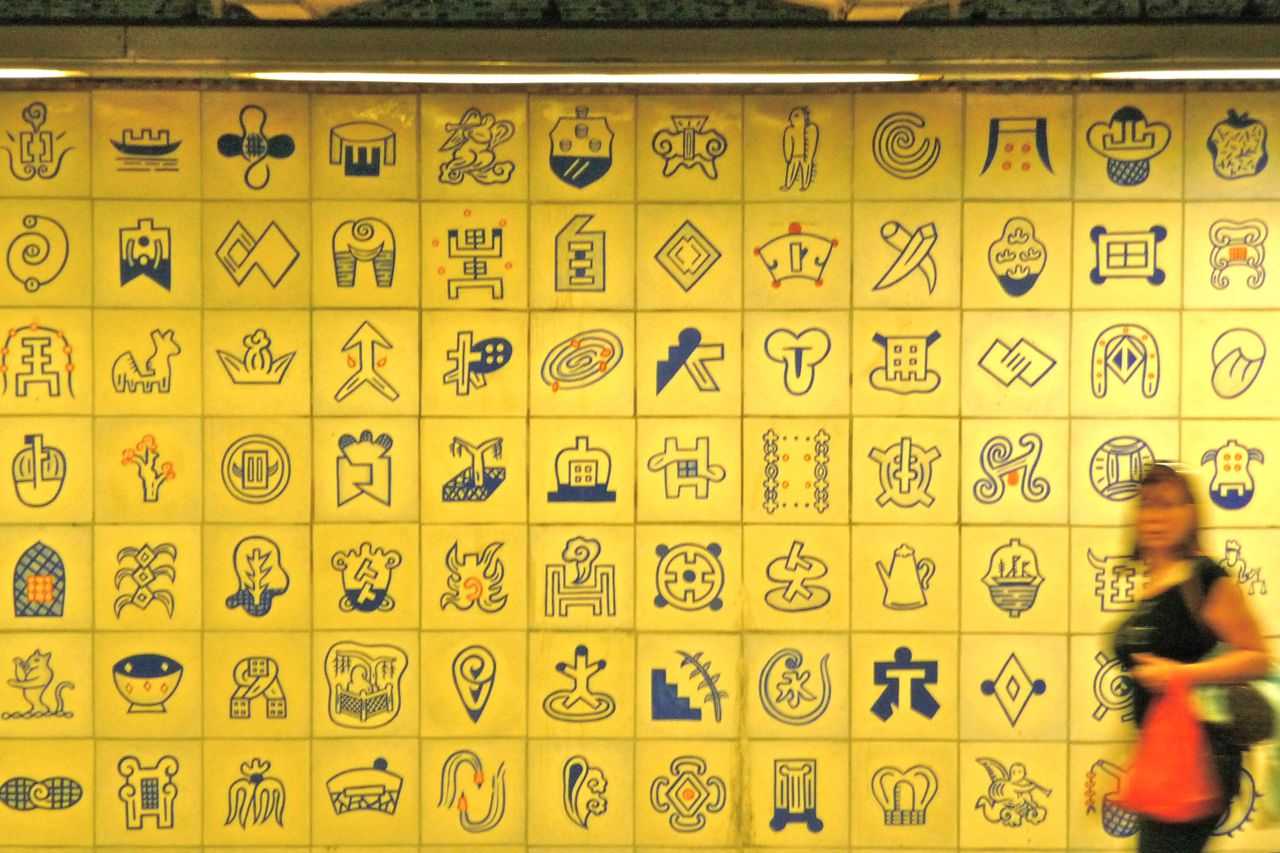 ---
This piece of art was in a subway as part of a bigger ad for riding the subway.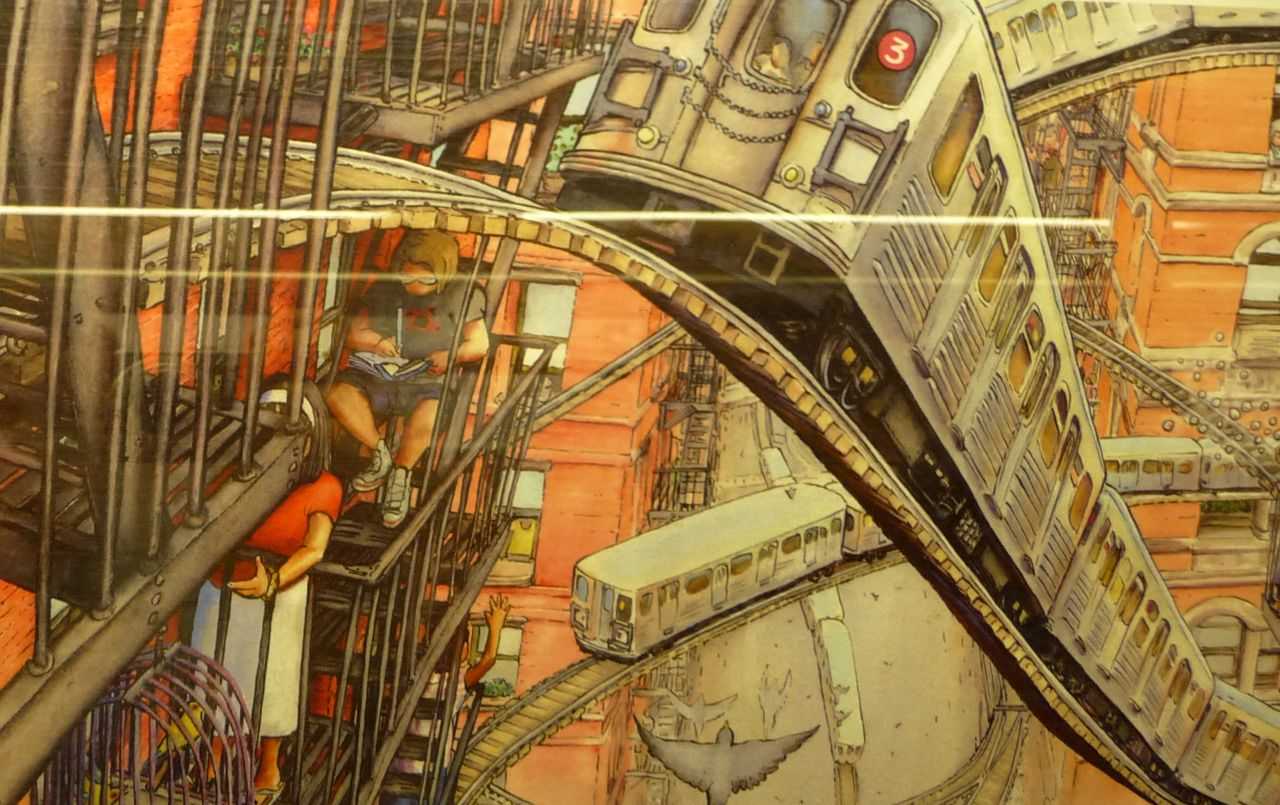 ---
This is a portrait of Jimmy Durante in Carmine's, an Italian restaurant at 200 W 44th Street. We went here for dinner before we went and saw the stageplay Mamma Mia.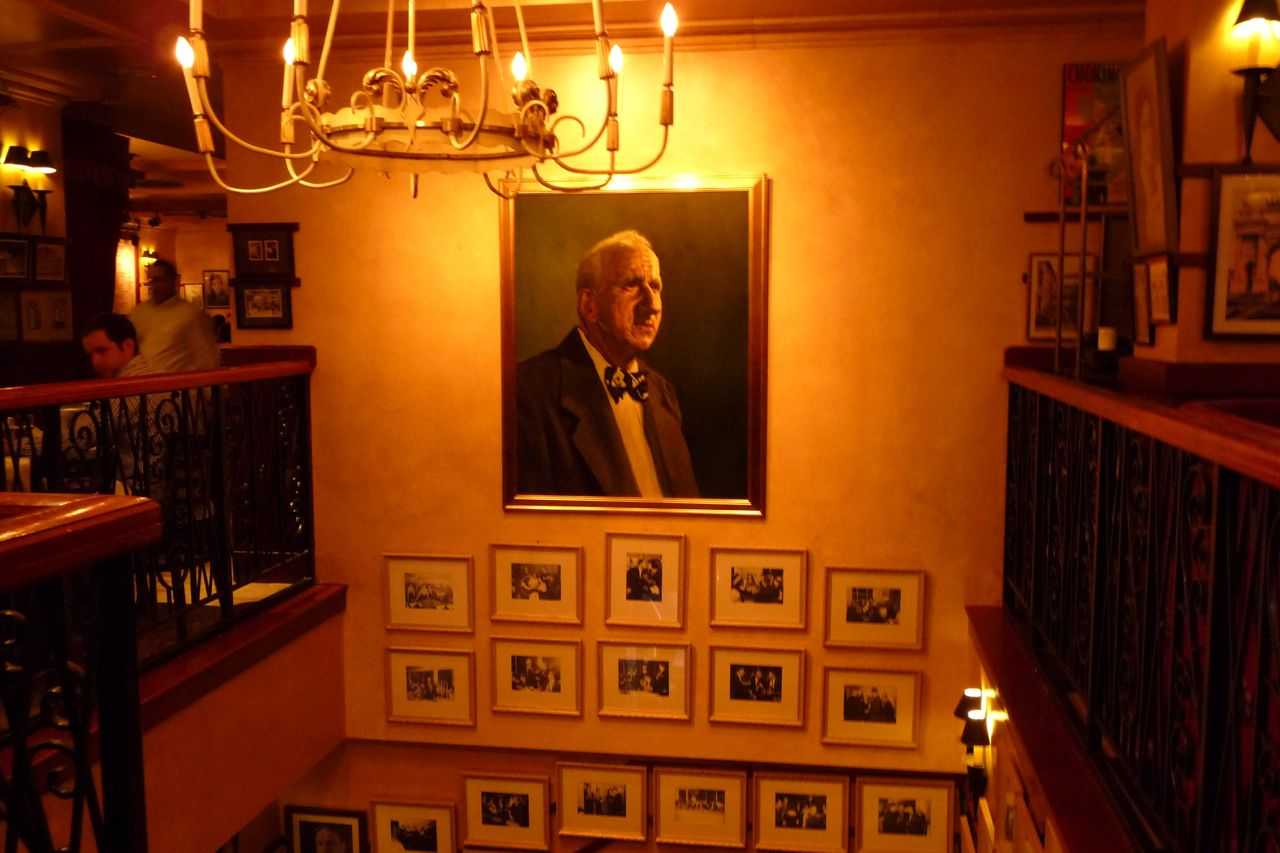 ---
Time's Square at night.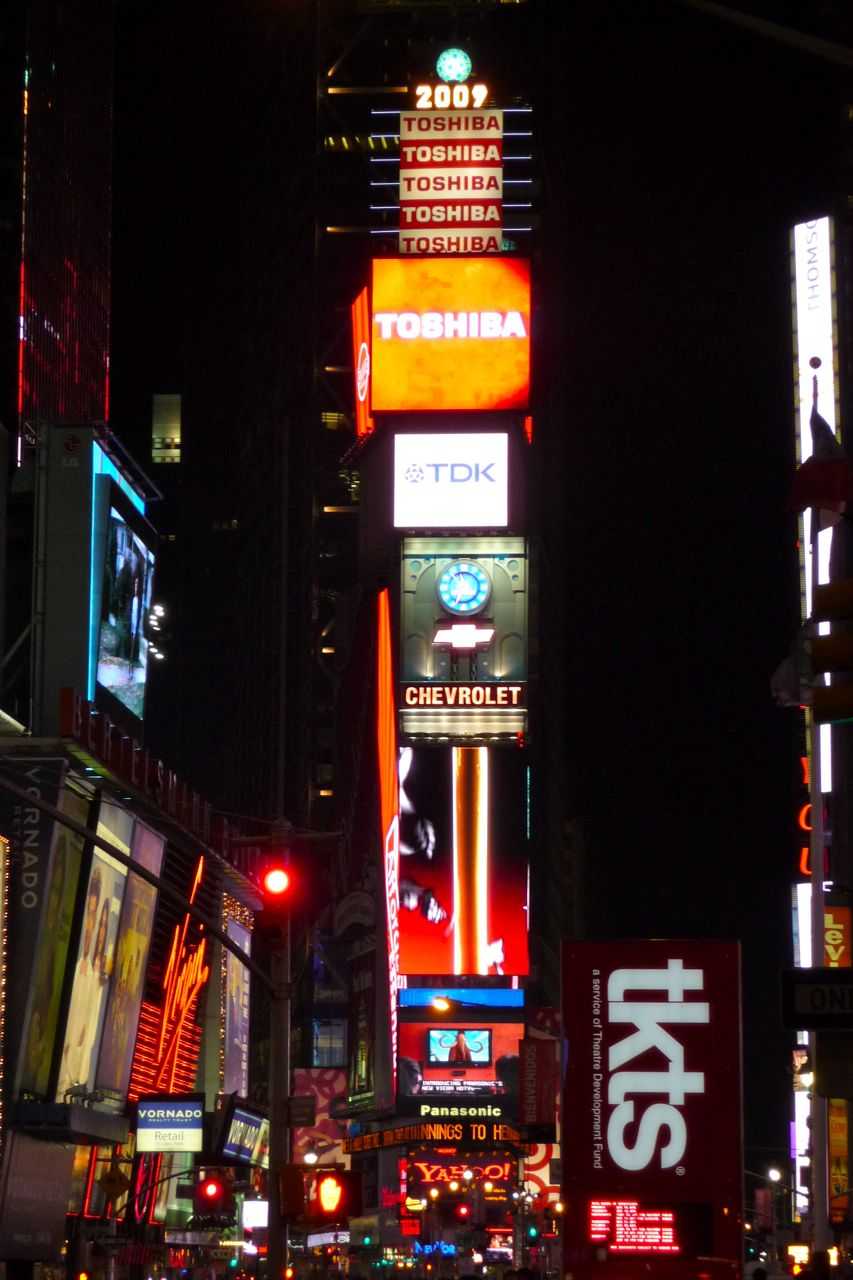 ---
It is very bright at night, almost like daytime.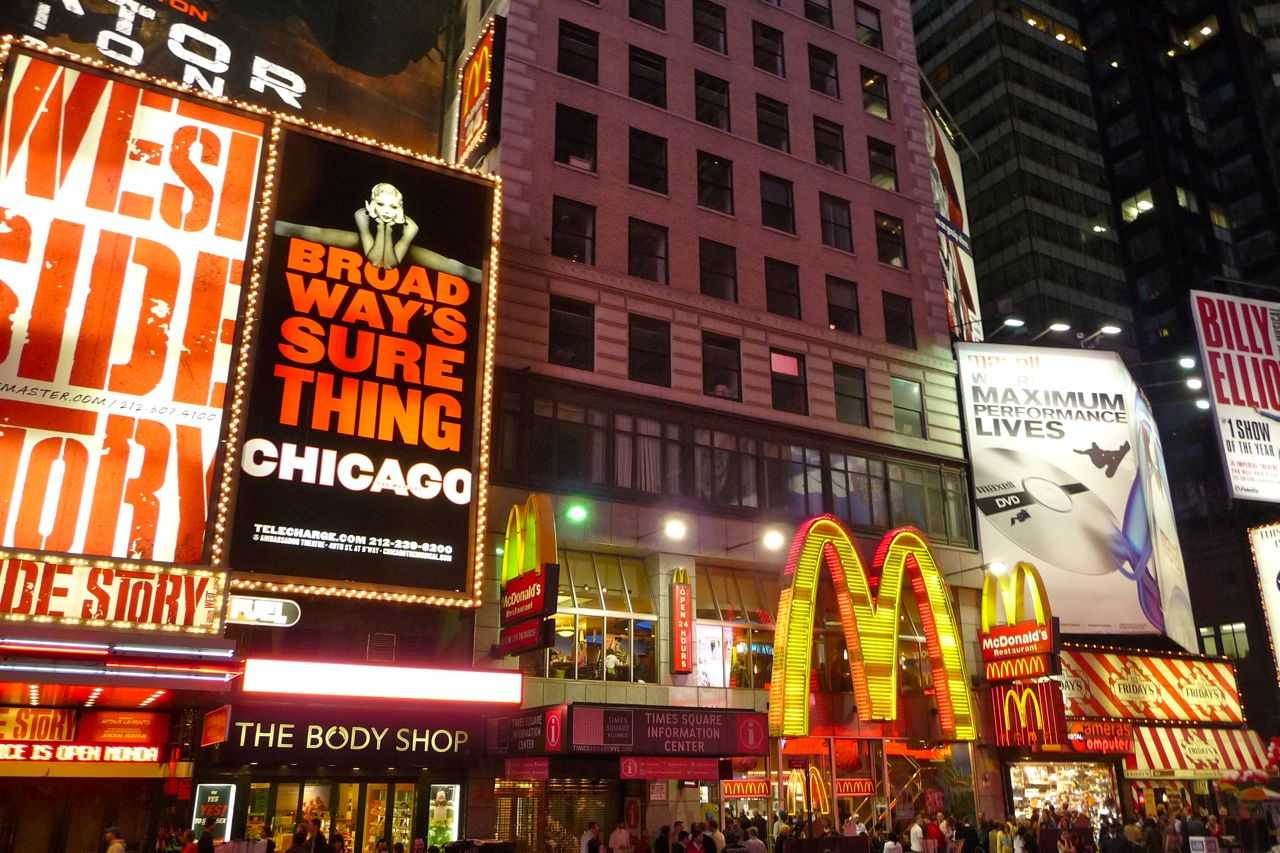 ---
Here was our show. It was fun, but not as good as the year earlier. They had changed the musical arrangements and it just did not sound as good to me. However, we all still enjoyed it.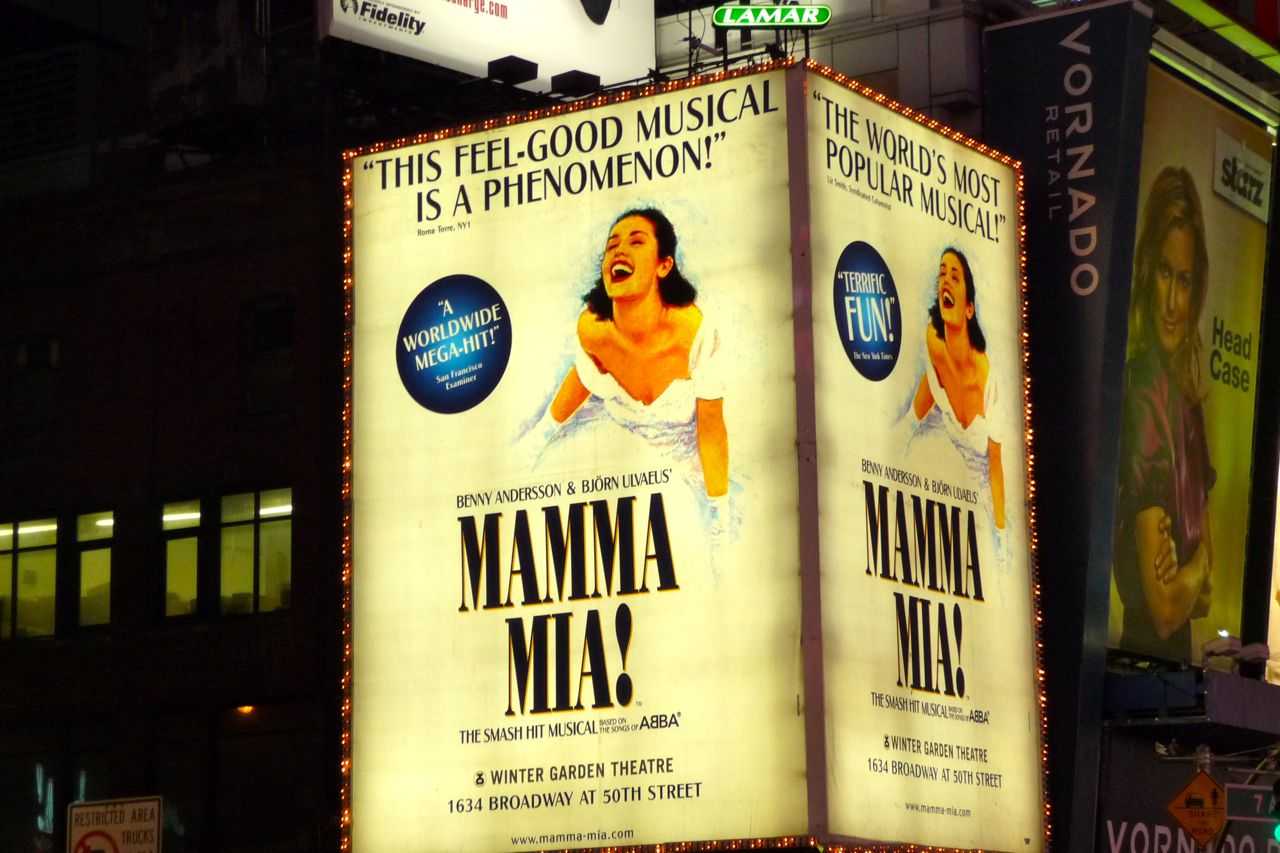 ---
I brought my little Dell Inspiron Mini 9 along.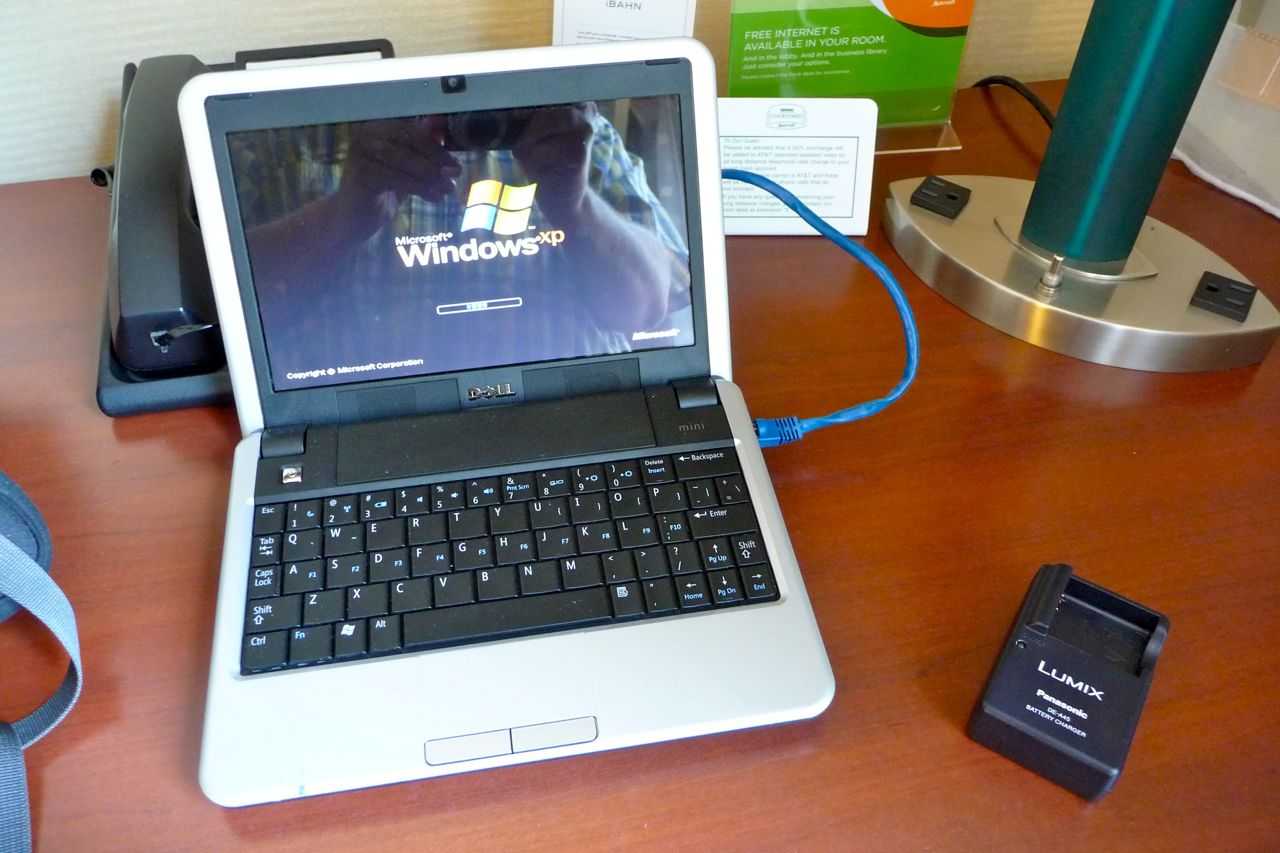 ---
The Chrysler building still is one of the best looking buildings in NYC. It is 1,047 feet tall and was the world's tallest building in 1930 before the Empire State building was built.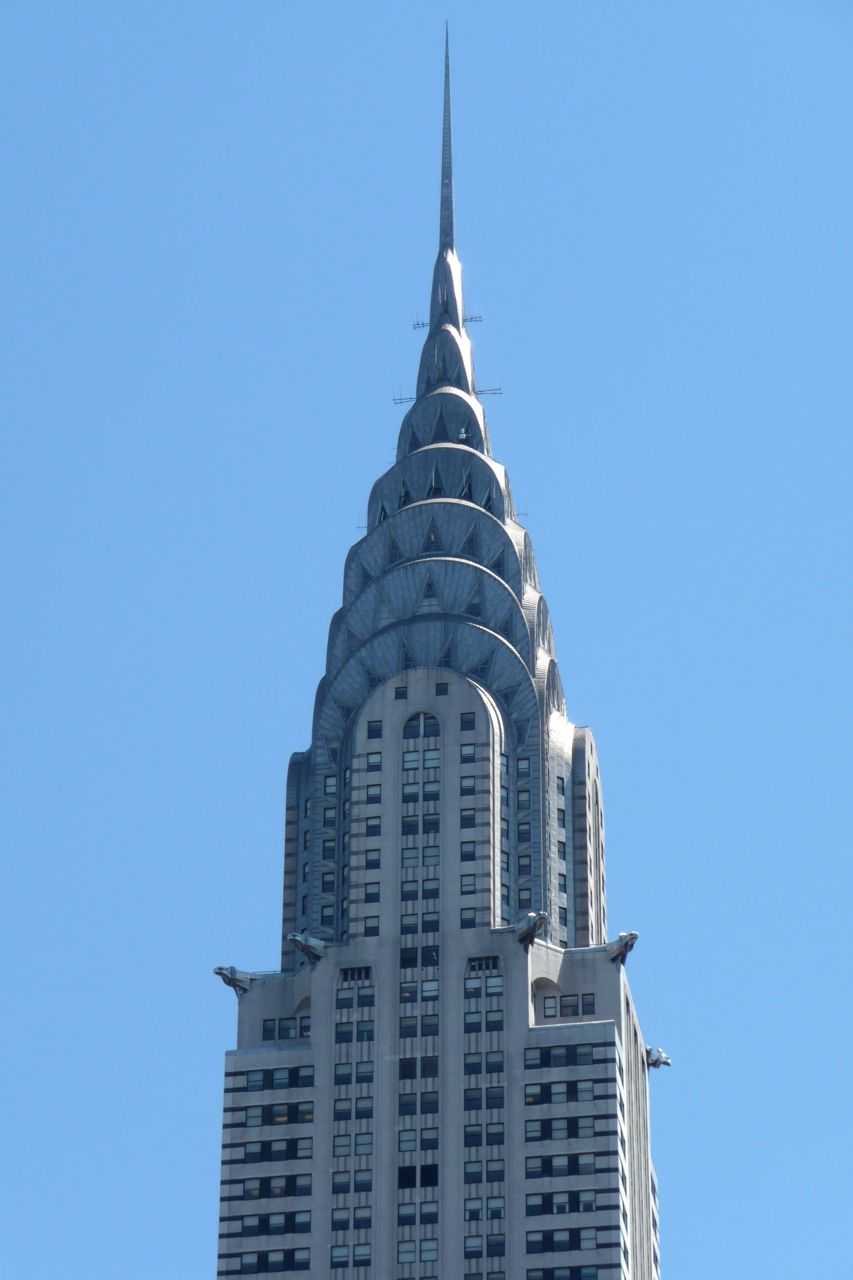 ---
The outside of Grand Central Station.
---
Three famous and interesting buildings: from left to right, the MetLife (originally PanAm) building, Grand Central Station, and the Chrysler building.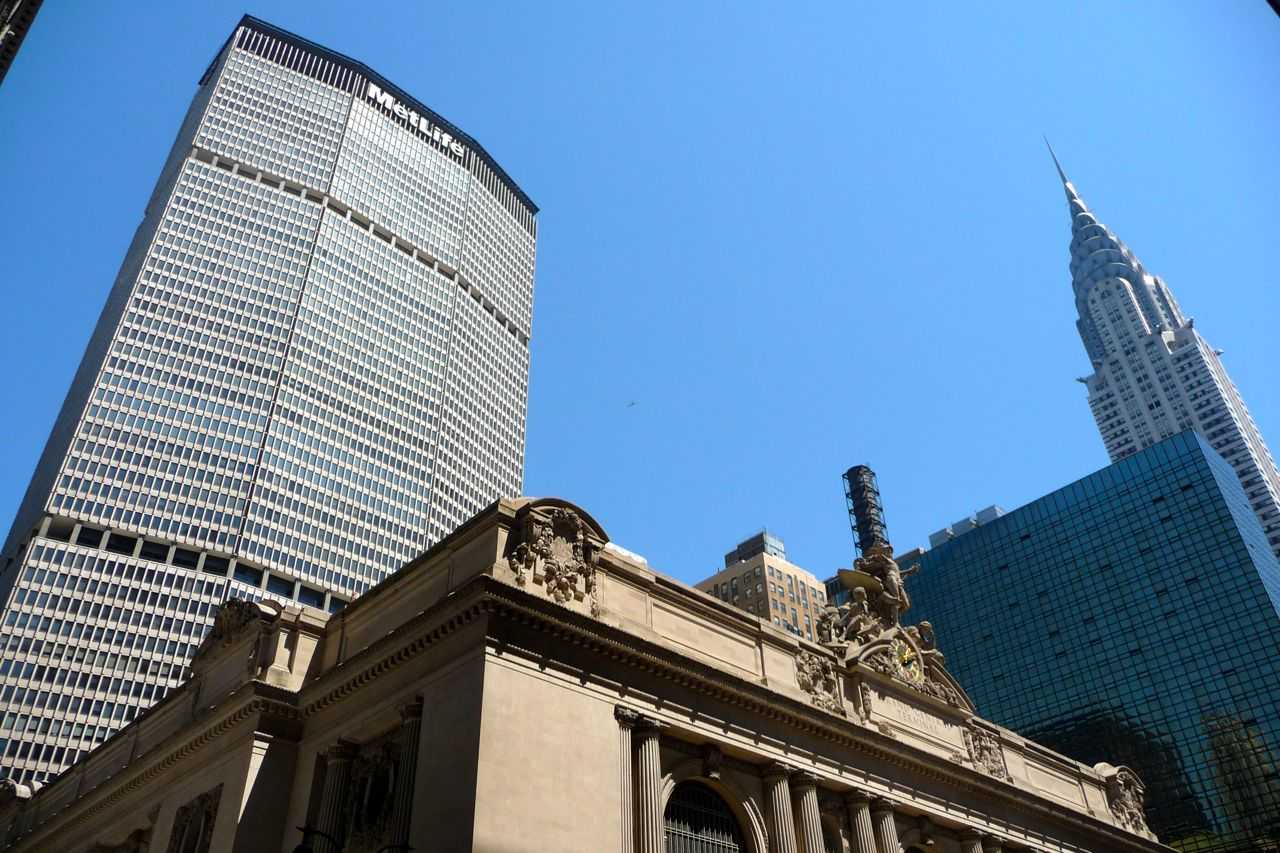 ---
Once again inside of Grand Central Station, I like to buy German car magazines here at the Hudson News shop.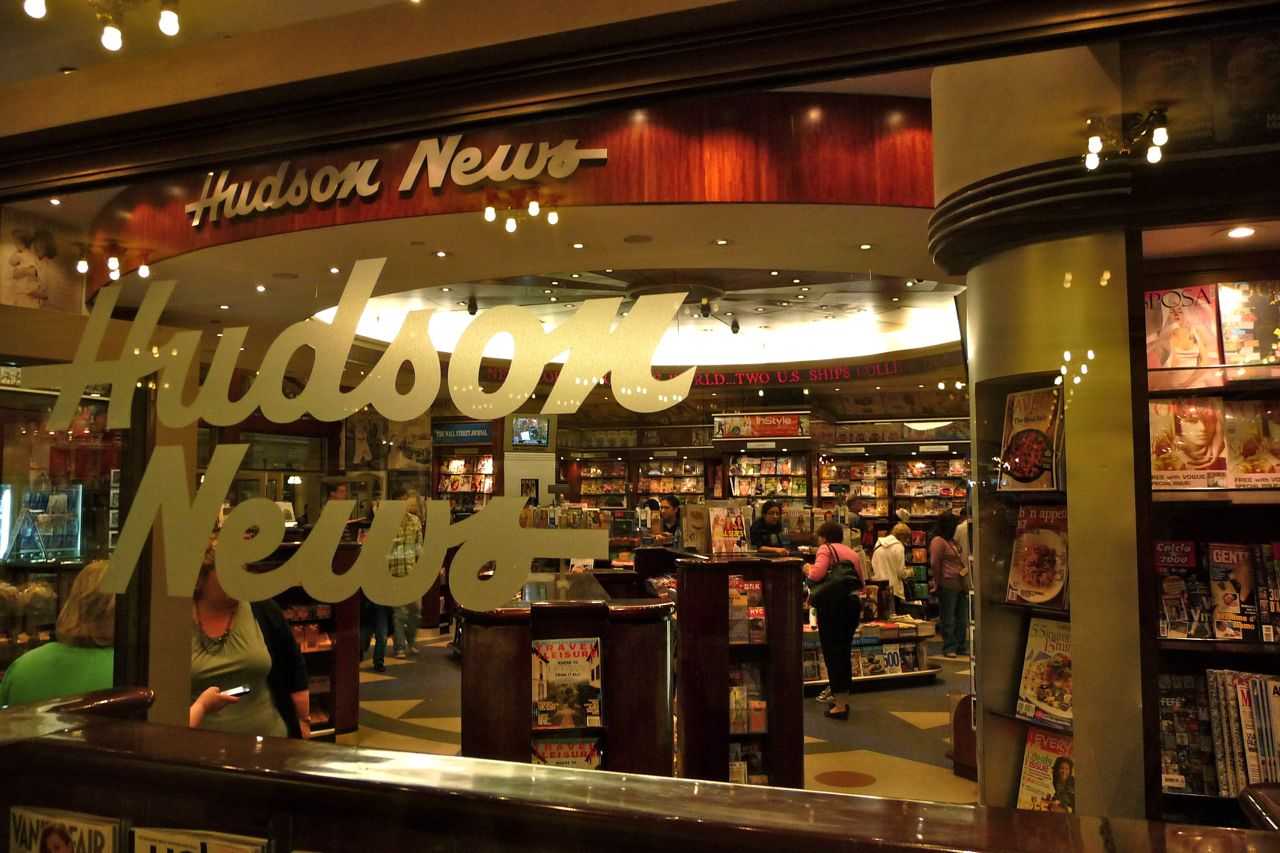 ---
On the subway this pair of men got on at one stop, played some music, and passed their hats around for contributions, and then got off the subway at the next stop.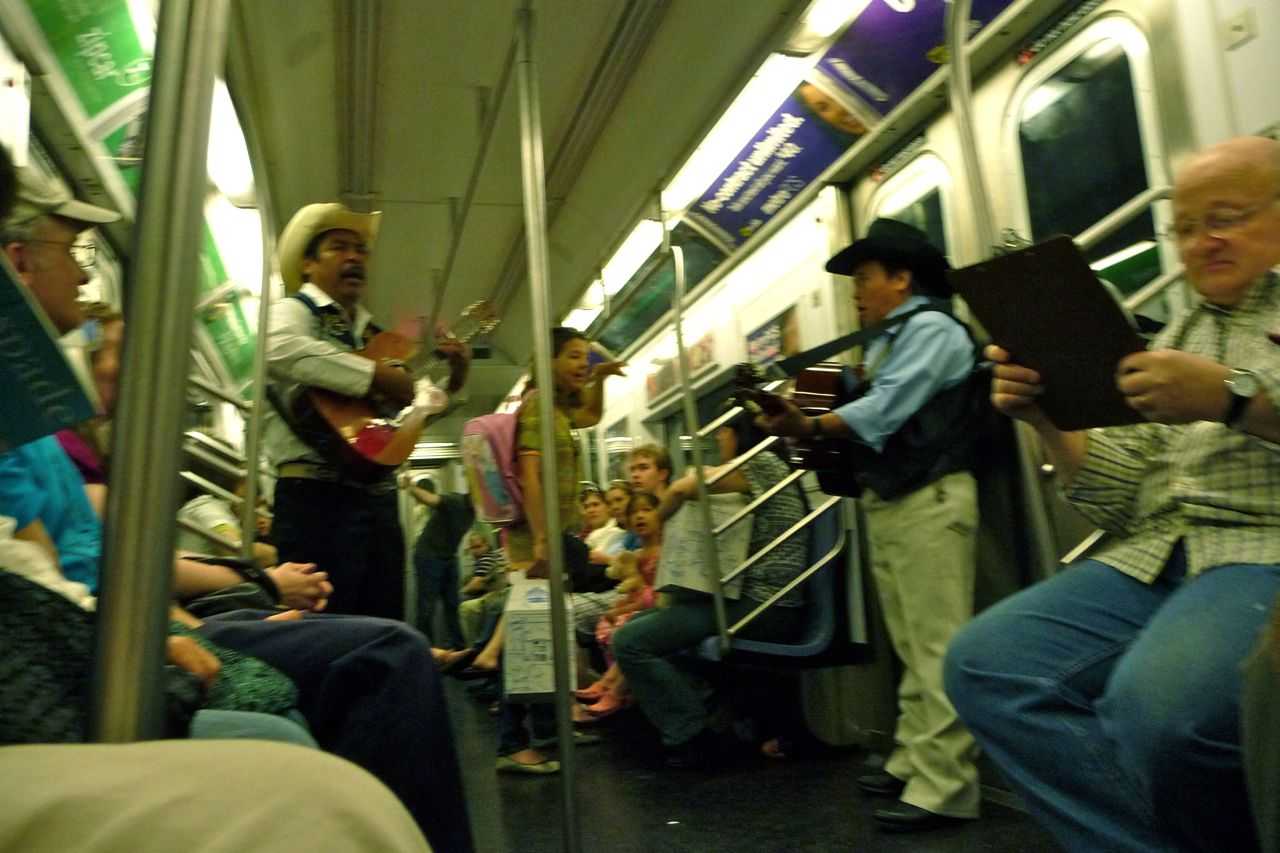 ---
The Statue of Liberty from Battery Park.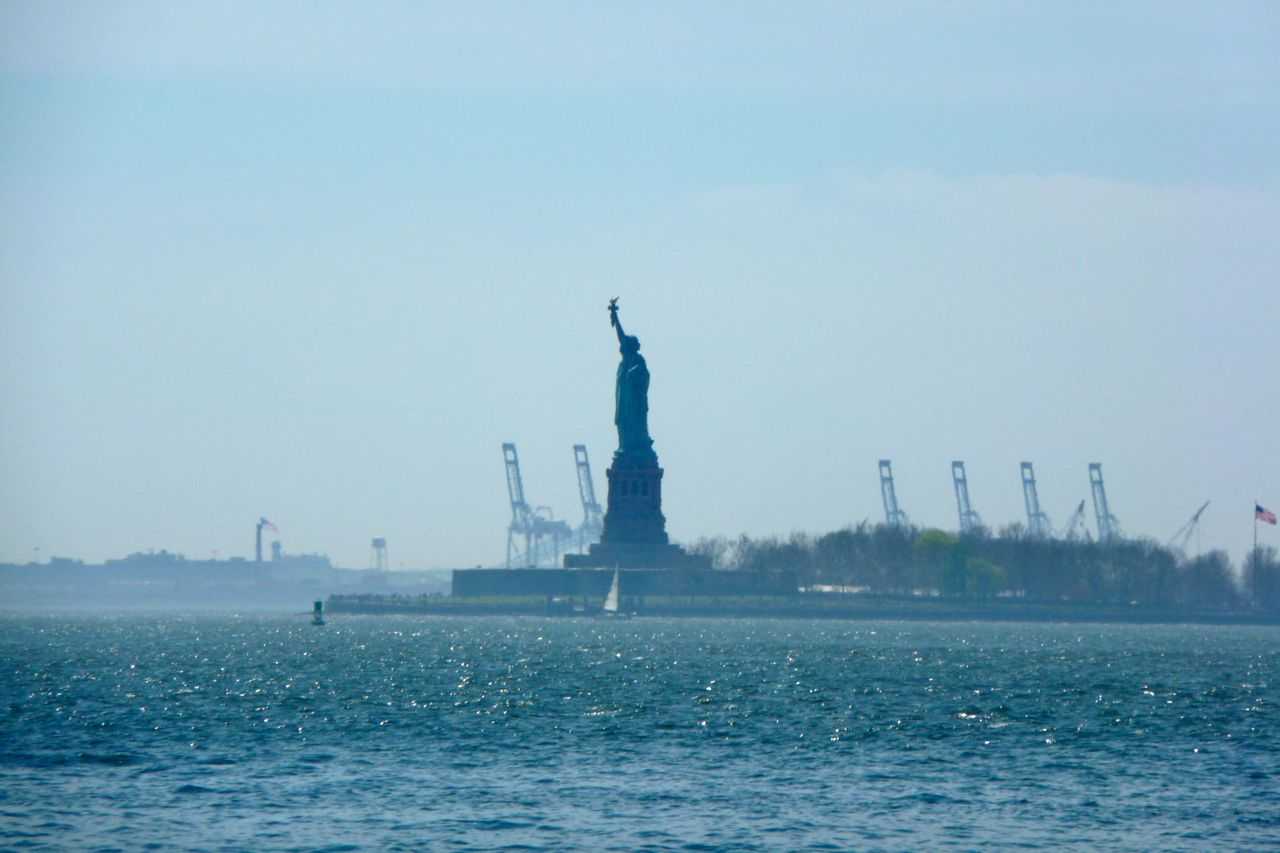 ---
A lot of youth from one school were all dressed in the same shirts for easy identification.
---
A tourist ferry heading to the Statue of Liberty.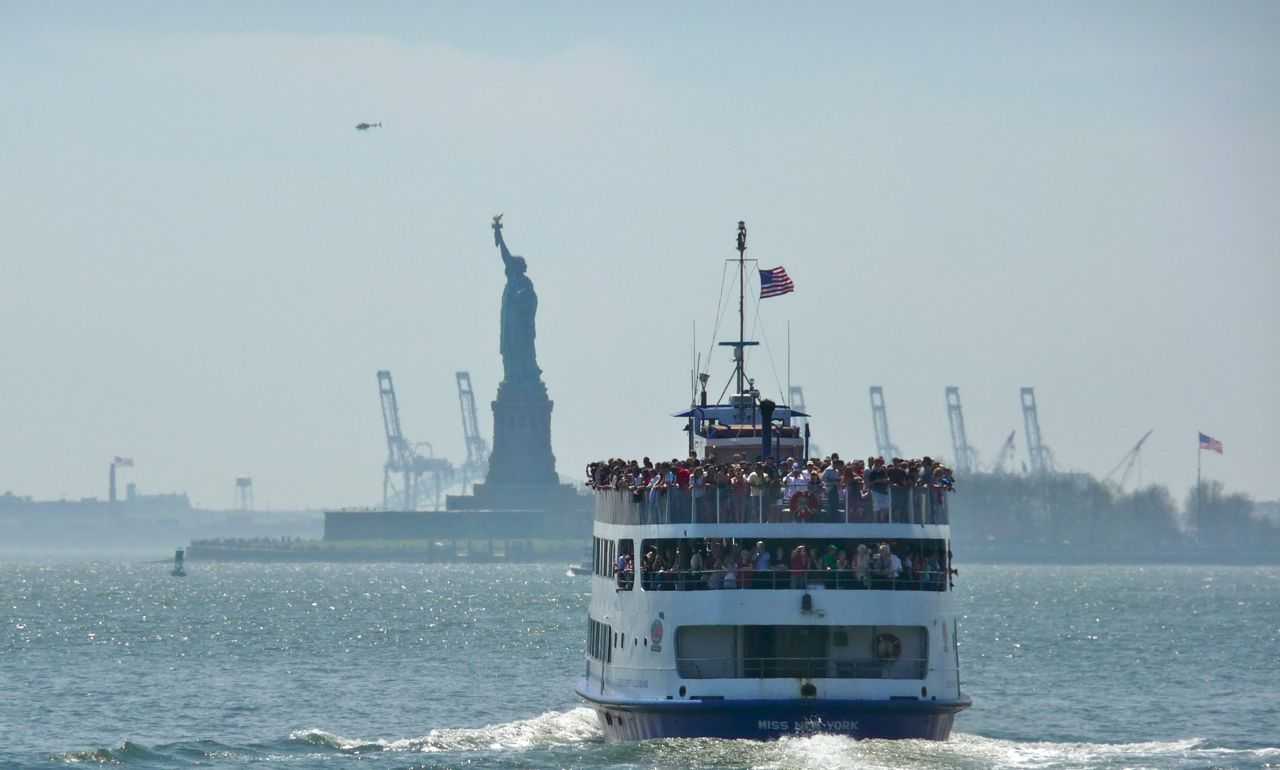 ---
Rachel, Kamy, and Beth went to Ellis Island one morning. I did not go this time, but I met them upon their return.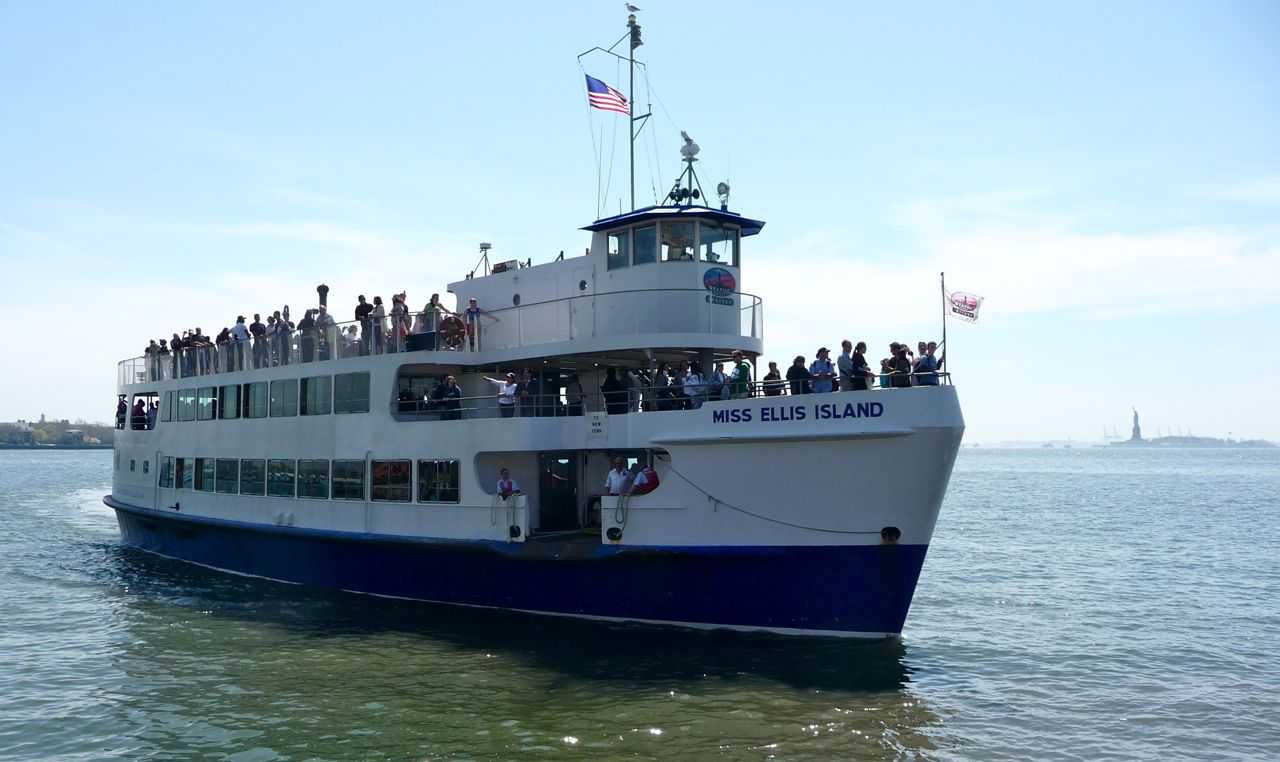 ---
This is what ties up a ferry.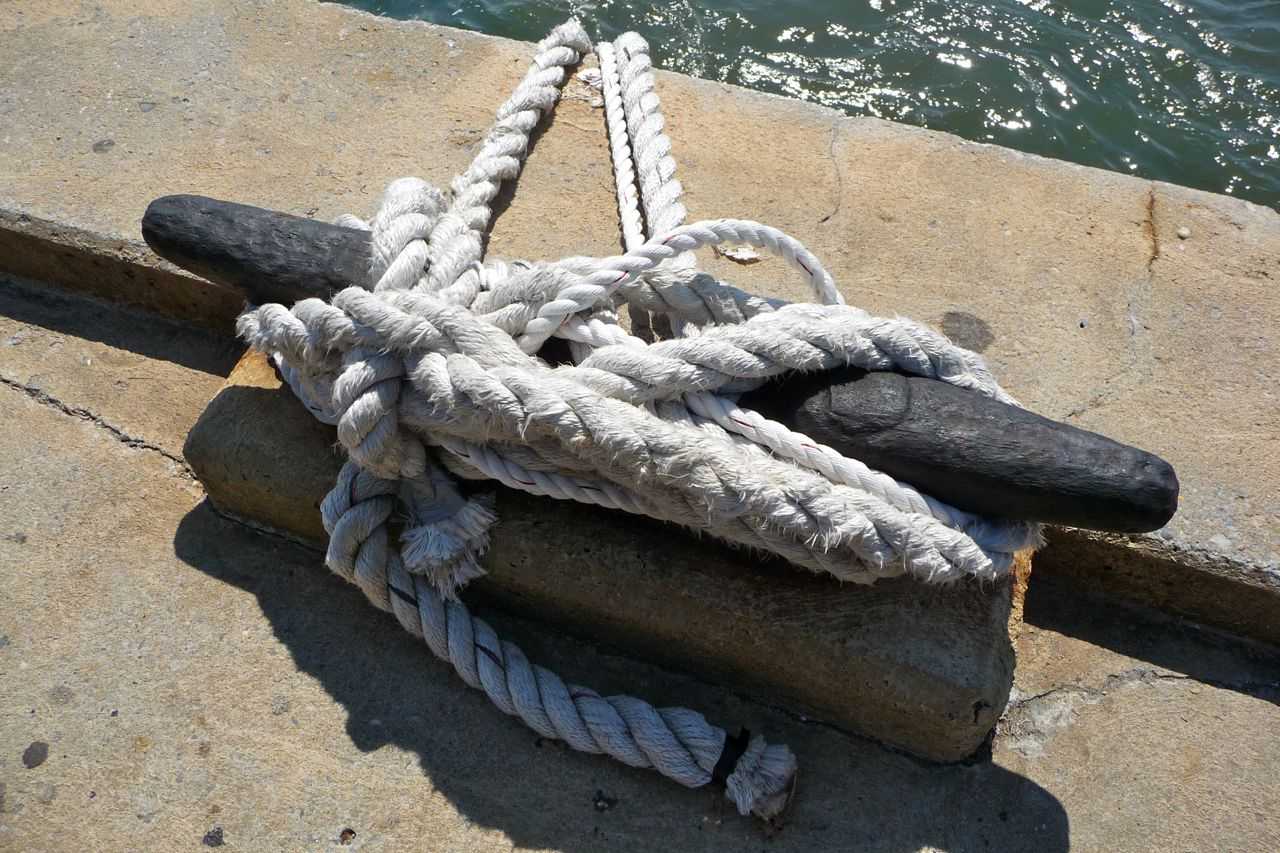 ---
The New York Stock Exchange.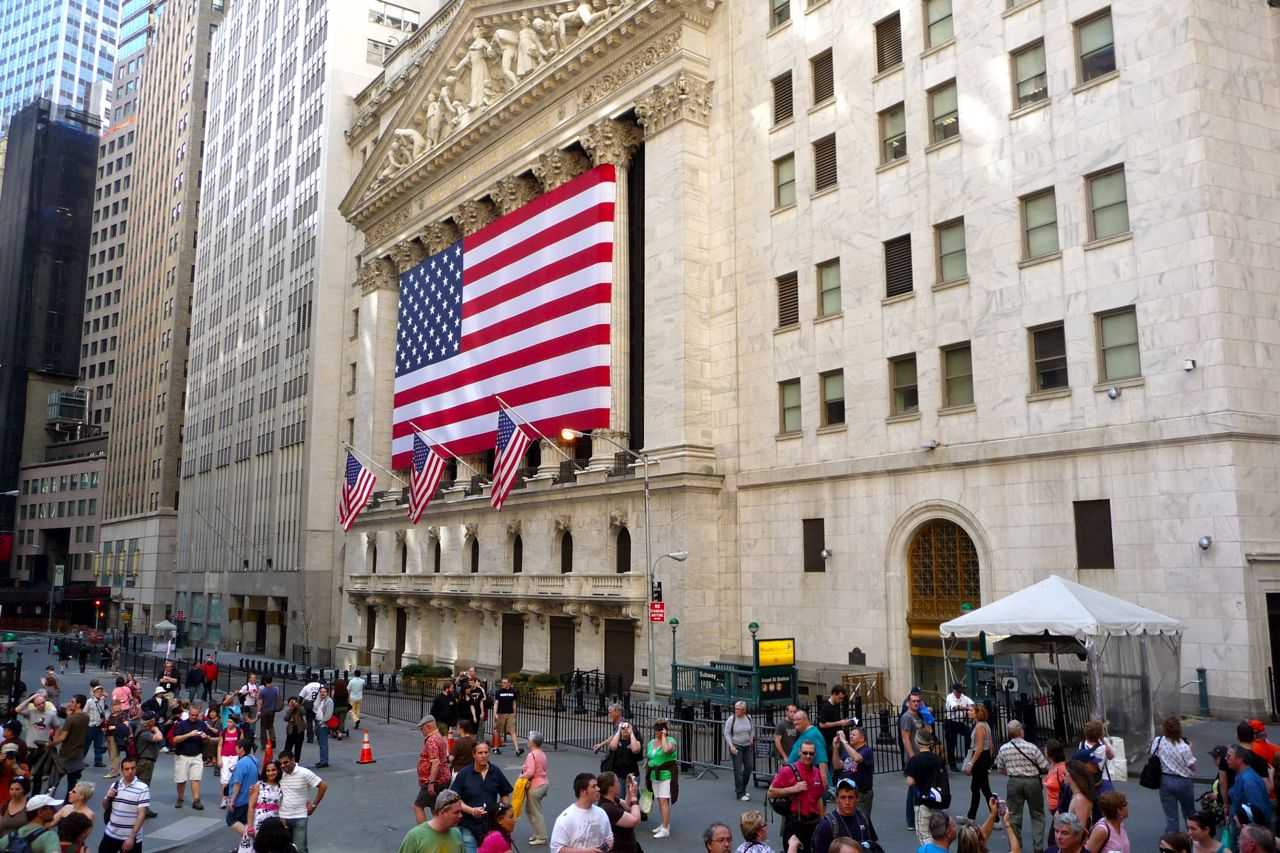 ---
This statute of George Washington looks directly towards the Stock Exchange.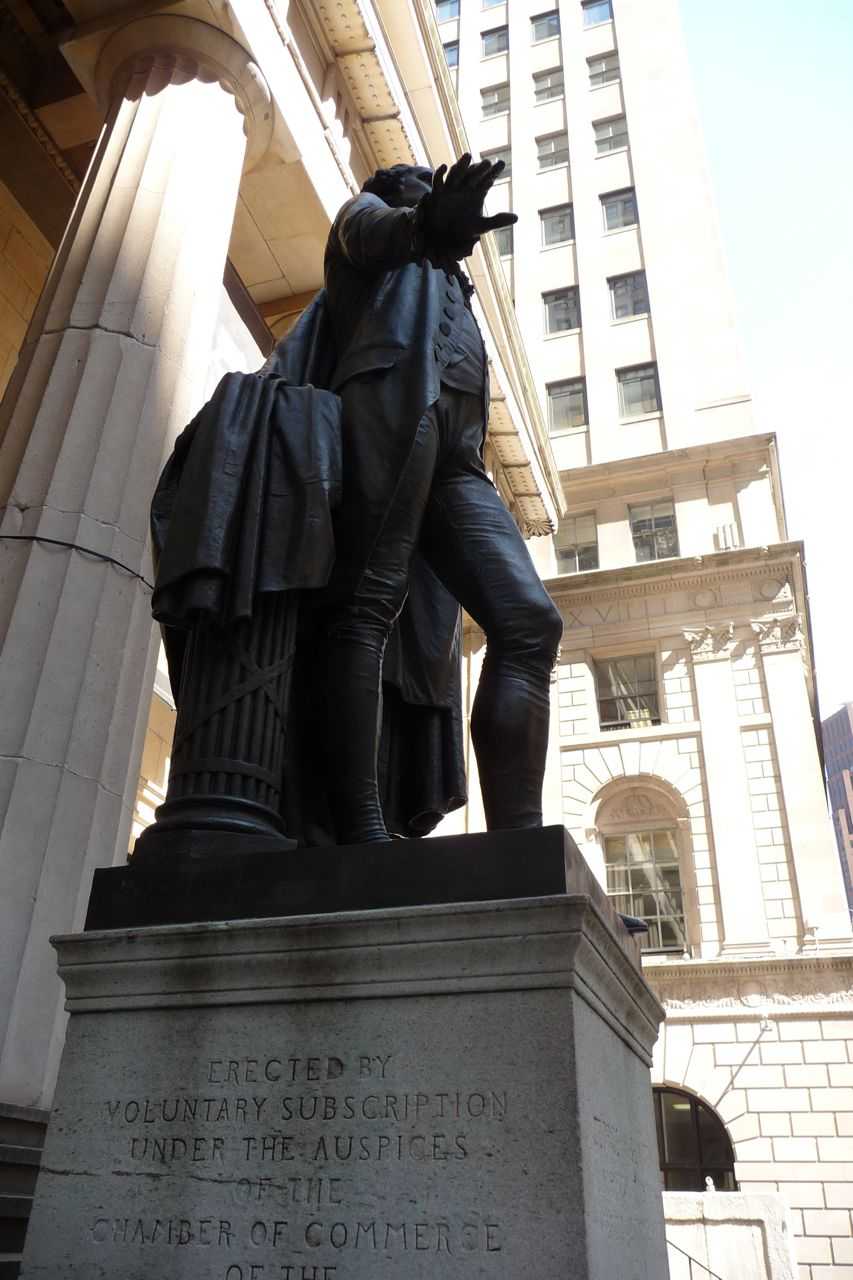 ---
Here is Rachel sitting at the foot of Washington contemplating something pleasant.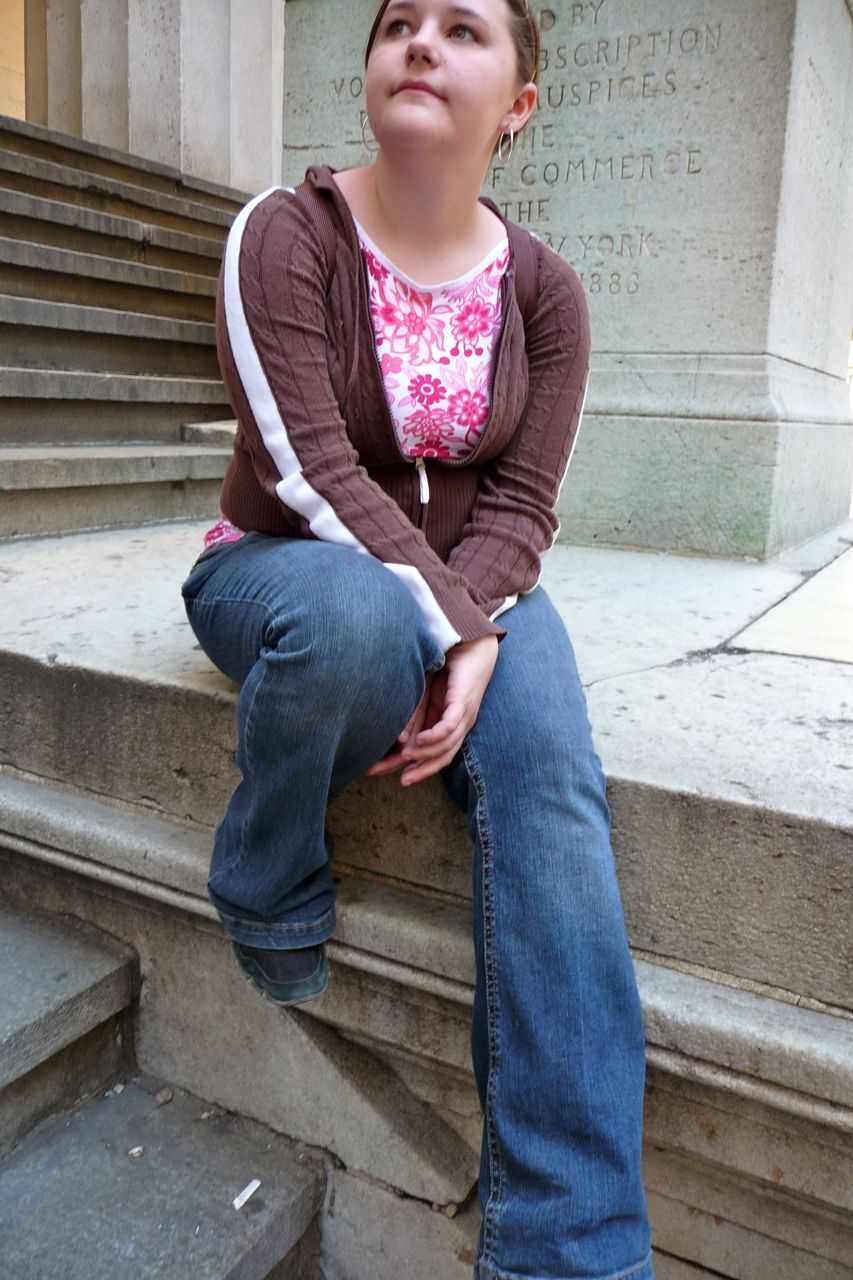 ---
This is Front Street, a nice little cobblestone road. It used to be in the river but was filled in around the time of the American revolution. It was called Front street in about 1791. At that time there was a publisher named George Forman at 156 Front.
At 128 Front Street from 1881 until 1929 a John Bliss & Company existed which built and sold chronometers, as well as other items for navigation, including sextants, octants, charts, and compasses. This company actually started in around 1835 and finally went out of business in 1956. They occupied several different places in and around Water, Fulton, Front, and Pearl streets.
Of course Coach sells nice purses here now but amazingly enough, none of the girls even went in. They were in the mood to buy bargain purses.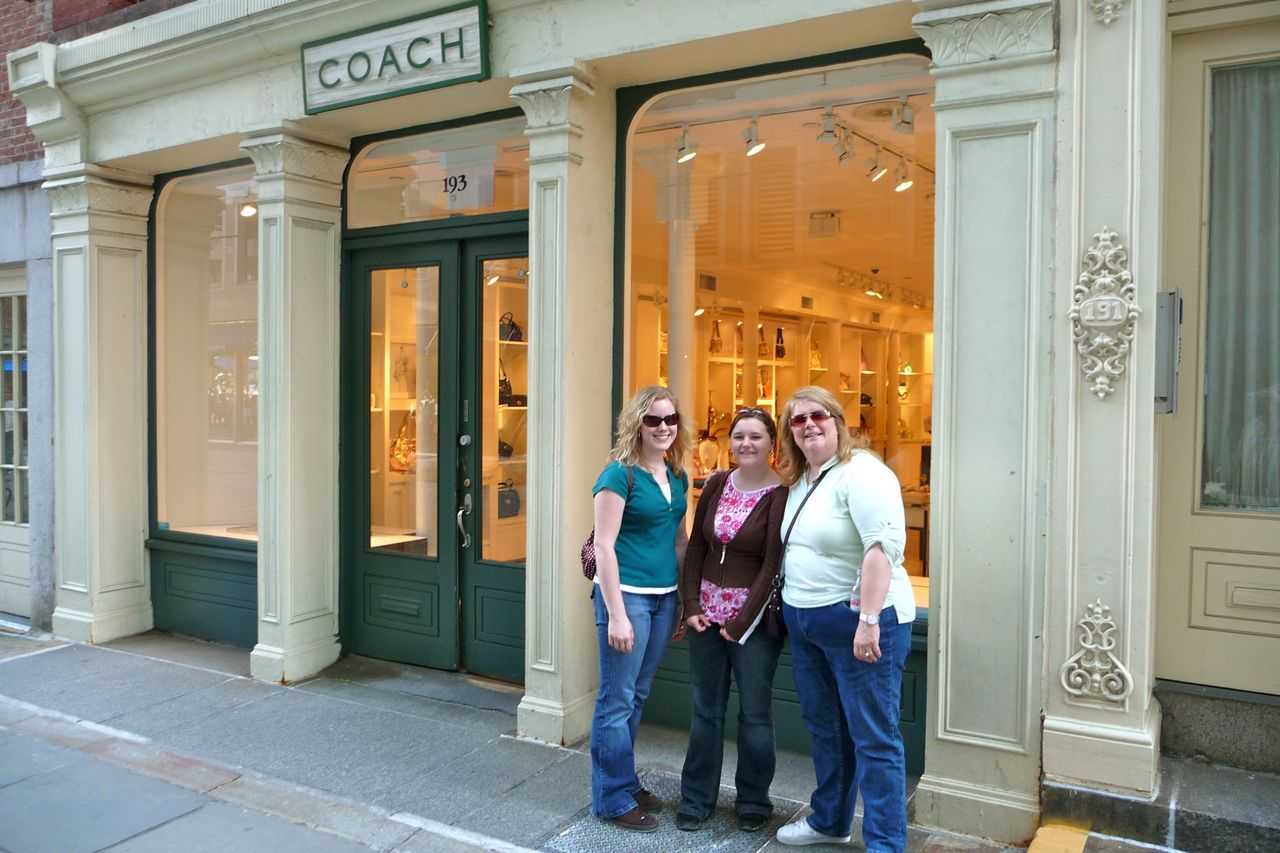 ---
The Lightship Ambrose is now on display at South Street Seaport, but it used to light the entrance to the New York harbor.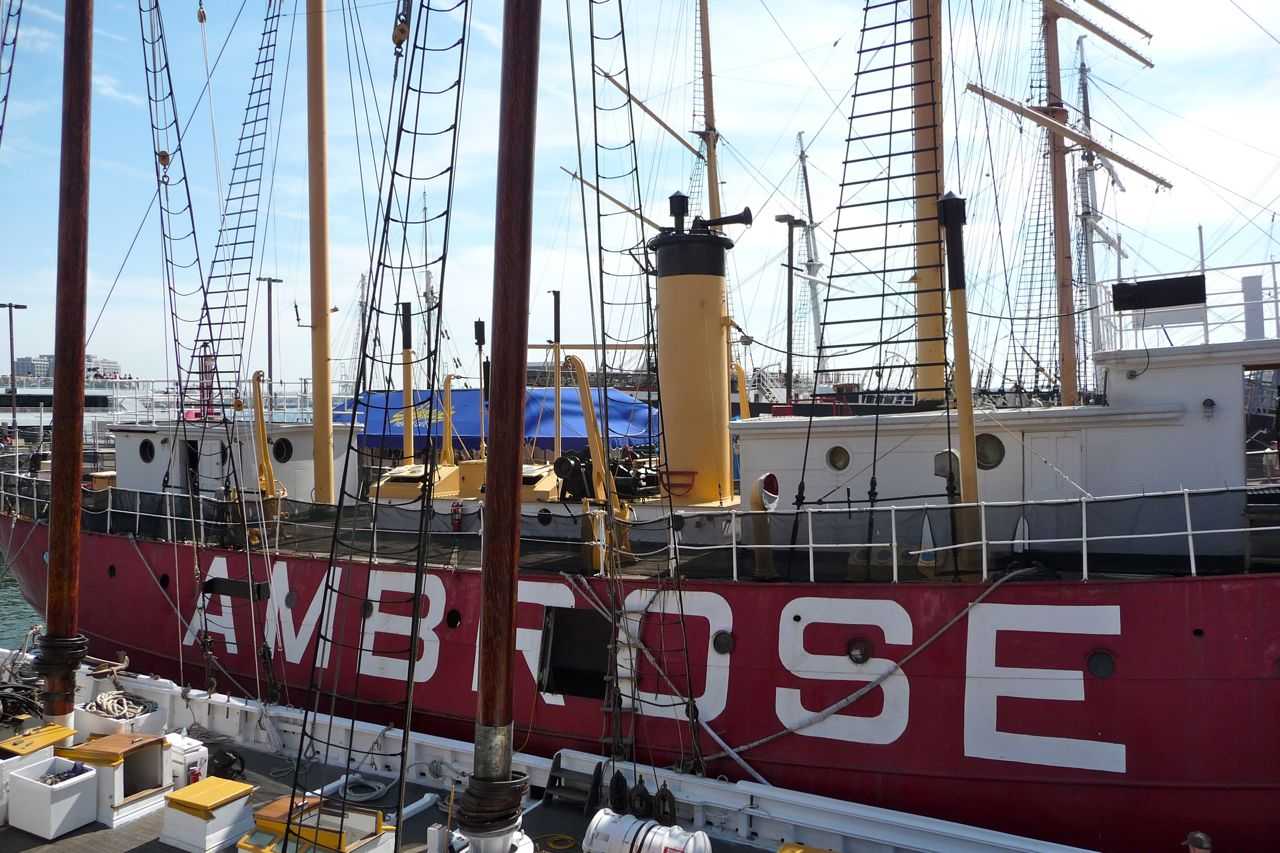 ---
The Brooklyn Bridge, 5,989 feet long. It opened in 1883. This view north is from the South Street Seaport mall. Three bridges are in this photo. From closest to furthest (south to north) they are the Brooklyn Bridge, the Manhattan Bridge, and the Williamsburg Bridge.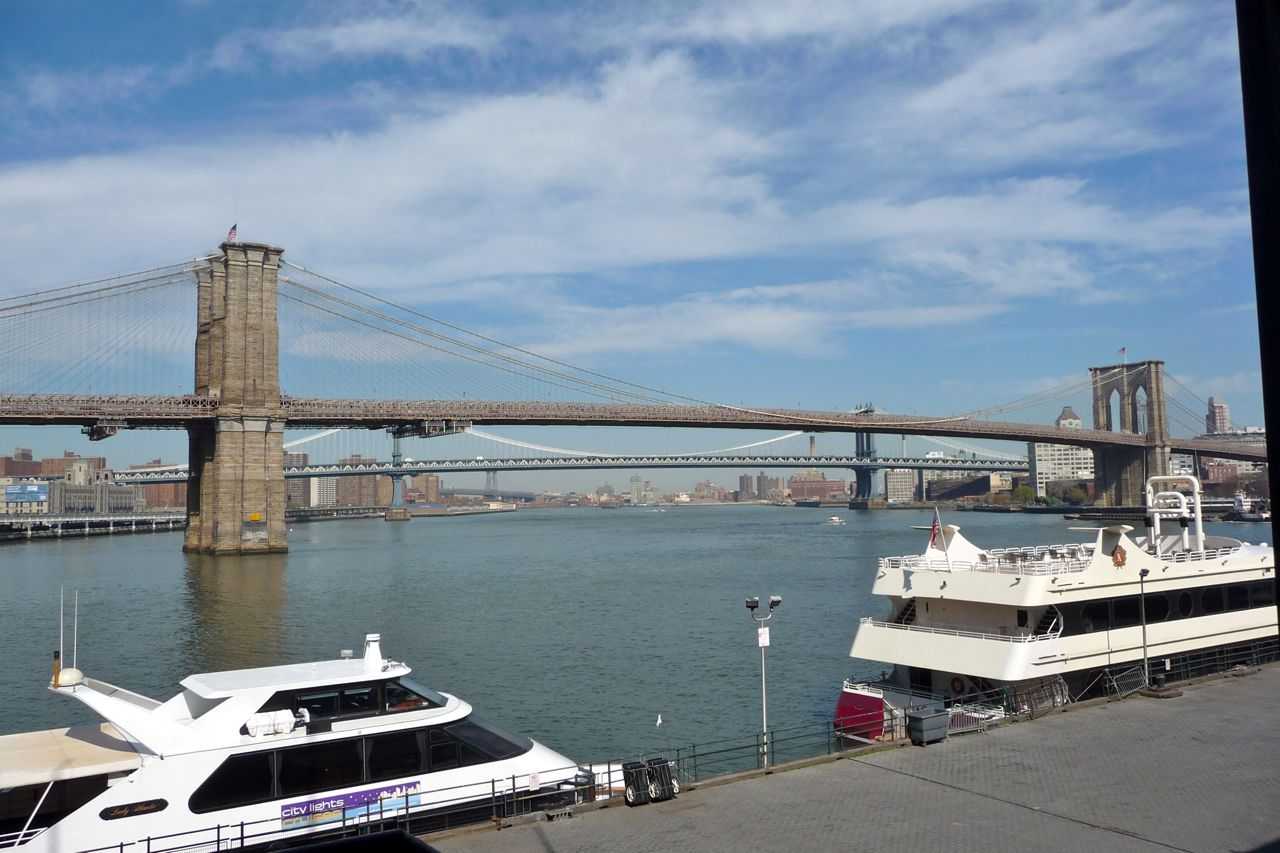 ---
Lots of boats still ply the waters of the East River. This is a water taxi advertising Ikea.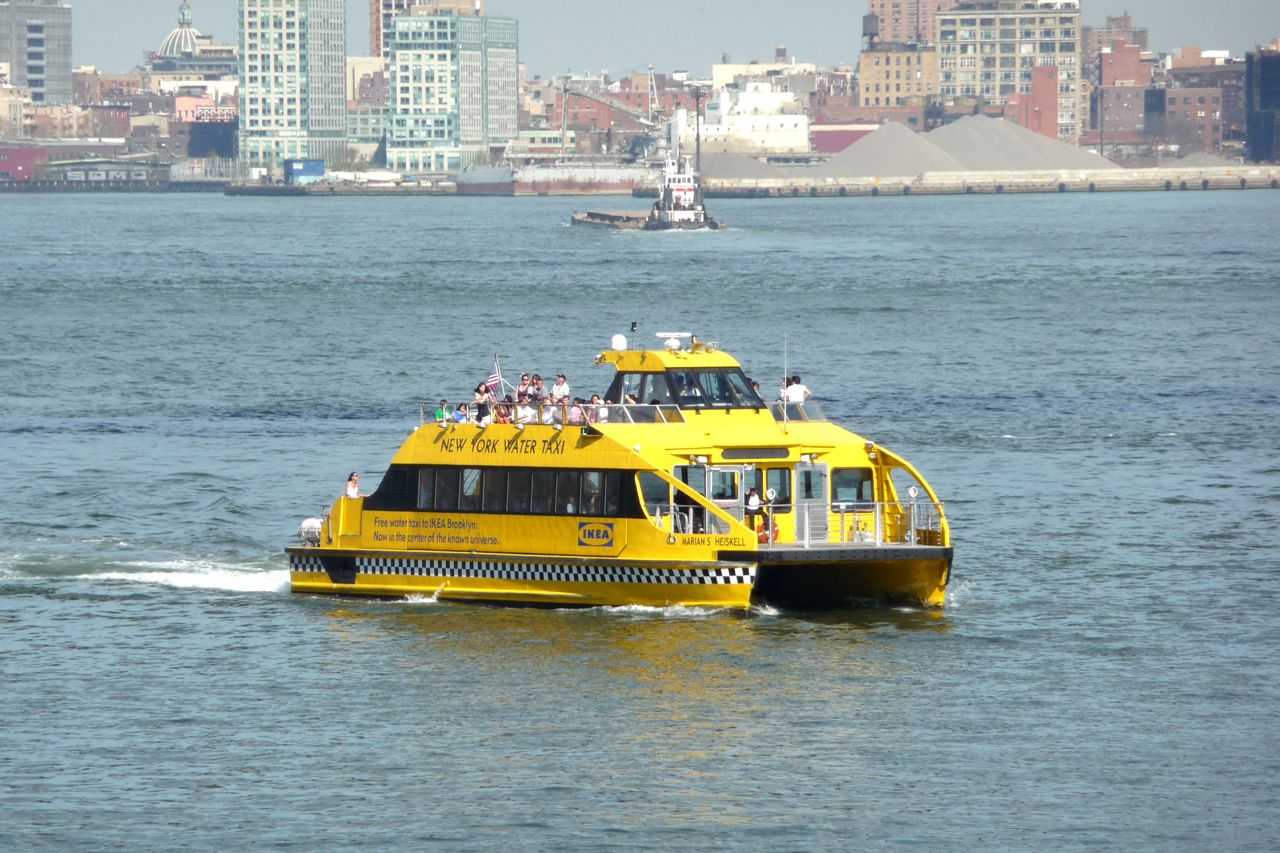 ---
Kamy taking a picture of a family at the Southstreet Seaport mall.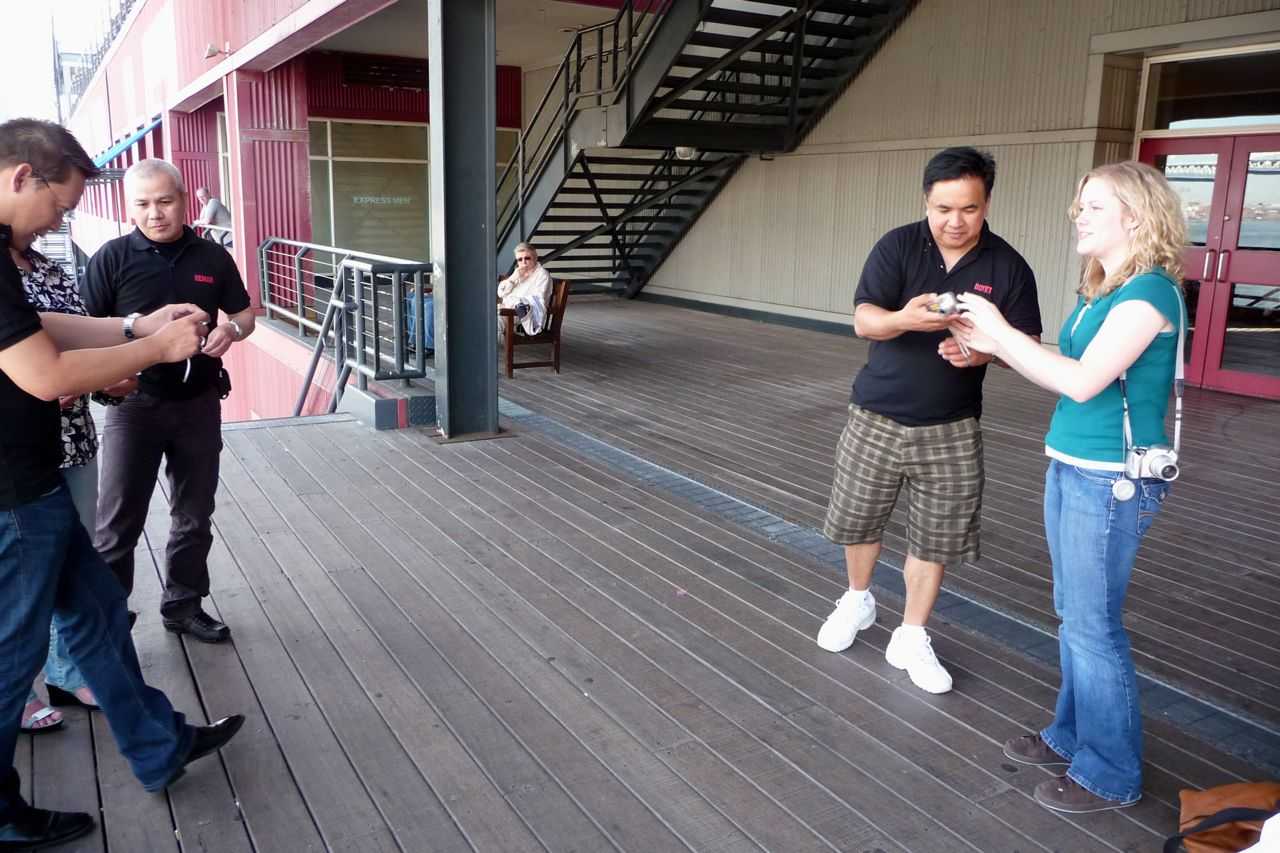 ---
A large barge, owned by Reinauer Transportation Company. At 459 feet long, with a beam of 73 feet and a draft of 29 feet, this ship travels the oceans with a 22,540 ton displacement. It was built in 1999. It is actually powered by a tug boat that pushes from the back. The tug is the Nicole Leigh Reinauer, with a length of 123 feet, a 40 foot beam, and a draft of 21 feet. It is powered by two Cat 3612 engines with 7,200 hp and 150,617 US gallons of diesel fuel. The pair has handled 20 foot seas and 50 knot winds. Loaded they travel at 11 knots.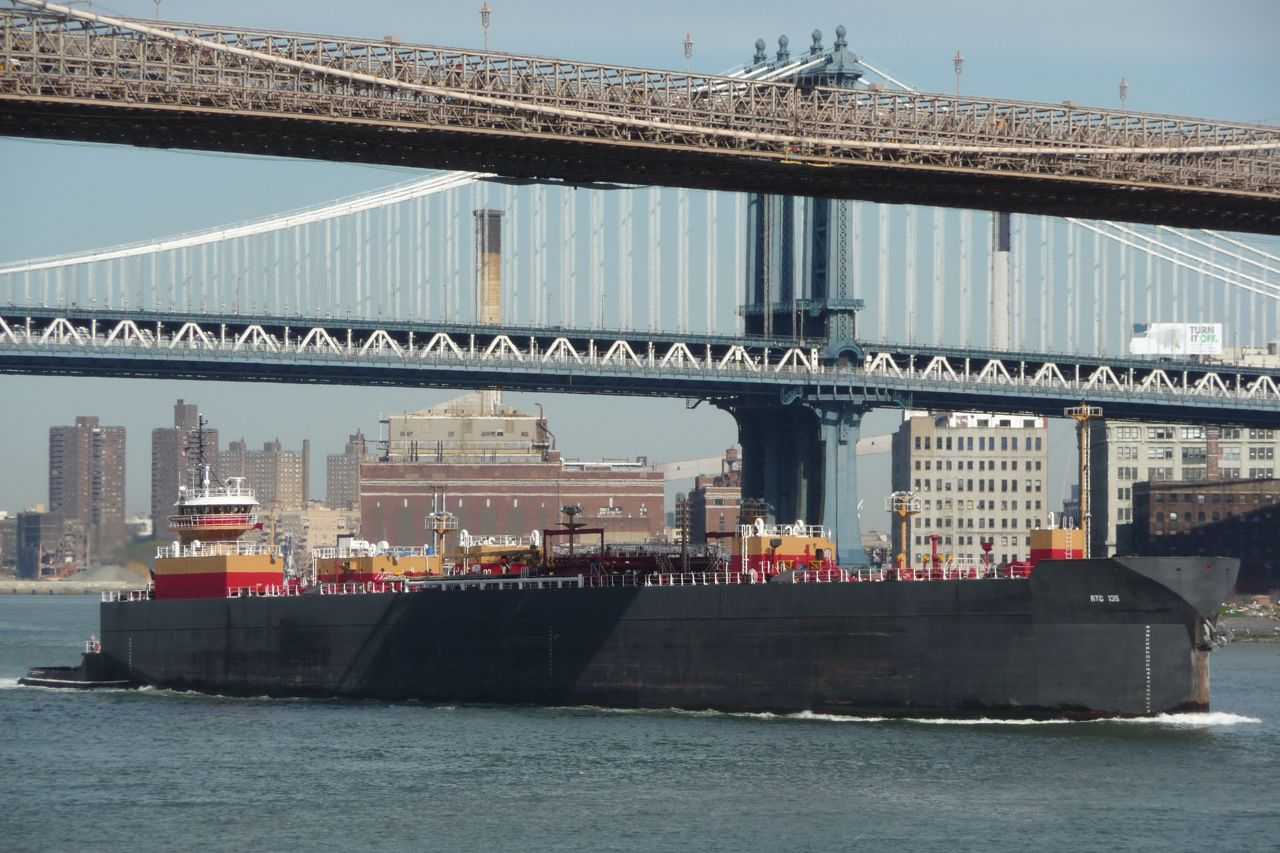 ---
After enjoying the East River, the Brooklyn Bridge, and Southstreet Seaport, we walked back over to 213 Front Street and enjoyed a fabulous meal at Stella Maris. Beth had this hangar steak sandwich with carmelized onions. Delicious.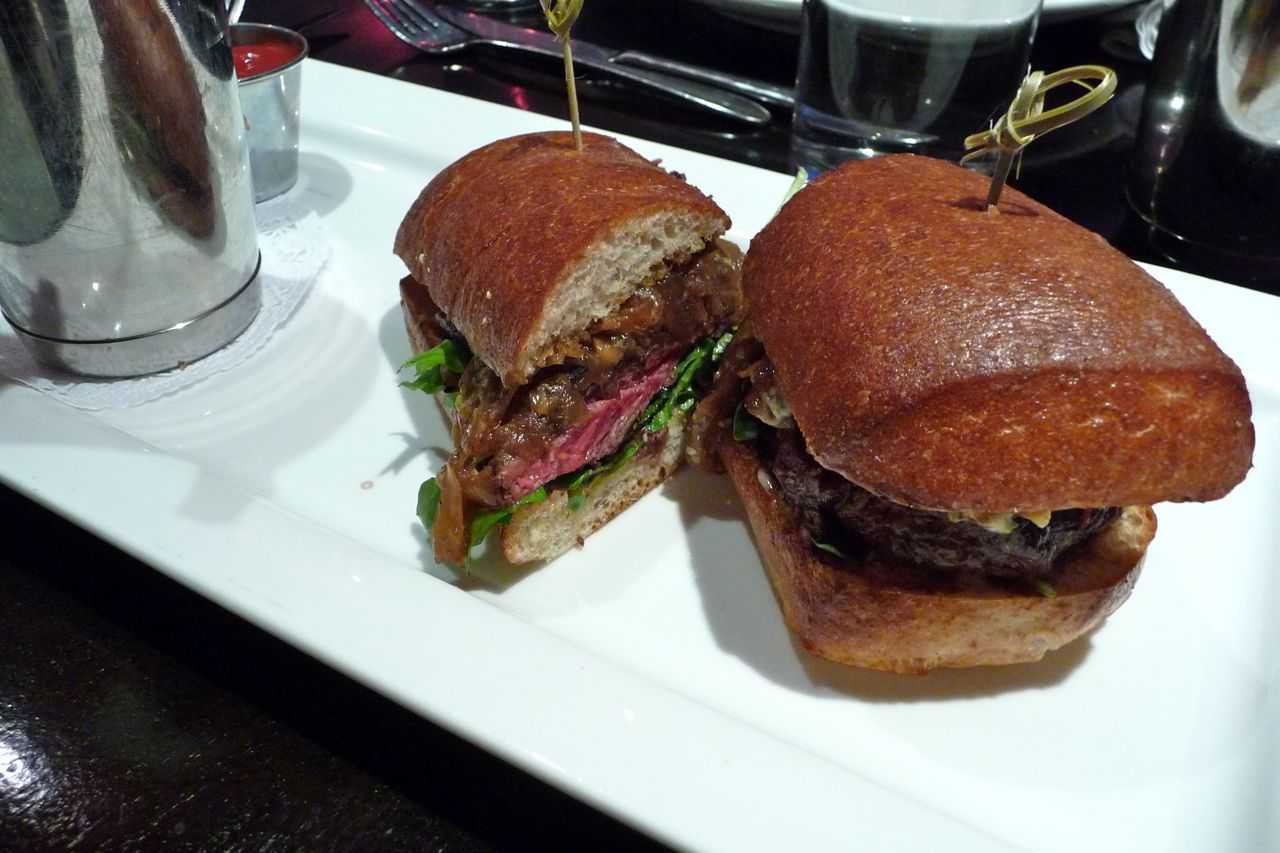 ---
I had this Argentinian style sirloin steak with chimmichurri sauce. It was wonderful after a long day of walking about.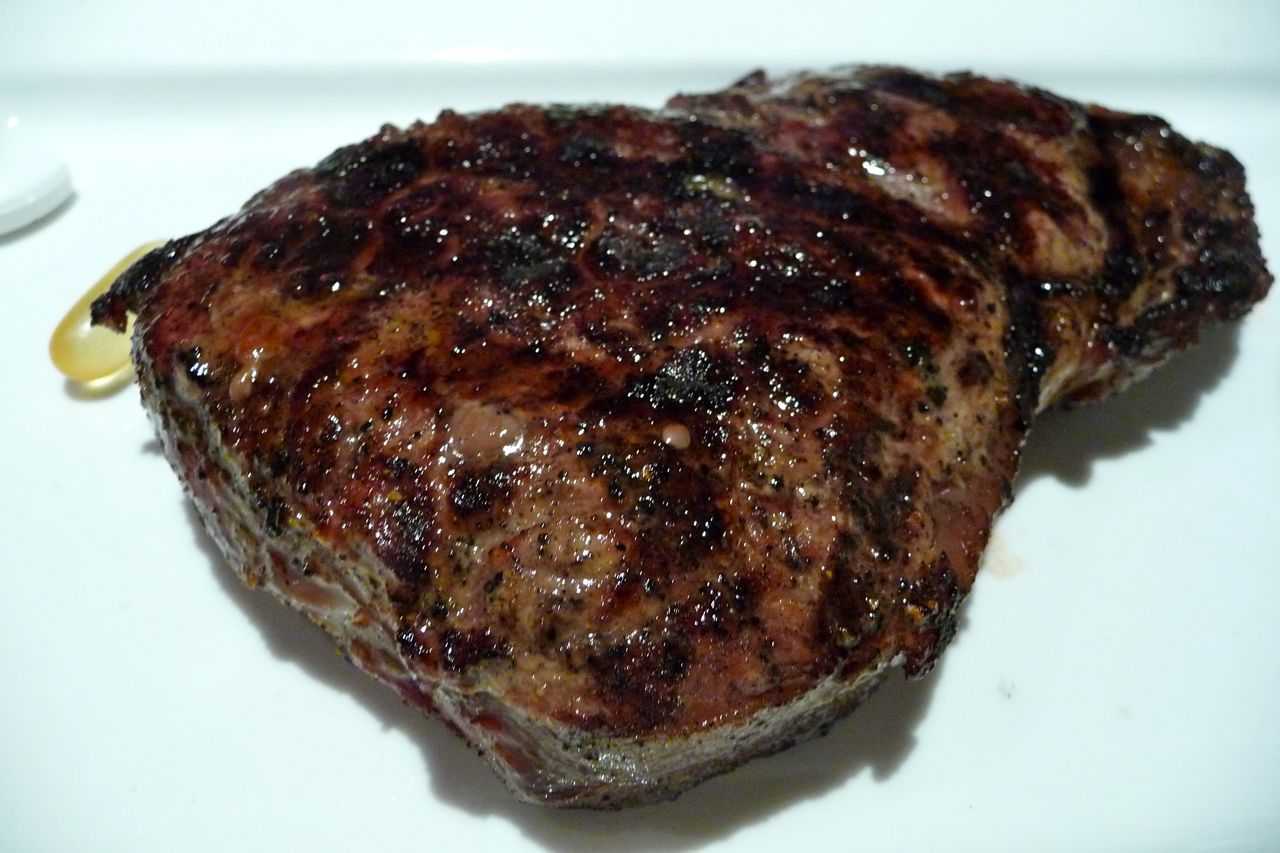 ---
Both came with excellent french fries served in tall aluminum cups.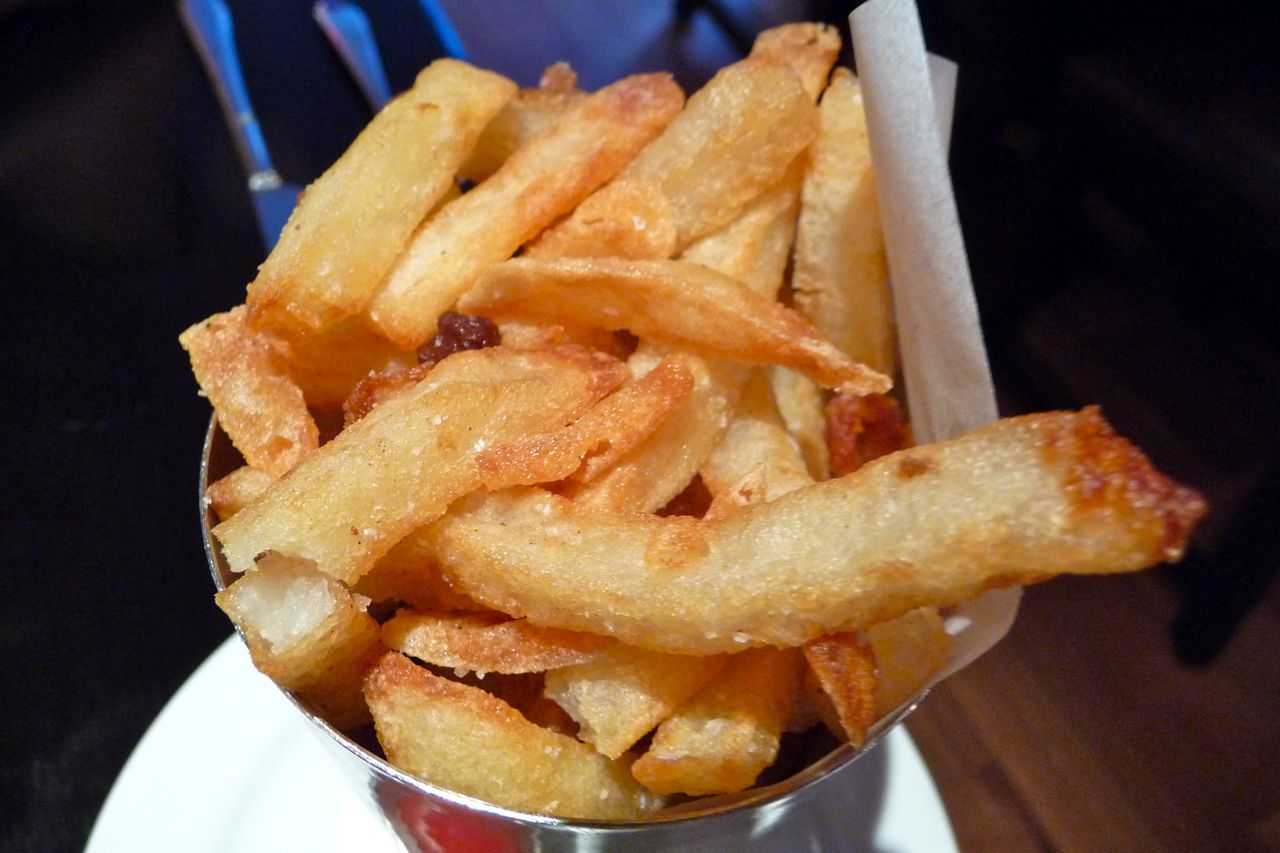 ---
We all shared two orders of grilled asparagus. Mmm.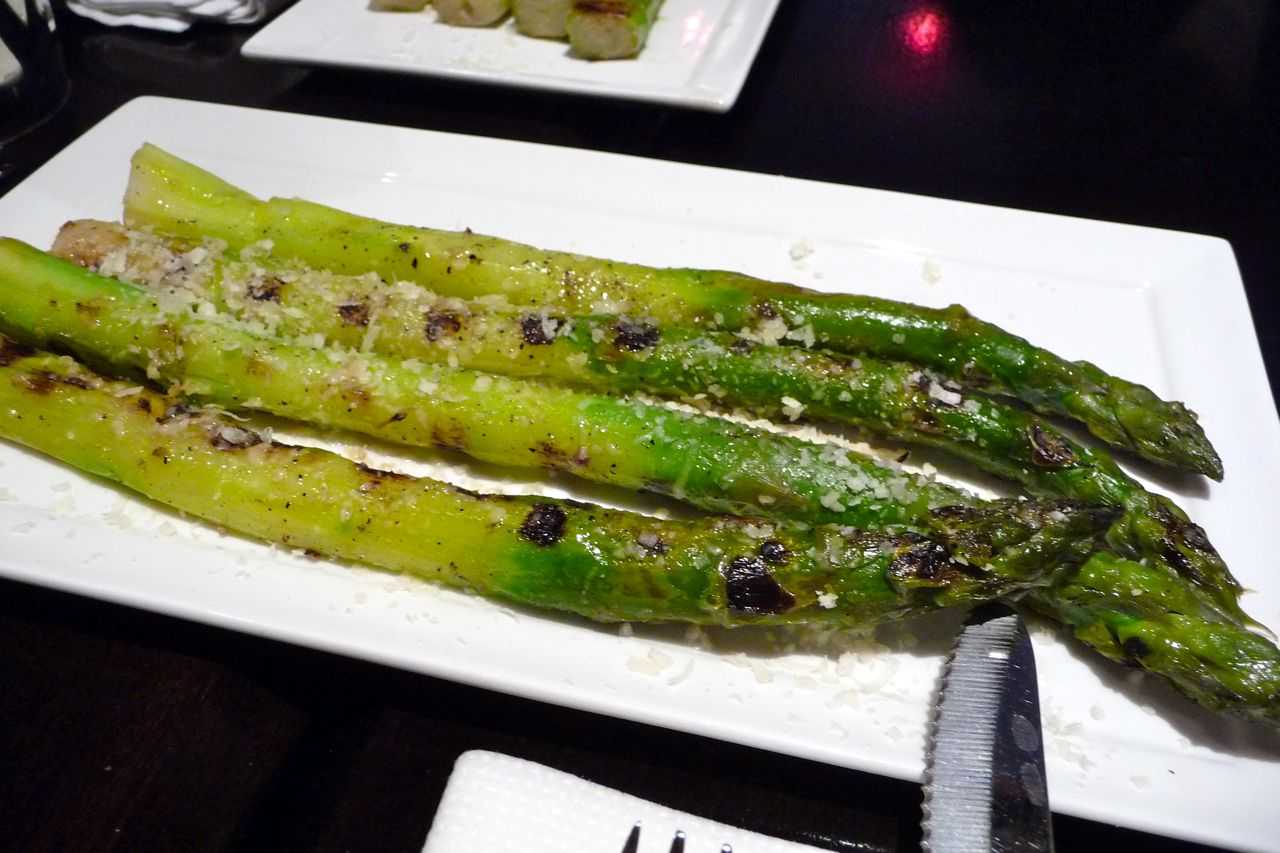 ---
Rachel had a Maine lobster roll and Kamy had these glorious sea scallops with risotto.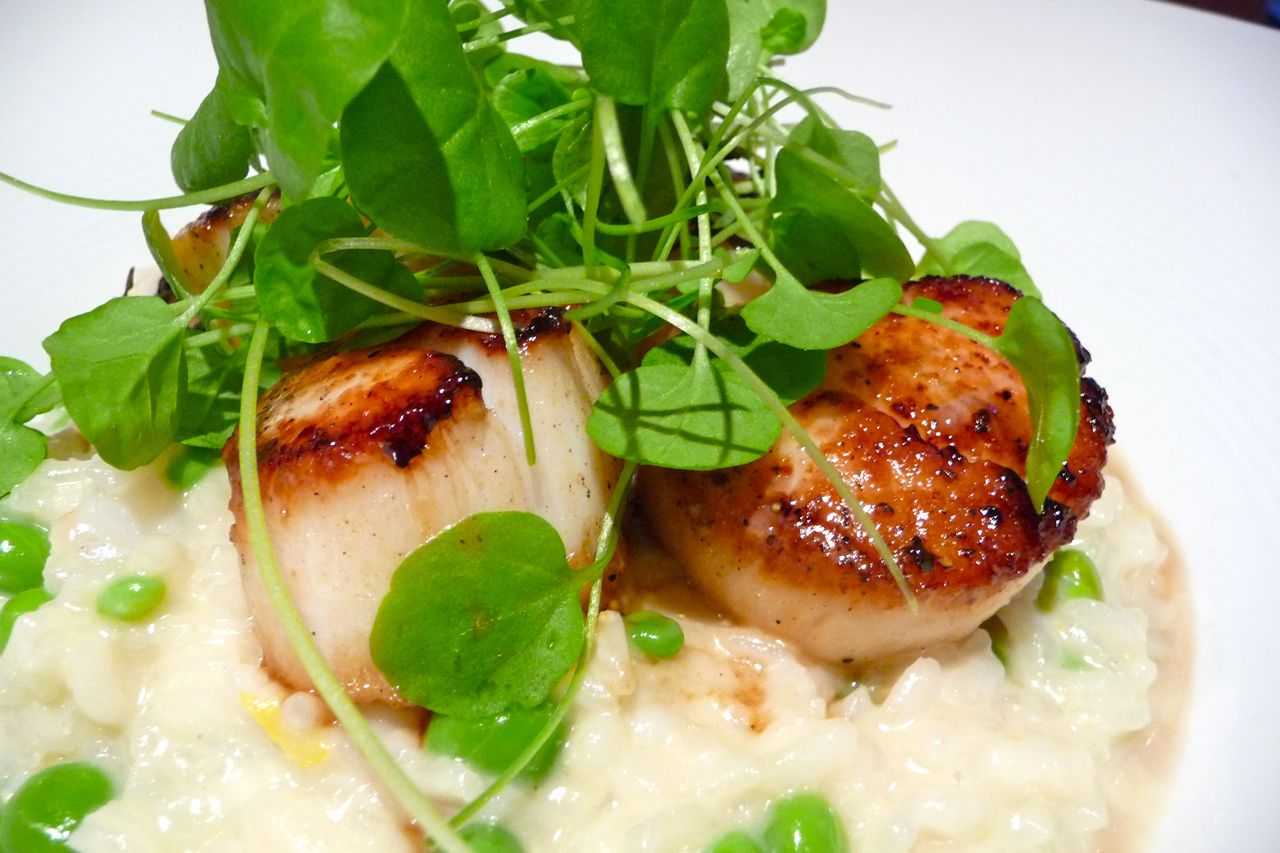 ---
Here on 202 Water Street is where Edmund M. Blunt began business in 1811 with a nautical supply shop. He sold sextants, octants, and navigation charts. He also published books, including Nathaniel Bowditch's American Practical Navigator. Blunt lived from 1770 to 1862.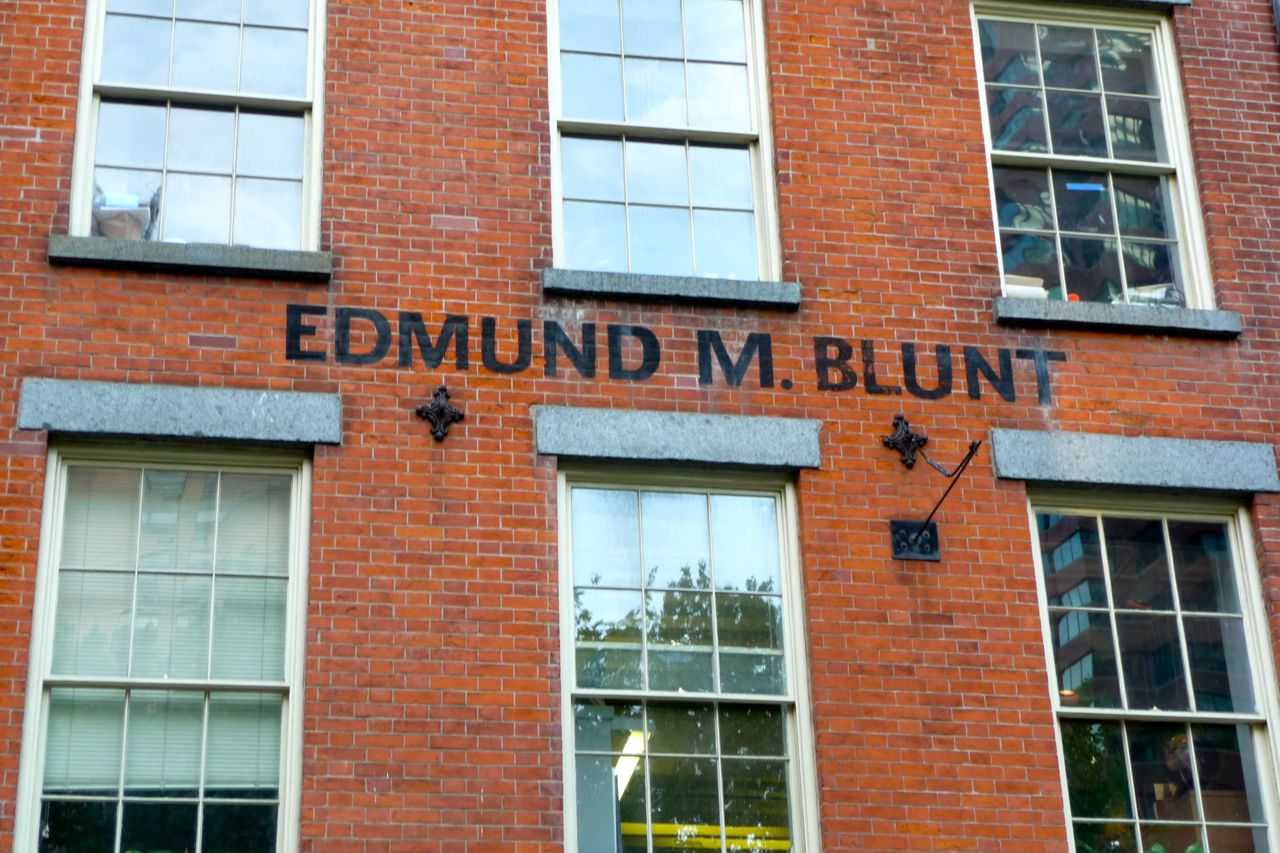 ---
Here is the giggly trio on the steps overlooking Ground Zero.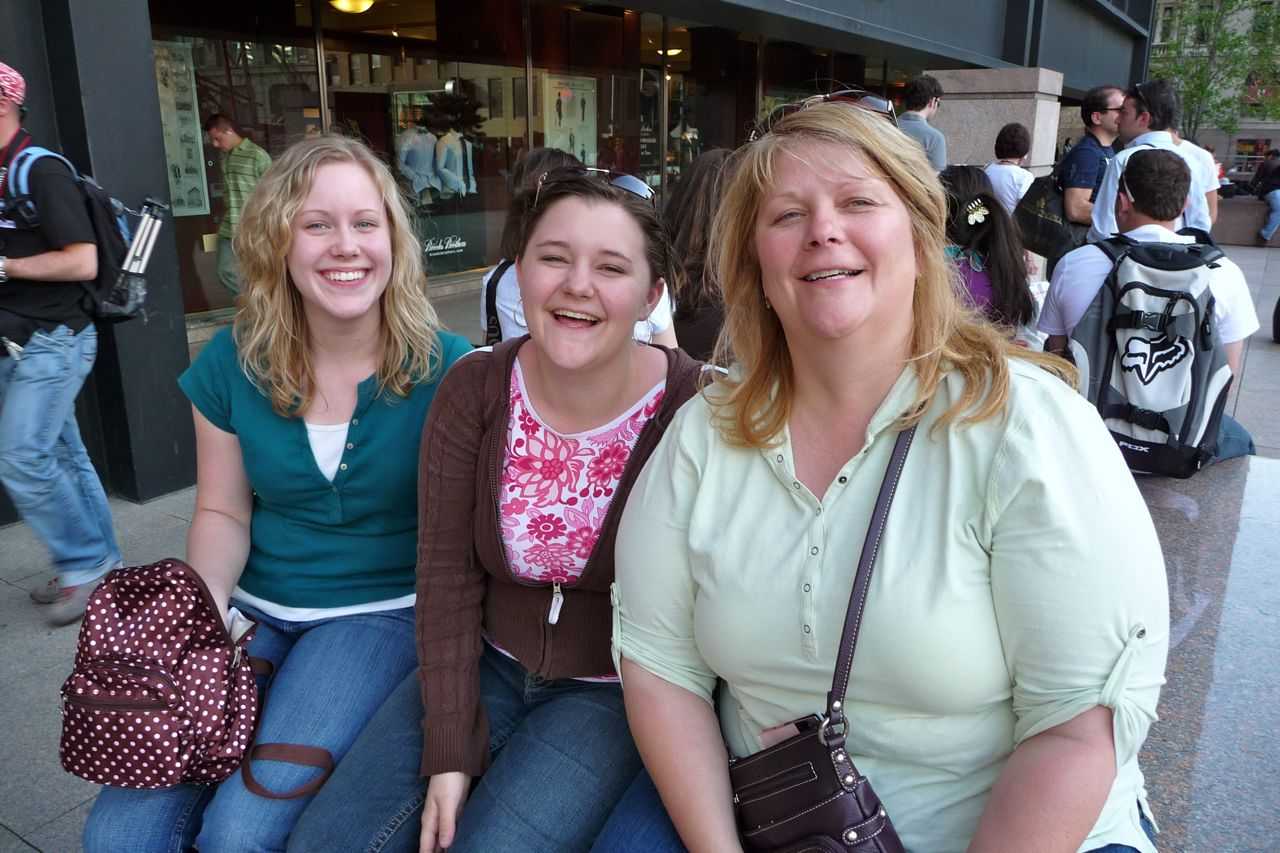 ---
Here is how Ground Zero looked. It is no longer a hole, but now has structures rising from the proverbial ashes, although you cannot see them in this photo. The Ground Zero area is just beyond the crane and ends where the tall buildings are in the background. There will be two square pools as a memorial located where the twin towers used to stand. The project will probably be completed in 2012.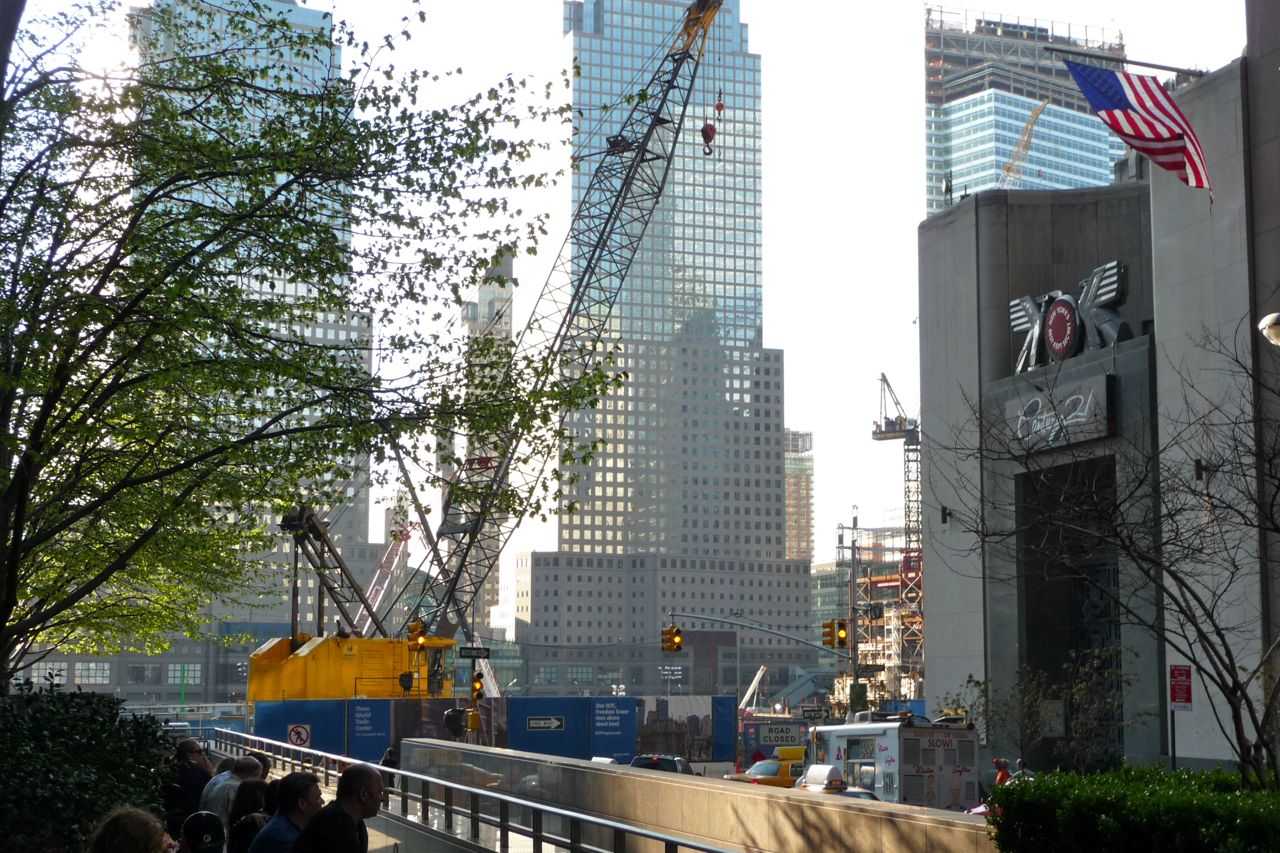 ---
A woman standing in Grand Central Station with a package. Everyone else is moving and she was motionless in rapt contemplation.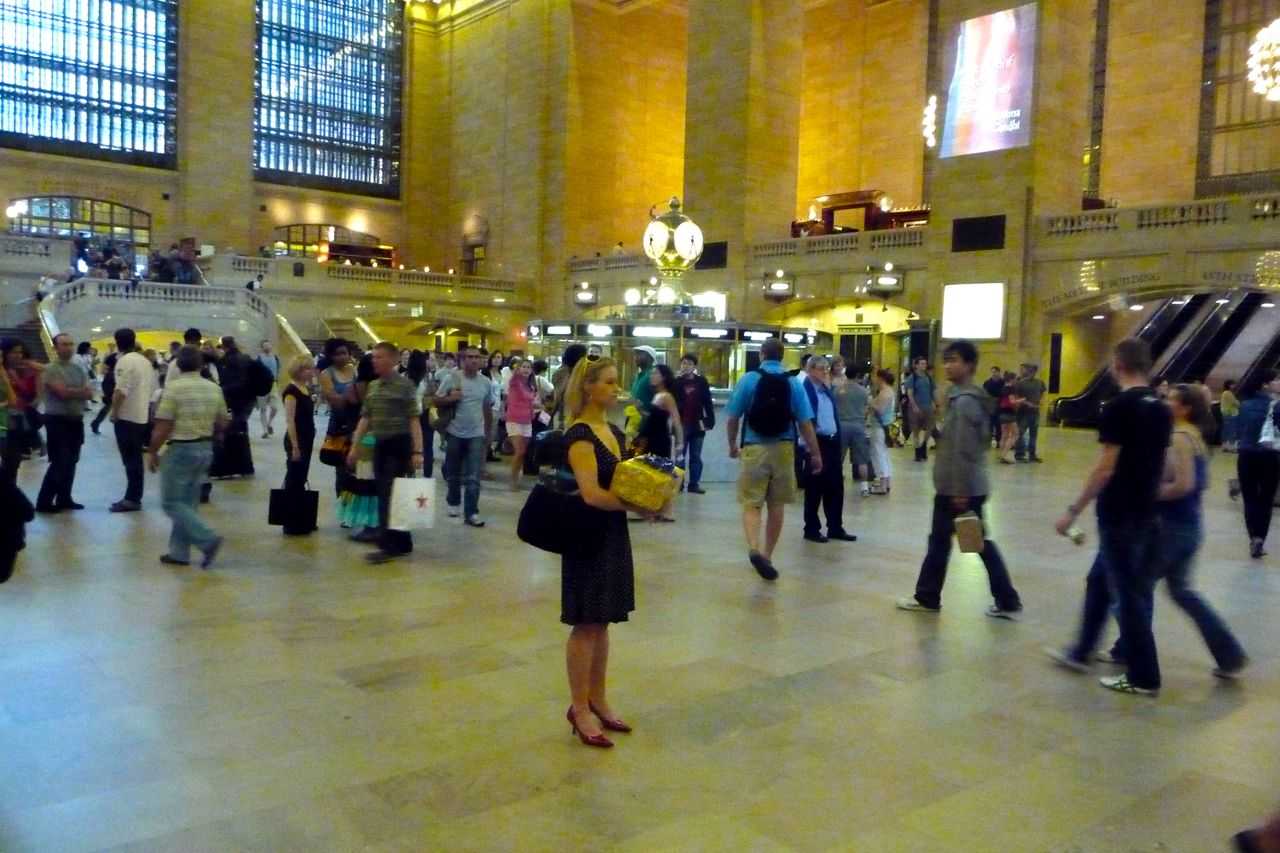 ---
Back to the hotel room to relax.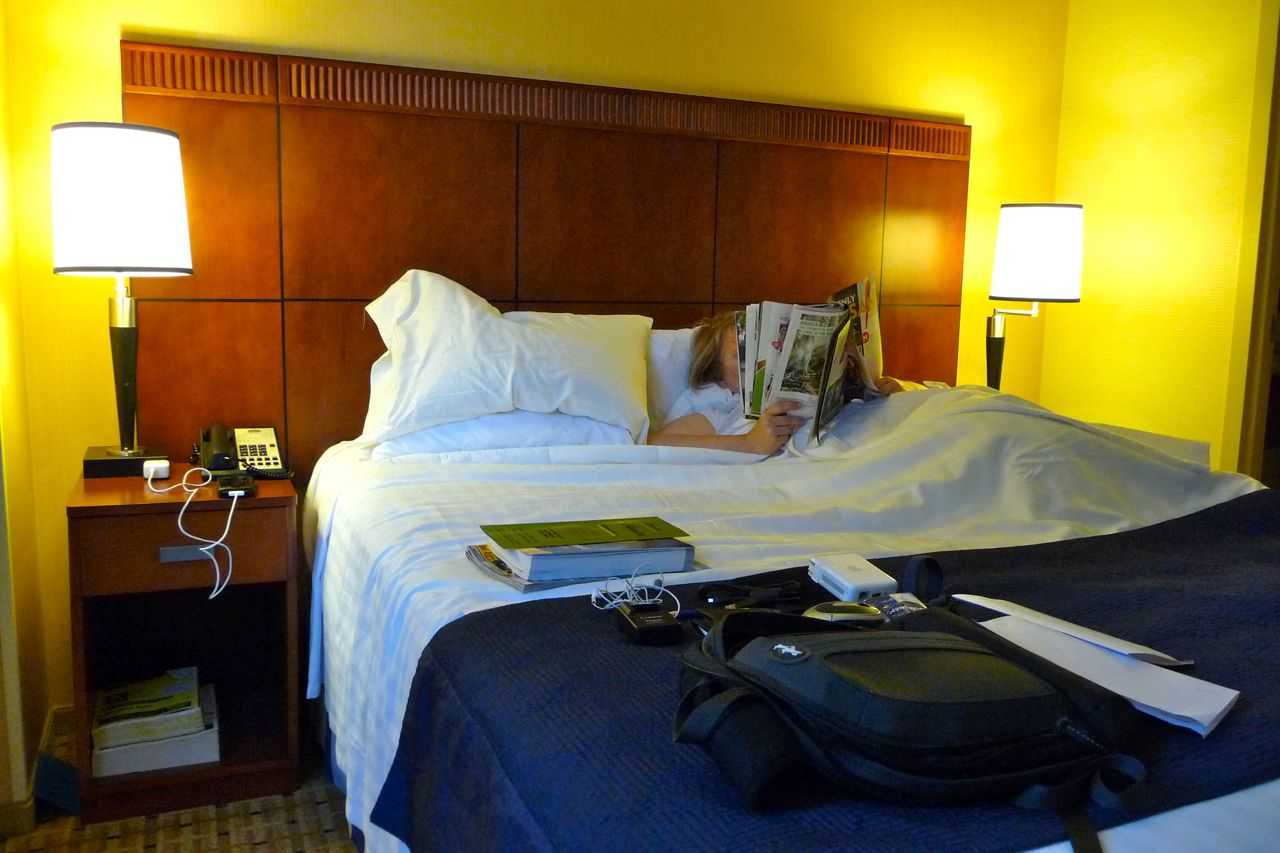 ---
I love New York's hot pretzels. They have huge salt crystals which are very tasty. They are just flour, water, sugar, yeast, and salt. Pennsylvania is actually the center of US pretzel production, as many of the Pennsylvania Dutch (who were Germans) began making them in the 1850s.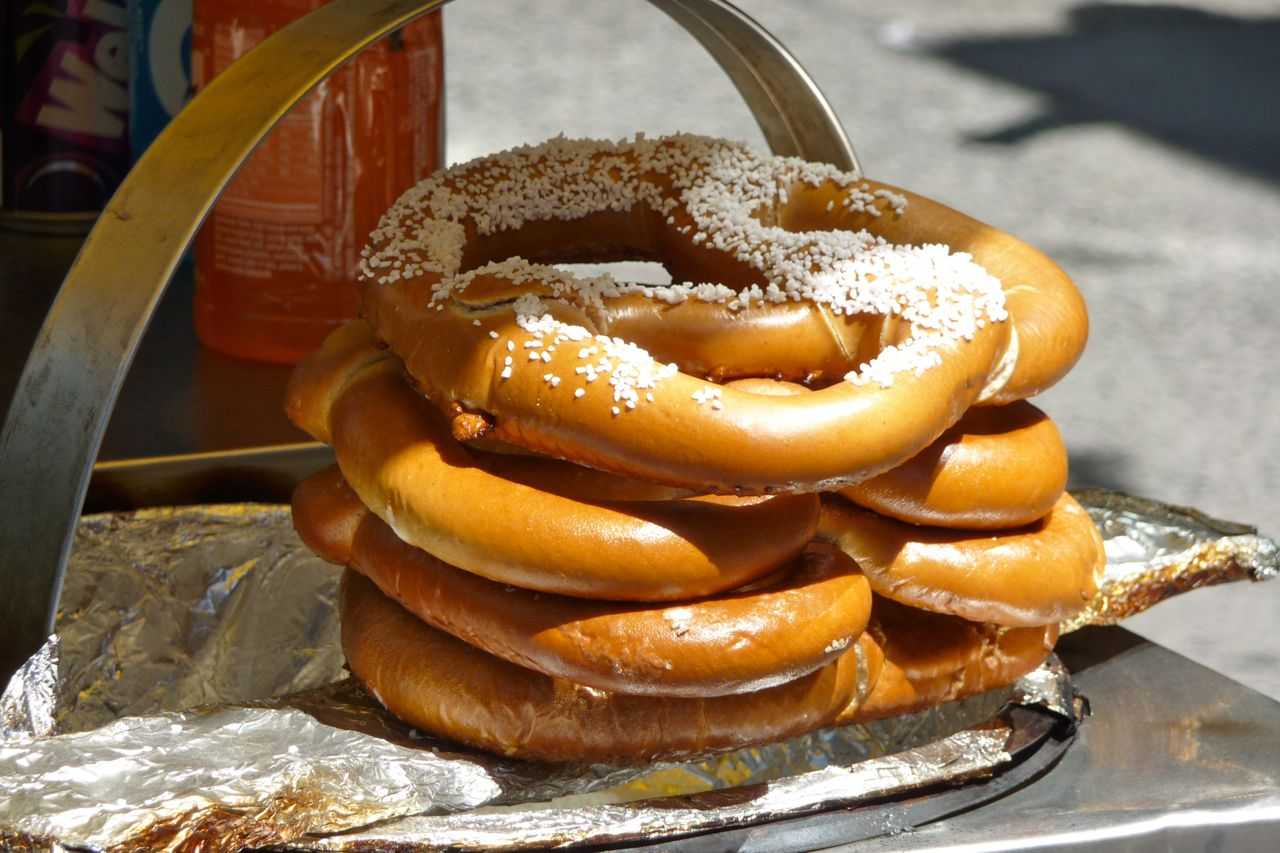 ---
One of the famous pair of lions at the entrance to the New York City Library on 41st and 5th Ave.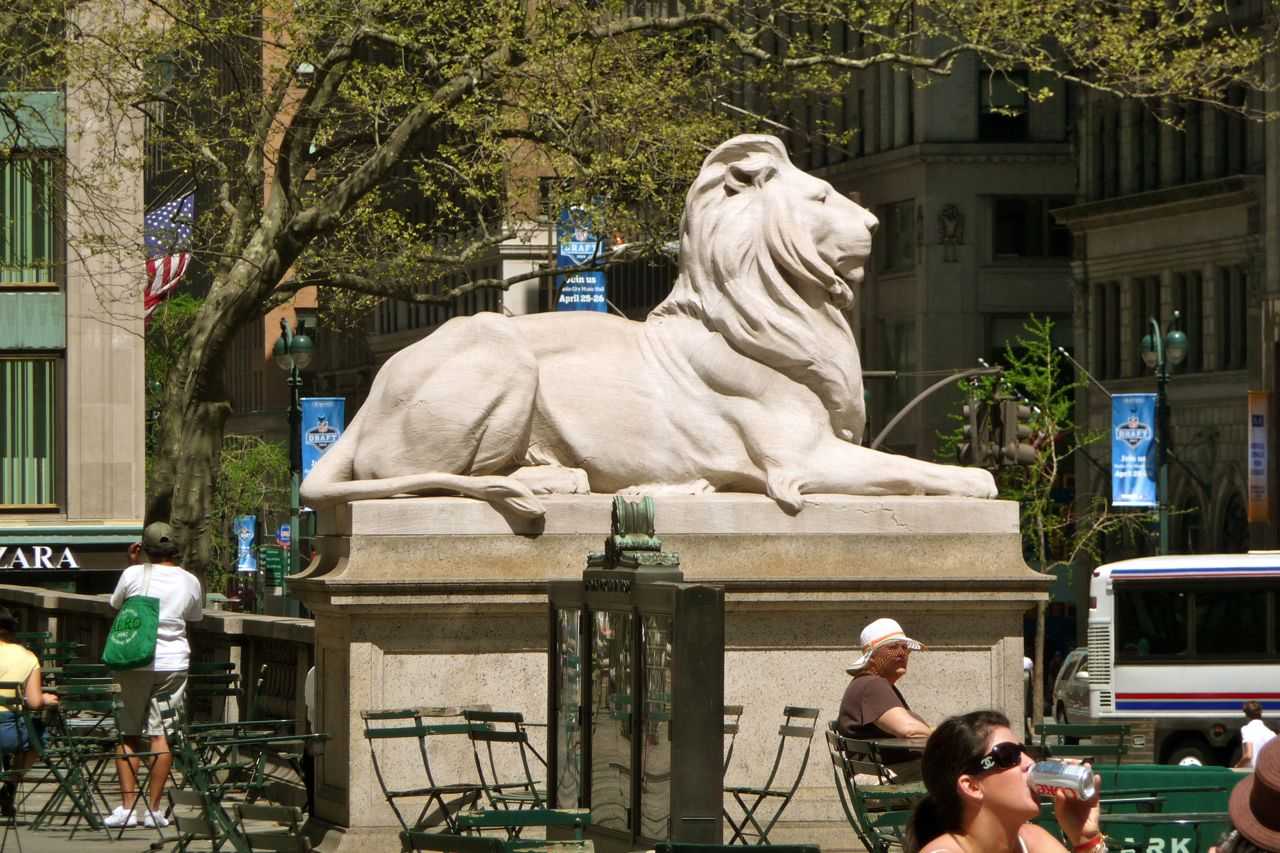 ---
The main "card catalog" room is now rows of Dell computers.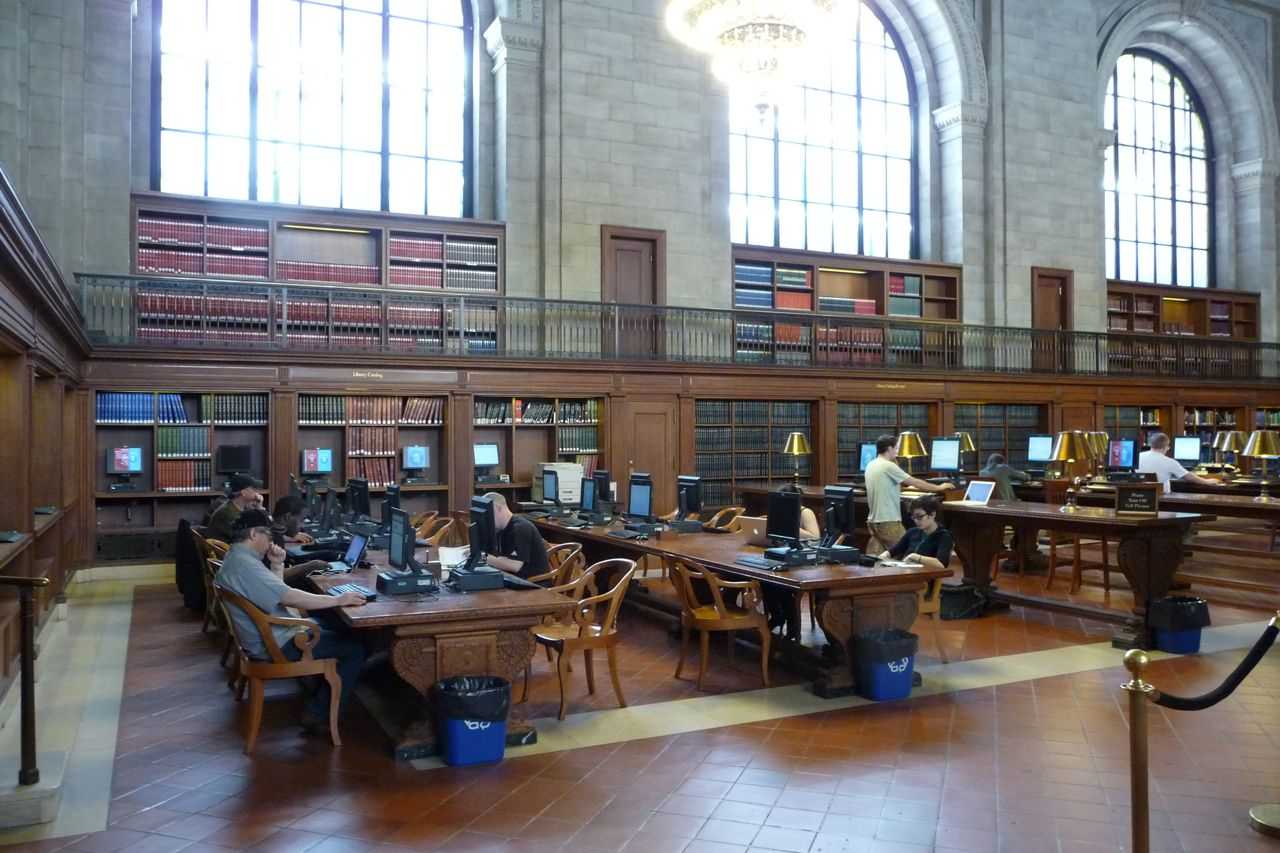 ---
They have a copy of my book! Nice.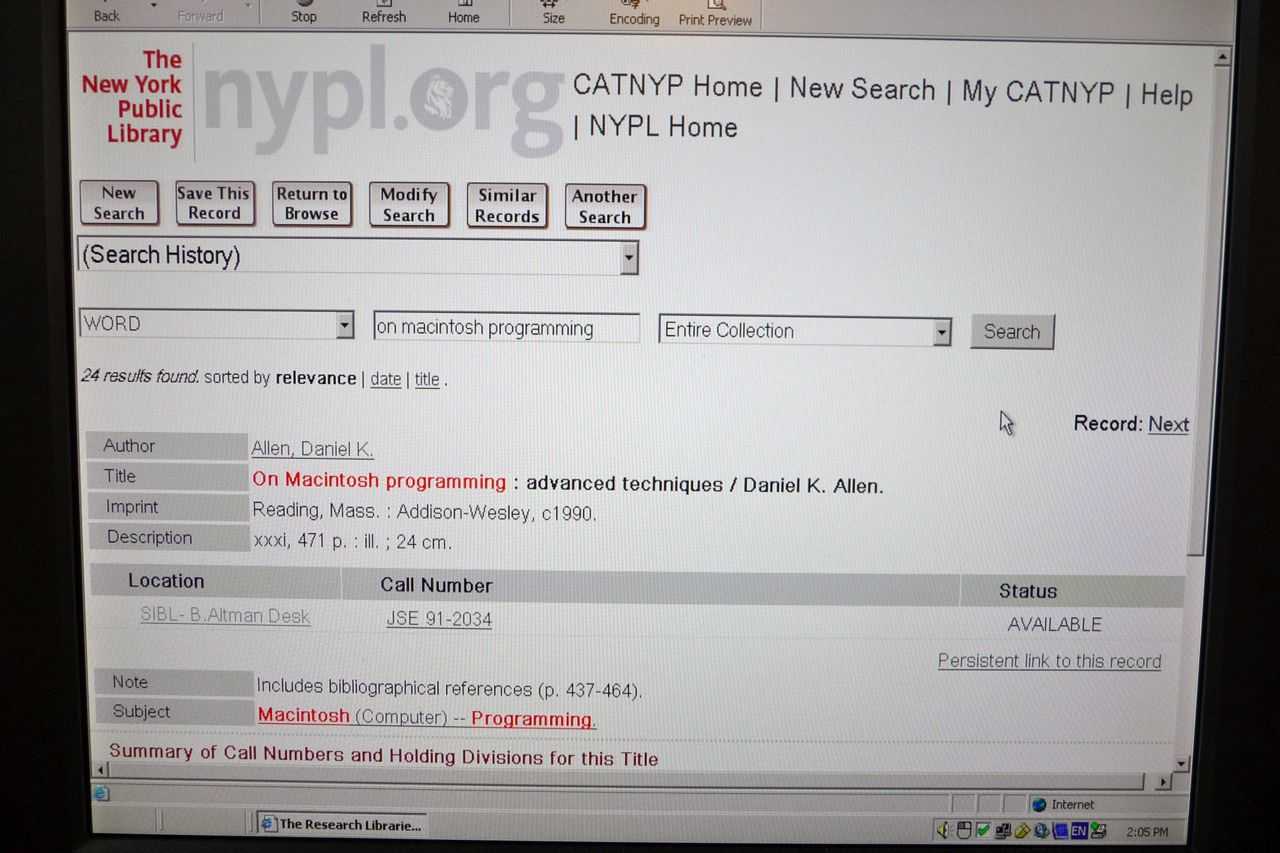 ---
Rows of old encylopedias and bound yearly magazines fill the large upstairs reading room.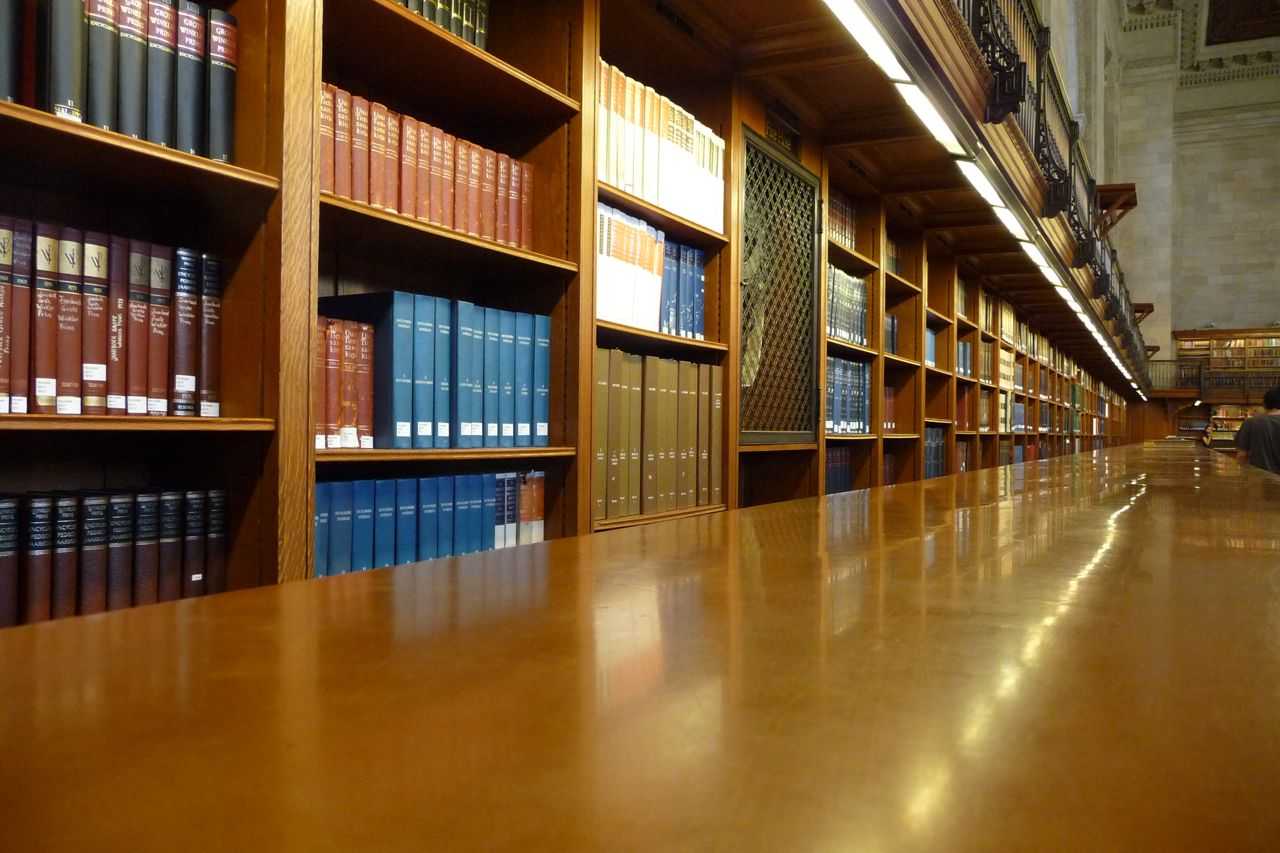 ---
This is only one part of room 315, the upstairs reading room. It is 297 feet long, 78 feet wide, and 52 feet high!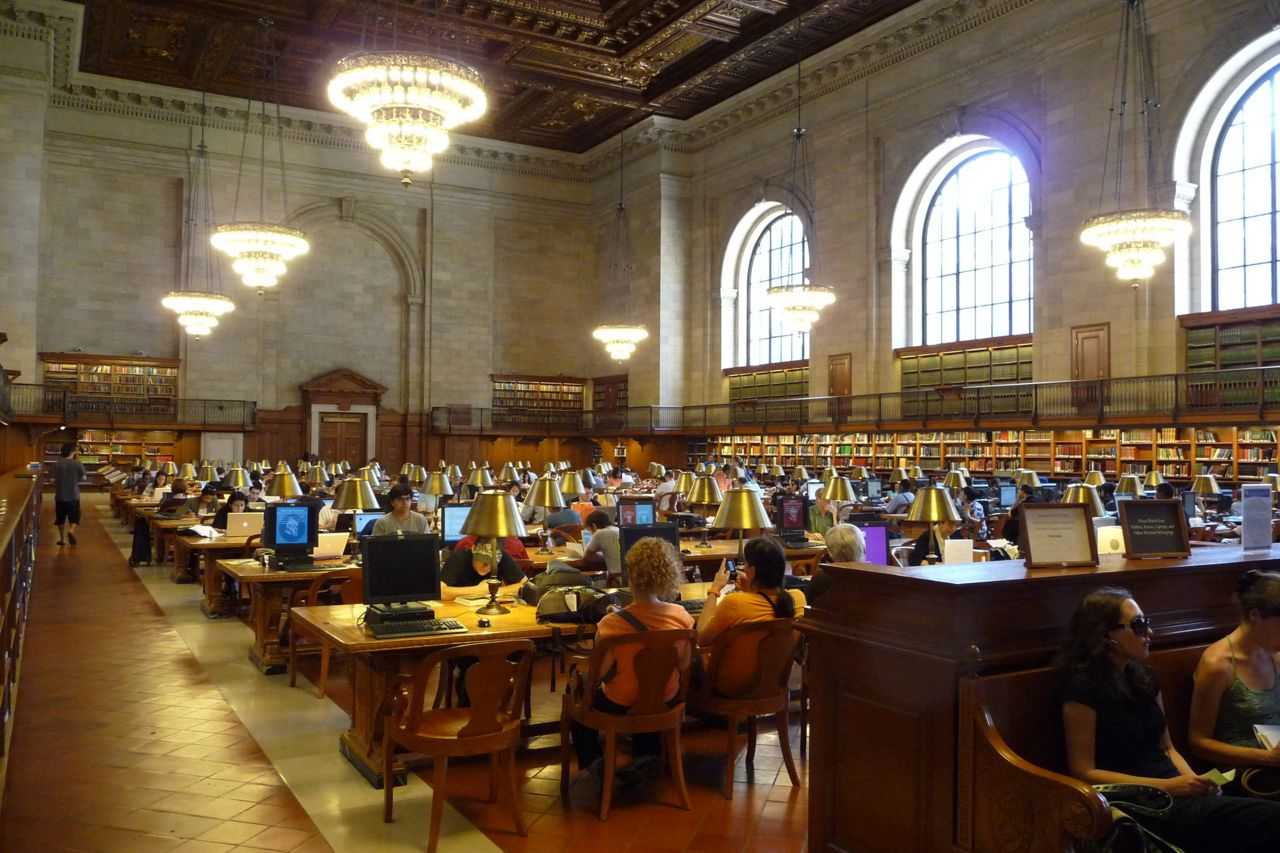 ---
This reading room is mainly where people come to research, read, and write. For more info about this building, see Wikipedia.
---
The lower areas of the room are accessible, but some shelves such as these are located higher up and it is not apparent if they are accessible to the public. I like the wooden shelf.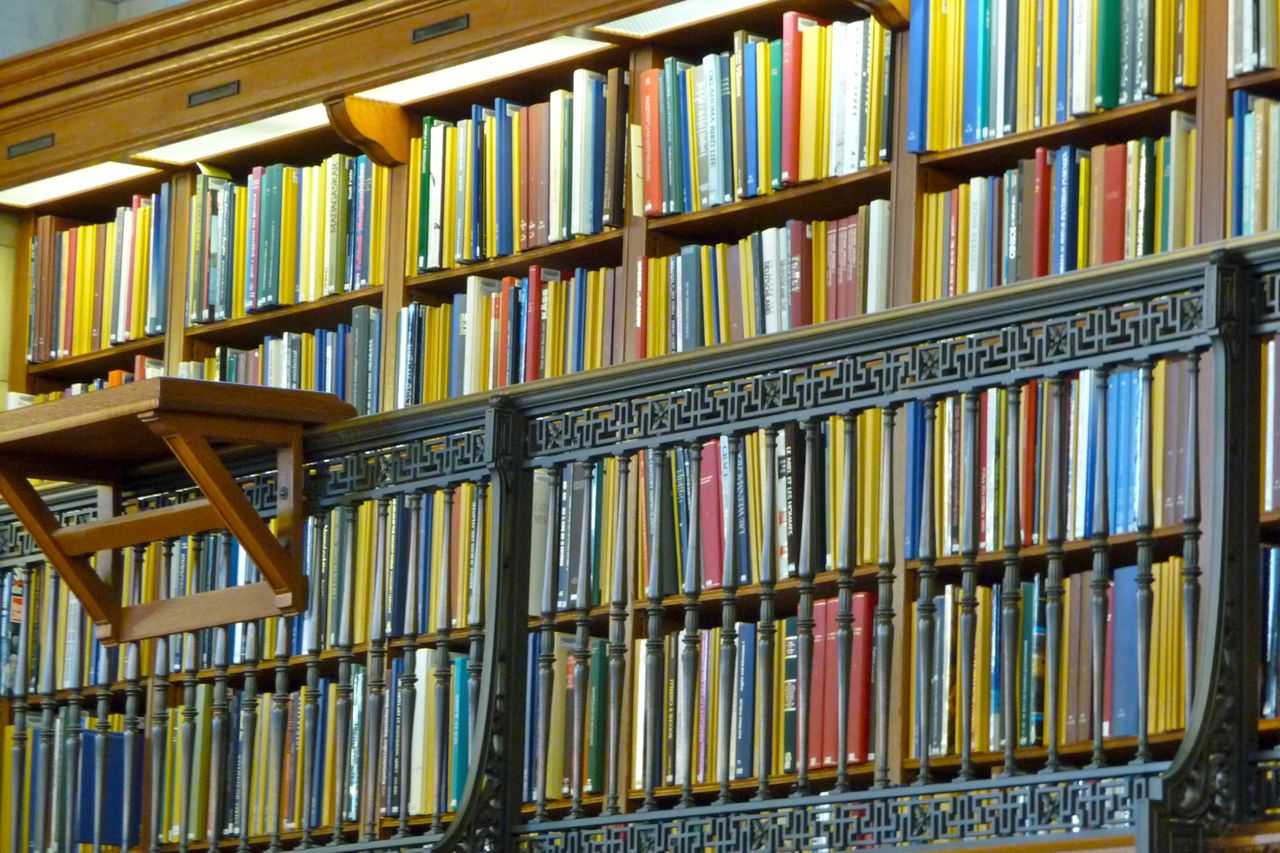 ---
A close up of the iron detail.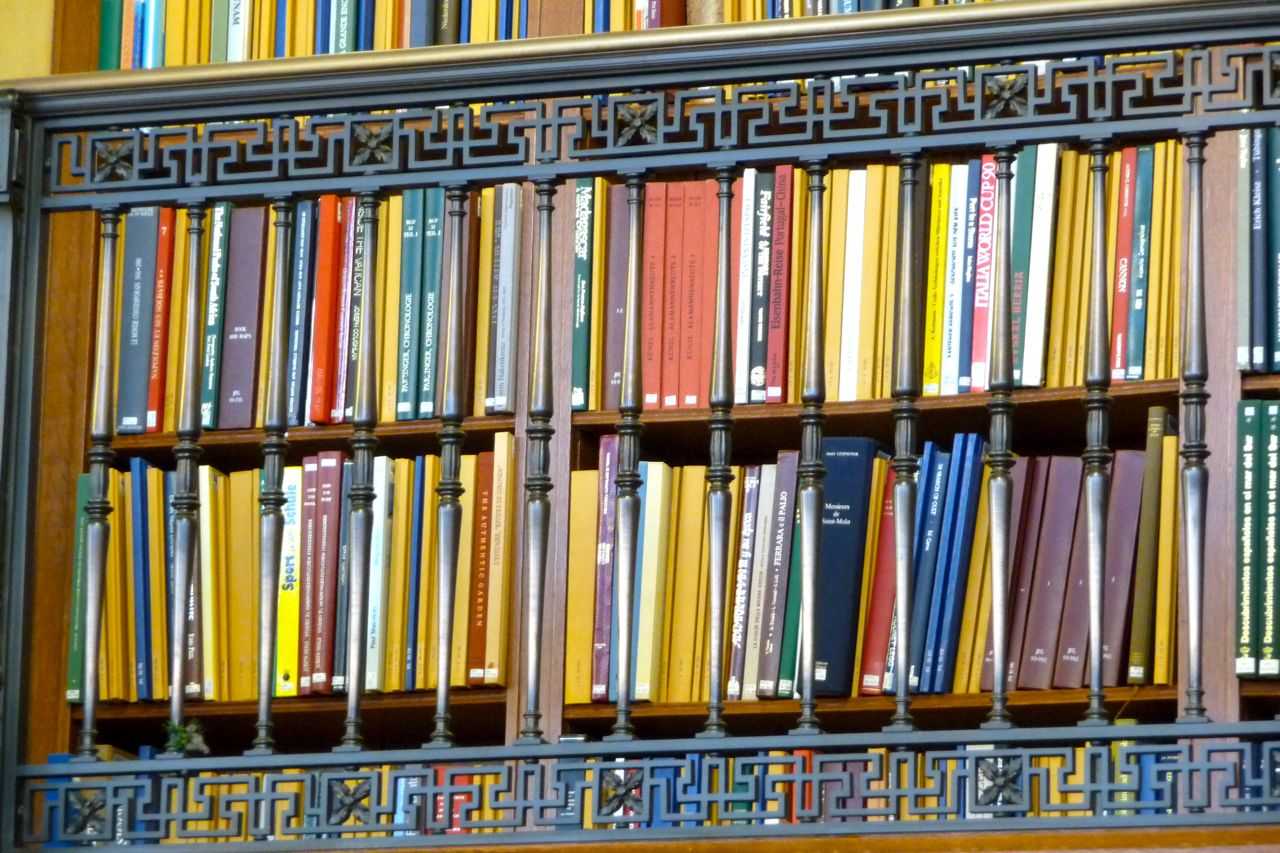 ---
Here is a Gutenberg Bible. It is located across the hall from the main reading room of the NYC Main library in a special collections room. Be sure to visit this! In my previous visits there was no photography allowed, but now they allow photos (without a flash).
This paper Gutenberg Bible is one of about 47 that exist today. Some of those were printed on vellum. All were printed in the 1450s. The text is the Latin Vulgate, and it is one of the first books ever printed in Europe.
---
A trio of cabs out in front of the library. The Ford Escape Hybrid is becoming increasingly popular.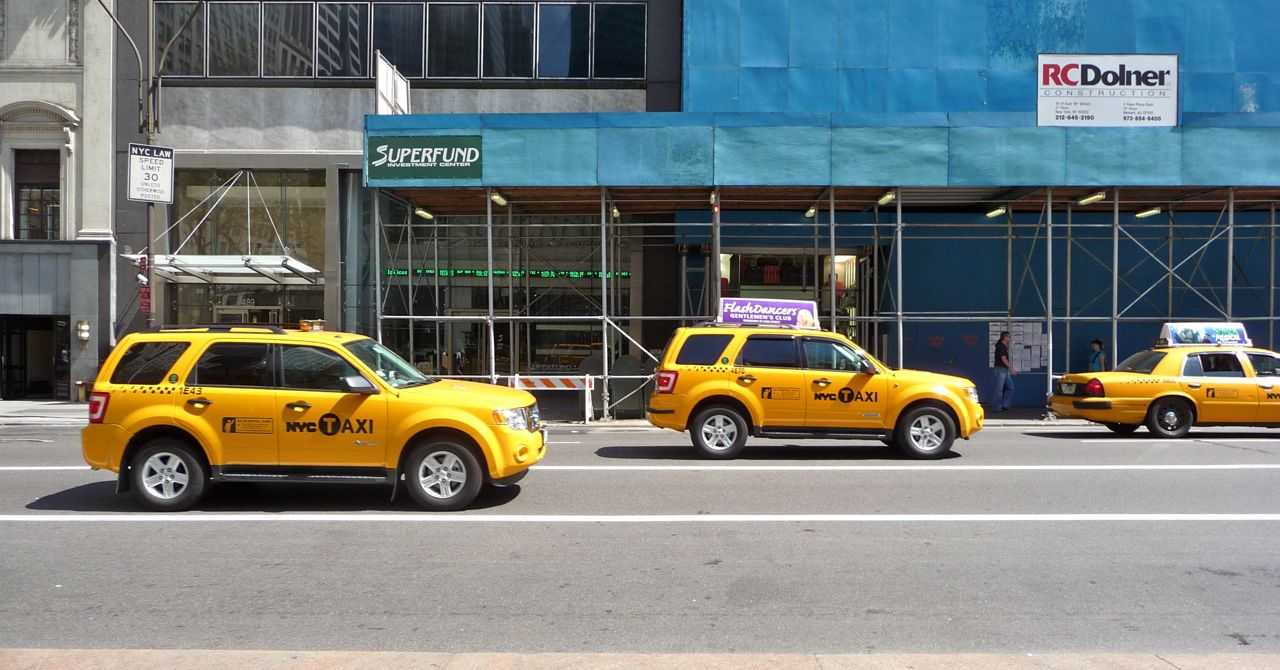 ---
More cabs on Fifth Avenue at East 46th Street.
---
This yellow Porsche Boxster looked like a cab.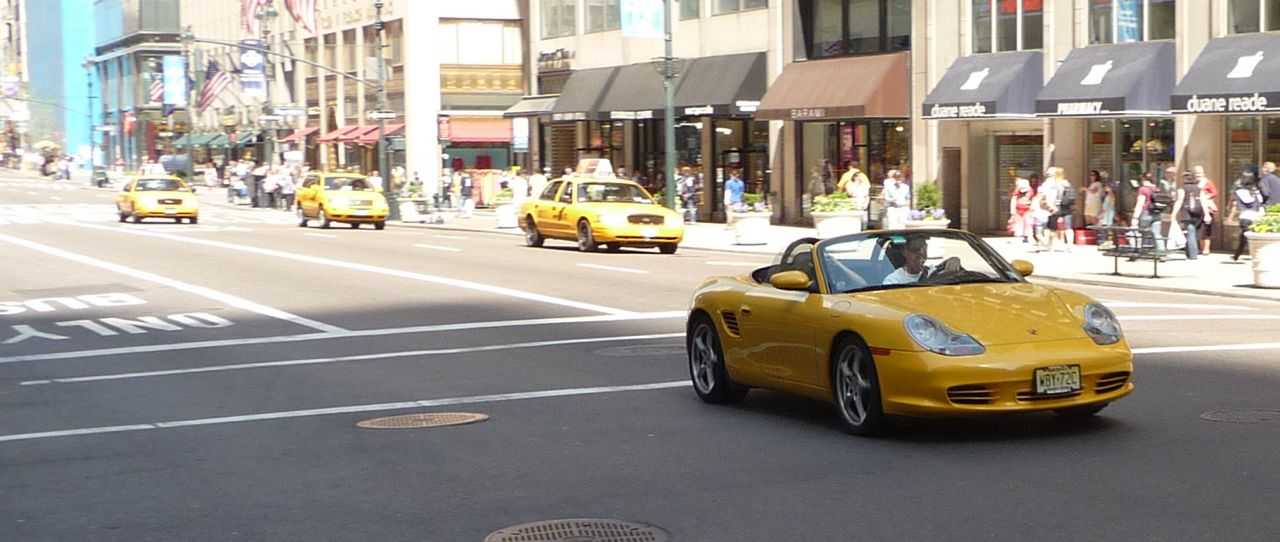 ---
Here is my favorite New York car: a Mercedes-Benz S Class. Most are black.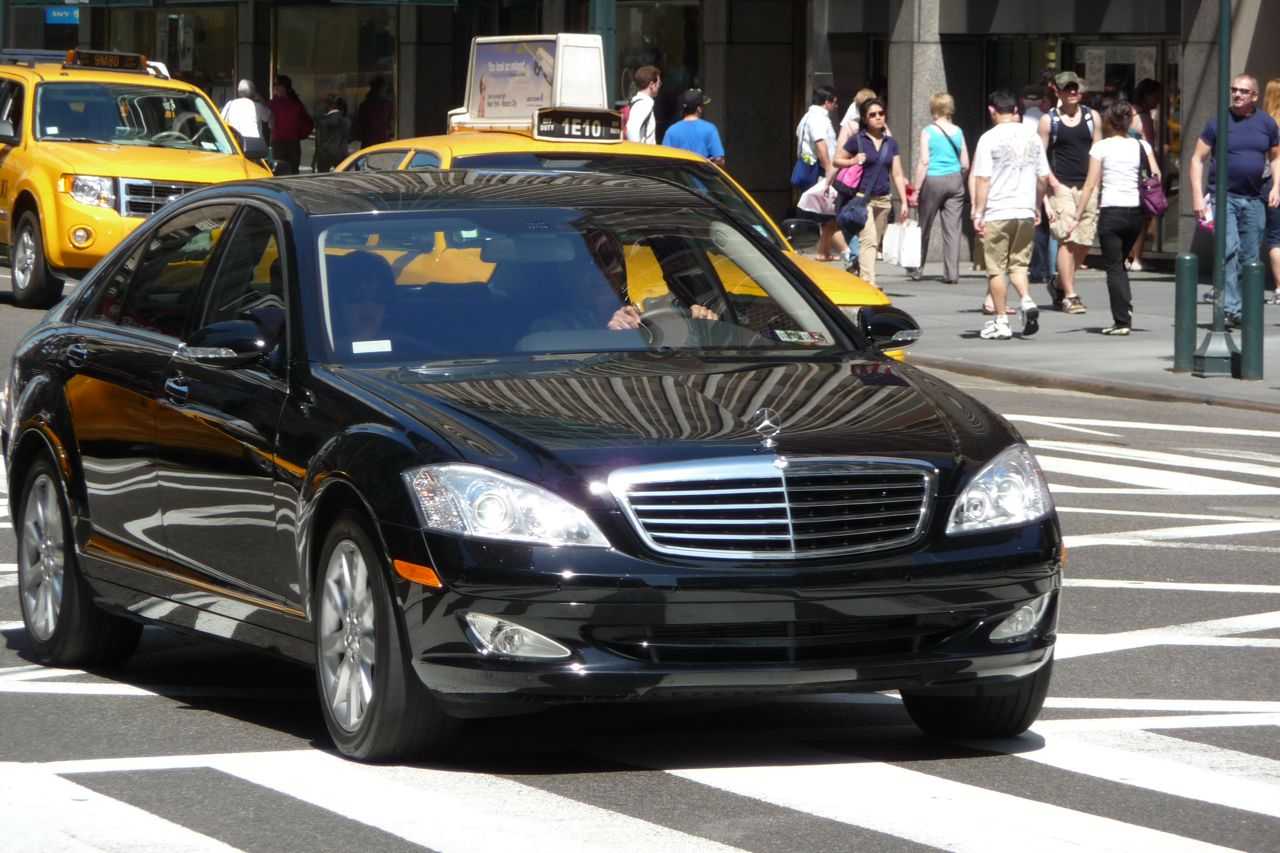 ---
Barnes & Noble has many NY stores.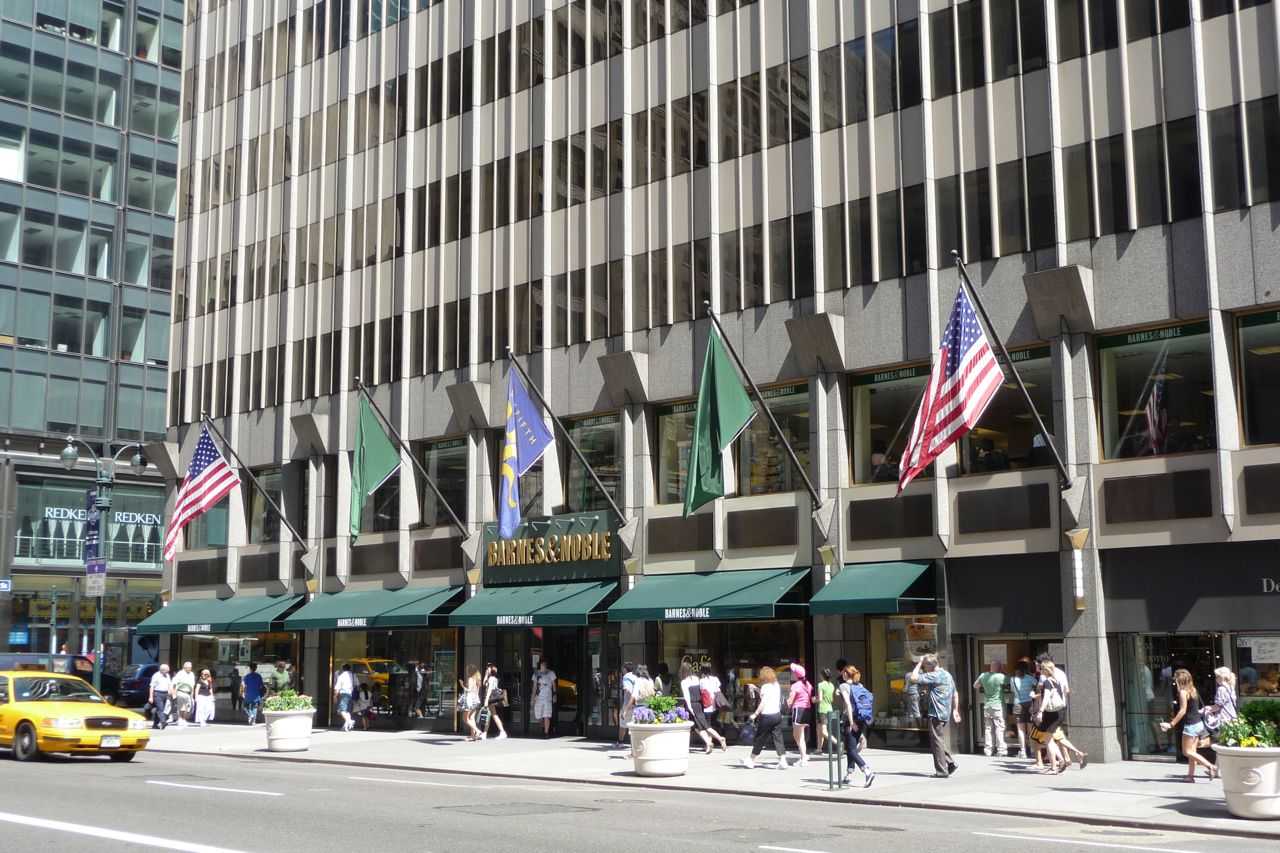 ---
This Barnes & Noble is at 555 Fifth Avenue between 45th and 46th Streets.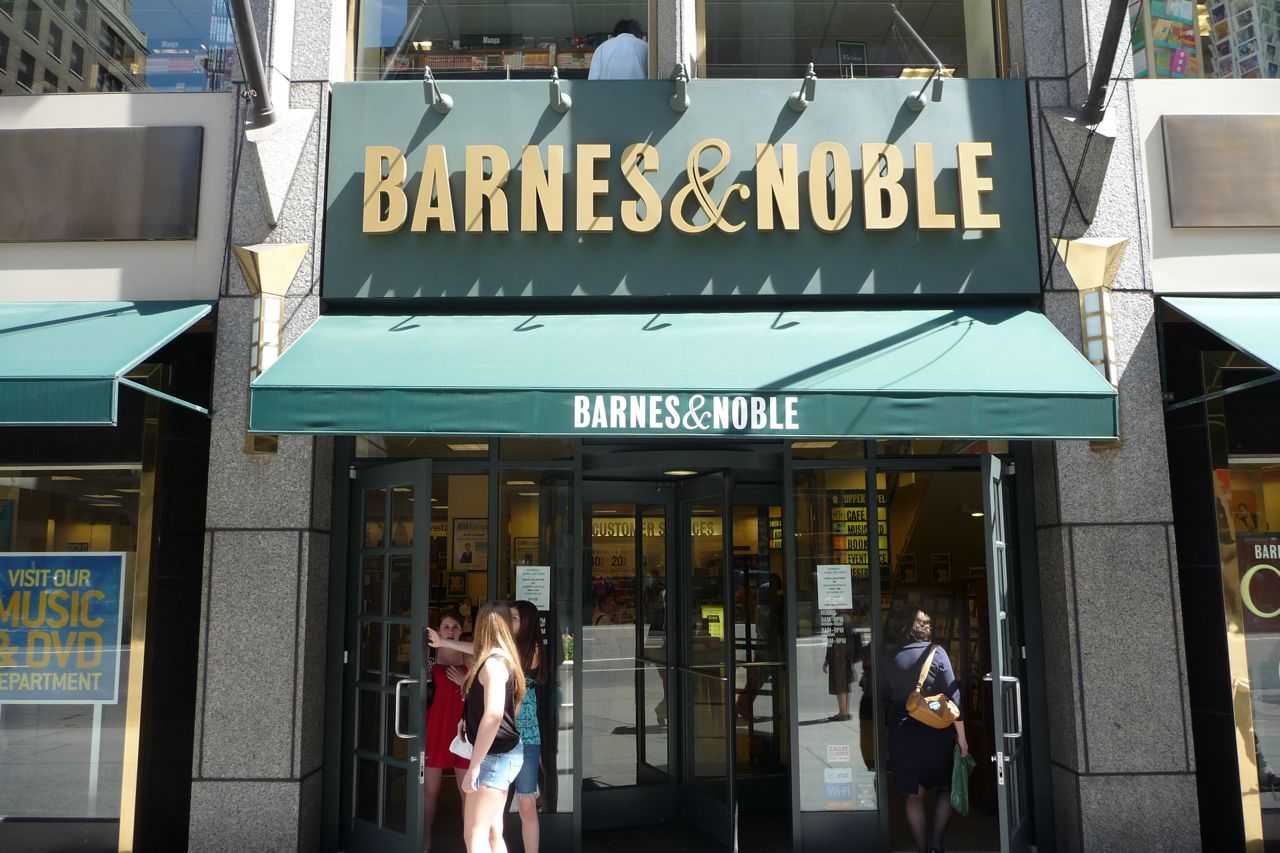 ---
Back to our usual and customary hotel these days, the Marriott Courtyard at 3 E 40th Street, just around the corner from Fifth Avenue. It has a good central location.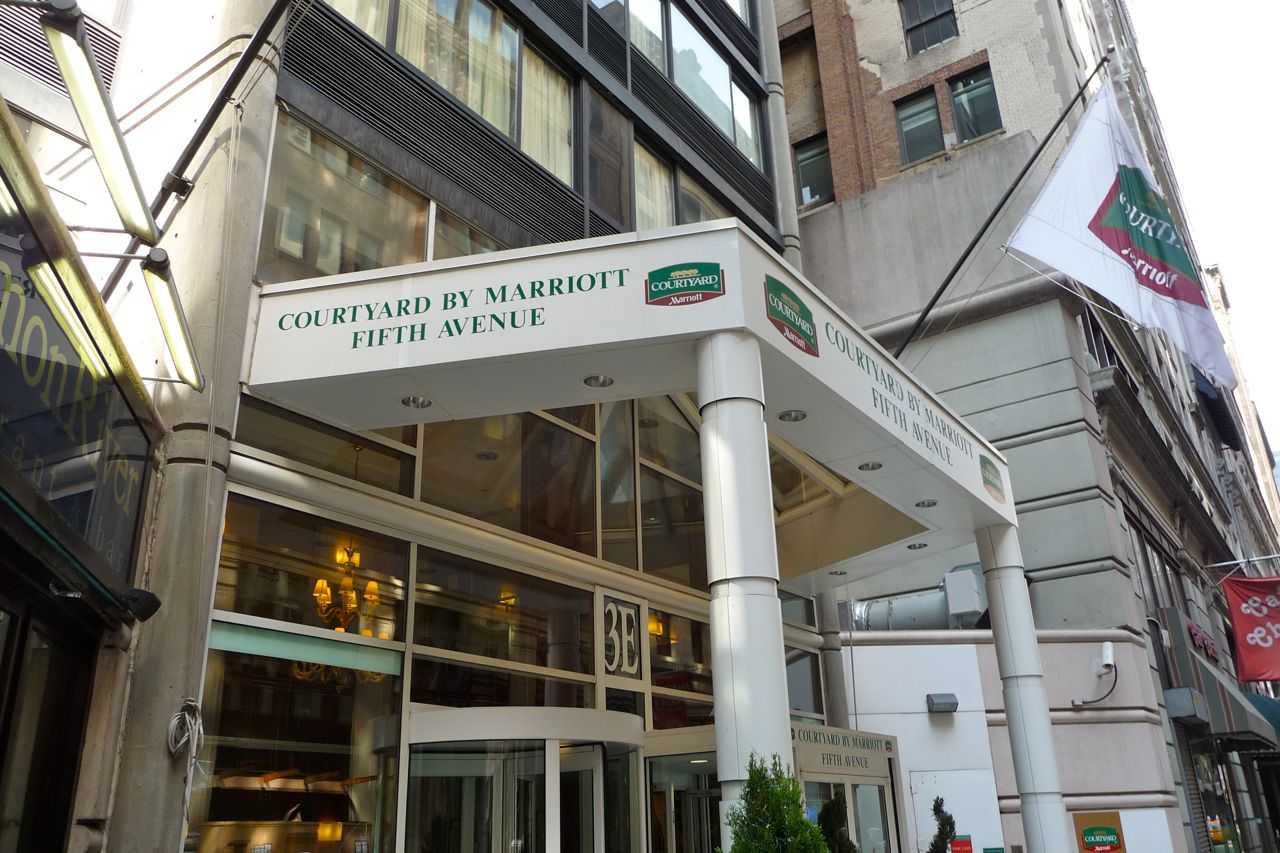 ---
I liked the light in our hotel room coming in on the chair.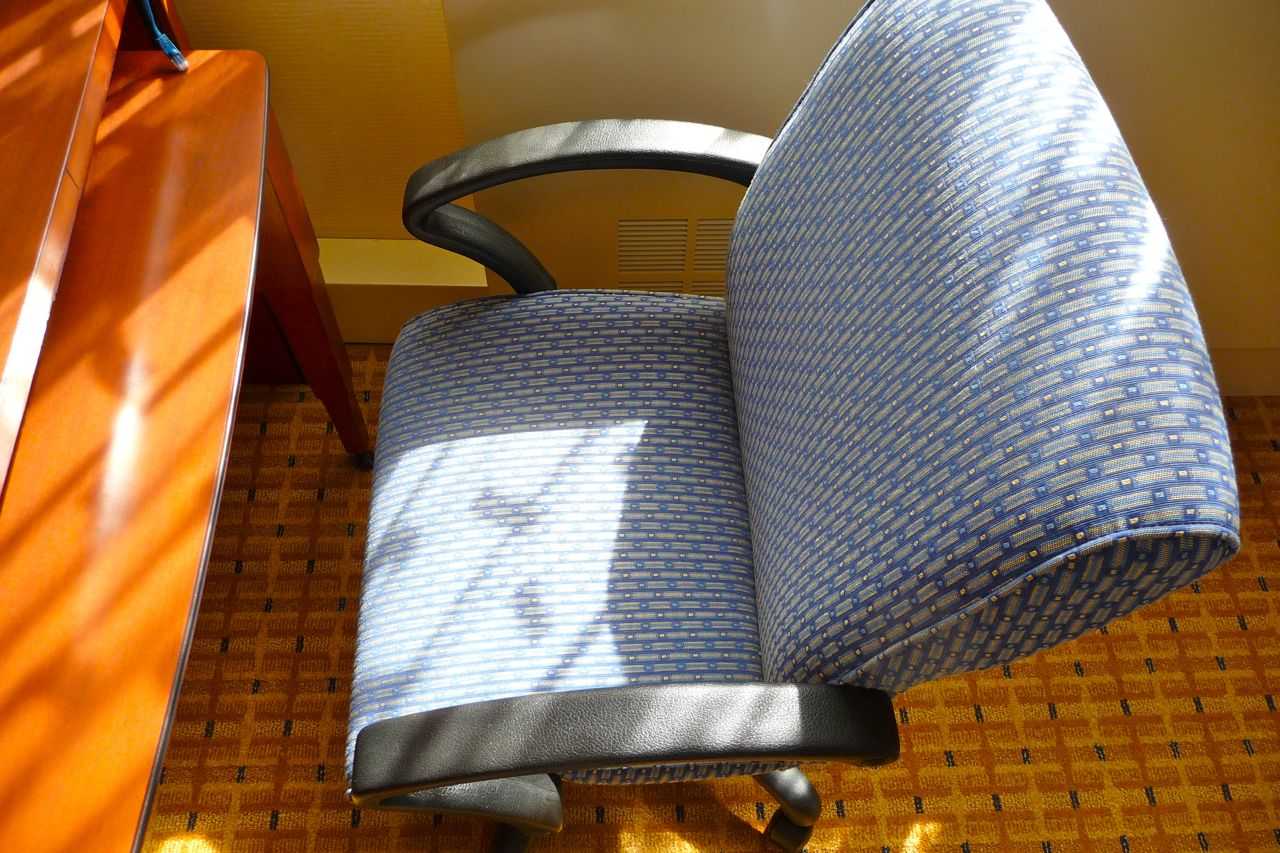 ---
Before we left I bought two new suits from this store around the block on Madison Avenue.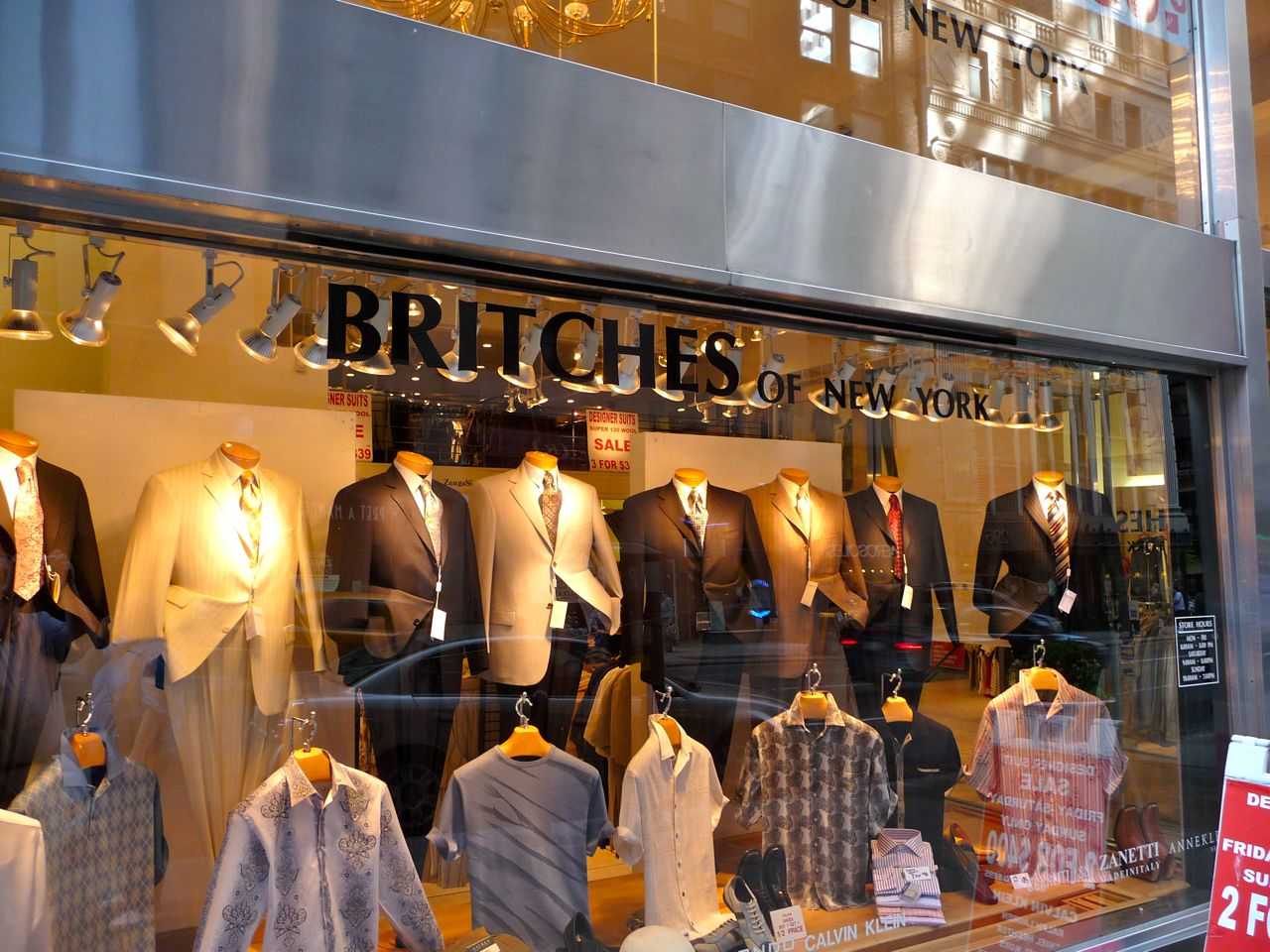 ---
Right next door to our hotel on 40th Street is Cafe Charlie. It is open all night and they have a huge variety of foods, big salad bars, a Chinese food bar, and a grill. They also have drinks, snacks, chips, cookies, deserts, and sandwiches. We go to Cafe Charlie every day at least once. Recommended!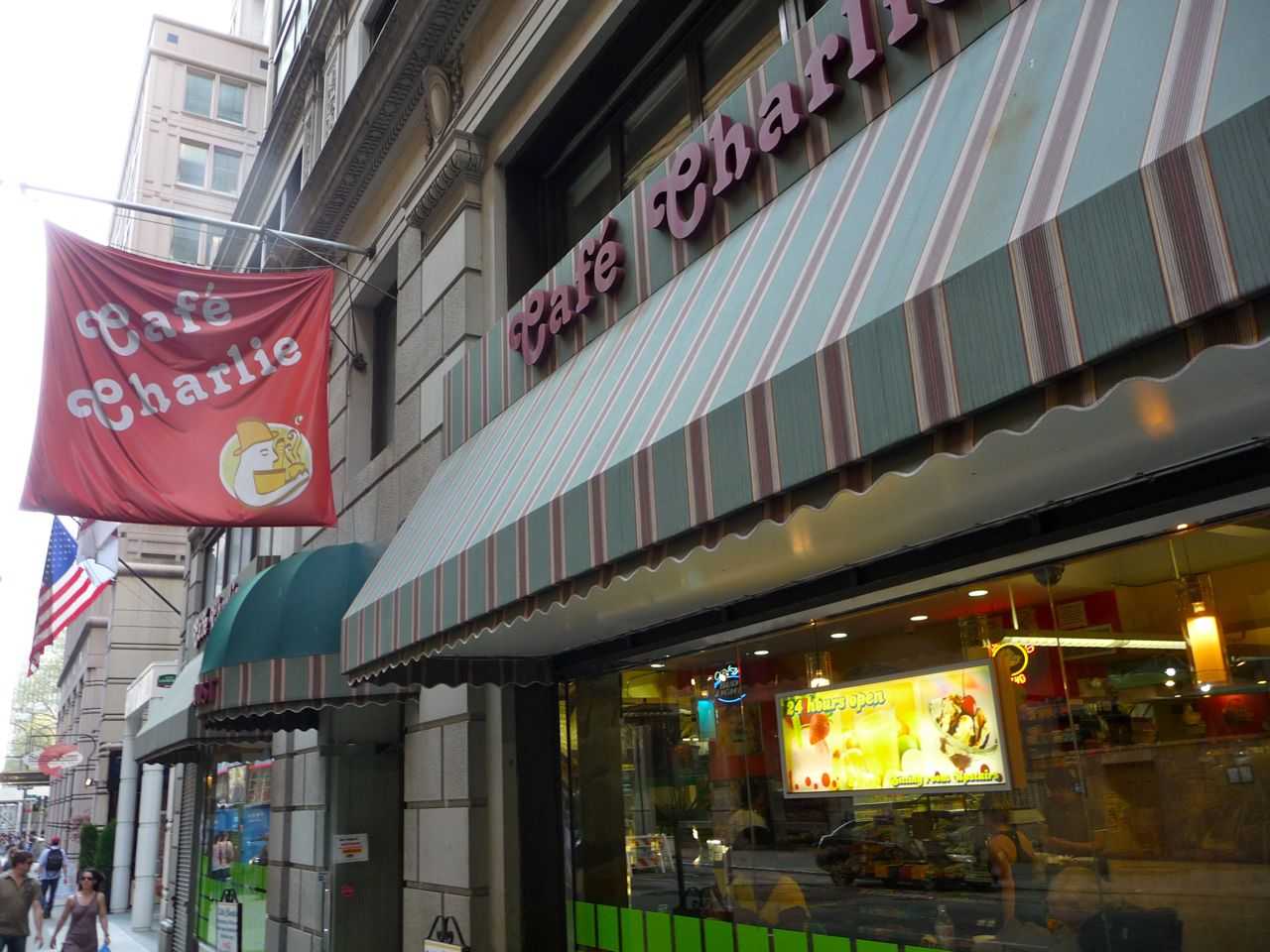 ---
The gals before it was time to go home.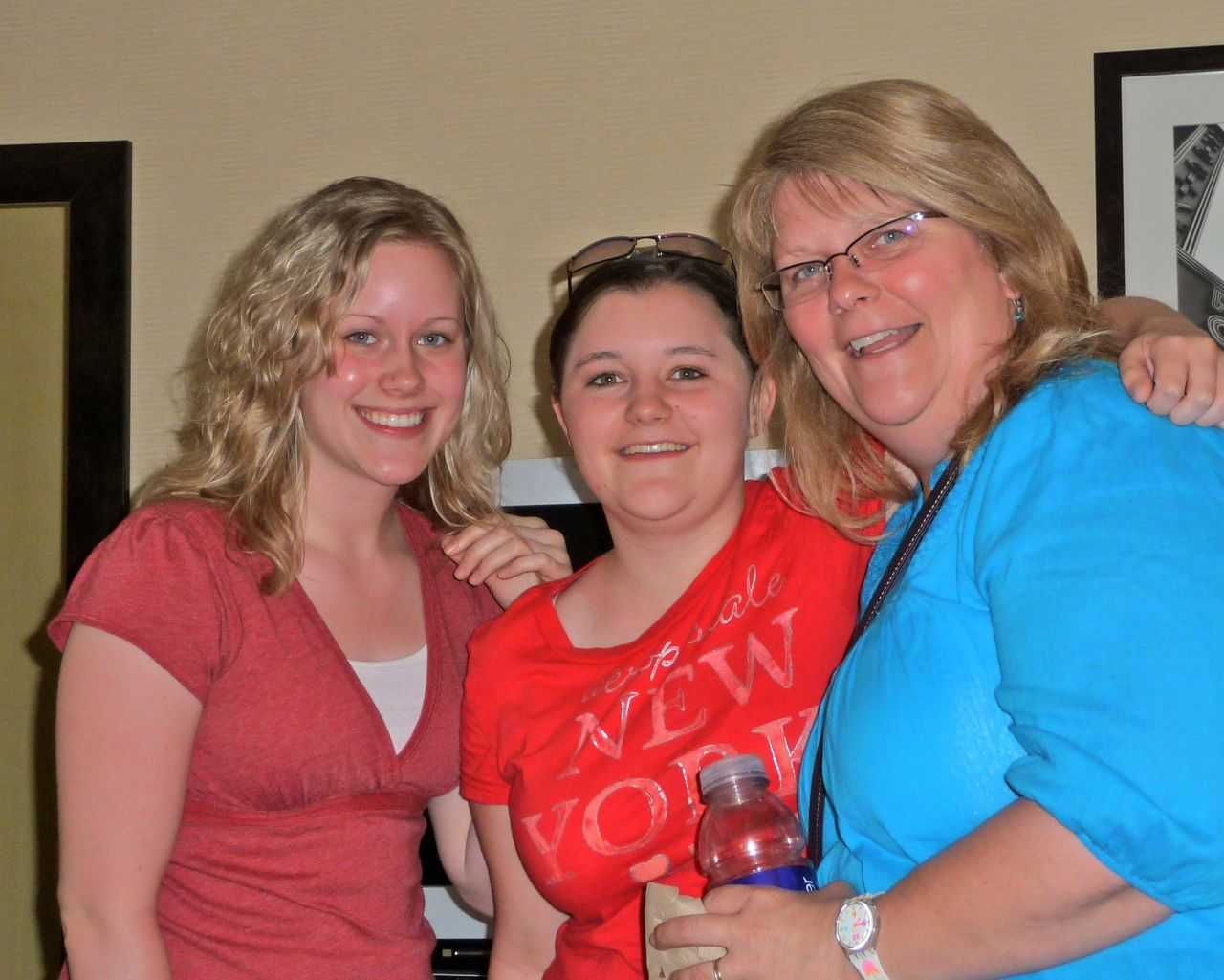 ---
I got a new Tumi bag for the trip home. I like yellow things.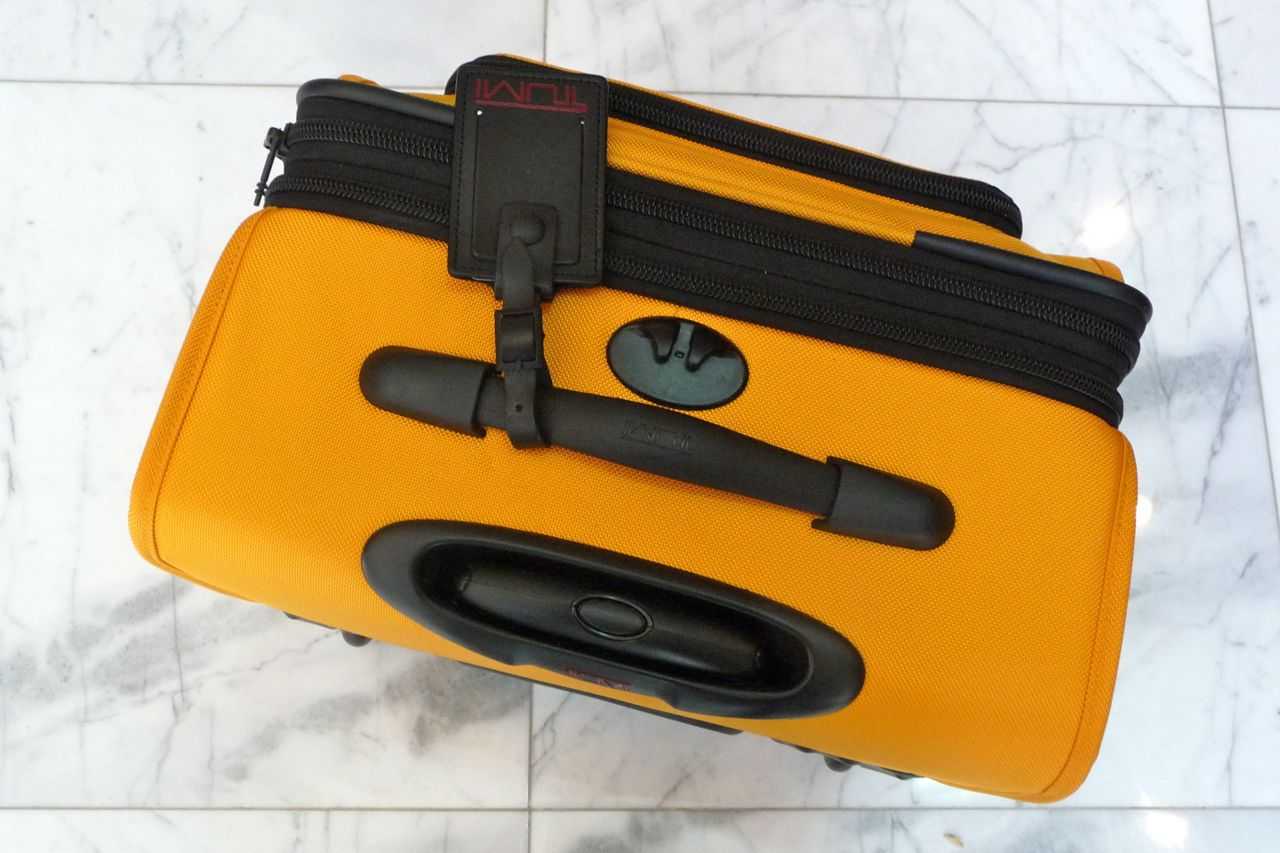 ---
Back to the airport. This huge plane is an Airbus A380, the first one I have ever seen in person. It is the largest passenger airliner ever built, having 50% more room than a 747! It is 240 feet long, has a 262 foot wingspan, stands 79 feet high, and has a maximum take-off weight of 1,200,000 pounds. It has a range of up to 9,400 miles carrying 525 to 853 people, depending upon how they arrange the cabin.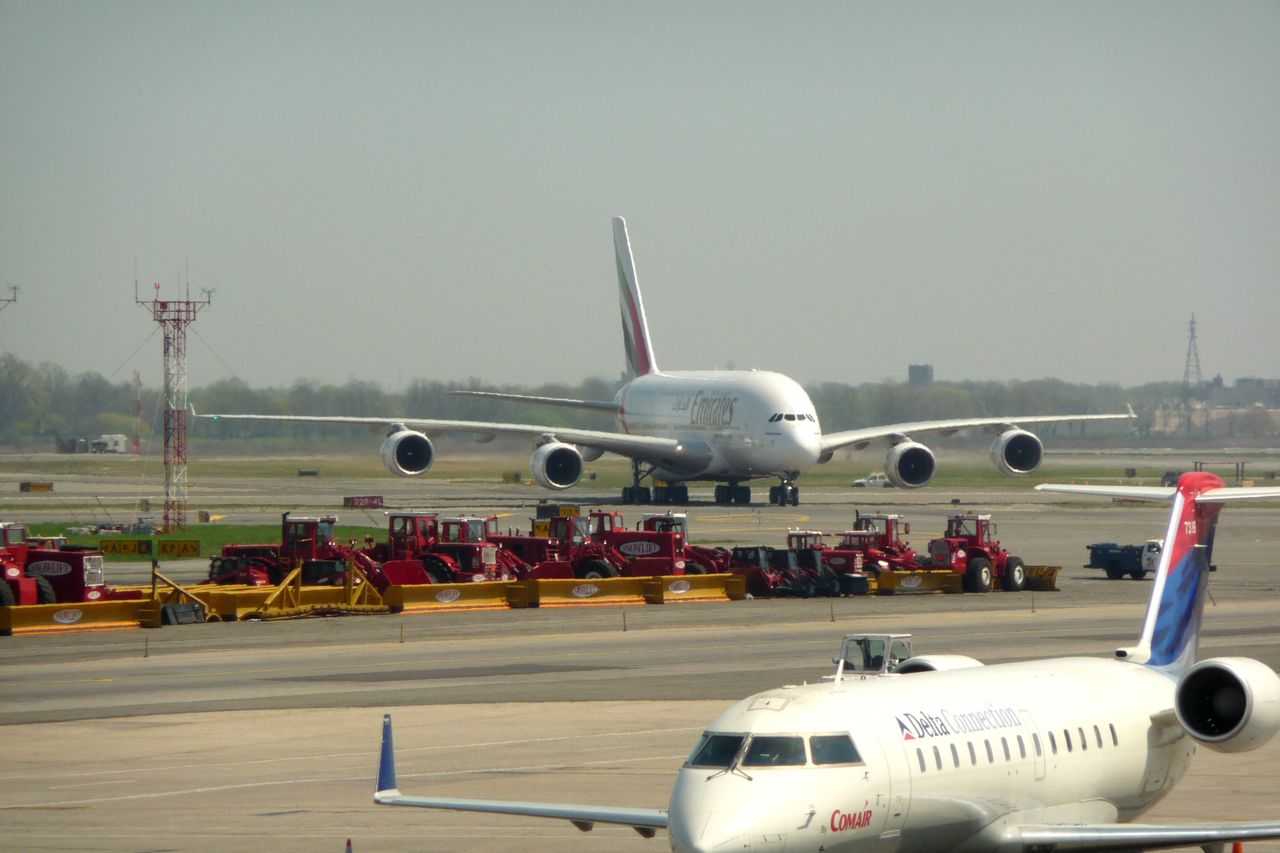 ---
A side view of the Airbus A380.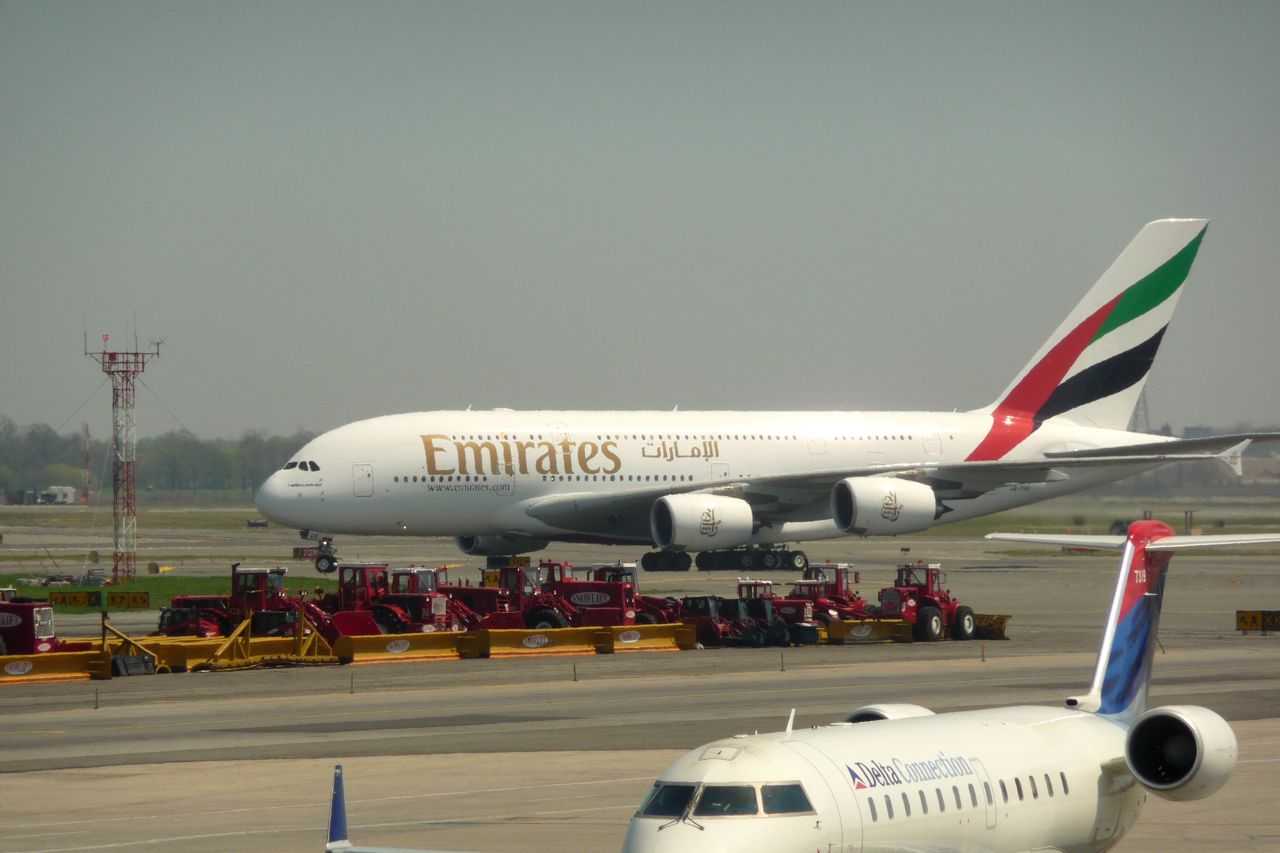 ---
Here was our 757-200. 155 feet long, 124 foot wingspan, 44 feet tall, MTO weight of 255,000 pounds. Seems small now.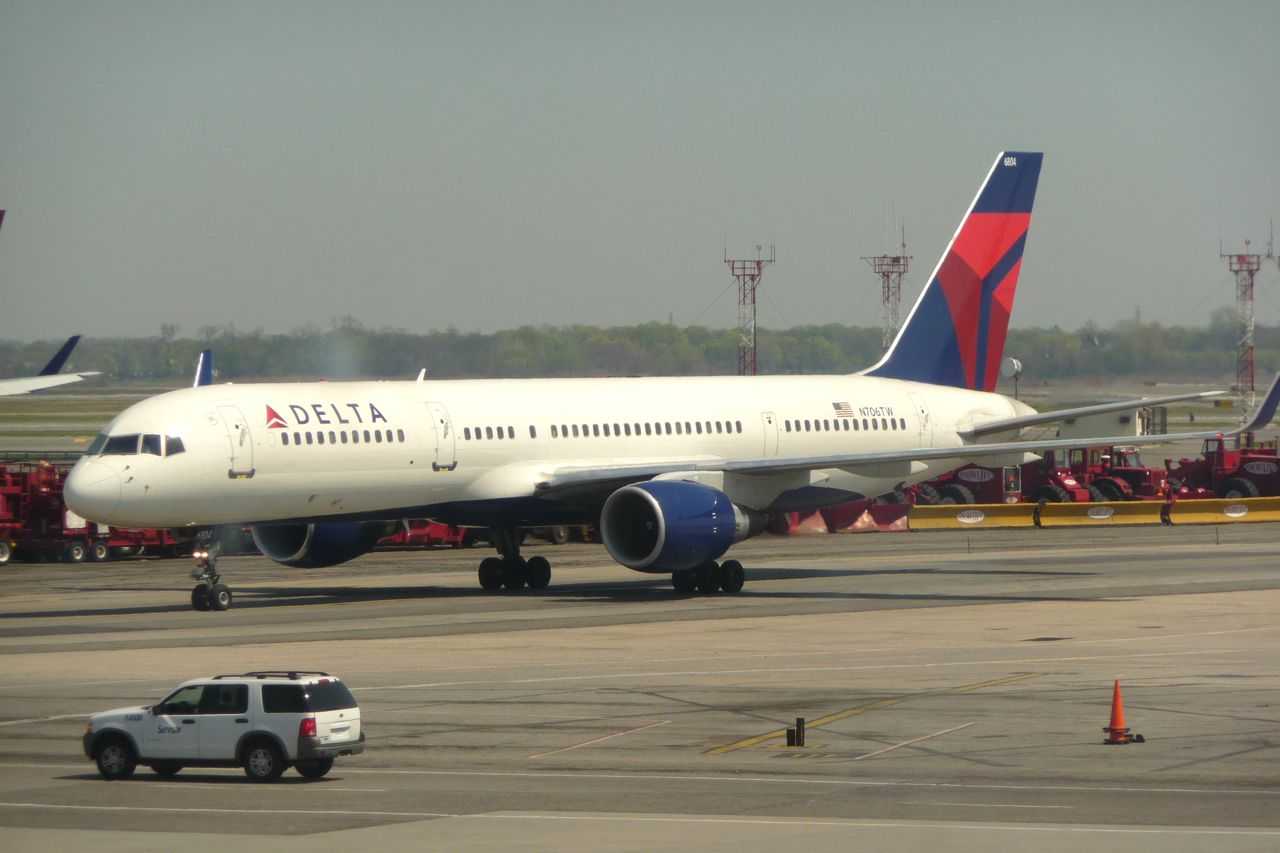 ---
Brigham Young University from the air right before landing in SLC.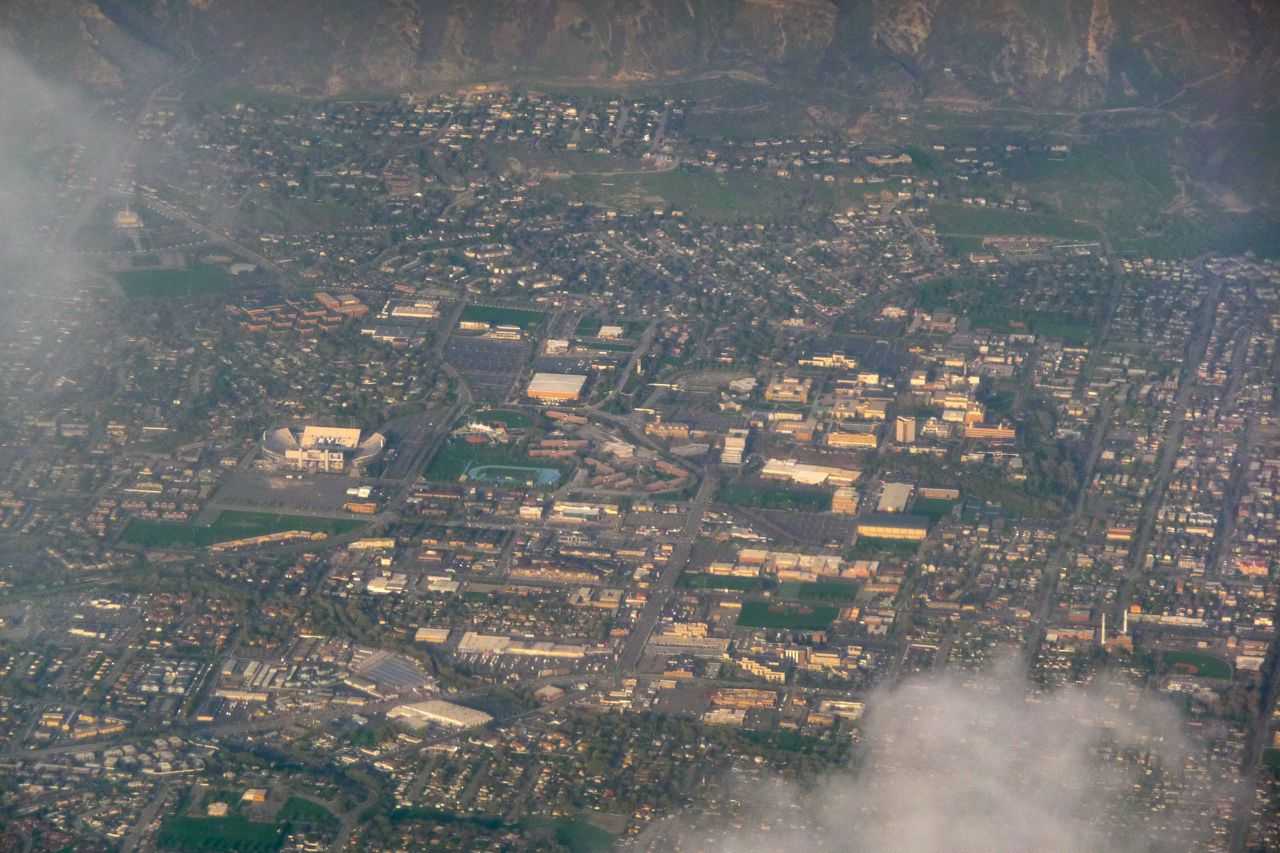 ---
University Parkway in Orem with its many stores.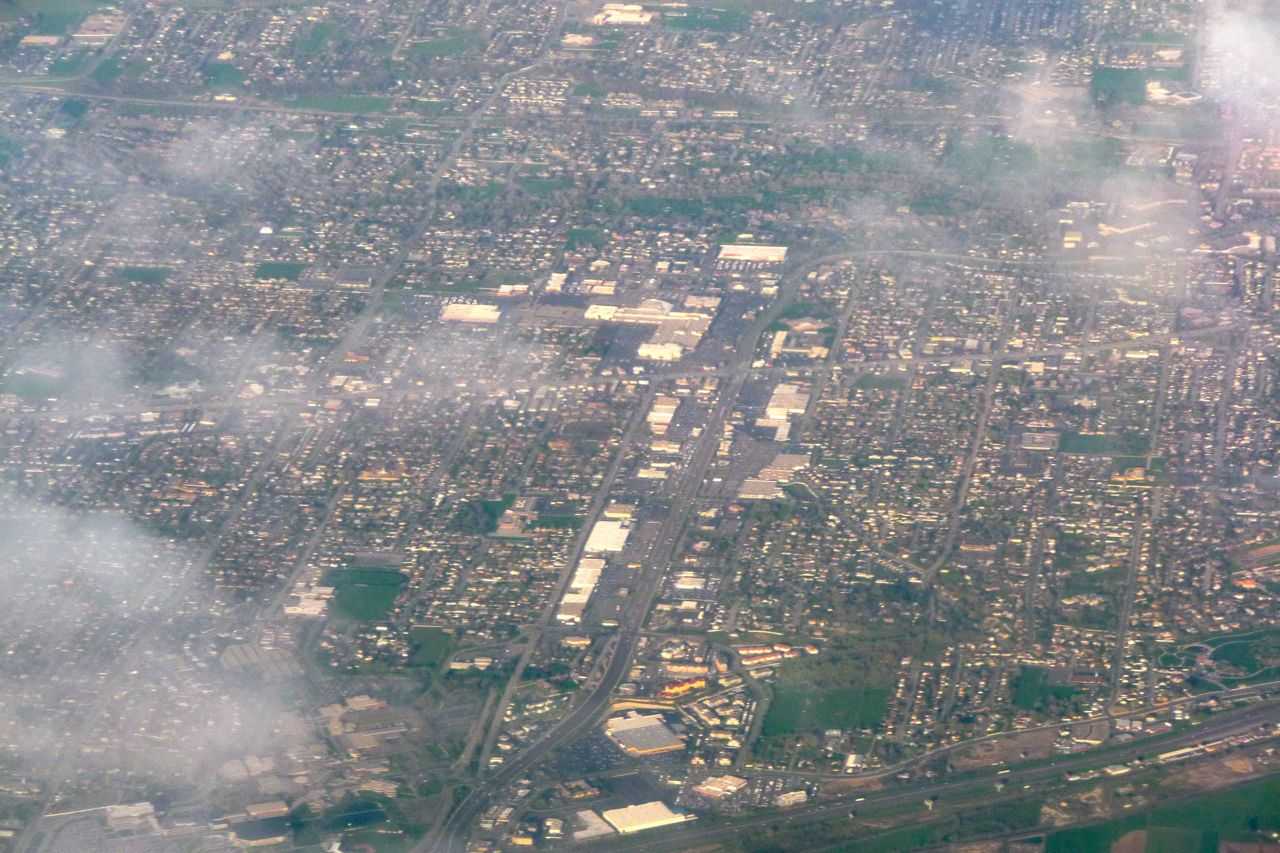 ---
Cabela's in Lehi. I-15 is at the bottom of the photo.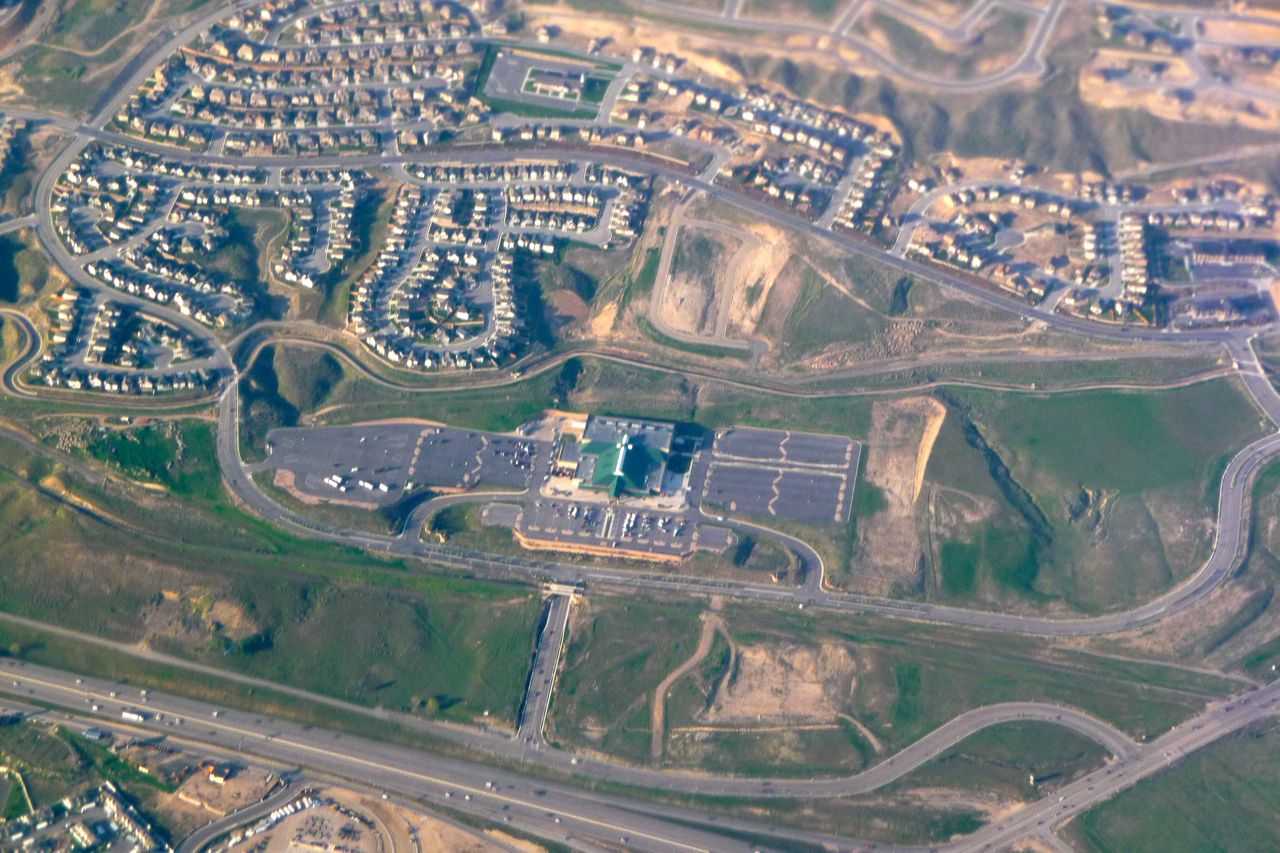 ---
And finally looking east to the Point Of The Mountain. Draper is in the upper left.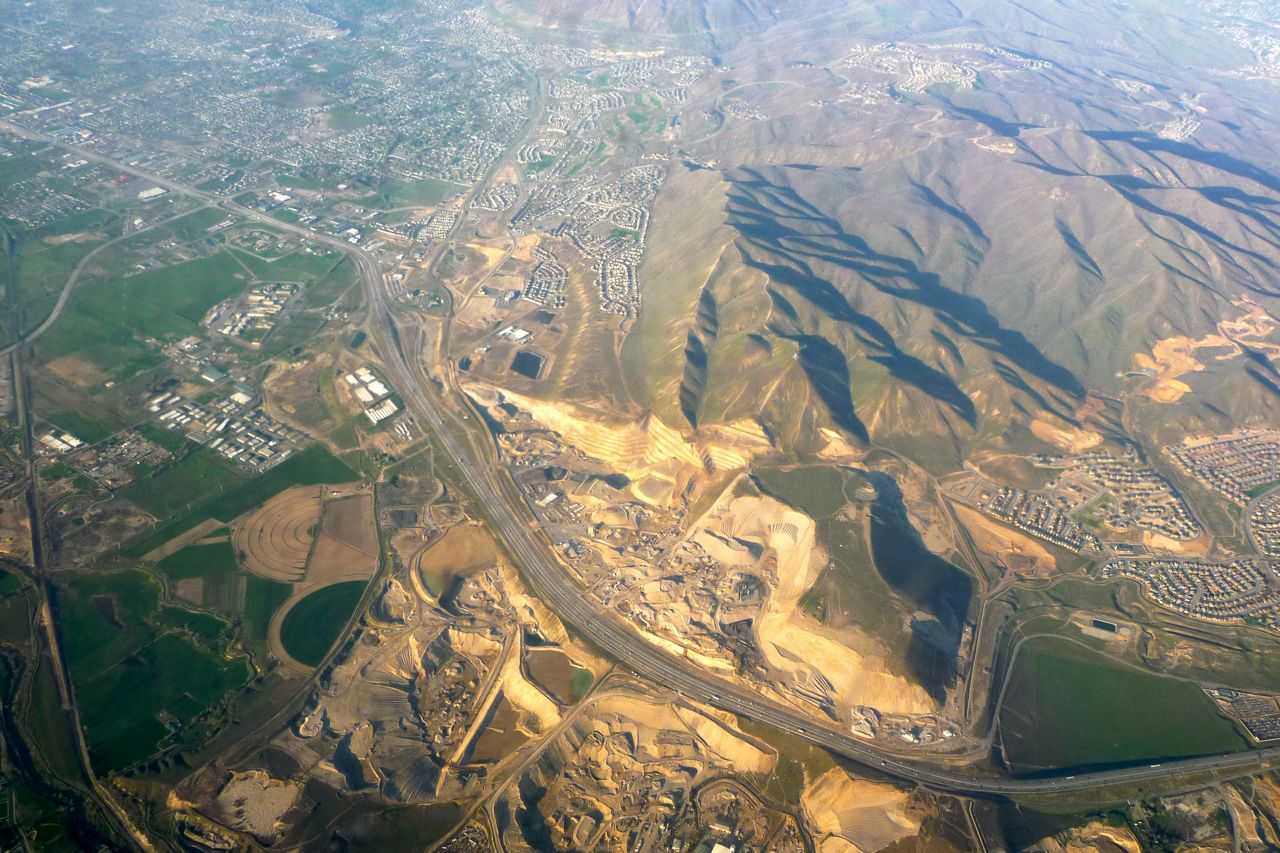 ---
Back to this site's home page.

Created:  30 Apr 2009
Modified: 22 Jul 2009