New Beetle #2
3 years ago at the Orem VW dealer I saw a yellow diesel Beetle, brand new. It had cloth seats, a manual transmission, and a sunroof. It was perfect. However, we already had a yellow Beetle, so I did not buy it.

As a result I have been kicking myself for the last 3 years! I have never seen another for sale. When I have asked dealers, they have shaken their heads and said that they have never seen this combination.

This morning Beth and I took in our VW Jetta diesel and our VW Eurovan to the same VW dealer, for routine oil changes. We dropped the cars off and headed across the street to grab a bite to eat at Chili's while the cars were being worked on. We would have a leisurely lunch and then come back at noon to pick up the cars and drive them back home.

As we walked through the new cars we saw a display of 6 or 8 brand new VW Beetles, each a different color. One was yellow. Like a magnet it attracted us and we walked up to it. The window sticker was on the floor, hard to read. I peered in at the dashboard and saw that the tachometer redlined at 4700 RPM - it was a diesel! Black cloth seats, sunroof, and a 5-speed manual transmission - BINGO!

It may be easier to just show you a picture...
---
Here is our new 2005 Beetle, in our driveway with Mount Timpanogos in the background.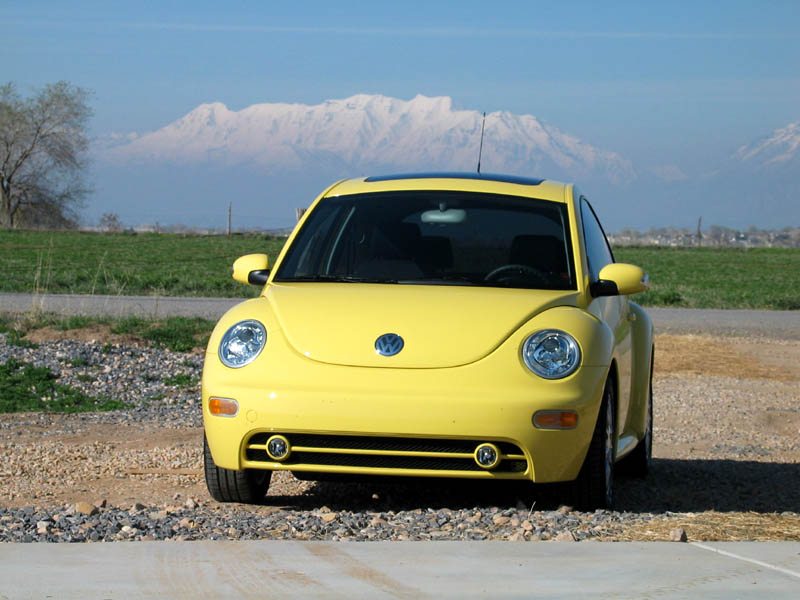 ---
Here is Brigham showing off the fabulous cloth seats. These are tons better than leather: they are cool in the summer and warm in the winter. They are a tight weave so you can wipe up drink spills without them soaking into velour. Insist on cloth seats the next time you buy a car! They do not get old and crack like leather does. They will wear out eventually, but a tight almost Cordura-nylon like fabric seat will last a long time.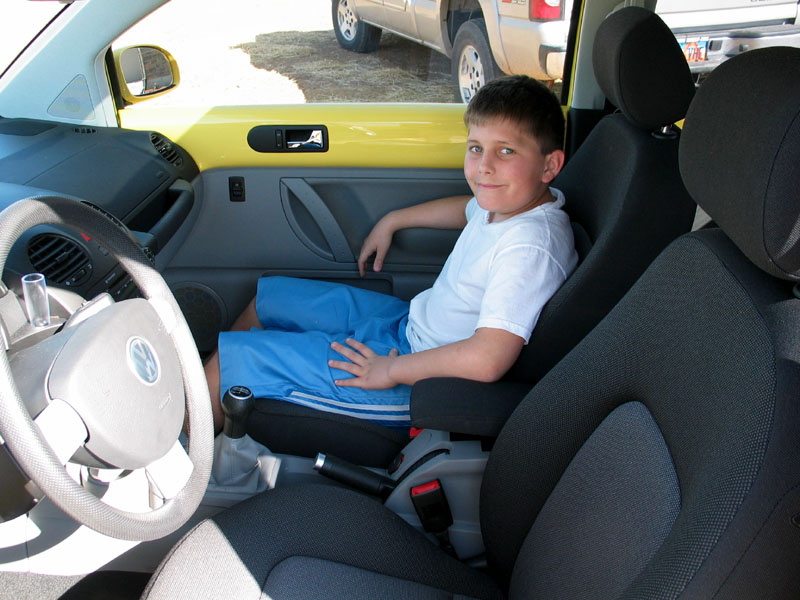 ---
Andrew, shown here on his 17th birthday, is inspecting the new 1.9 L four cylinder turbo-diesel engine, the exact same 100 horsepower 177 ft-lb of torque engine that my Jetta TDI has.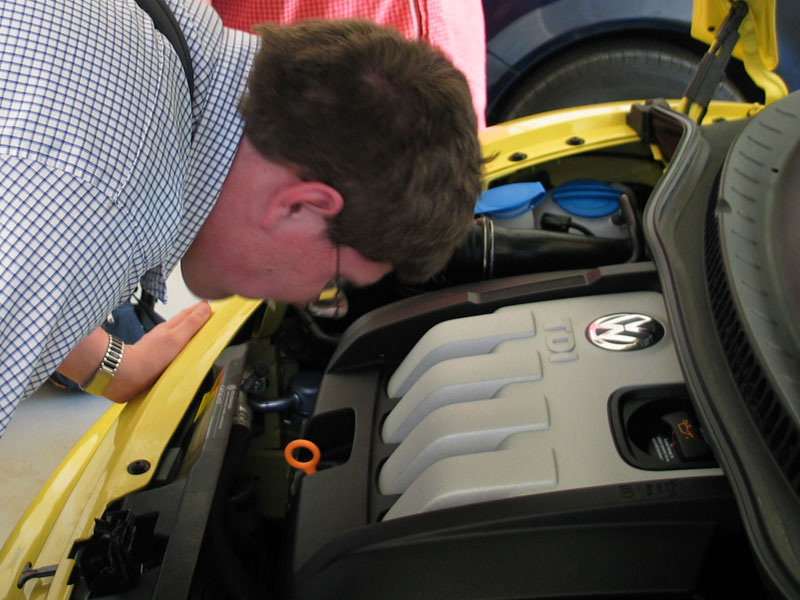 ---
Brigham checking out the twin diesels. 42 MPG in the city, 46 MPG going about 70 MPH on the highway, and 53 MPG going 55-60 MPH on the highway. Even though diesel is 5-10% more expensive these days, it is still one of the most economical cars on the road. $20,200 for the new Beetle before taxes.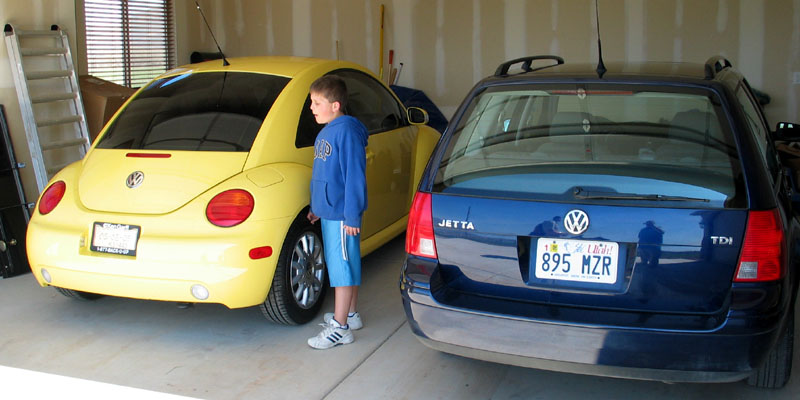 Unfortunately, on August 24th, 2005, Andrew crashed the Beetle and totalled it. It was the perfect car, and new Beetles cannot be had with cloth seats any more. Our insurance however did pay for a new car, and my wife wanted a Mini Cooper instead. This car lived a short life. We should have had it for 10 years...
---
Back to this site's home page.

Created:   6 Apr 2005
Modified: 21 Nov 2005