Puget Sound Trip
After several years of no "Guy's Trip", we went on a trip around the Puget Sound from August 9th to August 12th, 2001. The group gathered for this trip was:
Mike Holm - Captain, Man of No Sleep, Chief Tinkerer
Paul Finlayson - Photographer, Master of Derivations, Professional Napper
Tom Taylor - Communications, Man Who Must Build, Activity Promoter
Dan Allen - Helmsman, Chief Cook and Provisoner, Sunburn Specialist
We determined that Mike and Tom are Producers, while Paul and I are Consumers.
We sailed aboard Mike's High Hopes, a 1981 Nauticat 44. (LOA = 50 feet, LWL = 38 feet, Hull Speed = 8.6 knots)
---
The hardest part of the trip began the day before, when I gathered all of my cool tools and survival items. Which ones to take?

---
It was hard to decide which knives to bring. I decided on the Myerchin marlinspike (far left), the blue L.L. Bean Swiss Army knife (middle), and a Leatherman Micra (not shown). Whew!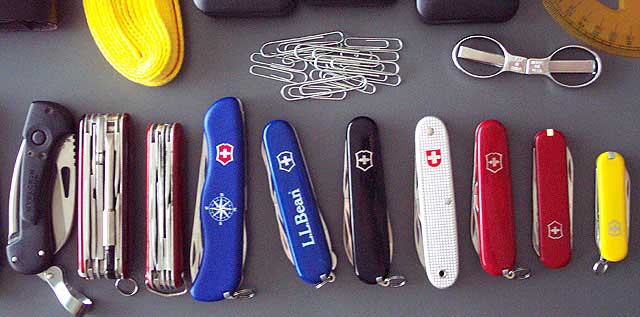 ---
Captain Mike has been sailing for over ten years. Mike really enjoyed relaxing aboard his boat.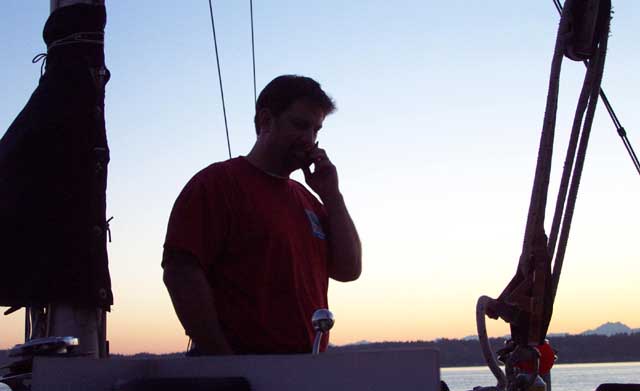 ---
The first night we anchored on the West coast of Blake Island, just a few miles away from Seattle. After this beautiful sunset, we watched the stars at night, with Tom pointing out the Andromeda Galaxy (M-31) at 47 degrees above our local horizon.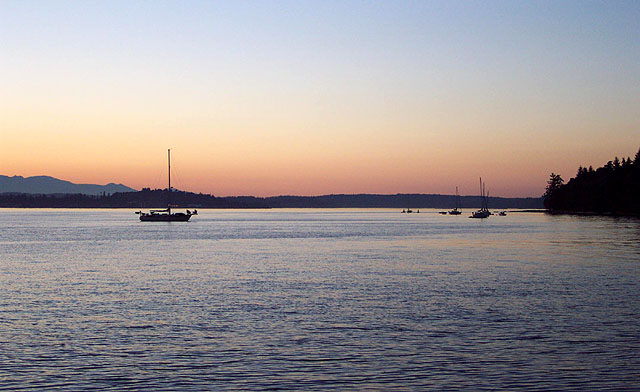 ---
As night came upon us, Tom wanted to hoist a makeshift antenna for hooking up his Elecraft K2 radio which he has built. This interesting radio has a built-in 12V battery and can transmit using 15W of power. He has talked with over a hundred countries on it, but our results were not as good as usual: we talked with Hawaii and heard from the Cook Islands, and parts of Europe.
Here we see the Captain hooking up a halyard to hoist his makeshift wire antenna aloft.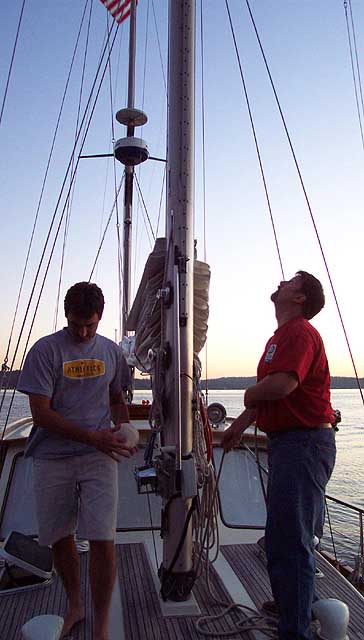 ---
Here Tom and Paul discuss shortwave radios. The radio Tom built is on the table.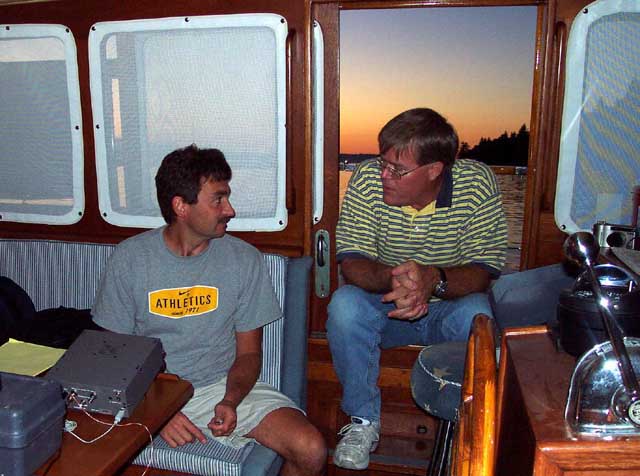 ---
The next morning Tom rowed him and me to shore in the dinghy. Here is the view of the ship as we neared shore.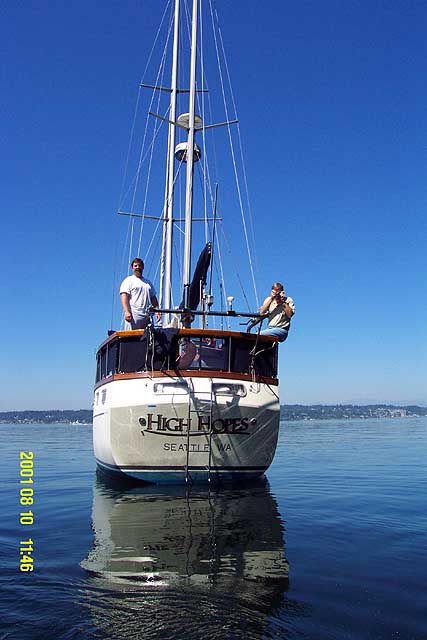 ---
The view from Blake Island looking west.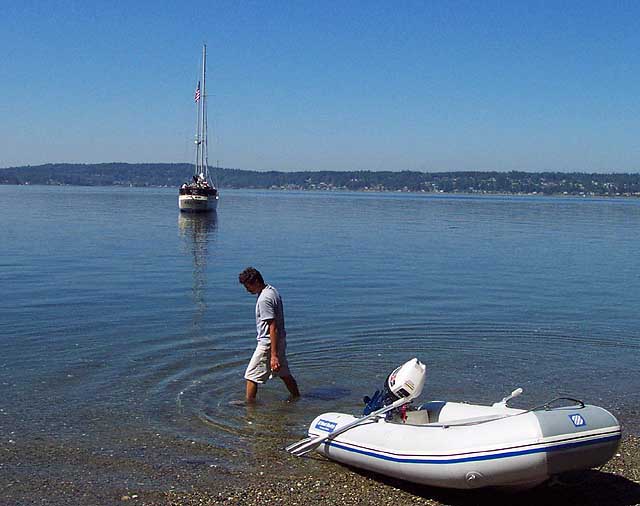 ---
I got sunburned.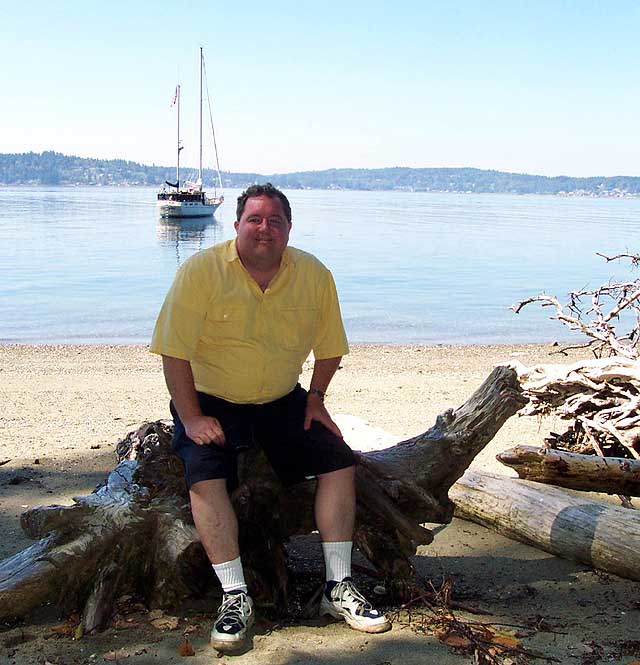 ---
High Hopes is a nice ketch-rigged sailboat, which means that it has two masts, and the rear mast is aft of the helm.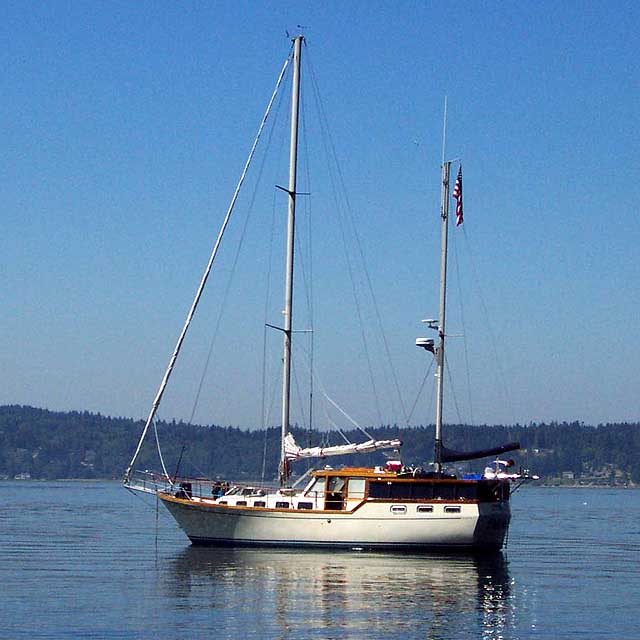 ---
After a walk along the beach we returned to the ship.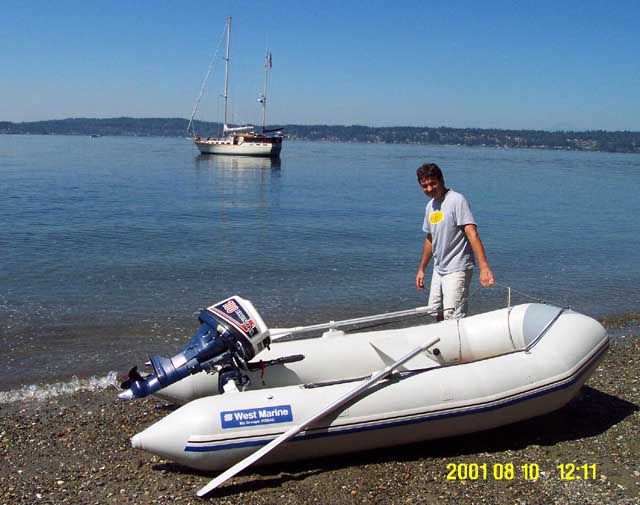 ---
We saw one of the new Nordhavn 35's. This photo was taken through a pair of Fuji 7x50 binoculars. The line is from the binoculars.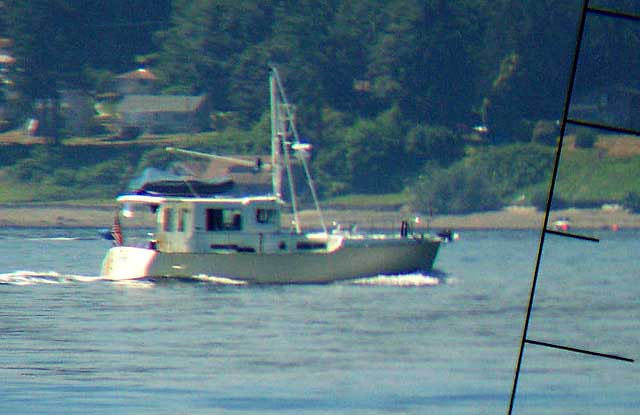 ---
We next went to Bremerton, the home of a large Naval shipyard.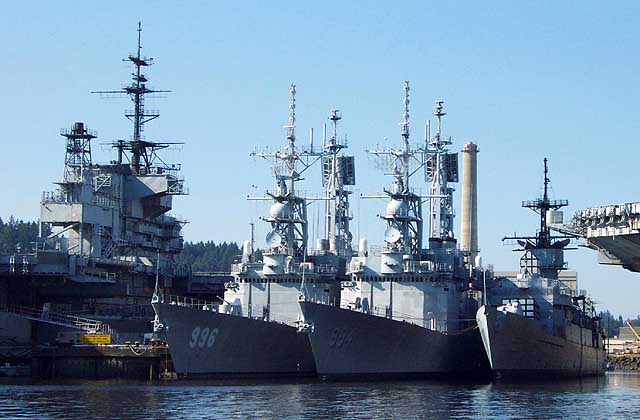 ---
This is the World War II aircraft carrier MIDWAY. It has been decommissioned for years and is in storage at Bremerton.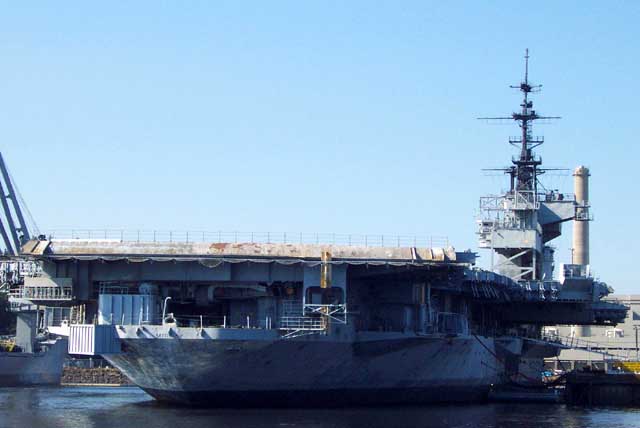 ---
That night we anchored in the bay between Bremerton and Port Orchard. Paul made us hamburgers on a gas grill outside while Tom made us a very nice salad.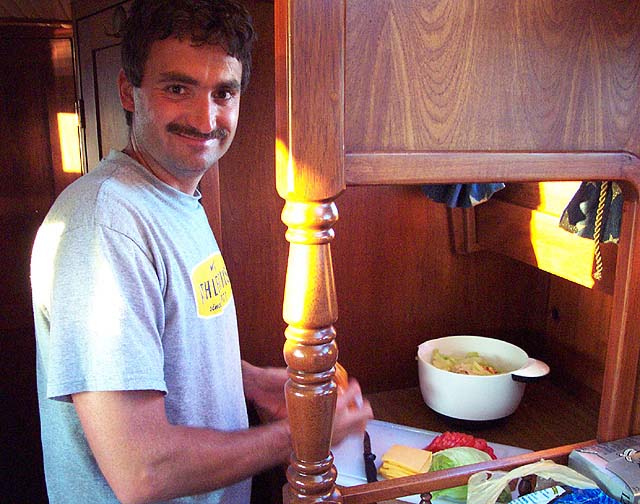 ---
The next day we went to Port Orchard for showers and such, and then headed to Poulsbo. As we arrived in Poulsbo our friend Randy Hamblin was just arriving from Seattle in his Willard 36 called "Saga". We enjoyed a great visit with Randy and his wife Nancy.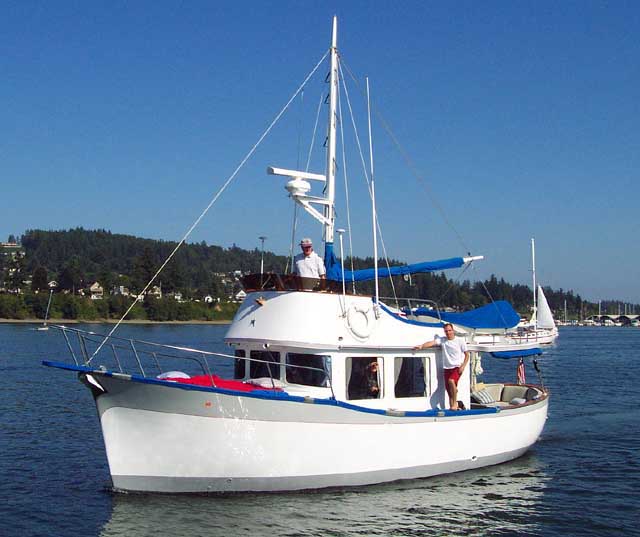 ---
When in Poulsbo, one must always hit the bakery!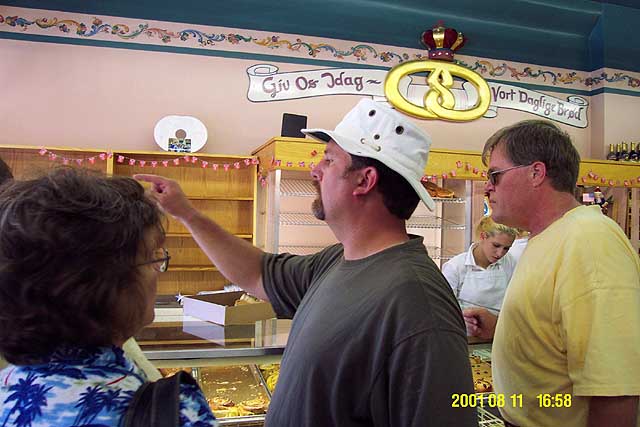 ---
We got from our boat to town and back by hitching a ride with Randy on his boat while Mike's boat stayed at anchor.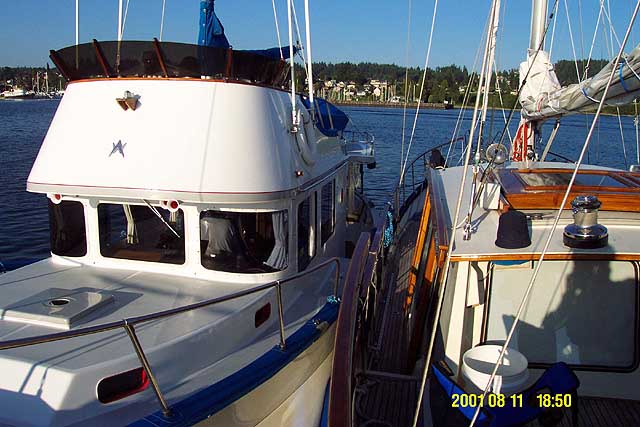 ---
Mike has a lot of lines on his boat.
---
The next day Tom talked me into going for a swim in the 67 degree water. This is me just after I jumped in.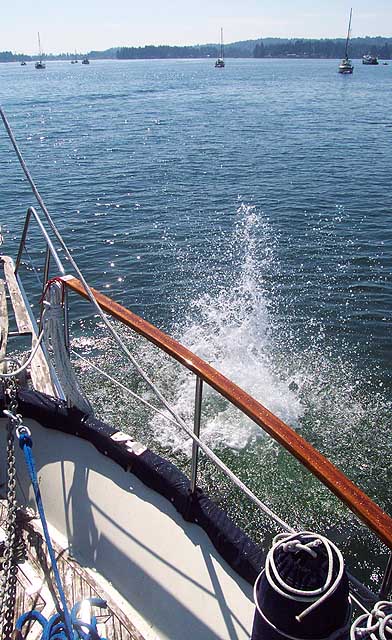 ---
When I came up to the surface I really was glad to breathe. I also gulped a bunch of seawater, which wasn't that tasty. I haven't jumped in from a height into water since I was 17. I am glad that I did it. The water was actually not too cold.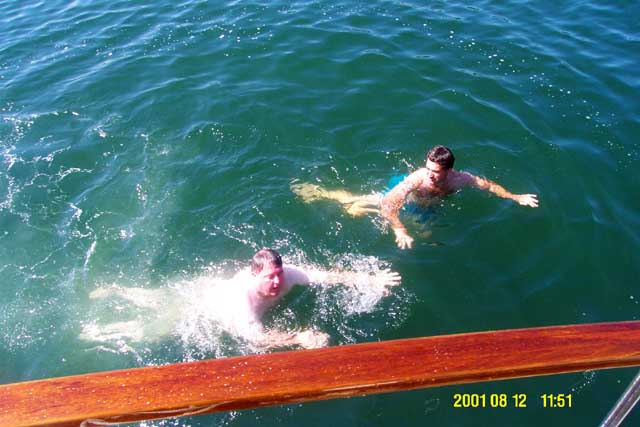 ---
After swimming around to the back of the boat I had to climb out of the water and up the ladder, the hardest physical exertion of the trip. Here I am pretty exhausted.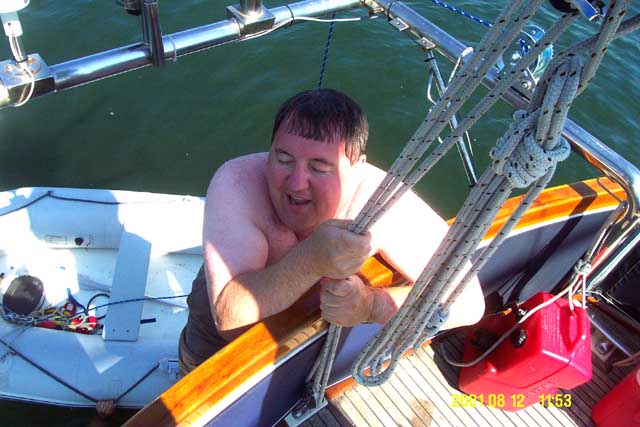 ---
Tom continued to jump and dive from higher and higher spots.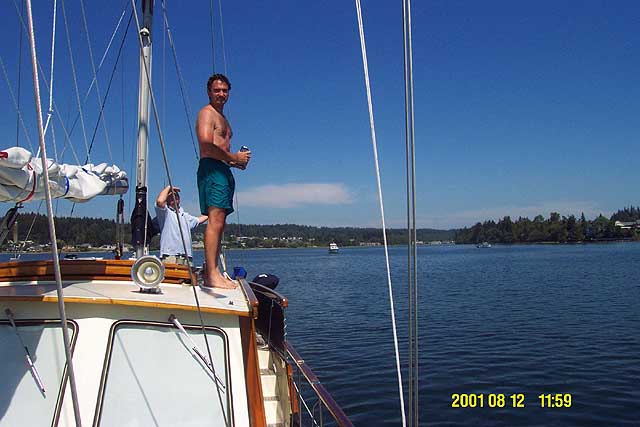 ---
This is Tom after going in from the top of the pilothouse.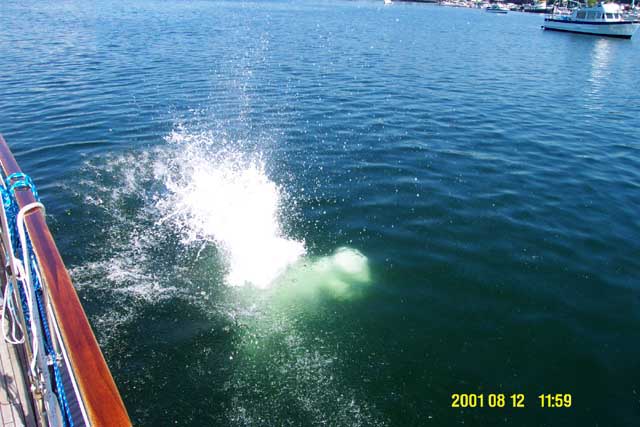 ---
We kept seeing this biplane/float plane fly past us in the bay at Poulsbo. Fun!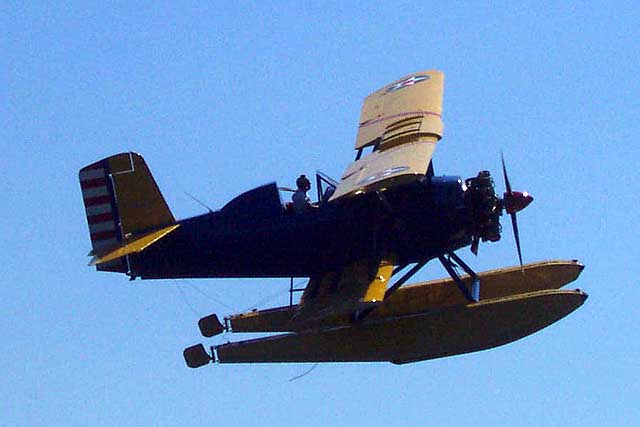 ---
On the final day we got some wind and sailed back to Seattle. We got all three sails up and hit 6 knots with about 10 knots of wind. What a great trip!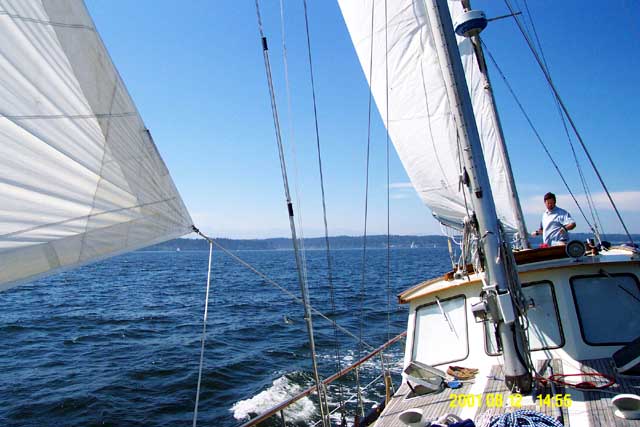 ---

Created:  13 Aug 2001
Modified: 22 Sep 2001