S350 Center Console Contents
---
It is comforting to carry some essentials in the car, in case of emergencies.
In my door compartment I have a few Zebra pens, two pair of sunglasses, and one pair of reading glasses. In the trunk I have two hats, two bottles of water, and a Ziploc bag full of gorp (Good Old Raisins and Peanuts). I have a small duffel bag in the trunk with a warm hat, a pair of gloves, a couple of blankets, and a pillow. Also in this duffel bag is a Mercedes-Benz First Aid Kit which contains:
10 Plastic Adhesive Strips, 3/4"
4 Extra Large Adhesive Strips
4 2" Non-woven Gauze Pads - 1/pack
4 3" Non-woven Gauze Pads - 2/pack
2 Stretch Gauze, Sterile
2 2" Roll Gauze, non-sterile
1 3" Roll Gauze, non-sterile
1 Triangular Bandage with 2 safety pins
1 Survival Wrap Emergency Blanket
1 Adhesive Tape, Latex-free
1 First Aid Instruction Booklet
1 Scissors
The more interesting items are in my center console compartment. Here they are: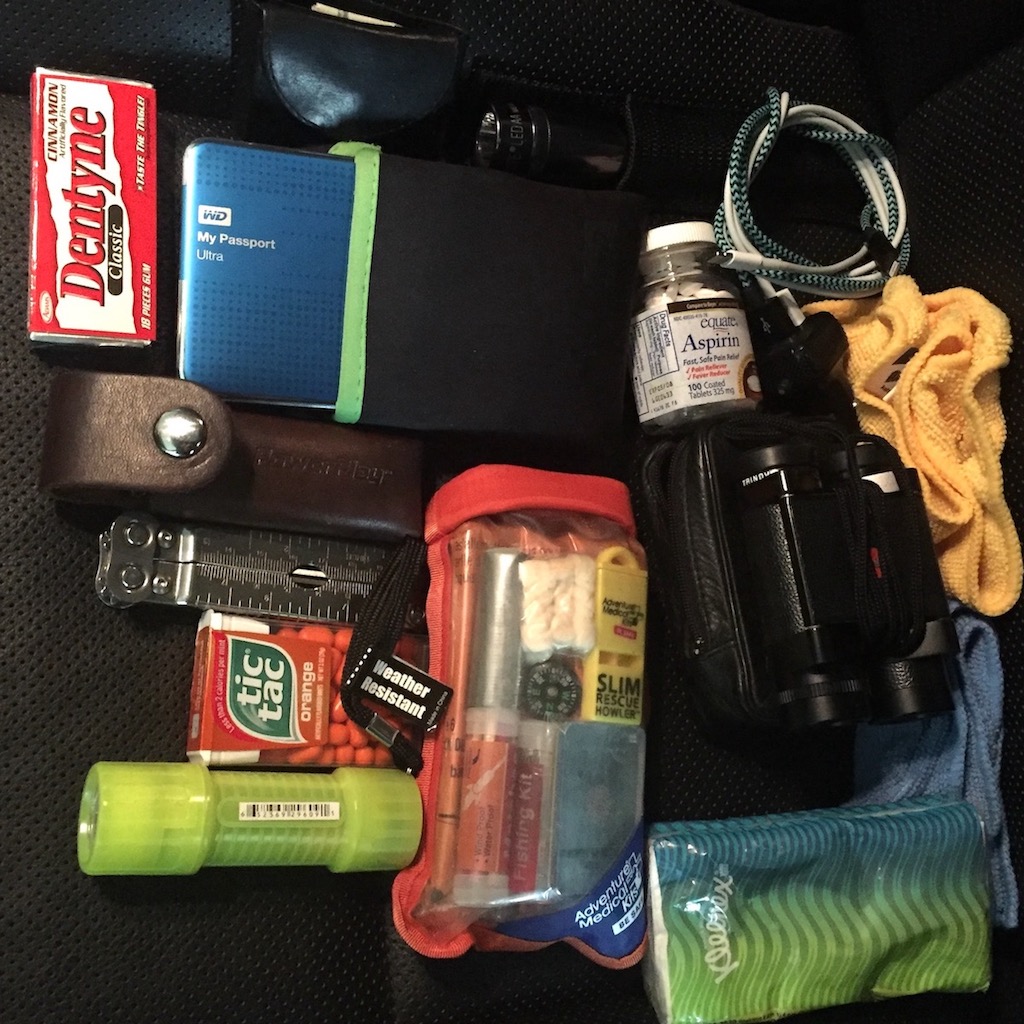 Starting in the upper left and going clockwise, I have:
1) a pack of Dentyne gum,
2) a Western Digital Ultra 2 TB hard drive with a backup of my most important files,
3) a small leather coin purse with some cash and coins,
4) a 2 AA Maglite flashlight and sleeve,
5) a bottle of aspirin,
6) a double USB 12V charger with two Apple Lightning-USB cords,
7) two microfiber clothes to clean iPhones and glasses,
8) a pair of Leica 8x21 Trinovid binoculars and case,
9) a small package of Kleenex,
10) a small Adventure Medical Survival Kit,
11) a small LED flashlight,
12) a box of orange Tic Tacs,
13) a Paladin PowerPlay multitool and case.
I also have several tins of Altoids (not pictured).
Keeping a spare hard drive with my files on it gives me great peace of mind. I update it every week, so I suppose it is the item I use the most!
---
Back to this site's home page.

Created:  8 Nov 2017
Modified: 4 Mar 2019