Tofino, British Columbia, Canada
49°8.014' N, 125°54.580' W
My wife and I decided we were ready for some quiet time together, so we went to Tofino, British Columbia. This very out of the way place in a high latitude was extremely remote, but wonderful for a few days away from it all.

We learned of Tofino from a friend I used to work with, Edit Marcinkech. She had taken a well earned vacation with her husband to the Wikkaninnish Inn in March of 1999 and told us to get room #309 there and stay for 3-4 days. Prices there have risen, and the exchange rate has worsened throughout this year, so we decided to go and see what other places were available.

We left at 6:00 AM Tuesday May 13th 2003 from North Bend. We took my Audi A4, with Quattro, a great car for the drive.

Driving North from America we crossed the border in record time (no wait at all at 8 AM on a Tuesday morning) into Canada. We drove to Tsawwassen, a little spit that has nothing but a massive ferry terminal for hourly ferries to Victoria, and the occasional ferry service to Nainamo, also on Vancouver Island.

We took a 10:15 AM ferry from Tsawwassen to Nanaimo, a two hour 36 nmi ferry ride. The large BC Ferry travelled at 20 knots according to my GPS. Since we had been up since 4:30 AM, we napped the whole way across in our car, on the top car deck of the ferry. It was not until 3/4 of the way across that I realized we were going backwards! None of the sensations indicated this. Normally the ferry travels in the direction that you board it but this ferry had turned around -- without us noticing -- and we were travelling backwards. It turned around again when we arrived at Nanaimo, allowing us to exit as we had originally expected.

Nanaimo has seen better days. Some of the downtown of Nanaimo is terribly run down, with the bathroom -- washroom as they say in Canada -- inside a McDonalds being locked with a key! I've never seen that before. Canadians are so obsessed with safety that it is killing their country in my opinion. The lower ferry decks are locked so no one can go out on them, unlike the American ferries, but I digress.

In Nanaimo we saw Tim Horton restaurants everywhere. They were packed as well so we decided to see what they sold. We stopped at one and learned that they are like a "DD (Dunkin Donuts)" so we each got something and continued on our way for a healthier meal. We saw another place packed, went in, and found that at this restaurant everything was fried. I ended up having eggs and bacon while Beth had a fried sampler. They could use better restaurants in Canada, and better Pepsi salesmen too, as everyone serves Coke in Canada, but I digress once again.

We then began our drive across this largest island of the Northern Pacific Ocean. You would never know you are on an island. It is huge, being the same size as Taiwan (12,076 square miles) or about the length of of Ireland, 286 miles. Its width varies from 31 to 50 miles. At Port Alberni in the middle of the island we waved goodbye to our last Tim Horton's and McDonald's, and entered a very remote, untouched and unspoiled area. Mountains reach as high as 8,799 feet (Mt. Golden Hinde in the geographic center of the island), and there was a lot of fresh snow on the mountains. Beautiful lakes and rivers, and massive forests abounded, but with nothing around: no cabins, no stores, no boats, no marinas, no dirt roads, and no people. And so we drove for four (!) hours crossing this huge island when we finally came to the West coast of Vancouver Island, the Pacific Ocean proper, and we headed North to Tofino.
---
Tofino is the end of the road. It has one grocery store, one pharmacy, one very small hospital, a church or two, and maybe 8 restaurants, with a population of about 1,466 people in 2001, although it looks like only 100. There are 585 households. The population has grown 25% in the past five years, but Tofino is only 4 square miles in size so there is not much room left to grow. Average income is C$38,904, with tourism and fishing being the main industries. About a quarter of the population never graduated from high school. 53% of the population have no religious affiliation, 24% are protestant, and 12% are catholic.
Here is a map of our route (highlighted in green) which we took across Vancouver Island: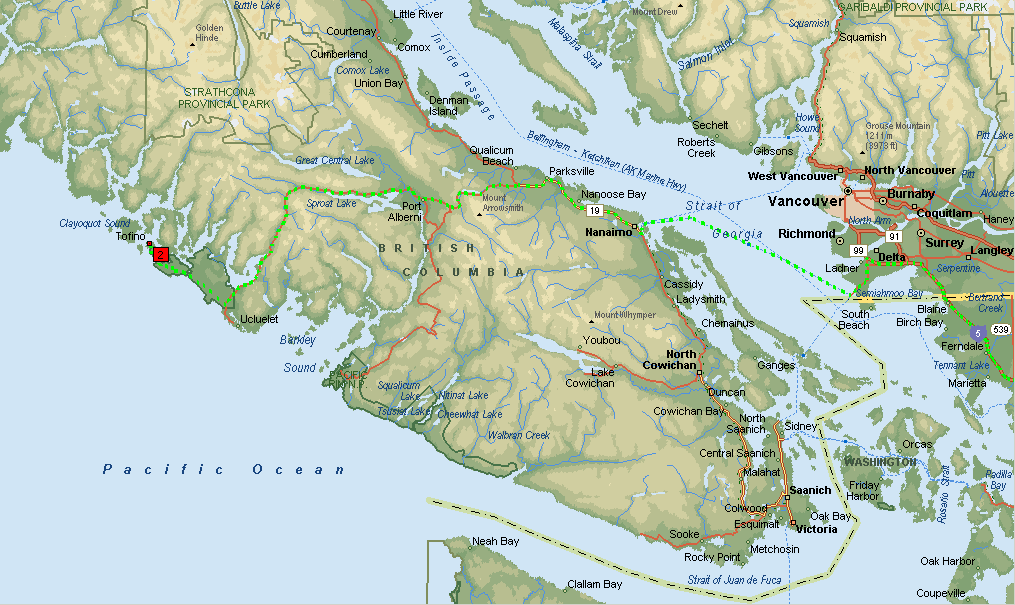 Notice that there are no roads shown on the map to the places north of Tofino on the west coast. There is a good reason for that: there ARE NO ROADS north of Tofino! The road to Tofino itself was not built until 1959. Before that you had to get to it by boat, although today you can get there via floatplane from Seattle as well. There is a new National Park in the area -- Pacific Rim National Park. The other amazing fact about this area is that it is only 65 nautical miles NW of Tatoosh Island at the southern entrance to the Strait of Juan de Fuca. In other words, I could get to it in about 15 hours at 10 knots on my boat from Anacortes.
---
And here is what Middle Beach at Tofino looks like through the trees of the parking lot of the Middle Beach Lodge where we stayed. The tides are very large -- when the tide is out none of the water you see here would be visible.
---
The entrance to the lodge is very nice. The rooms in the upstairs are for people 12 and older, so things are nice and quiet. (If you have younger children, you can rent a separate cabin, but honestly, this is a place to come as a couple for an anniversary or romantic getaway. Kids would be bored here.)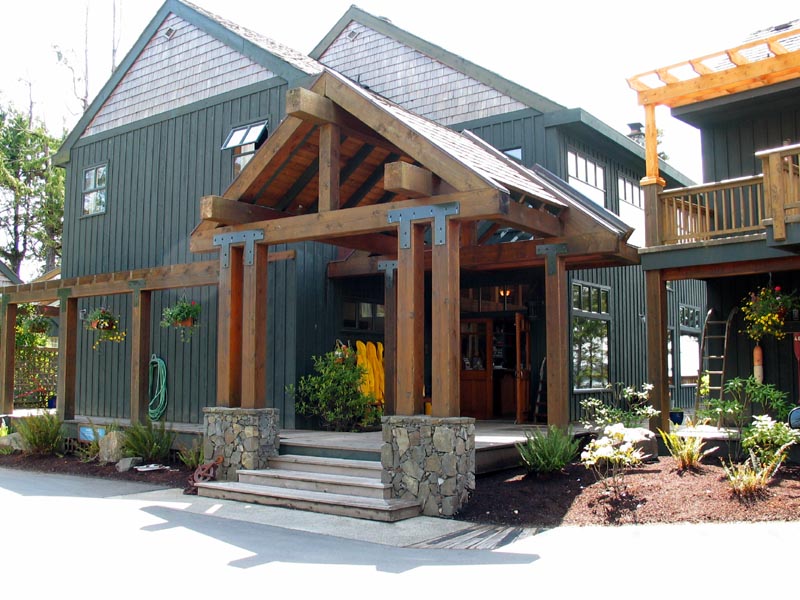 ---
The lodge serves breakfast and the occasional dinner in this beautiful structure made out of recycled wood from an old logging mill. Here you see my sweetheart drinking hot chocolate, in front of a fire, looking out on a beautiful seascape, while reading a book. Heaven!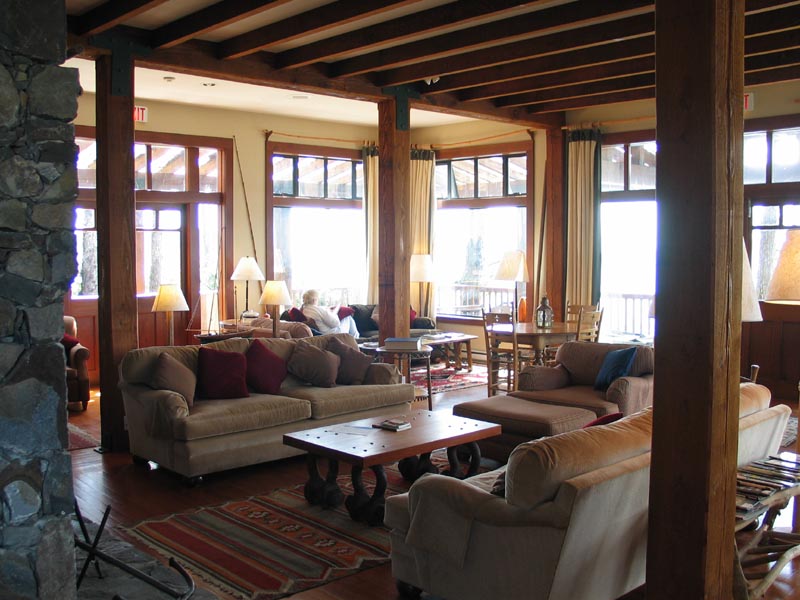 ---
Here is the main fireplace. The dining area is to the right in another dining wing of the lodge. We had a nice halibut dinner there one night. There were two cars with Washington license plates (ours was one); everyone else was from British Columbia or Alberta.
---
Here is a view out to the Pacific Ocean. Hawaii is in the distance right behind that boat, about 2,600 miles or 2,300 nautical miles away.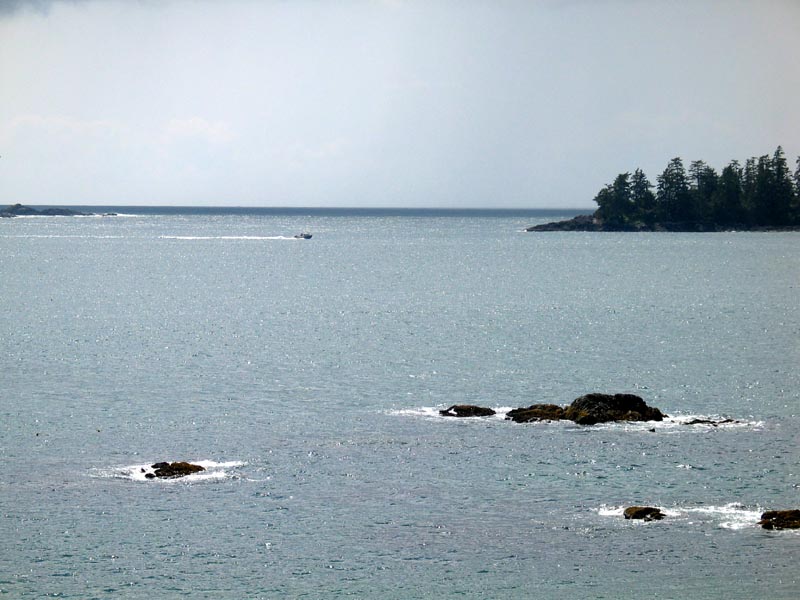 ---
This is the west facing deck. Grey whales and bears are nearby (tours are offered but we were not able to go at the times available). We saw a pair of bald eagles quite often, and we saw some dolphins on our ferry ride. The weather alternated hourly between sun and rain, which is the story of this May around the Pacific Northwest!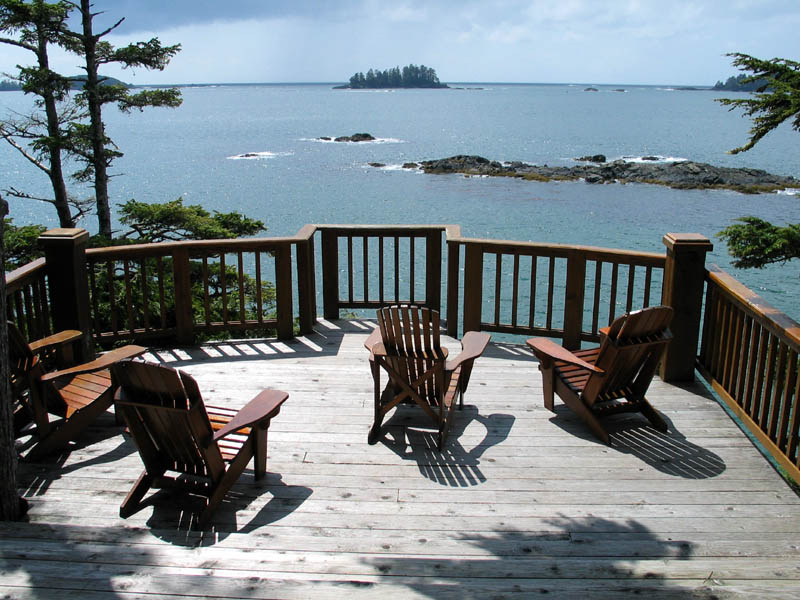 ---
The ride over was long, with parts of the road being 25 MPH. In the eastern part of the island there are tons of dogwood out, such as these beautiful white flowering trees, but as soon as we hit Sutton Summit (all of 300 meters high), everything westward changed: no dogwoods, but instead there were some sort of aspens or poplars that I liked, an invisible "Wallace Line" between climates.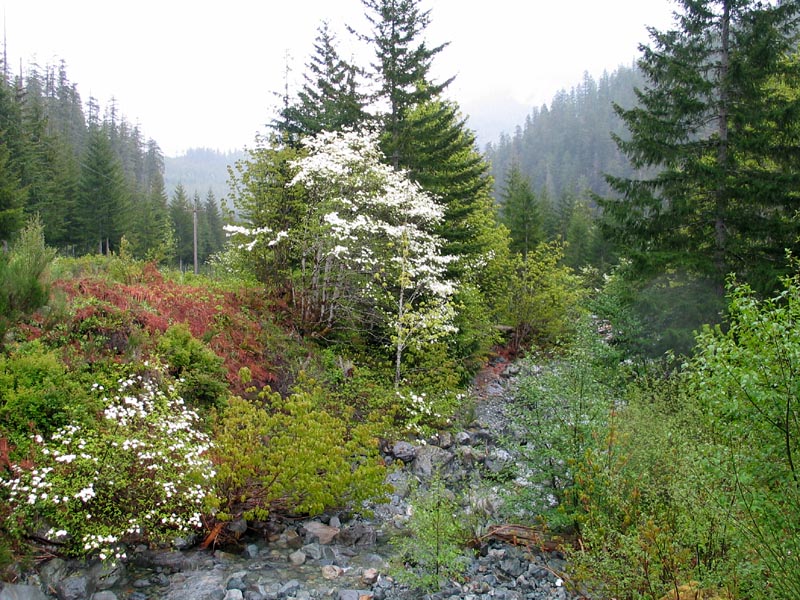 If you are one that needs lots of shopping and services, and many things to keep you busy, look elsewhere for a vacation spot. However, if you can handle lots of driving on winding roads and if you do not need much to keep you happy when you arrive, I heartily recommend Tofino. Quiet, tranquil, rugged beauty. Stunning.
---
Back to this site's home page.

Created:  16 May 2003
Modified: 27 May 2003