Utah Lake Ice
Monday February 5th, 2007
A couple of days ago my son Andrew went for a drive, like many of us Allen men like to do. He drove around West Mountain to see Utah Lake. He casually mentioned that the lake was really frozen. West Mountain is situated at the south end of Utah Lake, the largest freshwater lake in Utah. The lake is very shallow, with an average depth of 9 feet.

During this past month we have had extremely cold temperatures, seeing -20°F on a few occasions. (Global warming? ;-) For two weeks we had high temperatures in the single digits, so it is no surprise that Utah Lake has frozen quite completely.

Beth and I went to see the lake today and we were shocked. We just had to take the whole family back to show them something very unusual. I have lived through ten Utah winters and I have never seen Utah Lake like this.
---
Today actually warmed up to just above freezing, and a recent storm gave us moderately clear skies. Here are the cars that Andrew and Joshua have added to our driveway: Andrew's non-functional Honda 1981 Accord, Andrew's Toyota 1990 Tercel, Joshua's Ford 1990 Ranger, and Andrew's work vehicle, the JB Electric van.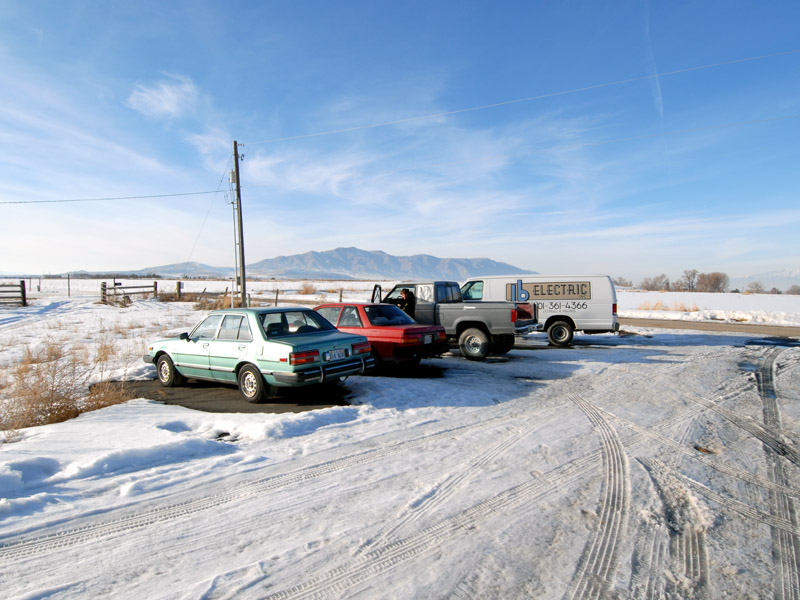 ---
So off to the lake we went in the Honda Odyssey, and look at this wall of ice!
---
Joshua and Andrew climbed up on top of this huge mound of ice. It is not manmade!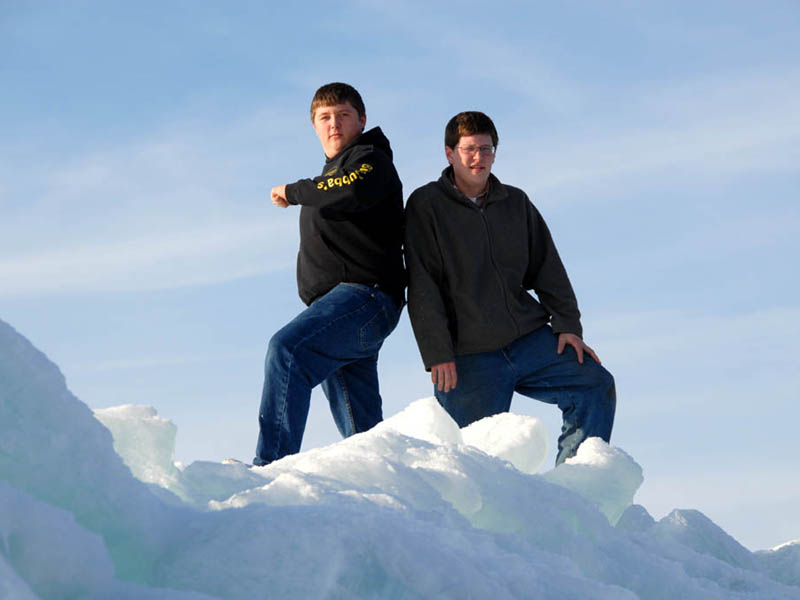 ---
My best guess is that there is great pressure against this part of the shoreline, creating massive chunks of ice piled up, but where is the pressure coming from?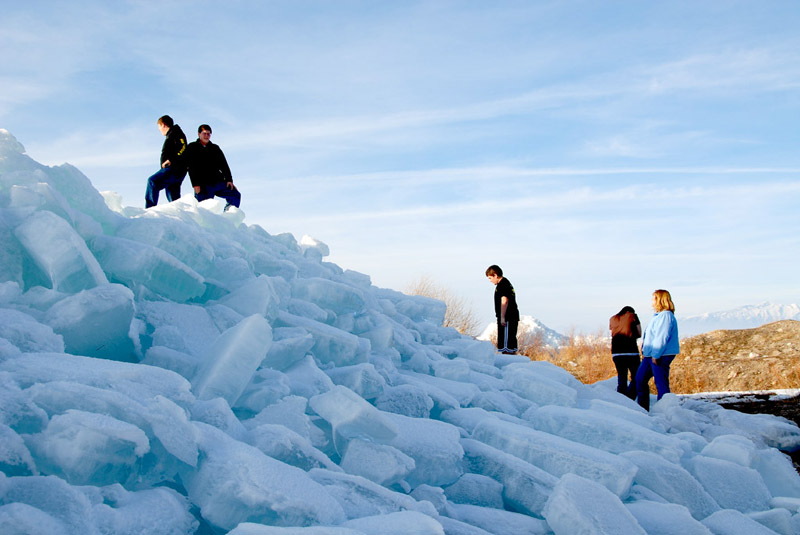 ---
Some ice is a foot thick.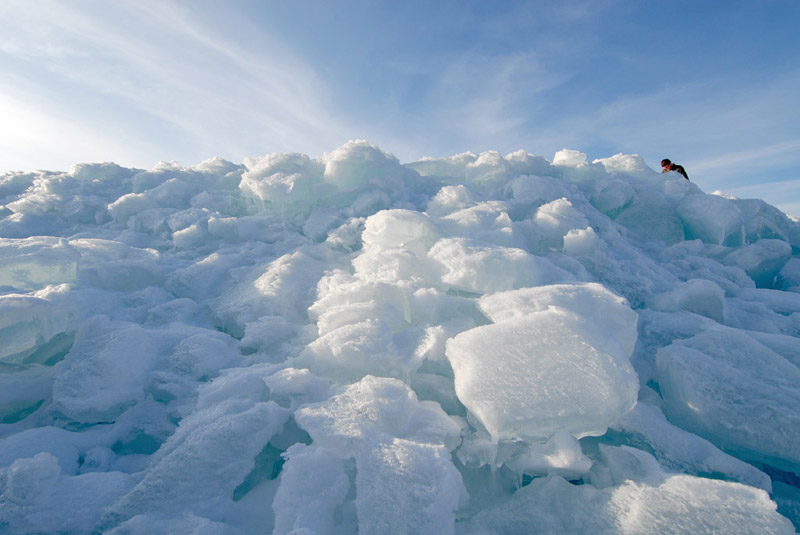 ---
Andrew enjoys hiking around and exploring.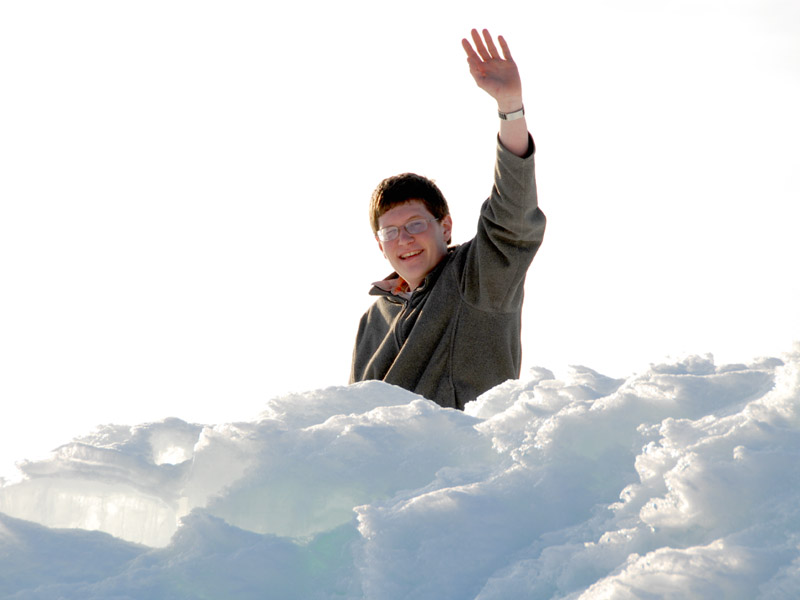 ---
Gorgeous shades of green and blue are found in the ice.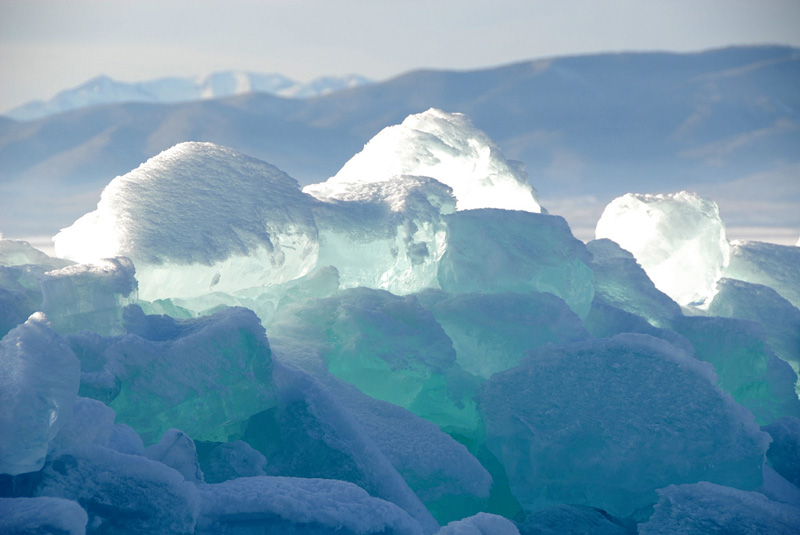 ---
Okay - this looks like Antarctica!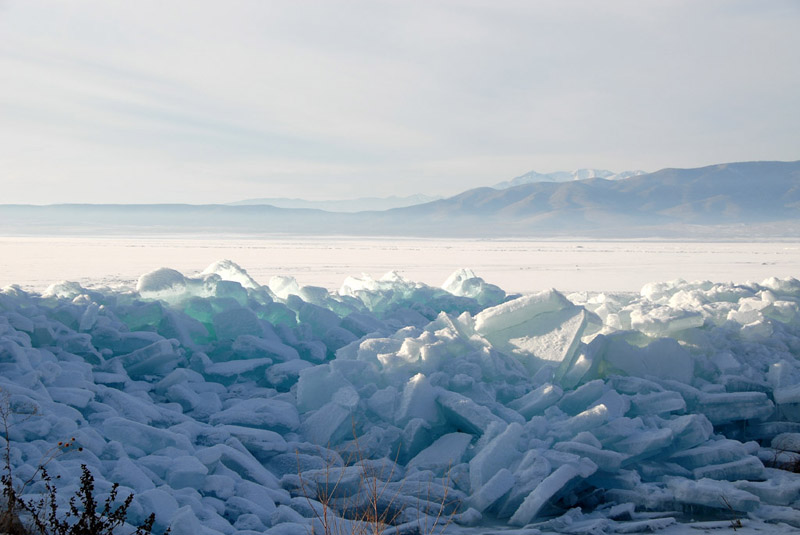 ---
The lake is frozen as far as you can see.
---
Here we show our location on the GPS: N 40° 7' 37" and W 111° 50' 33", just 10 miles northwest of our house.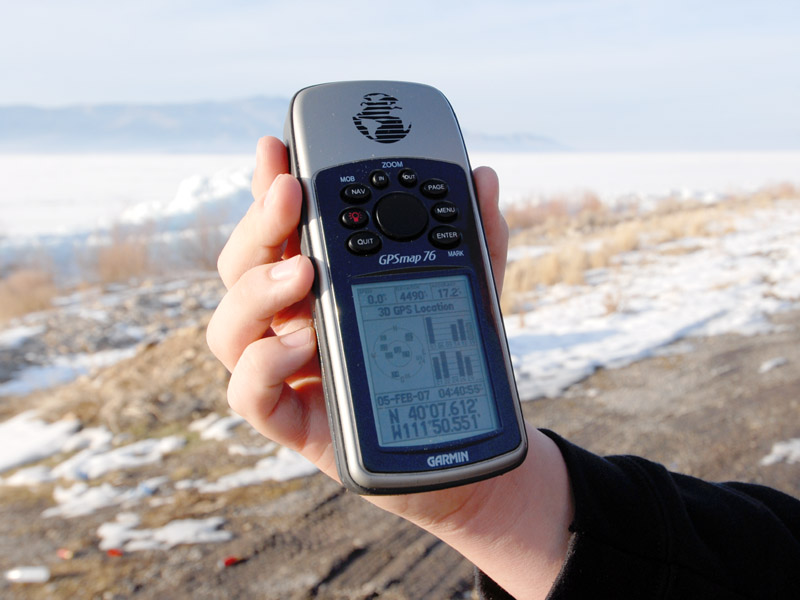 ---
Family photo with the ice mound in the background. From left to right, Dan, Beth, Brigham, Rachel, Andrew, and Joshua.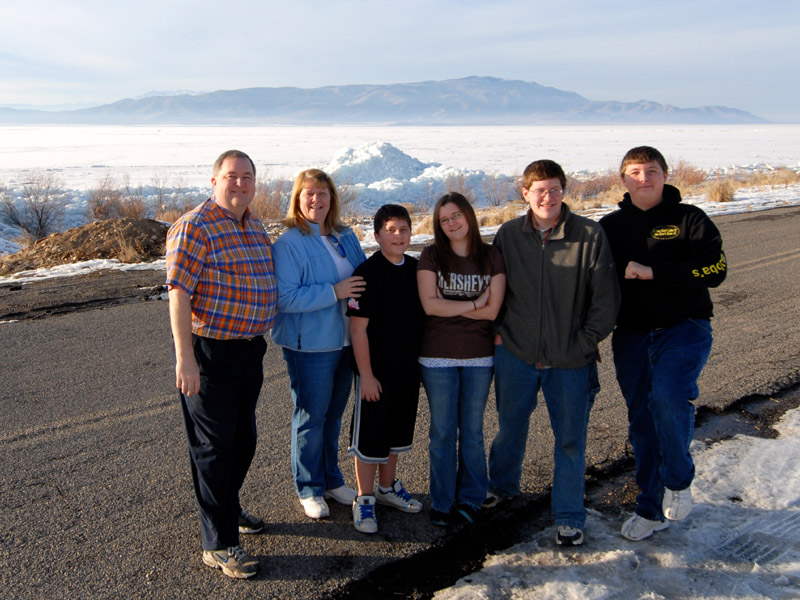 ---
Check out the long rifts in the lake!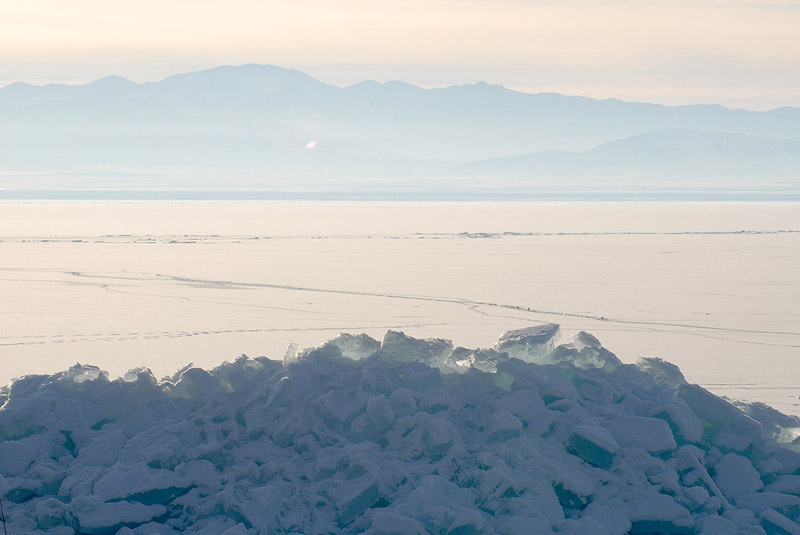 ---
It should be interesting to see this all break up as spring comes.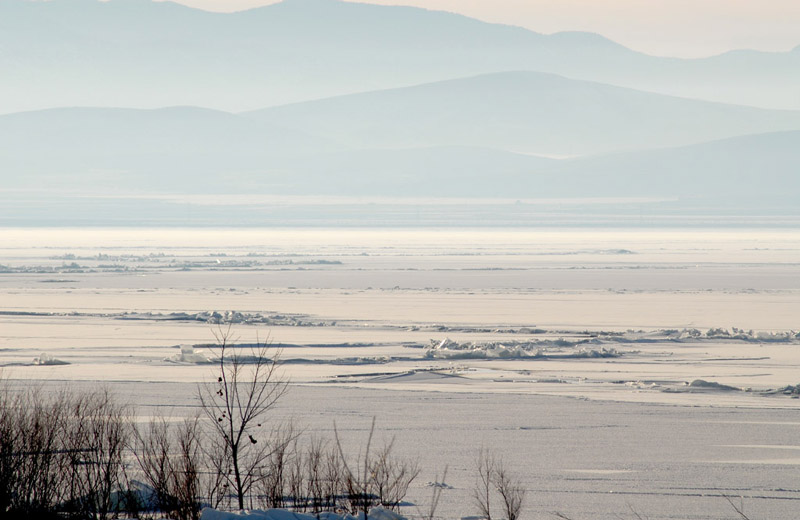 ---
When I first looked out and saw this large mound of ice in the middle of the lake I was not sure what it was, but it is actually Bird Island, the only island in the lake. It appears that a couple of balloons have landed on the ice as well. The north end of Orem and what was Geneva Steel are in the background. (This photo was taken at N 40° 8' 37", W 111° 48' 44" of Bird Island located 2.3 miles away at N 40° 10' 33", W 111° 48' 4"W. We are thus looking 15° east of north.)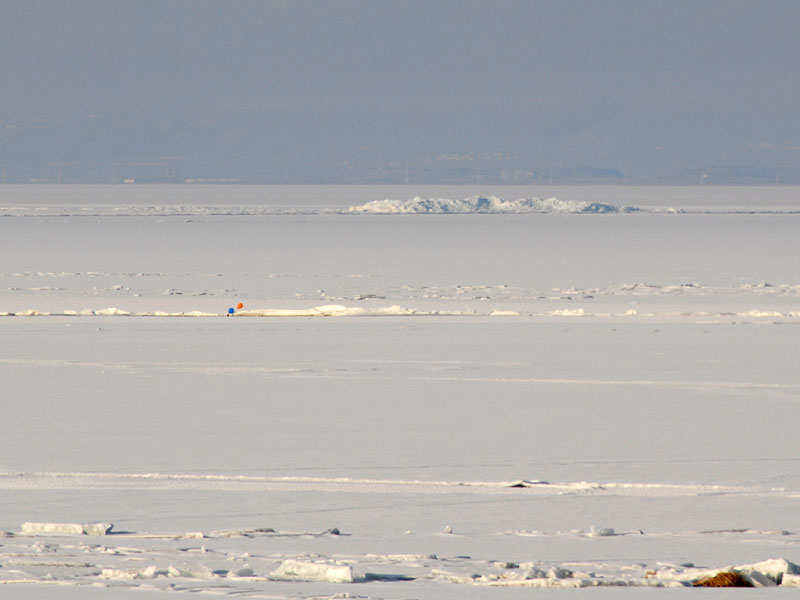 ---
Here we see a lone ice fisherman on the lake with the 11,749 foot high Mt. Timpanogos in the background. We are looking across about 9 miles of lake and it is 19 miles to the top of Timp from here. This photo was taken at Lincoln Point at the very north end of West Mountain. (N 40° 8' 41", W 111° 48' 24")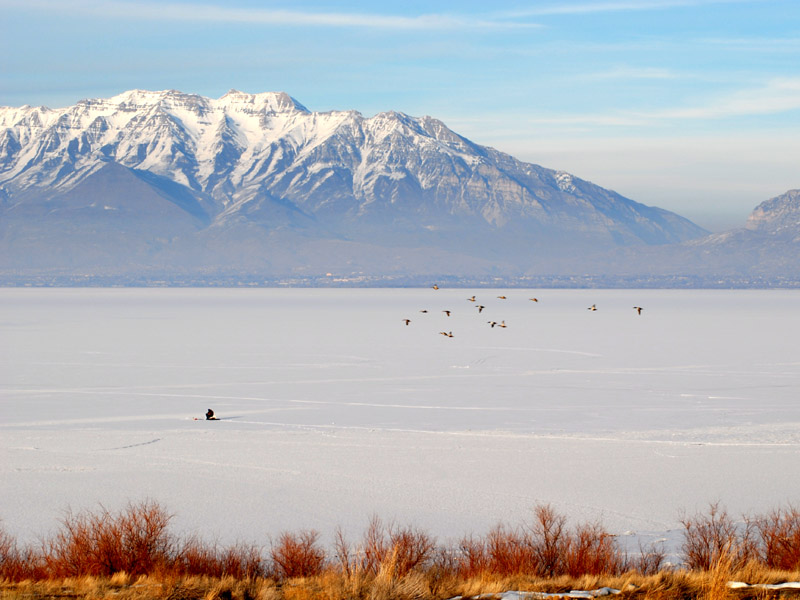 ---
As we headed home we saw a Bald Eagle (Haliaeetus leucocephalus) on the top of a tree. I drove almost underneath and snapped this with an equivalent of a 450mm telephoto lens. This is the center third of the frame. I wish I had an 800mm lens. Moral? You can never have a long enough lens for wildlife photography!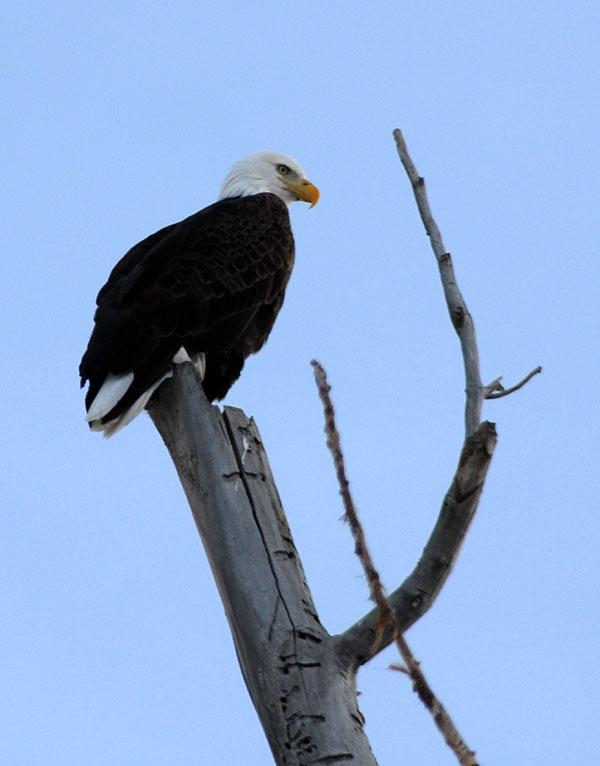 ---
So the big question of the day is this: what is causing the pressure that is breaking up hundred pound chunks of ice and pushing them up into a huge mound?
Apparently from feedback that I have received, it is due to a combination of ice creation pressure and winds. A story in the Provo Daily Herald has more details about the history of this phenomenon. Apparently it has happened approximately six times in the past 160 years. Fascinating...
Back to this site's home page.

Created:  05 Feb 2007
Modified: 06 Feb 2007