Western Trip - May 10-20th, 2001
After various health problems, I finally felt better and got out on the road again. I wanted to visit some family and friends, and I needed to get my son Andrew and bring him home from my Father's house.
---
I left North Bend at noon and drove through Yakima and south to the Columbia River gorge. On the way I saw these power lines which reminded me of the power problems the west is having these days. Note Mount Hood in the distance between the poles.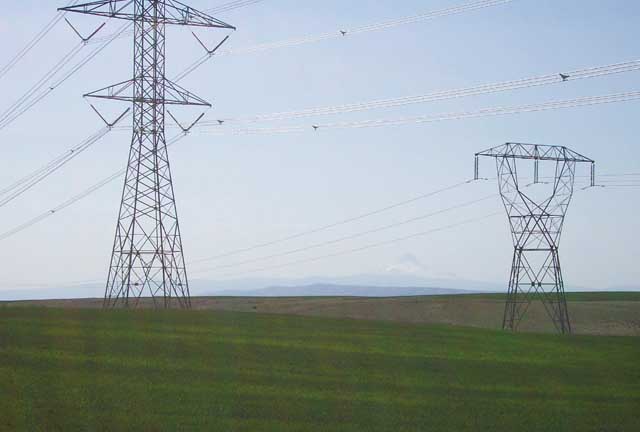 ---
I visited Antelope, Oregon for the first time. This little town was having a cattle drive across the main road. I talked with the lady to the left and she told me that the nearby Big Muddy Ranch that had once been taken over by Bagwan Shree Rajneesh and his followers and renamed Rajneeshpuram in the 1980s is now a Christian summer camp. I waited for about 5 minutes for the cattle to move out of the road.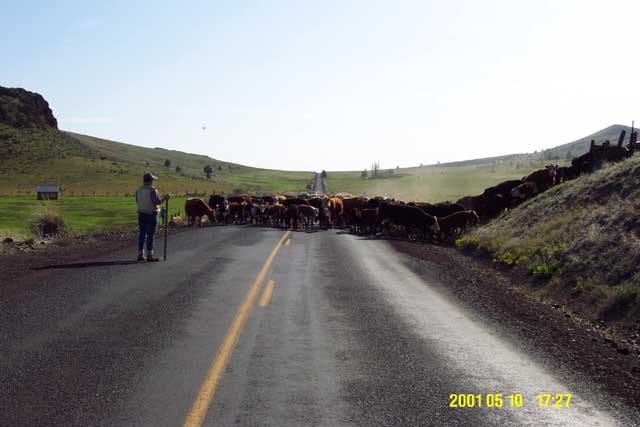 ---
I made it to Bend, Oregon by sunset, here seen out of my motel window. Bend is a great little town.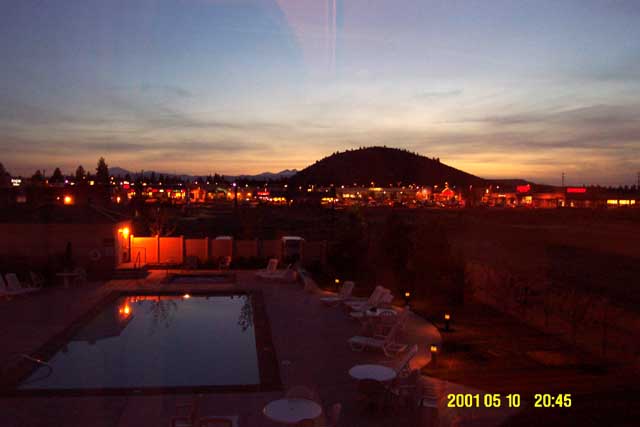 ---
Early the next morning I headed southeast on US-20 into a very desolate and remote corner of Oregon. Here is a (Utah?) juniper tree with great character seen in its trunk. This was the end of the Deschutes National Forest.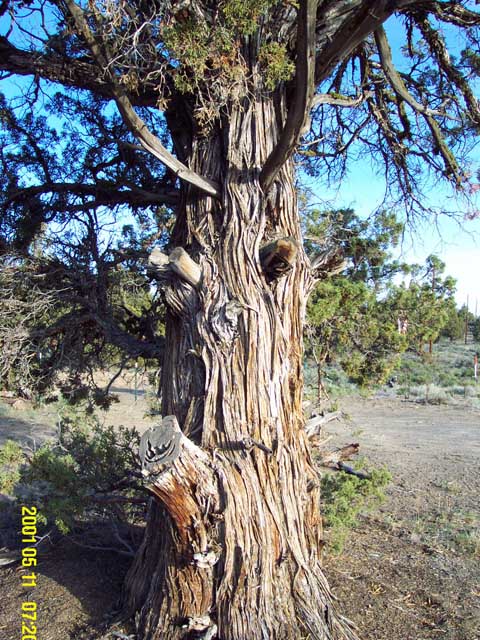 ---
This part of Oregon SE of Burns was determined to be the most remote spot in the Lower 48 states by National Geographic a few years ago, as measured by how far away from the nearest Interstate highway it is. I also passed through into the Mountain time zone and back to Pacific due to a strange jog in the time zone line. Signs are posted on the road, but between the signs ("Entering Mountain Time" and "Entering Pacific Time") there were no homes, ranches, cities, or any signs of life! So why the change in time zones??? Weird. Note the pile of rocks in a wood cube used to hold the fences. These are common in eastern Oregon, but I've not seen them elsewhere in the west. This is on State Route 78.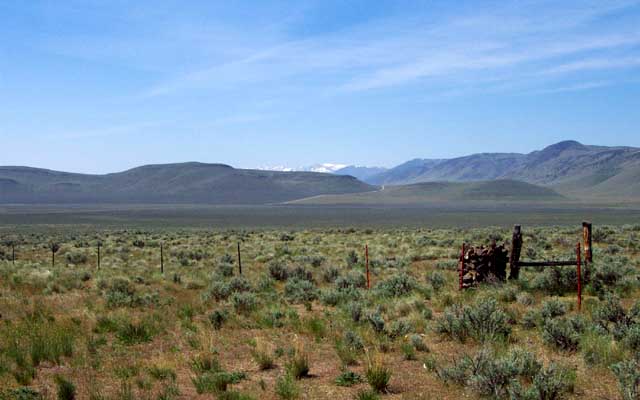 ---
As I dropped down into Nevada on highway 95 I met these sand dunes. There were many tracks of kangaroo rats near burrow entrances near the dunes. It wasn't as hot here as it looks.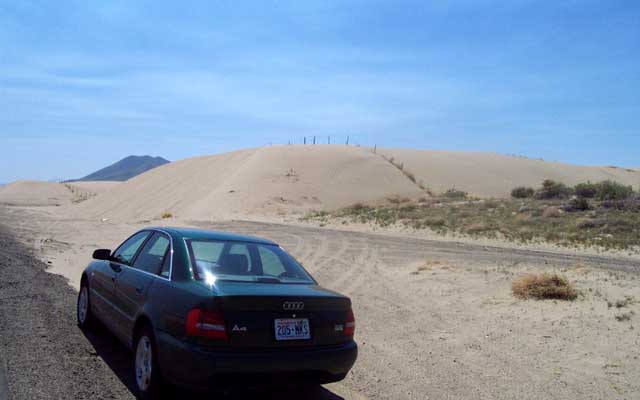 ---
After turning east on highway 80 at Winnemucca, I came into the valley where Battle Mountain is located. There is a large coal power plant to the left center of the photo. It delivers power to California most likely. I remember this hill from early childhood memories of crossing the desert.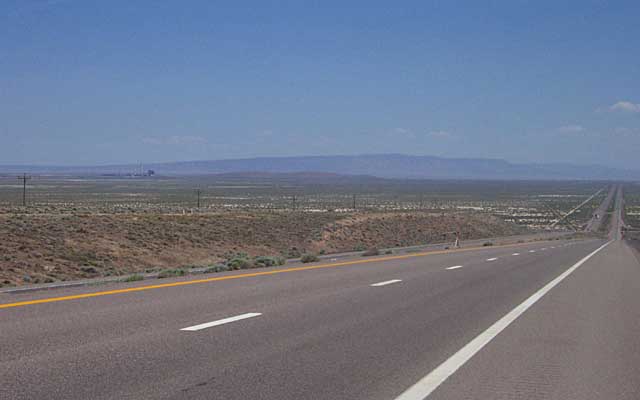 ---
I stopped at my favorite little town of Beowawe, Nevada, located 8 miles south of I-80 halfway between Battle Mountain and Carlin. I saw 4 trains in 40 minutes come through on two different tracks, including this one headed eastboand. I love that tree to the right in the photo. My Grandmother thinks it is a sycamore, or it may be a cottonwood.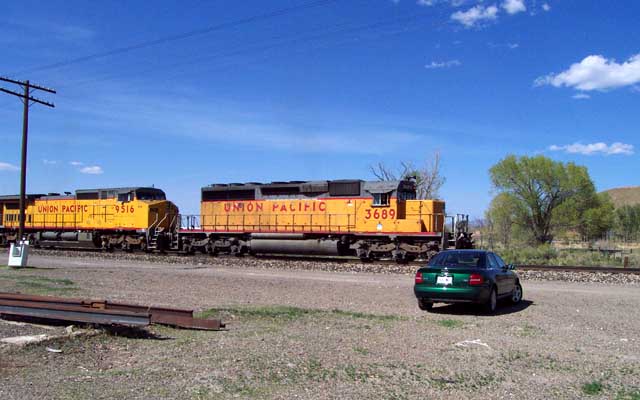 ---
Beowawe is a bit of an oasis in the middle of a brown desert. The oasis is due to this, the Humbolt river, which flows west to Lovelock where it flows back into the ground and dries up! Beowawe has a large ranch that my Grandfather worked on in his youth circa WWI. The train station is gone, the post office is now a "stuff" shop, the library is only open two afternoons a week, the gas station and general stores are gone, and the actual population is just a handfull of people in a few trailer homes.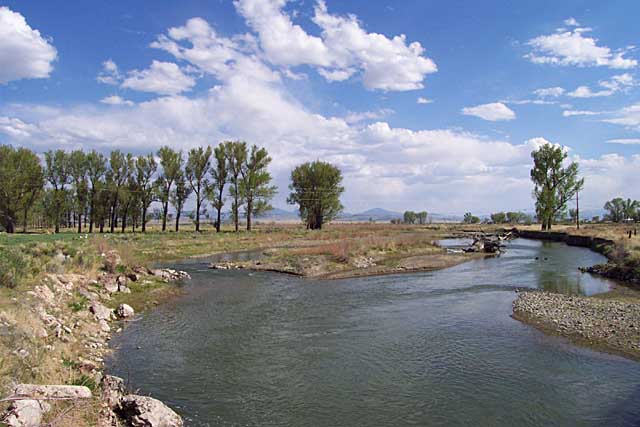 ---
On to Elko, where for dinner and breakfast the next morning I ate at Elko's Commerical Hotel, a landmark. It has the world's largest polar bear, over ten feet tall. I have been amazed at this animal for my entire life. A fabulous prime rib dinner was $8, and the best breakfast on the planet (scrambled eggs, sausage, unbelievably tasty shredded hash browns, and sourdough toast) was a mere $3.50. It tasted as good as ever.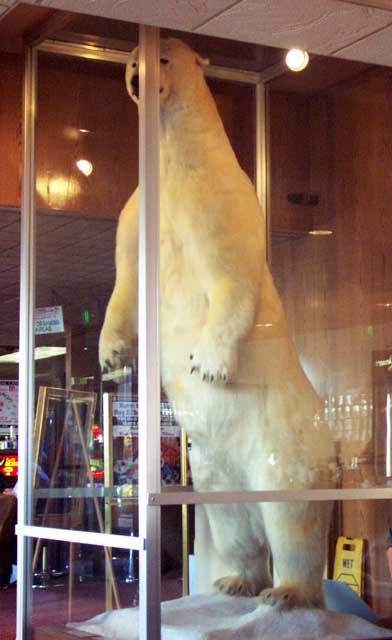 ---
Nevada allows triple trailer trucks, which you see often.

---
The east end of Lovelock has beautiful trees. Are they willows? I began to be curious about trees on this trip and I am still honing my skills at tree identification.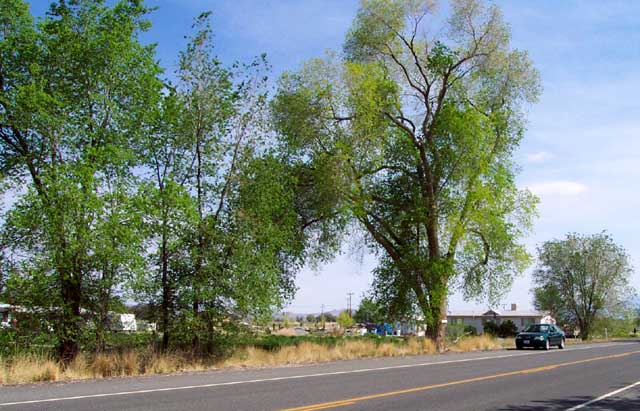 ---
I drove through Reno to Truckee CA and then south to Lake Tahoe on route 89. Tahoe is a beautiful lake that averages 1000 feet deep, with its deepest point being near Crystal Bay at 1645 feet. Its surface is at 6225 feet above sea level, and it has peaks nearby up to 10,776 feet (Mt Rose). It is 12 x 22 miles, has a 71 mile shoreline, hold 39 trillion gallons of which 335 million gallons evaporate each day and a surface area of 193 square miles. It is one of the clearest lakes around, with an average water visibility of 125 feet!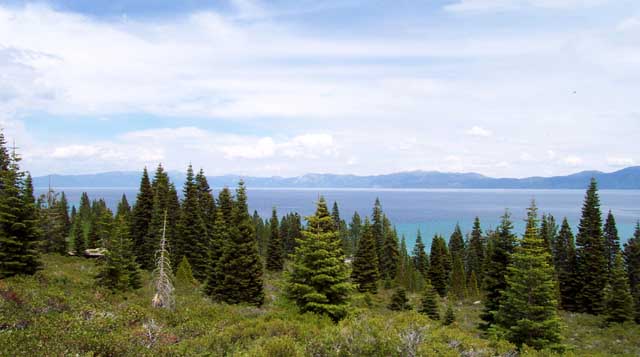 ---
This is Emerald Bay, a nook on the southwest end of Tahoe. Gorgeous!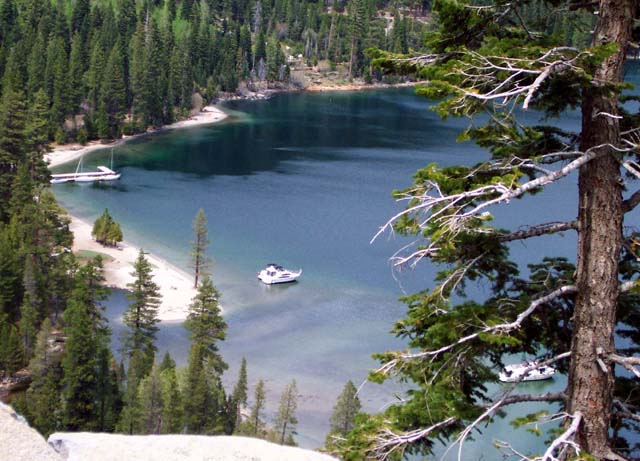 ---
Heading southeast of Lake Tahoe continuing on route 89 took me through a very small high Sierra town named Markleeville.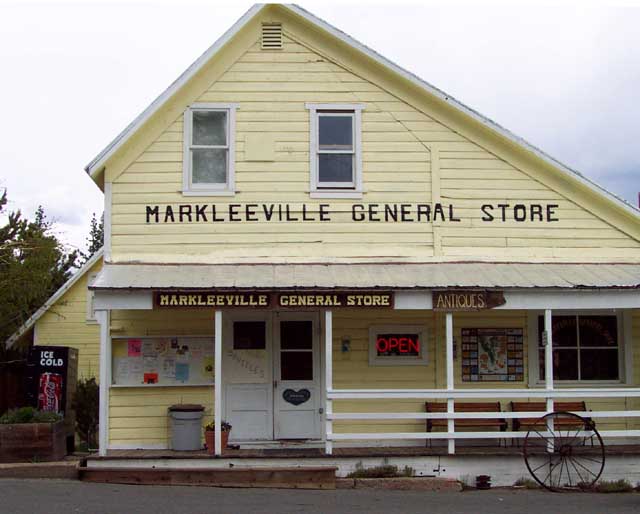 ---
As I headed over Monitor Pass (elevation 8313 feet), I came upon the largest GREEN alluvial fan I have ever seen. There are no rivers or streams visible, just a green carpet. This was a stunning sight. It is located just west of Coleville, CA, and it appears to be part of the Toiyabe National Forest.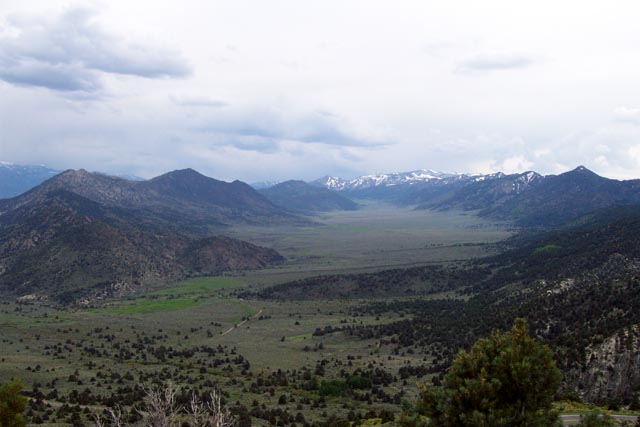 ---
The town of Bridgeport CA had the highest gas prices of the trip. I filled up a bit later in Lee Vining (both towns are on highway 395) for only slightly less. I spent the night in Lee Vining where Mono Lake is located.

---
The next morning I drove up and over California's highest pass, Tioga pass at 9967 feet! Just before the summit was this lake with ice beginning to break up.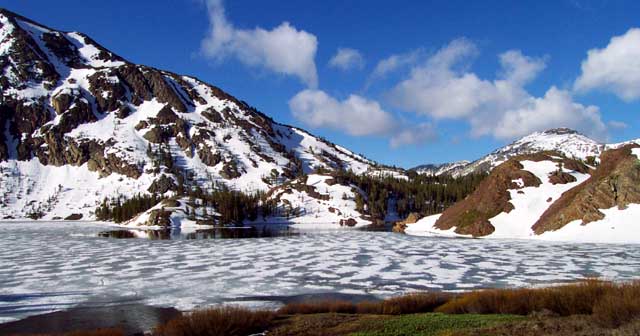 ---
Tioga pass is the eastern entrance to Yosemite National Park. A few miles into the park and you arrive at Tuolumne Meadows, a beautiful valley. Our family has camped here in years past and seen bears, but there were no bears this time for me to see. This tree sure was beautiful.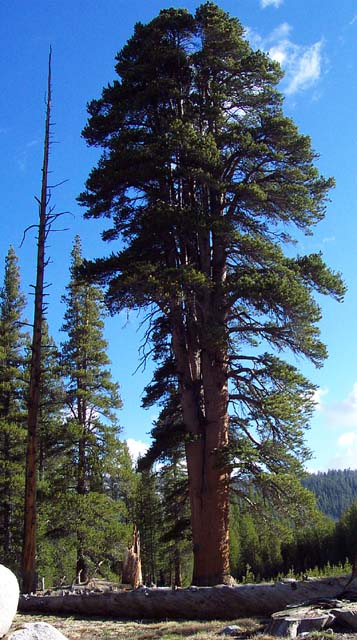 ---
Travelling west on highway 120 through the park I came to another great tree. Notice the granite rocks which are so prevalent in the Yosemite high country.
---
Once down in Yosemite valley I hiked to the base of the lower falls and got sprayed by the water. Here is a view of the upper, middle, and lower falls. The top of the falls are at 6525 feel ASL, and drop 1430 feet. The lower falls drop another 320 feet. Altogether they drop 2425 feet, the 3rd highest in the world. The upper falls alone rank 7th. Go in the late spring to see a nice full flow.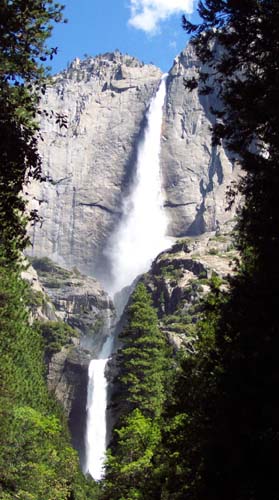 ---
The quintessential view of the Yosemite valley is seen at the mouth of the Wawona tunnel. The large mountain on the left is the famous rock climber paradse, El Capitan, 7042 feet ASL, with the valley floor being about 4000 feet. In the middle in the back is Half Dome, 8842 feet ASL, and to the right are the 620 foot Bridalveil Falls.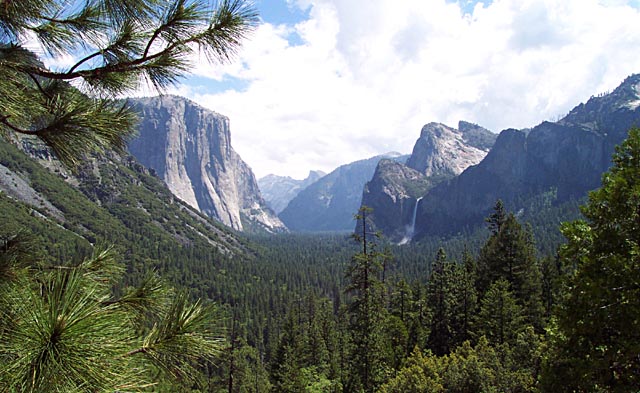 ---
I continued on south and for the first time I saw the Wawona hotel and Mariposa Grove, a strand of immense and old Giant Sequoia trees. They are the largest single organisms ever to live on Earth. The biggest, the Grizzly Giant, is 2,700 years old, over 200 feet tall and over 37 feet in diameter! Redwood trees are taller (365 feet), but the Sequoias are much bigger in diameter, hence the title.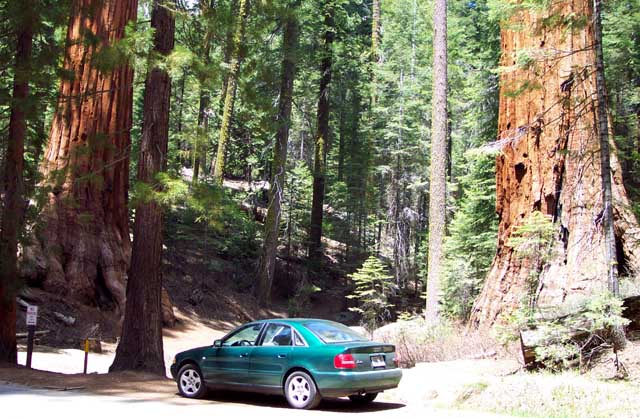 ---
After a night in Fresno, I continued on to the Kern National Wildlife Refuge, located midway between I-5 and Highway 99 a bit north of Bakersfield, CA. I saw Ruddy ducks (blue bills), Tricolor Blackbirds (threatened), and this Yellow Headed Blackbird, all for the first time in my life. Neat! I was the first visit in several days.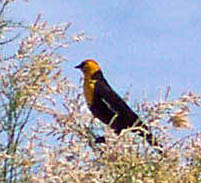 ---
Here is a view of one of the marsh areas that are in this little 12,000 acre refuge. It is supposed to really hop with life in the winter when migrating birds are passing through. I talked with the Ranger and he had just seen two live kingsnakes that morning, a bobcat and weasel last month, and they have had a bumper crop of rattlesnakes this spring as well. All in populated California!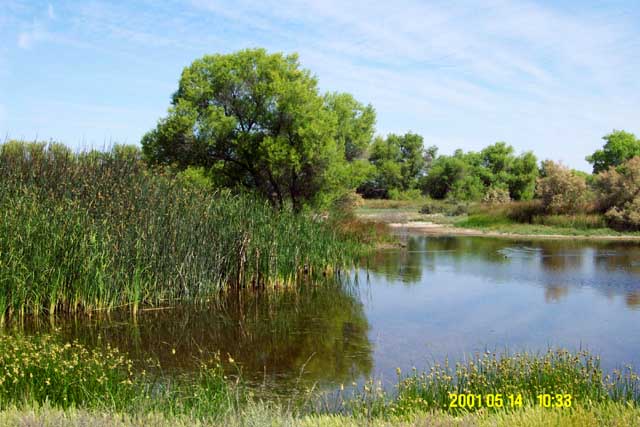 ---
Heading south on I-5 going over the Grapevine I found huge fields of beautiful California Poppy wildflowers. I do not ever remember seeing fields this big before, and I am told that they actually peaked a week or two earlier! Photo taken at Gorman, CA.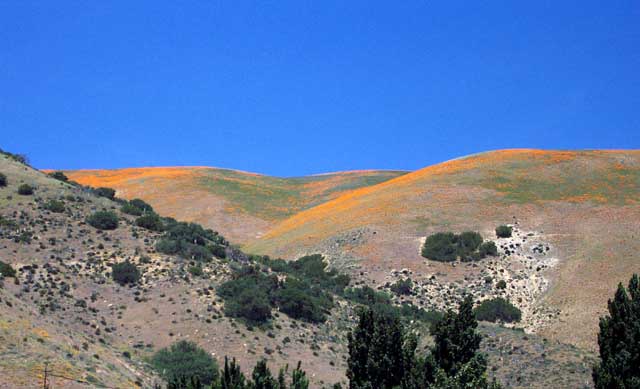 ---
Next I went and spent a couple of days with my friend Paul Finlayson. He just got a new 2002 Subaru WRX wagon. What a fast and amazing car for the money!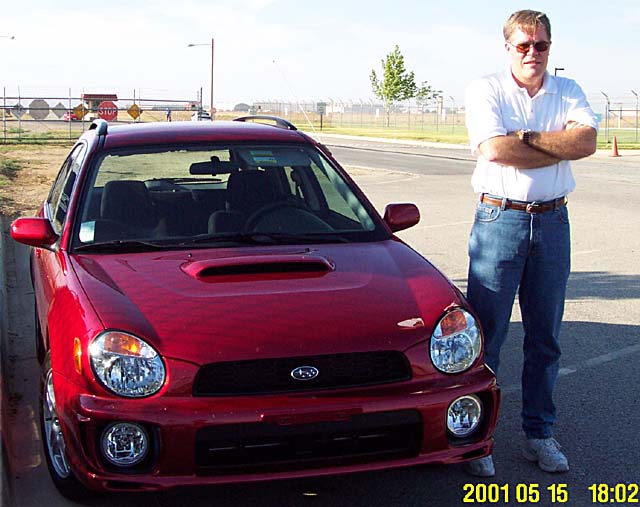 ---
We went and visited the Palmdale Airpark, the only place in the world where both the Lockheed A-12 (circa 1962, single seat) and the Lockheed SR-71 (circa 1965, two seat) planes can be seen at once. There are a few other subtle changes between the planes too, like the width of the chines at the nose of the plane, and the nose itself. The SR-71 has a fatter nose to accommodate a bigger radar.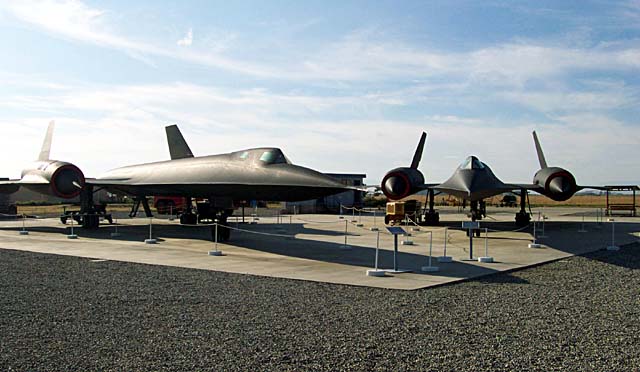 ---
I drove north to Palo Alto for a day or two (no photos unfortunately), and then on to Paradise in Northern California where I met up with my son Andrew who had been staying for a few weeks with my Father. Dad set up his old pole-vaulting standard, seen here at the 10 foot mark that he cleared many years ago, with Dad and Andrew.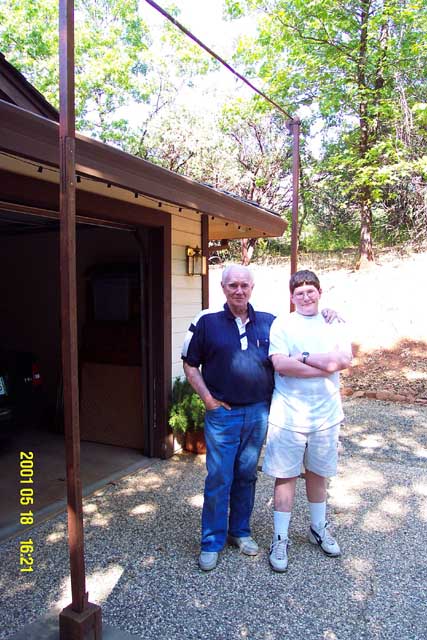 ---
We had a nice picnic in a beautiful park not far from Paradise, called Merlo Park.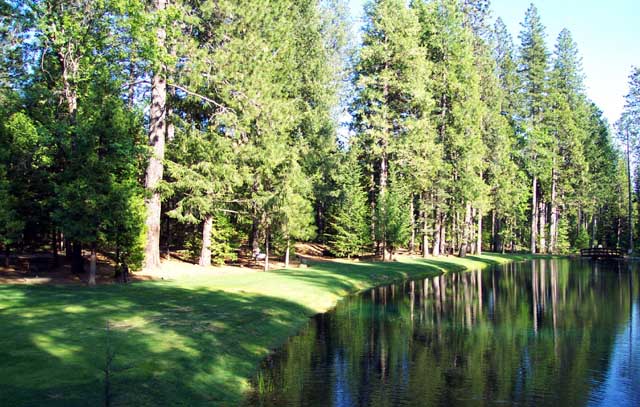 ---
Merlo Park has trout that you can feed. They go nuts when you feed them.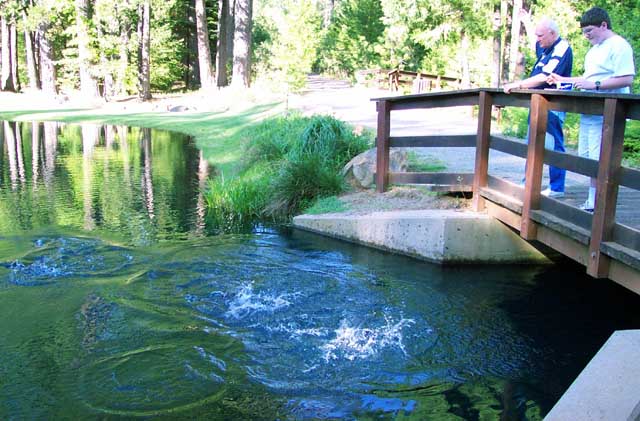 ---
Then, after 3044 miles, Andrew and I returned home. I love the west!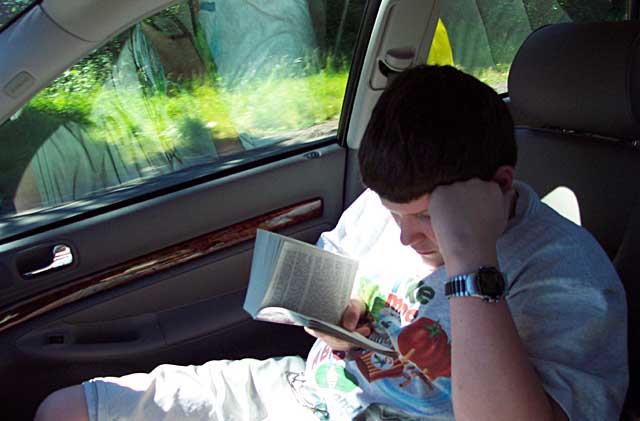 ---

Created:  21 May 2001
Modified: 21 May 2001