Awk
---
Awk is a great scripting language: think of it as a simple, clean Perl. I am the danallen@microsoft.com who contributed a few build scripts to Brian Kernighan's one-true-awk. The official website is here:
http://cm.bell-labs.com/cm/cs/awkbook/
I have added a few more additions that I have not yet given Brian. This webpage has a variant that has all of Kernighan's official sources, plus under #ifdef a few changes to improve Awk under MPW on the Mac, such as a Commando interface shown here: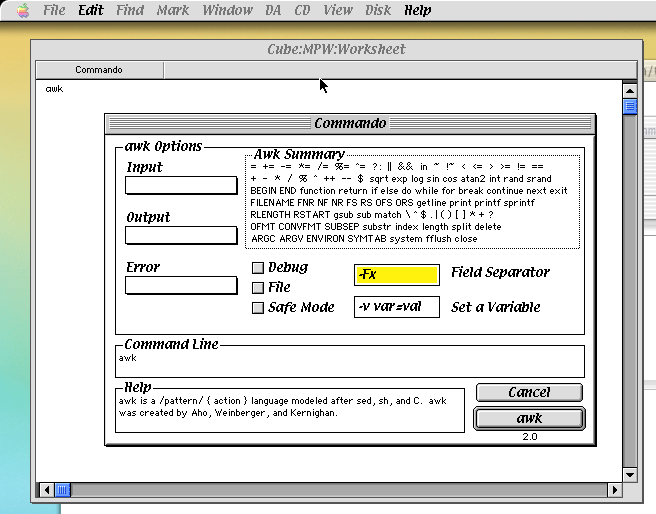 Download
This Zip archive AwkSrc.zip (which can be opened with StuffIt or ZipIt) contains:
awk.exe - an executible tool for Win32 (Windows 95/98/ME/2000/XP)
awk - an MPW PowerPC native tool for use with Mac OS 9 or Classic under Mac OS X
the full Kernighan sources (my changes can be seen by grepping for my initials of DKA) which build on Windows, Mac OS 9, Mac OS X, FreeBSD, Linux, or Unix.
To download this 268 KB archive, click here.
Sample Scripts
To see how simple Awk is, here are a few Awk scripts.
---
Back to Dan Allen's home page.


Created:  27 Feb 2001
Modified:  8 Oct 2003