New Garage Shelves
April 15th, 2006
A new house needs new garage shelves. Back in North Bend, my good friend Tom Taylor built, with the help of my brother-in-law Woody Edvalson and myself, a nice set of shelves. My wife tried to get Tom to come and build me some more shelves in Spring Lake, but of course he is busy at Google, so I decided to buy some metal shelves that I saw in a catalog sent to me recently.
---
I should have taken a before photo of the mess in our garage, but here is my garage with the completed shelves and things tidied up. There is something to "Spring Cleaning" - on Tax Day no less. I got the taxes done a few days ago so without anything to do on April 15th, so it was time for the garage.

---
The shelves come from GlobalIndustral.com. I started off by looking at Home Depot or Lowe's (I like Lowe's better these days), but neither had shelves that were tall enough, or built well enough. I wanted eight foot high shelves because I have a nice tall ceiling in my garage and did not want to waste space.
GlobalIndustrial have a lot of shelves to choose from, all heights, widths, and depths. I choose two feet deep, eight feet tall, and 4 feet wide, with shelves that can hold 500 pounds per shelf. (You can get heavy duty models that will hold 3,000 pounds per shelf!) Click here for more details on 601931H. That's what I bought.
I am satisfied with their product, but there were some hurdles to get over. The assembly instructions were of little to no help. Their emails break things down into components which make no sense compared to what you order from them. They deliver on large freight delivery services that beat up the boxes, and they call and require you to be home at a certain time, and then they come late, etc. They took a month to get here from the time I ordered them. They claim this is unusual.
The good news is that the shelves themselves are strong, simple, and just what you want in a shelf. They fit together without any tools other than a mallet and are very well made. They are all steel. No plastic anywhere! No screws, nuts, or bolts. That's a great thing for someone like me that is not great with do-it-yourself projects.
Each shelf was $165. The shipping from Georgia however will kill you - about $80 a shelf, so two shelves and shipping (no tax) was $494.85. I can take them apart and take them with us when we move again and they will last a long time, so I think they were worth it.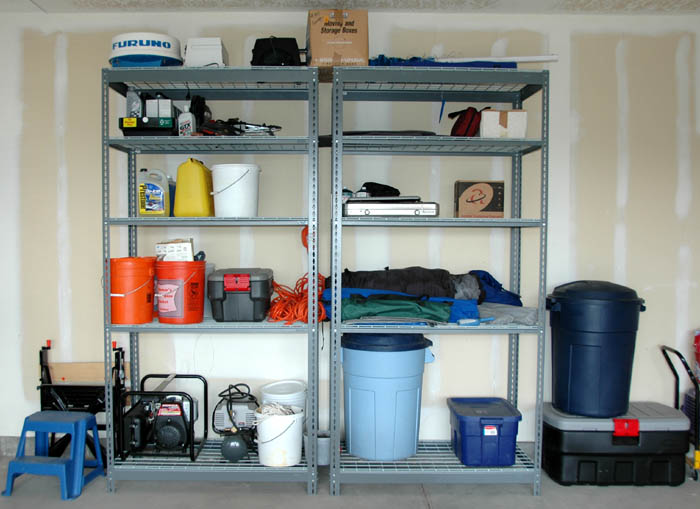 ---
Next to the shelves is my workbench, which Mike Holm built for me last year. He built it in about 3 hours, and that included a trip to and from Provo to the Home Depot to buy about $138 worth of supplies. He was amazing, like Tom Taylor was in building my shelves.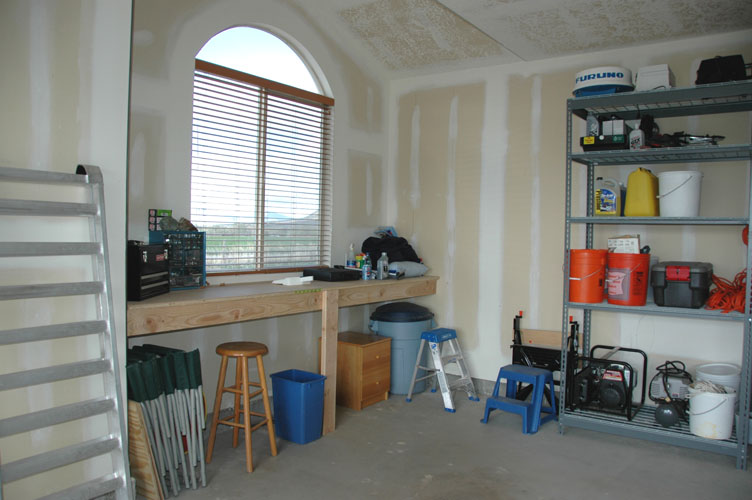 ---
Back to this site's home page.

Created:  15 Apr 2006
Modified: 15 Apr 2006